How to Non-manually Add Contacts to Android Phone in Batch?
One of the most convenient ways to add contacts to an Android phone is by merging the data already contained in your email interface with the contact repository on a mobile device. This is because it negates the need to manually enter individual contacts one by one, a process which unsurprisingly can take up an awful lot of time and feel rather frustrating. If you want to learn how to add contacts on Android phone quickly, it is necessary to pick up a few tips and tricks. The vast majority of email programs represent a very valuable accumulation of contact based data, and this data can be transferred and imported onto an Android phone. The only problem is that the process itself can be time consuming and fussy, which largely concels out the benefits of using an email program to add contacts to Android in the first place.
The good news is that there is a tool out there which can simplify the process. The Coolmuster Android Assistant is a third-party app designed to streamline the transfer of data between Android and computer. It is not just great for transferring and transporting contacts, SMS, music, photos, videos and other files from or to computer either, because it can be used to add contacts to Android phone, delete contacts from Android phone and backup Android contacts on computer directly. This makes it great for sharing music with friends, adding contacts quickly, copying photographs to multiple devices and transferring important text messages and more. If you are using a Mac machine, you can turn to Coolmuster Android Assistant for Mac.
Coolmuster Android Assistant is quick to download, easy to use and promises data transfer can be 100% secure. Read the following part to learn how to add contacts to Android mobile phone by using this Android Assistant.
Easiest Way to Add Multiple Contacts to Android Smartphones
Step 1. Download and launch this Android Assistant tool
To begin with, all you have to do is downloading and installing the recommended program and link up your Android device to the computer using a USB cable. Once the program interface has appeared, you should see a list of all the Android phone data currently on your device. If not, you may need to enable USB debugging on your Android beforehand.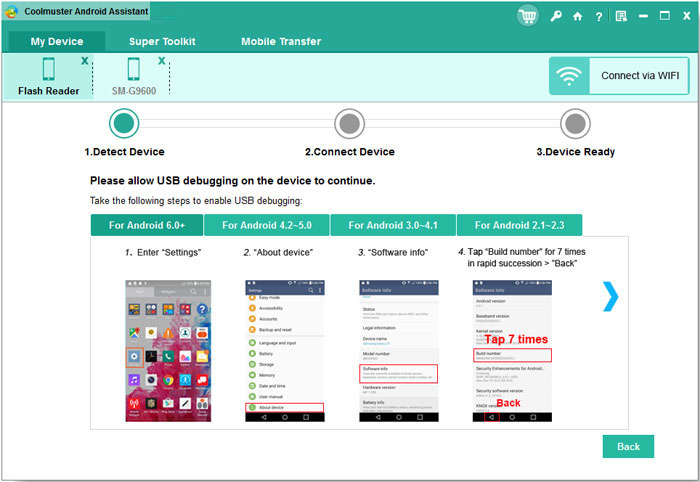 Follow the below instruction to enable USB debugging:
1) For Android 2.3 or earlier: Enter "Settings" < Click "Applications" < Click "Development" < Check "USB debugging".
2) For Android 3.0 to 4.1: Enter "Settings" < Click "Developer options" < Check "USB debugging".
3) For Android 4.2 or newer: Enter "Settings" < Click "About Phone" < Tap "Build number" for several times until getting a note "You are under developer mode" < Back to "Settings" < Click "Developer options" < Check "USB debugging".
After enabling the USB debugging, all your phone information, including phone model, system version and storage space size will be shown in the main interface like below.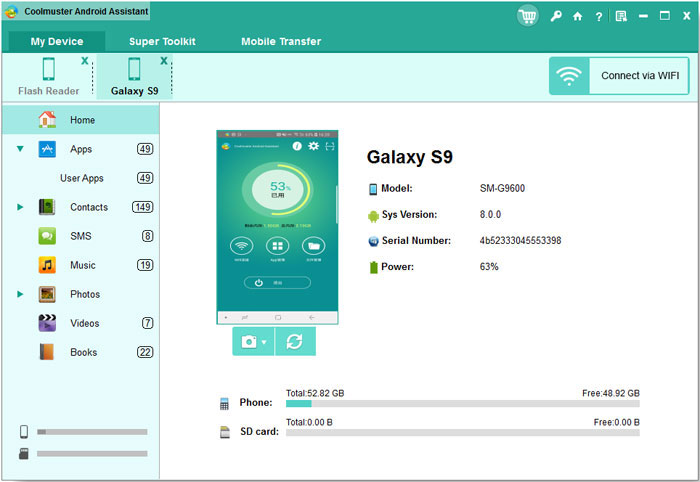 Step 2: Add contacts to Android phone on computer effortlessly
Navigate to the "Contacts" tab on the left panel and click on the small triangle in front of it. Then, choose "All Contacts" to enter and contact managing window. Now, you can select "New" option from the top menu and add your new contact information in the pop-up window.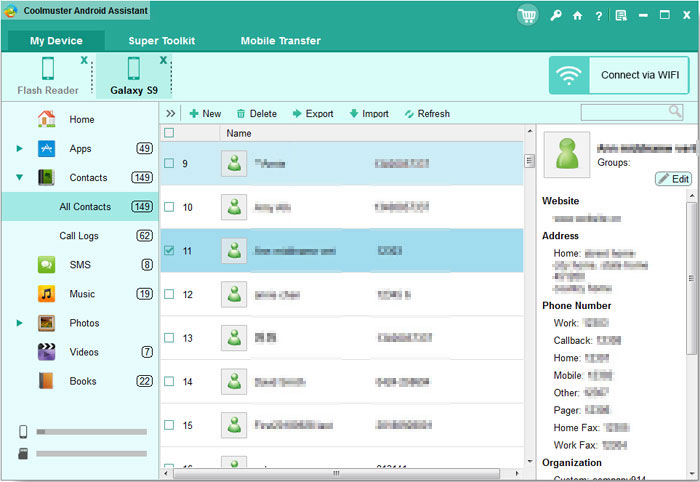 The benefits of using Coolmuster Android Assistant:
As the Coolmuster Android Assistant can be so easily used to create new contacts on an Android phone, as well as moving contacts between a computer and an Android device, it is very useful when it comes to creating backup copies of valuable data caches. This is an essential process for all Android users, because technology is not infallible - it does run into problems sometimes, and you can run the risk of losing important data if it is not safely backed up.
Video Tutorial
Related Articles:
Save Contacts from Samsung Galaxy/Note to Computer