How to Backup Android Contacts to Outlook
It is a vision to keep a backup of your Android phone contacts on somewhere, especially when there're more contacts than your Android phone can contain and old contacts are wiped by the system when new ones are received; when the card storing your contacts is ruined; and when you recover the factory defaults. Last time, we talked about how to sync Android contacts to Gmail, and this time we would like to show you how to back up contacts from Android phone to Outlook.
Steps: Back Up Android Phone Contacts to Outlook
Step 1: Export Android contacts in CSV file
Download Coolmuster Lab.Fone for Android here:
1. Launch Lab.Fone for Android and connect your Android phone to the computer.
2. Select "Contacts" and click "Next" to let the program scan your Android phone.
3. Preview and select the contacts you want to export and click "Recover".
Then, you can get your Android phone contacts in CSV file on your computer.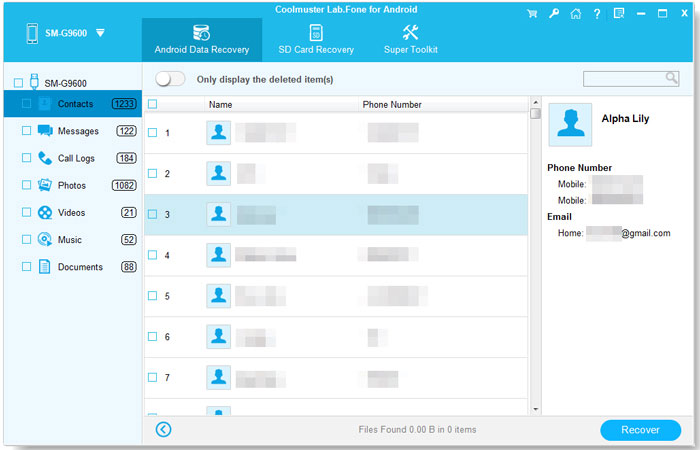 Step 2: Open Outlook
Open Outlook and go to top left corner to click "File". Scroll down to choose "Open " -> "Import". Then, there will be a pop-up window asking you which action you want to perform.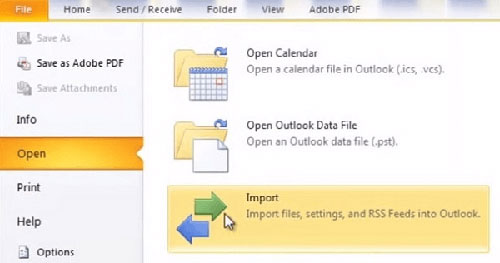 Step 3: Import CSV contacts to Outlook
There are several programs you can import contacts from. Here, you just select the option of "Import from another program or file" and then click "Next". This will open another window, from which you should choose "Comma Separated Values (Windows)" and then click "Next".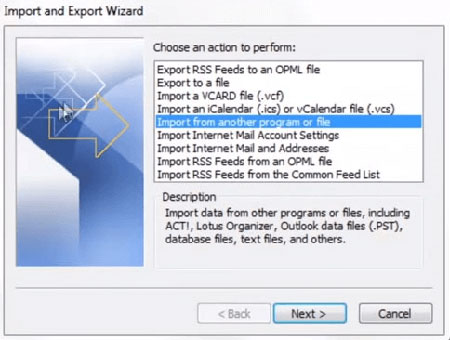 Step 4: Select the CSV contacts to import
From the new window, you should browse for the file you want to import and click "Next". Just make sure the "Contacts" folder is highlighted and then you can click "Next".
Note: If you already have contacts on your Outlook, you'd better check off "Do not import duplicate items" so that the contacts in your Outlook will be excluded from the import.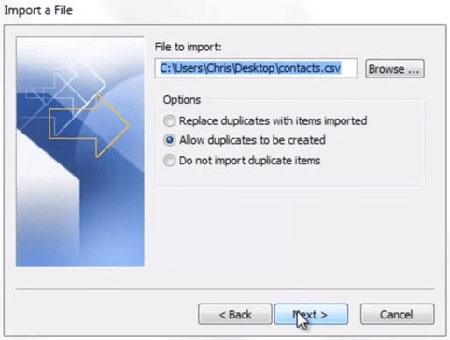 Step 5: Sync Android contacts to Outlook
By the way, you can change contact settings according to your needs. After that, the syncing process will begin at once. When it is end, click "Finish" and all your Android contacts will be synced to Outlook successfully.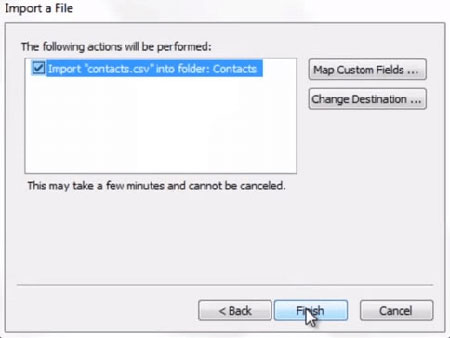 Tips: Keeping a backup of your Android contacts on your computer is also a good choice. Here is a guide telling you how to transfer Android contacts to computer for backup.
Related Articles:
How to Copy Files between HTC Phone and Computer