No matter the type of data we have on our devices, protecting it should always be a top priority. Regular back-ups are vital to ensuring you won't experience an unexpected data loss. Outlook contacts are important to us. They store crucial contact information such as phone numbers and email addresses of those closest to us. It is essential to regularly back up Outlook contacts to avoid any mishaps in case of data loss due to malware or another cause.
Furthermore, if you have a backup, you can quickly restore it later on your device. There are a variety of options to back up outlook contacts. This article presents the most dependable and easy-to-use methods to back up contacts in Outlook manually and automatically, so no matter what happens, your data will always be secure.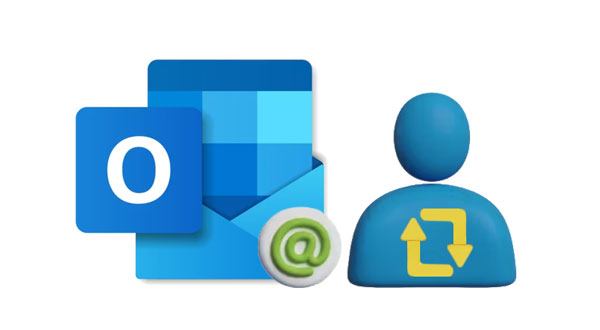 Part 1: Why Back Up Contacts from Outlook
Regularly backing up your Outlook data, particularly contacts, is a wise habit. It is very hard to regain your lost contacts and any other file in case you lose them. You can easily pay to repair your damaged computer or phone, but if you lose any of your files, they are forever gone.
To ensure your contacts and their info are protected, it is essential to back them up. If something unfortunate occurs on your phone, you can conveniently reload them into Outlook without worry.
There are many reasons why you should consider exporting Outlook contacts:
* Exporting Outlook contacts will help you send the contacts to another mail service.
* You will move the contacts to another device or a computer.
* Prevents data loss, and you can restore your contacts when you want to.
* You can manage Outlook contacts in Microsoft Excel or any other spreadsheet program.
* You may choose a target file format that suits your needs when exporting contacts. The most popular file formats are CSV and PST.
For instance, if you want to transfer your contacts to a different email client, you can effortlessly export them into either CSV or Excel file formats which are manageable file formats supported by most clients. In contrast, when migrating multiple users from one platform to another manually, you must use the PST file format.
While you can export Outlook contacts into specific file formats, a regular contacts backup is even better. This will ensure you have copies of your Outlook contacts even if you lose the original files.
Knowing the process and tools to export or back up Outlook contacts is essential. Doing so will help protect your valuable contacts and other data stored in Outlook. With regularly backed-up files, you can easily restore them to any device.
Part 2: Back Up Contacts from Outlook On PC
Outlook's Import/Export feature allows you to copy your contacts to a PST or CSV file, saving you time and energy. This method simplifies backing up all of your contact information. For those looking to import their data into Outlook later, go with PST. However, if you wish to import the contacts into another email client or a program such as Word or Excel, you can use CSV.
2.1 How to Back Up Outlook contacts in PST File
Backing up Outlook contacts as a .pst file is the perfect way to ensure your contact information is always available when needed. By securely storing this data in an easily retrievable PST format, you can swiftly and without hassle import it into Microsoft Outlook whenever required.
This backup option provides a way to store the available contacts for restoration if your device crashes or gets updated.
Here's how to export your Outlook contacts to a PST file:
Step 1: First, open the program and press the "File" tab from the top taskbar. Then, select "Open & Export" and "Import/Export".
Step 2. Select the "Export a file" option and press "Next". Then hit the "Outlook Data File (.pst)" choice to export PST files. Once you have done that, click on the "Next" button.
Step 3: Find the window for "Select folder to export from" and select the "Contacts" folder.
Step 4: Customize the name of your backup file and choose a location to keep the file. When you are done, hit the "Finish" button. You can also change its encryption/password settings, then click "OK" to finish. Finally, back up your contacts to a cloud or another device.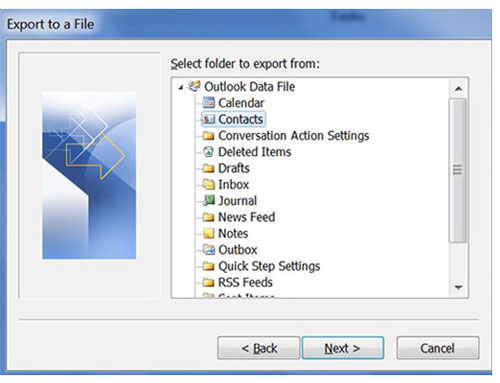 You might need: Fast Sync Outlook Contacts on iPhone in 5 Ways
2.2 How to Back Up Outlook Contacts to CSV
On the other hand, you may also want to save your Outlook contacts in a Comma Separated Values (CSV) file first. Fortunately, CSV files are supported by Outlook, and it's one of the most popular contact-saving formats around. However, the procedure may take time to finish manually. You can save the backup onto any external drive or cloud account. Here's how to backup Outlook contacts to a CSV file:
Step 1: Open the Microsoft Outlook program and sign into your account. From there, locate the "File" tab at the top of your home screen.
Step 2: Select the "Open & Export" option on the left panel. Then click on the "Import/Export" option to head to the next window.
Step 3: Select "Export to file" under Action in "Import and Export Wizard". Once selected, hit "Next" and move on to the next step. Then select "Comma Separated Values" from the next list and press "Next".
Step 4: Select the "Contacts" folder from your source account in the next window. Press "Next" to move on. Enter your desired contacts file name in the allocated text field and hit "Finish". A prompt named "Import and Export Progress" will appear, showing the status of exporting your contact file.
Step 5: Access your CSV Contacts file in Microsoft Excel and see if it opens without issues. If there is no problem, you can be certain that the transfer was successful. Be sure to back up your contacts in CSV file format on cloud storage or any device.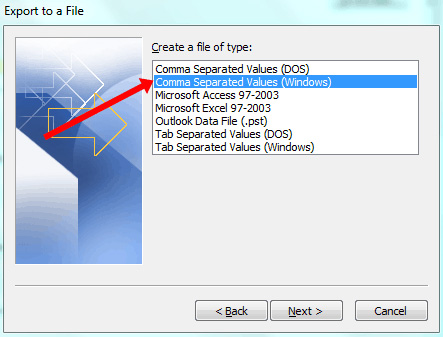 Guess you need: How to Forward Text Messages on Android? [Full Solution]
Part 3: Back Up Contacts from Outlook to Android with Coolmuster Android Assistant
How do I back up my Outlook contacts to my computer? Do you search for the method to resolve it? If you want an easier way of transferring your Outlook contacts to an Android for backup, Coolmuster Android Assistant is an ideal tool for the job. Android Assistant is an intelligent and comprehensive program that simplifies data moving on your Android device. With its three easy steps of file transfer, you will have your Outlook contacts on Android in a blink of an eye.
Besides, it lets you transfer your phone contacts, text messages, call logs, media files, documents, and other data types, to your computer. You can select your files then transfer them, or back up all data at once. Additionally, this software helps to create new and delete outdated contacts from your smartphone without a fuss.
Main features of this Outlook contacts transfer tool:
* Import Outlook contacts to Android in a single click.
* Back up and restore Android contacts on a PC or Mac.
* Manage your contacts with multiple features on the desktop, like creating groups, editing current contacts, etc.
* Support transferring your photos, music, videos, and more between Android and your computer.
* You can forward and reply to text messages directly on a computer.
Download this software to transfer your Outlook contacts.
To learn how to use this software and copy your Outlook contacts directly onto your Android phone with just one click, check the steps below:
01Launch the software on Your Computer
The first step is to install and run the program on your computer. Then choose "Android Assistant" to start it.
02Link Your Android Phone to the Computer
Connect your Android device to your computer using a working USB cord. When the connection is established, the tool will recognize the phone and display it on its main page. Remember, USB debugging must be enabled on your phone first to ensure a successful connection.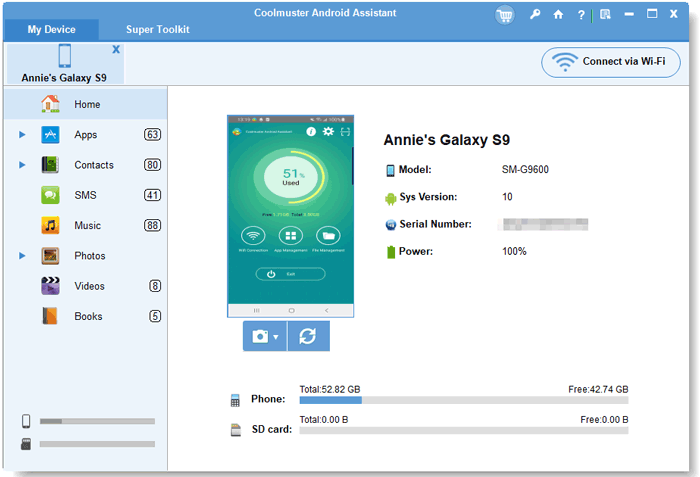 03Import Outlook contacts to Android
Navigate to the "Contacts" tab from the panel on the left. Click on it, and all of your contacts will be displayed. To transfer Outlook contacts, go to the menu on top and select the "Import" option, then choose "Import from Outlook". In no time, you'll have successfully imported them into your Android.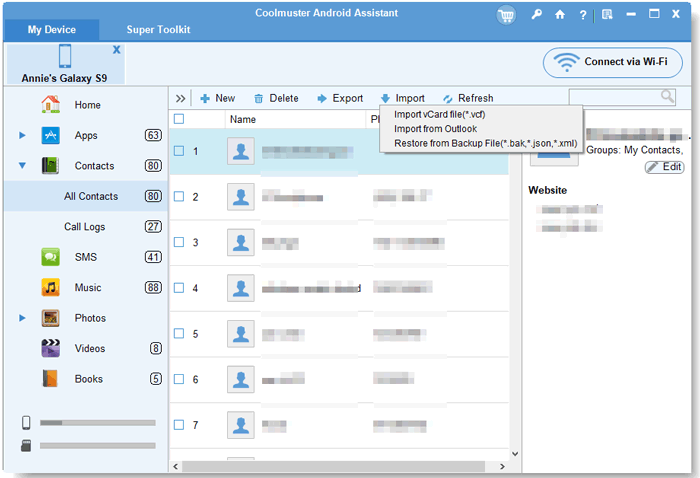 That was easy, right? With only a single click, you will get your contacts from Outlook to your Android device. This is undoubtedly the quickest and most straightforward solution for this task.
Additionally, you can use the "Export" option to conveniently copy contacts from your Android device and store them in Outlook for backup.
See also: Full Guide to Import CSV Contacts to Android Phone in 2023
Extra Tip: Limitations of Backing Up Outlook Contacts in PST or CSV File
The backup process is manual. You should always remember to back up all contacts periodically and keep them in a safe place. There is no automatic way to back up everything periodically. Although auto-archive can back up old items, it simply moves them instead of creating a copy.
Archiving isn't backup. Microsoft 365 Contacts native backups act as an archive, and the data stored in these archives is inaccurate and outdated. While these options may be helpful for legal matters, they are entirely unsuitable when considering backup for later restoration.
The data isn't very safe. After you generate the .csv or .pst file, you should save it on a flash drive, hard disk, or cloud-based services such as OneDrive and Dropbox. If not, the data remains unsecured and can be stolen or lost.
Recovery can be daunting due to time constraints, lack of accuracy, and complexity. These backups have a limited period; you'll inevitably run out of storage space if kept for more than several months. The manual backups store obsolete data, leading to inaccurate recovery. Also, recovering the files requires searching through CSVs and PSTs and scanning multiple devices, which makes it tiring.
Microsoft Office 365's native archival and recovery tools are often limited in accuracy, time sensitivity, and reliability. That's why Microsoft advises backing up Outlook contacts with reliable software.
Coolmuster Android Assistant can help in backing up Outlook contacts without any limitations. It can help you back up all contact items in your desired format. You can easily back up this data on your computer and restore it when required.
Conclusion
How do I back up my outlook contacts? You now know what to do when you want to keep your Outlook contacts safe. Backing up Outlook contacts is a great way to keep them safe and secure. While Microsoft Office 365 provides some native archival and recovery tools, they often have limitations. We found Coolmuster Android Assistant to be the software to import contacts from Outlook onto your Android in one click. The tool is user-friendly, and great for non-tech persons looking for a contact management tool.
Related Articles:
How to Block Emails on iPhone [Gmail/iCloud Mail/Yahoo/Outlook]
3 Proven Ways to Restore Deleted Contacts on Android Phone & SIM Card
How to Delete All Contacts on iPhone at Once? [Simple Ways]
[Full Guide] How to Transfer Contacts from Android to Android in 7 Ways
How to Transfer Contacts from iPhone to Android [Full Guide]