Phone users who text a lot with their Android mobile phones often encounter such a situation: phone system prompts that there is a new text message coming, but you have to delete old ones because your SMS mailbox is full. You feel very embarrassed since these text messages are meant a lot and they may record important information you don't want to lose forever. Then, why not back up your Android phone SMS for future records and treasuring? After keeping a backup, you can delete all of them from the Android phone as you need. It is pretty easy to back up your text messages on Android, as long as there is a third-party Android SMS backup tool can come for help.
Well, there are many great programs available on the market that can be used to back up Android text messages to computer, if you want a free yet reliable one to make the job done, you cannot miss the SMS Backup+, which can backup not only SMS, but also MMS and call logs on your Android phone to Gmail or Google Calendar. If you need, you can also use the app to restore the backed up SMS back to your phone. Before using this app, please remember to enable IMAP in Gmail.
To back up Android SMS to Gmail account, you need to prepare these things: SMS Backup+, a Gmail account and your Android phone. After that, you can follow the tutorial in the below to start the Android SMS backup process to the Gmail.
Easy Steps to Back up SMS Messages from Android Phone to Gmail
Step 1: Get SMS Backup+ installed on your Android phone
Go to Google Play Store, login to your Gmail account to download and install the app - SMS Backup+. After the application is installed on your Android phone, it's time to get configuring. Launch the application and the first screen you'll see will look like the following. Just choose "Connect" and select an Gmail account to back up the Android text messages.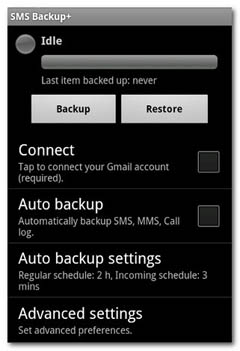 Step 2: Back up Android text messages to Gmail
Then, click the "Backup" option on the program interface and you will be promoted to start the backup process immediately. Please note you are allowed to start the Android SMS backup to Gmail by simple clicking on the "Backup" option and it will cost you one minute to a half hour to finish the backup process, which just depends on how many messages stored on your Android phone.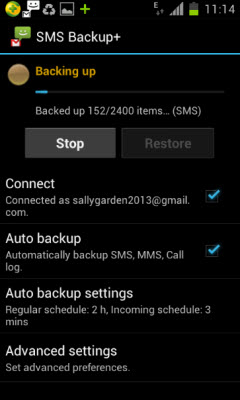 Step 3: Check the backed up Android SMS in Gmail
After all text messages on your Android phone have been copied to Gmail, you can login to this Gmail account with a web browser, choose "SMS" from the left side column and then you can see all the backed up Android SMS here, with all details about these messages are perfectly kept.

Additional Tips: How to back up Android text messages on computer in HTML/Text?
Coolmuster Android Assistant can directly move text messages from Android phone to computer for backup. It will save the exported Android text messages in HTML or Text file, which totally saves you from being afraid of the loss of data. All you need is to install and launch the desktop software, connect your Android phone to the computer and choose the text messages for transfer.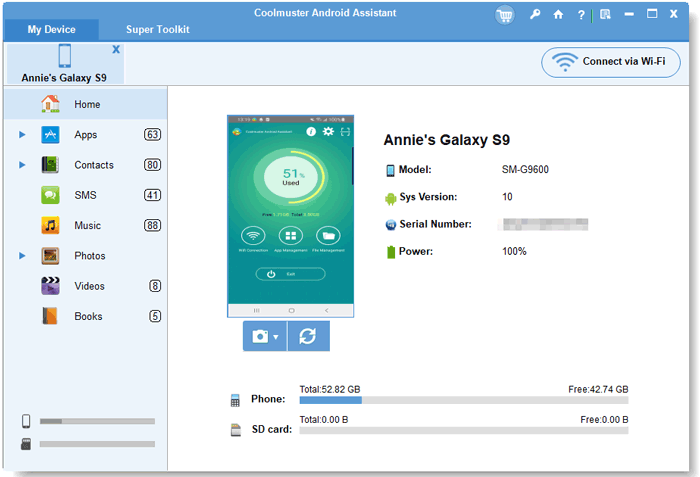 Free download the Android Assistant to have a try:
Step 1: Run the installed Android Assistant on your computer, and connect your Android phone to the computer with a USB cable or Wi-Fi.
Step 2: After recognizing your Android phone, please click the "SMS" on the left panel, and choose whichever you need.
Step 3: Click the "Export" button to start transferring the Android messages to the computer for backup.
Wrap Up
So that's how you back up text messages from your Android phone to Gmail if you need it. However, since Gmail has its own limitation, you might need the help of Coolmuster Android Assistant to back up your Android messages for better security. You can try both of them as you like.
Related Articles:
How to Back up Android Apps to Google Account
How to Back up Android SMS Messages to CSV File
Top 5 Ways Focusing on How to Transfer Contacts from Android to Computer