With the rapid development of electronic technology within the scope of the globe, people from hundreds of areas are enjoying the convenience and practicality that cell phones have brought about. Today we can always see lots of people holding and using cell phones of various models and brands on the bus or the metro in numerous cities, especially students and white-collar workers when commuting to and from school or work. Playing a vital role in thousands of people's daily life, cell phones are now controlling diverse aspects of the way we live, involving the way we prefer to keep in touch with others, the way we love to read about the latest news, and the way we feel like searching for academic materials or entertainment information.
When we need to clear our mobile phones?
Should you have used cell phones a great deal, you must have stored plenty of data on your phones, involving some extremely confidential contacts, text and voice messages, photos, videos conversation history. If you itch to trade in your phone, have it donated or given away, you should definitely learn to erase your personal data in order to protect them from being revealed before you hand it over. Otherwise you may suffer more than your data's being laid bare, which's your identity will likely be stolen. As long as you haven't closed your account, it's possible for others to make calls via your phone, and you'll need to pay for the terrible consequences. But if you dispose of your private data one by one, that will be way too time-consuming and inconvenient. What's worse is that if you merely erase them, they may still be restored with professional tools.
Your photos, videos, pictures, music and those downloaded will often be stored inside the memory card if your cell phone has one. Your contacts and text messages will usually be stored either on your phone or in the SIM card, which your phone will include one when you use a Global System for Mobile Communications (GSM)' wireless carrier. Even if you have deleted the data, they haven't gone elsewhere, sticking still around where it used to be. Pure operation of wiping data isn't equal to erasing them entirely. Instead, simply the boot area is shut down to hold you back from reading, indicating that your confidential information can still be recovered by some means. In this case, precautions need to be taken to ensure the security of your personal data.
Coolmuster Cell Phone Data Eraser Makes the Task Easy!
Coolmuster Android Eraser is a professional eraser software to provide you with safe measures to wipe private data that differ in types and formats from your Android phones. It helps erase the data efficiently, saving you time to press the delete button for several hundred times. More importantly, it not only wipes the data as they look disappeared, but also deletes them completely from your phone or your cards without leaving any remains for others to recover. So as to protect your confidential information as well as your contacts, you should turn to Android Data Eraser for help as soon as possible! Also, it can speed up your slow Android device to the best!
Take a trial version of this data eraser software for cell phone with below buttons and then follow the guide below. Please note the guide is based on Windows platform. Mac users can get the Mac version of the software and also follow this guide.
Can't Miss:
How to Erase or Wipe Call Logs from Android Phone
How to Delete Android History on Windows/Mac
How to Use Cell Phone Data Eraser Software to Make It?
Step 1. Connect Your Phone to Computer and Launch Software
Get your mobile phone connected to the computer where the data erasing software is installed. Launch the software and you will see its simple and user-friendly interface showing like below picture. Your connected phone will be detected by the program automatically and all contained files will be displayed in clear categories.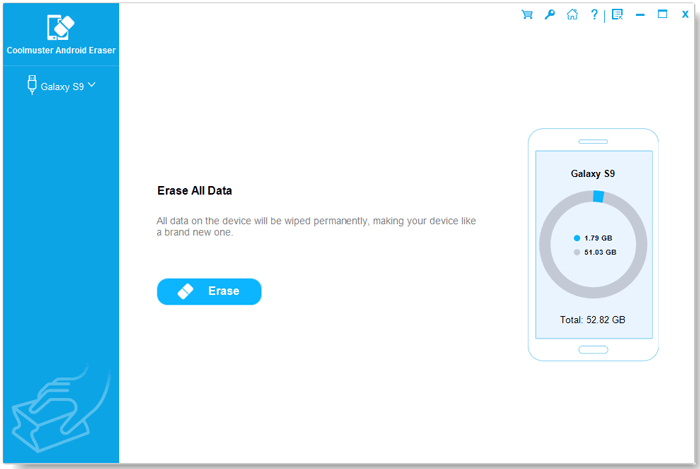 Step 2. Choose Level of Data Erasing as Needed
Three different levels of data erasing are provided by this program: High - Medium - Low. The low level will erase your phone data quickly to save your time. The medium level will leave no traceability of data erasure and use random data to overwrite all existing and deleted data on your phone. The high level is the most secure but time-consuming option which will write over the data 3 times. You can directly use the default medium level.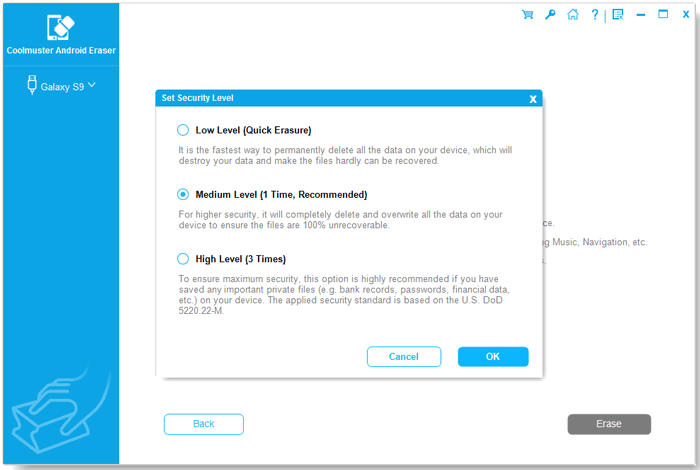 Step 3. Start to Erase Everything from Your Phone
After you choose the erasing level and the files you need to erase, you can directly click the button of "erase all data and settings" to let the program delete all data from the connected mobile phone immediately. The whole process takes you a little while and then all data will be erased permanently from your phone.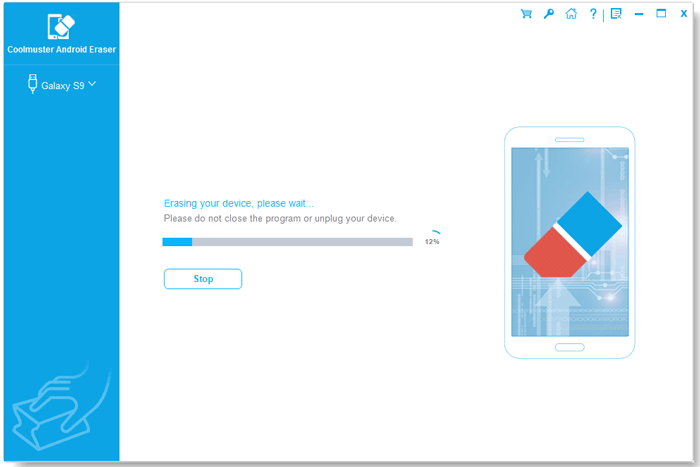 The deletion performed by this cell phone data eraser is permanent and you will see nothing can be detected or recovered by any kind of data recovery program. That's why we suggest you backup your important data that you don't want to lose before you start using this software.
Conclusion
Manually deleting each piece of data can be time-consuming and inconvenient. Furthermore, simply deleting them is not sufficient, as they can still be recovered with specialized tools. Coolmuster Android Eraser is a professional software solution that provides safe and efficient methods to wipe various types of private data from your Android cell phone. It saves you time by erasing the data in a single operation, ensuring that they are permanently deleted without any possibility of recovery.
Related Articles:
How to Transfer Contacts from Android Devices to Computer
Recover Deleted Text Messages from Samsung Cell Phone
How to Transfer Photos from Samsung to iPhone [Top 4 Methods]
Transfer Music from iPhone to Computer Effectively? (4 Tips)