There are different reasons as to why people choose to factory reset their LG phones. The most common ones are due to forgetting PIN, having locked password, app malfunctions, and even needing to remove a virus or file. Another top reason is when device is about to be sold, as nobody wants their information to be easily up-for-grabs.
There are different methods to factory reset LG phones like LG G7/G6/G5/G4/G3/G2, but the following methods are the only ones that have been noted to be efficient and easy to conduct in every aspect; therefore, they are the only ones that you should consider undertaking if you want to avoid a variety of different issues from arising on your smartphone. If you stop to think about it, playing it safe is never a bad idea.
Part 1: Reset LG Device by Undertaking Key Combination
Part 2: Reset LG Phone by Utilizing Android Device Manager
Part 3: Factory Reset LG Device on Settings Menu
Part 4: Back up LG Phone before Factory Reset It
Part 1: Reset LG Device by Undertaking Key Combination
This particular method is considered one of the easiest to put into practice. It only takes a few minutes to reset your phone by following these steps (below).
Step 1: The first thing you should do is to turn off your phone.
Step 2: Now, simultaneously, press and hold on the power/lock key and the Volume Down key. (As you more than likely are already aware, these keys are on the back of your phone.)
Step 3: In this step, when you notice that the LG logo appears on the screen, go ahead and release the Power key for just a second and then press on it again. (Opting to delay the pressing will take you backward in your goal of efficiently resetting your phone.)
Step 4: You will now set keys free once the factory-hard reset becomes apparent on the screen.
Step 5: To continue, press on the Power/Lock key. (If for some reason you want to cancel, you can always press on either one of the volume keys.)
Step 6: To confirm the factory reset, press on the Power/Lock key. This is all there is to it! (If you opted to cancel, press on either one of the Volume keys.)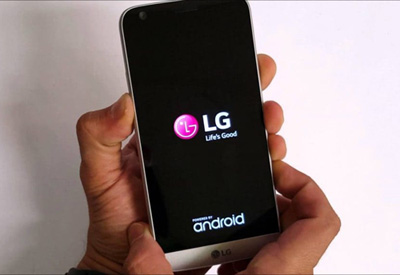 Read Also:
Back up and Restore Android Devices
Transfer Contacts from Android to Computer
Part 2: Reset LG Phone by Utilizing Android Device Manager
It is common for someone to forget their phone's password and thus get locked out. It can definitely be a very frustrating experience. If you currently find yourself in this situation, this method can make this frustration an issue of the past once and for all. With Android Device Manager, you can factory reset LG phone in a simple and easy manner. There is a configure present between Android devices and Google accounts; thus, this can be described as the ideal pathway to remotely erase phone data that is linked to a Google account.
Step 1: Visit android.com/devicemanger so that you can sign-in to your Google account.
Step 2: In this step, you are required to select device that you want to conduct a factory-reset on, by clicking on the arrow that is beside the name. You will notice that the location of device will become apparent. This comes in handy if your device has been lost, but should only proceed to retrieve it if you feel 100% comfortable.
Step 3: You will notice three options that will appear on your screen: erase, lock, and ring. Click on "Erase" to begin the permanent elimination of data of the device you selected in the previous step.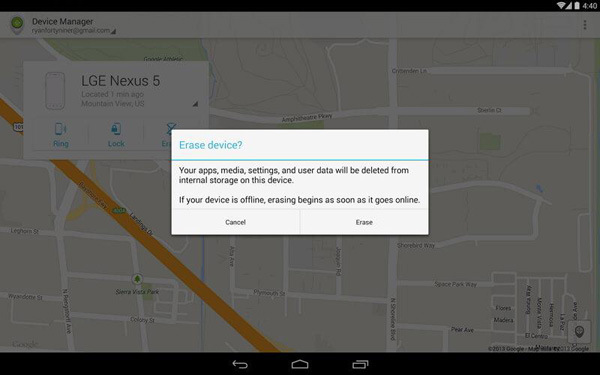 Depending on the amount of data present, this might take a few minutes; therefore, be patient in order for the process to be efficiently completed.
Part 3: Factory Reset LG Device on Settings Menu
This is another helpful method to factory reset an LG phone, especially if it has crashed or if any of the applications on it tend to freeze. By undertaking the following very simple steps, your phone will start to function again like the first day you used it. It is important to note that this method can be put into practice, without the worry that personal saved data will be lost.
Step 1: From the home screen, go to "Apps".
Step 2: Now, go ahead and click on "Settings".
Step 3: Select the "Backup and reset" option.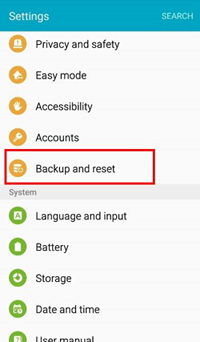 Step 4: Select the "RESET DEVICE" option.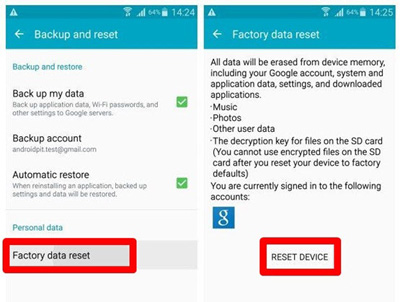 Step 5: In this final step, you will confirm by clicking "Ok". This is all you have to do!
Part 4: Back up LG Phone before Factory Reset It
There are times when a soft reset can help get your device back on track, but unfortunately, this is not the case when you want to take care of the previously mentioned. We say unfortunately due to the fact that a factory reset will completely erase everything on device and thus should only be performed when it is completely necessary, especially if you do not have a backup to save your music, videos, photos, and other important files.
Coolmuster Android Assistant is the right tool to help you back up your contacts, SMS, call logs, photos, videos or other important contents from your LG phones to computer without any data loss. It even allows you to restore the backup file from computer to the same or different Android phone. Android Assistant supports 8000+ Android devices, including Huawei, Samsung, HTC, LG, Sony, ZTE, Motorola, etc.
Follow the steps below to see how to back up an LG Android phone by using Android Assistant before factory resetting it. First of all, download and install the Android Assistant for free via the links below:
Step 1: Connect LG phone to computer
Launch Android Assistant on your computer after the installation. Connect your LG phone to the computer using USB cable and wait until it is detected by the program soon. You may need to enable USB debugging on your LG phone first.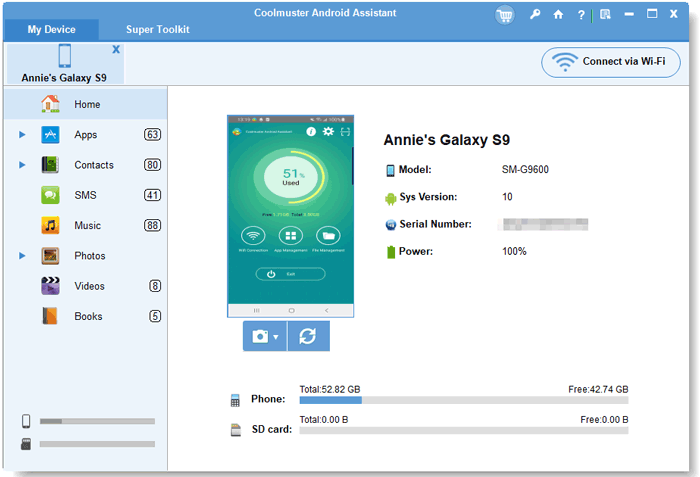 Step 2: Enter 1-click backup window
Click on the "Super Toolkit" tab from the top menu to enter the 1-click backup & restore window provided by Android Assistant. Then, you will see its window like below. Just choose the "Backup" option to continue.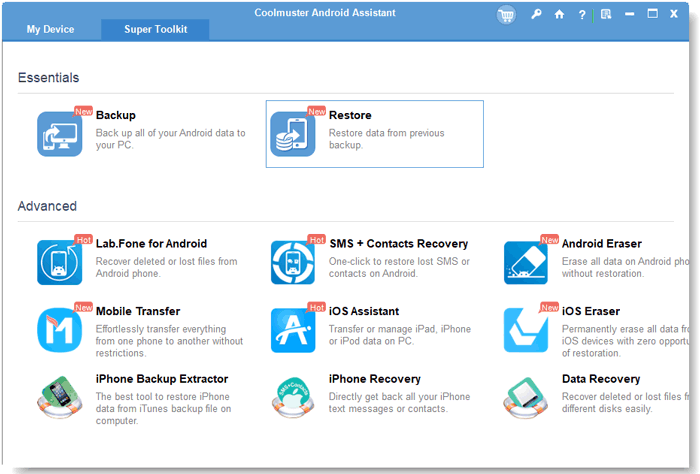 Step 3: Start to back up your LG device
Select the data types that you want to backup and click on the Back Up button. You can also click "Browse" button to choose an output location on your computer to save the backup data.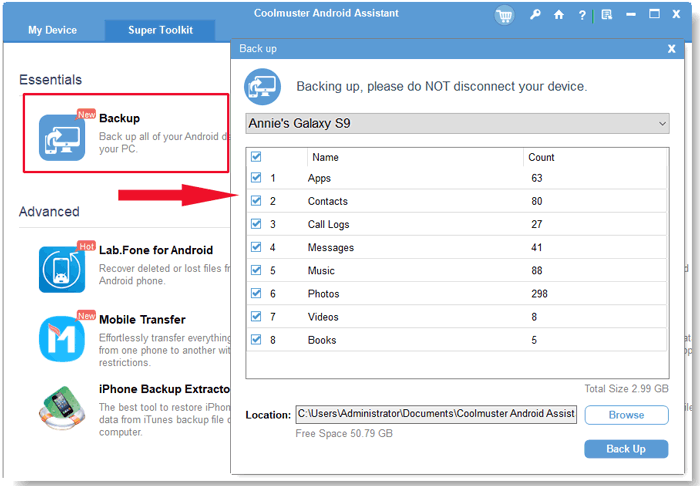 Backing up your LG Android device using Coolmuster Android Assistant will take a few minutes so be sure not to disconnect your phone from your computer or use your device until the backup is complete.
Factory Reset LG Device Following the Most Convenient Method to You
As you can tell, a factory reset is not a frustrating task, especially when you take one of these methods into account. They have proven time and time again to work efficiently and easily when put into practice as mentioned above. It is up to you to decide which one is the most convenient one to undertake. Whichever one you select, you can rest assured that your device will be free of any past issues that were holding it back from granting you a first-class experience like the one that you were introduced to when you first put it into use.
Related Articles:
Copy SMS from Motorola Phone to Computer
Transfer Contacts from Android Phone to Computer
Transfer Text Messages from Phone to Computer
Copy Contacts from Samsung Galaxy to Computer