Coolmuster Android Assistant is a great tool that can assist us in transferring files between Android mobile devices and computers. It also allows you to browse apps, SMS, photos, music, contacts, and videos on a mobile phone. Surely, this is an effective tool to use in the future. While using this tool, you can also save your files from the mobile phone to a computer and vice versa.
Still, you can also use it to share many text messages from a computer to any mobile phone in just 1 click. This tool can also transfer contacts, photos, and videos, music, and so on. It works on Android products, which are available in different versions. But is Coolmuster Android Assistant free? Well, keep reading to know how you can use it for free.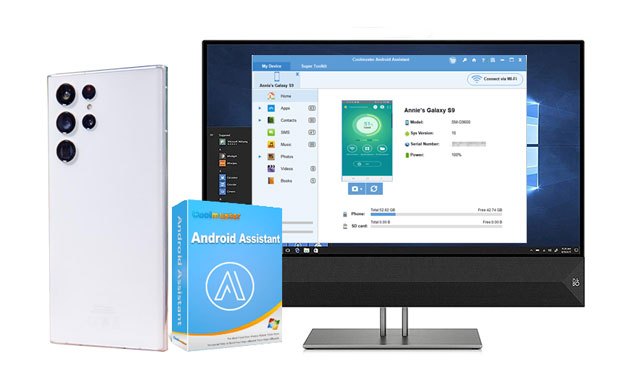 Part 1: Is Coolmuster Android Assistant Free?
Part 2: Trial Version V.S Full Version, What's the Difference?
Part 3: Get A Discount for Coolmuster Android Assistant
Part 4: Can I Use Coolmuster Android Assistant for Free?
Part 5: How to Use Coolmuster Android Assistant?
Part 1: Is Coolmuster Android Assistant Free?
If you are wondering if Coolmuster Android Assistant is free, then know it isn't completely free. There is no 100% free version available in an unlimited capacity. However, you can use the program on a free trial basis. Now, the program offers a free trial where you may freely test it out and see how it works for you. You can download your mobile phone's trial version from the Coolmuster official website.
But, the free trial version is quite limited and doesn't have all features found in the full version. In the full version, you'll get two plans; the First is a 1-year license for $29.95, and the second one is a lifetime plan for $39.95. Even if the features aren't as many as in the full version, you'll still be able to have a general idea if this tool is the right data restore program for your needs.
When you buy Coolmuster Android Assistant, you stand a chance of accessing free updates and free customer support. There's no additional cost for these services when you buy the program.
By signing up with a license, you'll be able to access the unlimited features of the program. The tool has a wide range of features and benefits that can help anyone who wants to transfer data between mobile phones and computers. It is a wonderful tool you should use on your device.
Further reading:
How to Transfer Videos from Android to Android Quickly?
7 Powerful Moborobo Alternatives: Transfer and Manage Files for Android Devices
Part 2: Trial Version V.S Full Version, What's the Difference?
As mentioned, there's a huge difference between the trial version of Coolmuster Android Assistant and its full version. The differences are significant if you consider the benefits of a full program that highly differs from its trial version.
The main difference between the full/purchased version of Coolmuster Android Assistant and its trial version is that you will only be allowed to see your Android phone or tablet data on the interface. However, in its full version, besides previewing your files, you can transfer and manage all kinds of files without a hitch.
The full version can back up all Android data to your computer in 1 click, and help you restore the backups to your mobile device without covering the current data on the device. Also, you can selectively transfer your contacts, photos, apps, music, text messages, videos, document, etc., between your Android gadget and your PC or Mac.
For management, you can edit your contacts, receive and reply to text messages, install and install applications, create groups for your photos, and more. In short, you can manage your Android files on your computer with a larger screen.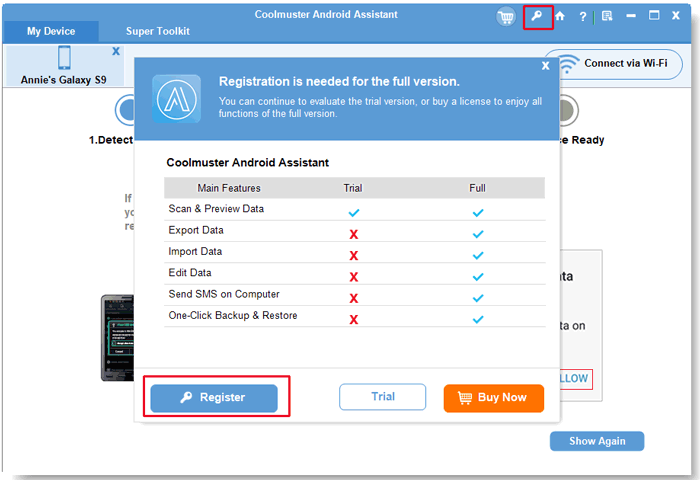 But there isn't much difference in the update. Both versions are updated regularly and come with the same features. But if you want to use its features without restriction, you will need the full version.
Read more: Want to transfer photos from your Mac to an Android phone? You can follow this full guide.
Part 3: Get A Discount for Coolmuster Android Assistant
Coolmuster Android Assistant offers a lot of benefits for you to take advantage of. If you want to get a discount on it, then now is the perfect time for you to get it. You can get the official Coolmuster Android Assistant at $29.95 to use it for one year, and a lifetime license is $39.95. Surprisingly, you can get 20% off after entering the coupon code COOL-RBWN-GIGS while adding the software to your cart.

After entering the code, you will get a more affordable price - $25.16 (includes 5% VAT to 23.96 USD).
Learn more: Smoothly Transfer SIM Card Data to Computer with 4 Methods
Part 4: Can I Use Coolmuster Android Assistant for Free?
For Coolmuster Android Assistant, there is a free version that you can use for your Android device. This tool is a great choice to take advantage of if you want to try it out before making the purchase. This is the best way to get started with the program. It allows you to test it and see its amazing features before purchasing it.
In addition, there are no limitations in using this. You can use it on all your smartphone devices like Samsung, ZTE, Xiaomi, OnePlus, Sony, and other brands of Android mobile phones and tablets.
Here are ways to win a free license code for Coolmuster Android Assistant to start using it:
Select the product you are interested in. Select the software you want from the store page. Learn all the detailed features on the website and take your free trial on it.
Come up with a review, then share your experience with the Coolmuster product. Write the review, then share your experiences on your website, forums, or blogs. You can now view the product in the video, comment, or article form.
Submit the link to review. You may contact support or share the link online.
Get your license code. After everything is confirmed, you'll get your license code through email.
Part 5: How to Use Coolmuster Android Assistant?
Now that we have an overview of Coolmuster Android Assistant, it's now time for you to use the program. Here are the steps to follow to use this program to transfer files:
Step 1: Connect Your Android to PC with a USB Cable
Install then launch the software on the computer and ensure the device is connected successfully on the computer. From there, the program will start detecting your device. It will recognize your device after you enable the USB debugging mode.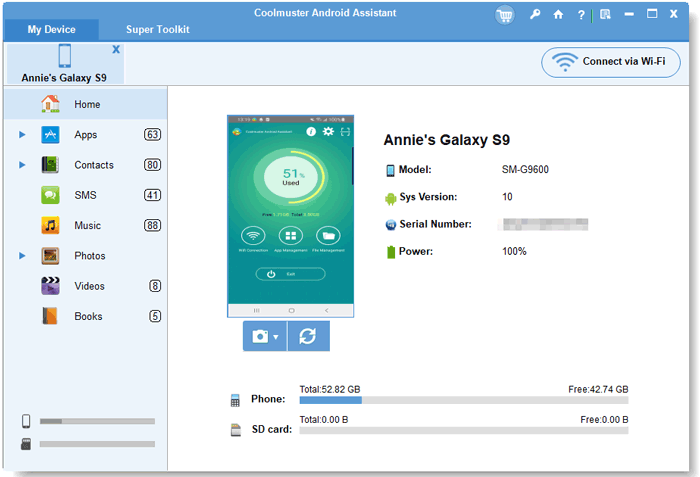 Step 2: Transfer Data in Two Ways
To transfer some specific files from your Android device to the computer, you can tap the category you want after the connection, check the desired files on the interface, and click the Export icon to save them to your computer.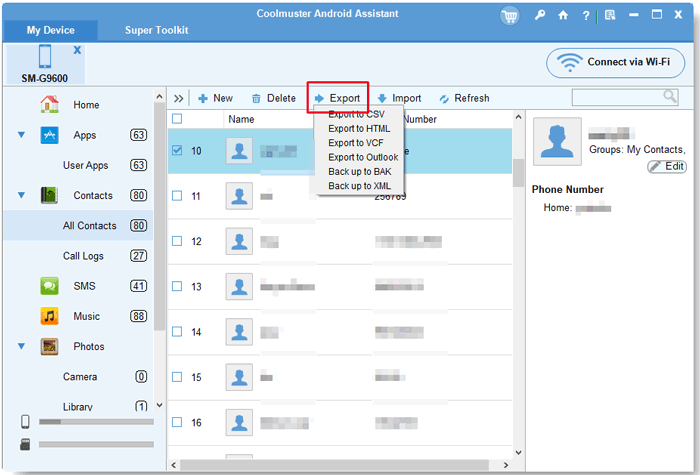 If you want to transfer all the files at once, please navigate to Super Toolkit and select the Backup option to transfer all data types from Android to the computer.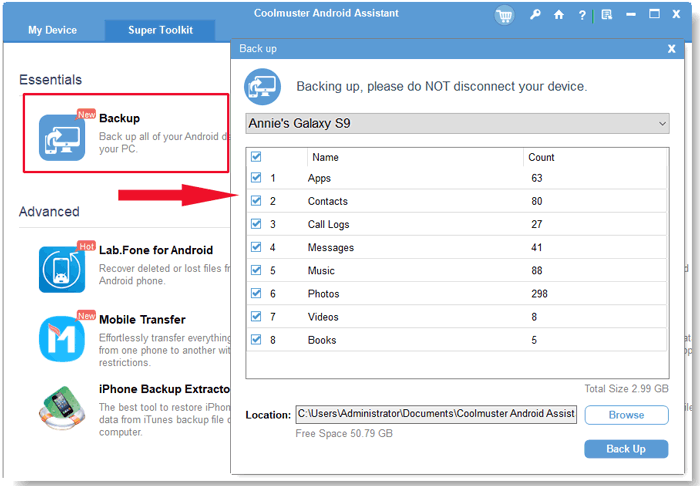 Coolmuster Android Assistant is a great file-sharing tool that can transfer files between most Android devices and computers. It has many features for you to take advantage of. In addition, it can also effectively manage your Android files with multiple features. It supports transferring, receiving, and sending text messages on your computer.
Another feature includes the ability to transfer contacts, SMS, photos, videos, songs, and so on, between any mobile device and a computer. The tool works brilliantly in all the versions of Android devices; you can use it on your old or new phone. If you want to transfer files directly from your computer to your mobile phone with this app, it will do it effortlessly.
Conclusion
From this post, you now have your answer to the question, "is Coolmuster Android Assistant free?" Coolmuster Android Assistant has many wonderful features that can assist us daily, and this is a fantastic tool for you to share files and data between your mobile devices. With its two different versions, you can still see how it works.
If you want to transfer your files efficiently, you'll need a full version. In addition, you can also get a discount when purchasing the full version. With a little bit of effort, you'll surely be able to transfer and organize your Android data with Coolmuster Android Assistant.
Related Articles:
How to Install APK on Android from PC [Top 3 Ways]
How to Transfer Files from Xiaomi to PC with or without USB? [5 Easy Ways]
How to Transfer Photos from Android Phone to USB Flash Drive [3 Ways]
5 Surprisingly Easy Ways to Transfer Videos from PC to Android [New Finding]
How to Transfer Text Messages from Samsung Phone to Computer? [Top 6 Ways for You!]