Coolmuster Android Assistant is known as an excellent Android phone Manager for users. Because it can manage all kinds of files from the Android phone on the computer easily, it is recommended by most users. But part of users raise the question of "Is Coolmuster Android Assistant safe?". Well, today we will uncover the veil of this question and you can also know more about this Android Assistant here.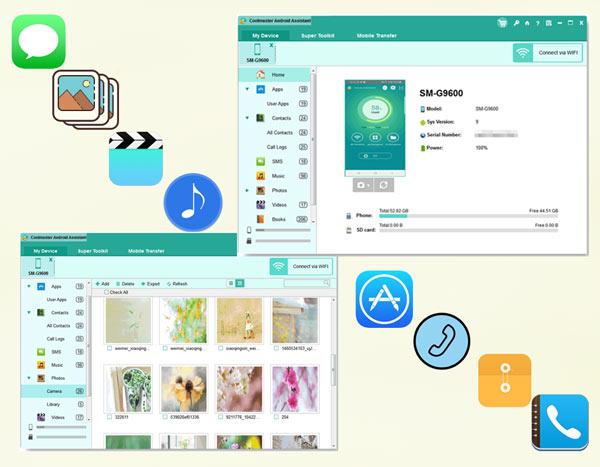 Part 1: What Is Coolmuster Android Assistant
Part 2: Is Coolmuster Android Assistant Safe?
Part 3: Why Is Coolmuster Android Assistant Reliable
Part 4: What If Coolmuster Android Assistant Doesn't Work
Part 5: What Are Actual Reviews of Coolmuster Android Assistant
Part 6: Using Tips about Coolmuster Android Assistant
Part 1: Who Created Coolmuster Android Assistant
First of all, Coolmuster Android Assistant is designed by Coolmuster which is a leading consumer software provider that established in 2005. And Coolmuster Android Assistant is one of the most popular applications of Coolmuster. Coolmuster is working to develop the most powerful and user-friendly Android, iOS, office software with high quality. What's more, they are optimizing this Android Assistant all the time for offering the better version to users, so it will become stronger and stronger in the future.
The following is the key features of Coolmuster Android Assistant:
1. Coolmuster Android Assistant is designed to help you manage your files on Android in an easier manner. You can cope with your files on the computer with a large screen, letting you start your management more comfortably;
1. You can back up all the data from your Android phone to the computer in 1 click via its Super Toolkit;
3. It supports to restore the backup files from the computer to your Android phone selectively or all with 1-click;
4. Contacts, text messages, call logs, photos, videos, music, apps, documents, and so on are supported;
4. Preview text messages and other Android files on the computer clearly before managing;
5. Two ways for connection between Android phone and computer you can choose: USB cable or WiFi;
6. Receive and send SMS on the computer; edit, delete, and add Android contacts;
7. Copy, move, and create the playlists of your own songs;
8. Highly compatible with nearly all the Android phone, such as Samsung Galaxy S23 Ultra/S23/S22/S21/S20/S10/S9, Sony Xperia 1 V/ Xperia 10 V/Xperia 1 IV/Xperia 5 IV/Xperia 10 IV/Xperia Pro-I/Xperia 1 III/Xperia 5 III, Motorola Edge+/Moto G Stylus/Moto G 5G/Moto G Power 5G/Moto G73/Moto G72, HTC U23 Pro/U20/U19e/U12 Life/U12+/U11/U Ultra/U Play, ZTE Axon 50 Ultra/Axon 40 Ultra/Axon 40 Pro/Axon 30 Ultra/Axon 30 Pro, Xiaomi, Huawei, OnePlus, LG, Oppo, and so on.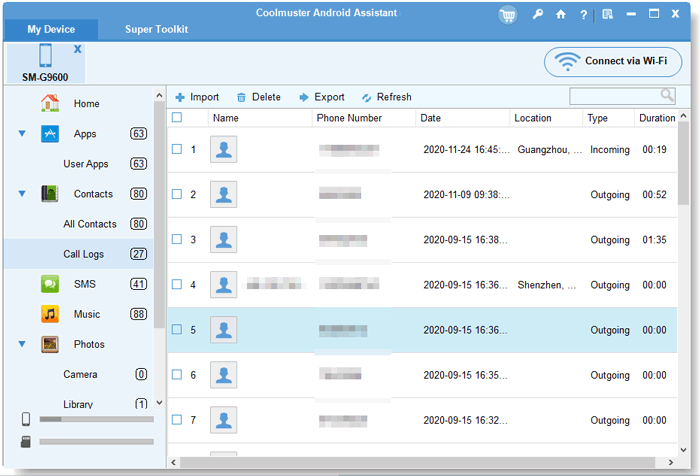 Part 2: Is Coolmuster Android Assistant Safe?
The answer is yes. Coolmuster Android Assistant is safe completely. Coolmuster Android Assistant is downloaded and used by millions of people and up to now, there is no information leakage of the users. You can rest assured that this software will not damage or misuse your data.
Going through the countless study and tests, there is no virus, ads, useless pop-up windows, malware, and other things which will damage your Android phone. Coolmuster Android Assistant will read the necessary data on your phone only. So, you can download Coolmuster Android Assistant from its official website without worry.
Furthermore, you can follow Coolmuster on famous platforms, such as YouTube, Twitter, and Facebook.
Read more:
Android Music Sync - 4 Ways to Sync Music between PC and Android
7 Powerful Moborobo Alternatives: Transfer and Manage Files for Android Devices
Part 3: Why is Coolmuster Android Assistant Reliable
The first thing you need to know is that there is a professional team behind Coolmuster Android Assistant, which is the fundamental guarantee to provide reliable applications and services.
Secondly, all the process from downloading the app to making an order is in a safe environment. According to its privacy policy, Coolmuster Android Assistant reads your content from Android device only after getting your permission.
In addition, the personal information which is necessary for the transaction is protected strictly, and Coolmuster uses secure server hosted by MyCommerce, secure socket layer (SSL) technology, and the third-party credit card processors. Your personal information is encrypted, including your full name, address, email address, phone number, credit card number, etc.
Besides, you can find the answers after searching on its website. For example, when you are looking for how to fix when the program freeze or crash, then you can get the target page in no time. And you can visit the FAQs of Coolmuster Android Assistant to get help breezily.
Part 4: What If Coolmuster Android Assistant Doesn't Work
Accidents often occur unexpectedly. If Coolmuster Android Assistant doesn't work or crash like other applications on your computer, many reasons could result in it.
Maybe the wrong operating steps, incompatibility between the app and your devices, antivirus app deleting some files of the program by mistake, and so on. You can get help from the page how to fix when the program freeze or crash, or search the problem via typing it in its searching box. You can also contact the customer service center of Coolmuster, the customer-service agent will respond to you in time.
Part 5: What Are Actual Reviews of Coolmuster Android Assistant
Actually, Coolmuster Android Assistant has a review part on its official website. And more and more users leave their reviews on it, so you can visit it freely to get the authentic reviews.
Besides the gratitude to Coolmuster Android Assistant for its help, some users will leave useful opinions in the comment area. Therefore, the actual reviews are not only helpful with users, but also important for the developers of this Coolmuster Android Assistant.
They will check the reviews on time in order to get the authentic intents from users, and then they will make the improvements in accordance with the reviews. They pay attention to every user's opinion, which benefits the application and makes a long term of its development.
Here are some reviews from users below for your inference.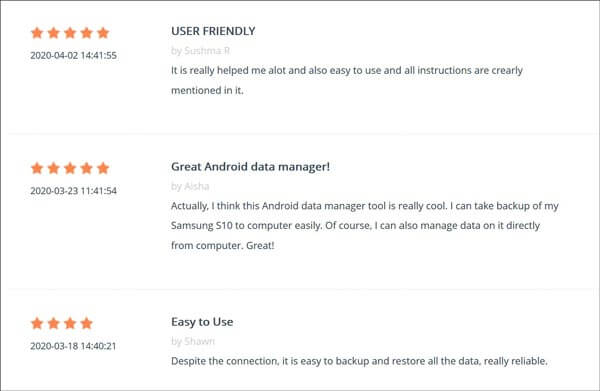 Perhaps you like: Can you restore iTunes backup to your Android device? Yes, you can make it, as long as you learn this guide.
Part 6: Using Guide about Coolmuster Android Assistant
The last part is planning to show you the using guide about Coolmuster Android Assistant. Follow the steps, you will manage your Android files without hassle.
Step 1: Download Coolmuster Android Assistant
To start with, please download and install Coolmuster Android Assistant on the computer. After launching the app, click the "Android Assistant" module.
Step 2: Connect Android Phone to PC
Next, take out your USB cable to make a connection between your Android phone and the PC. And you can choose the brands of your phone on the interface, it will help you enable USB debugging on the Android phone. Then the software will recognize your phone right away.
Step 3: Manage Android Data on Computer
Once connected, you will see your Android content display on the left panel. Clicking on one of them, the data will appear on the right side of the screen.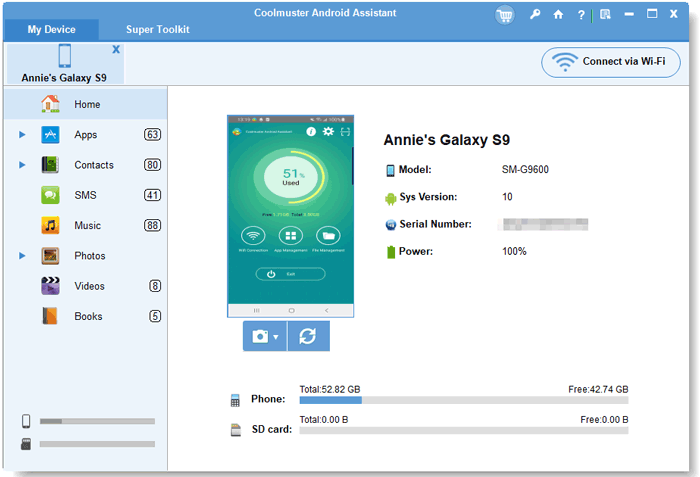 If you want to back up and restore your data in 1 click, please tap on the "Super Toolkit" icon and you will see the features on the page as below.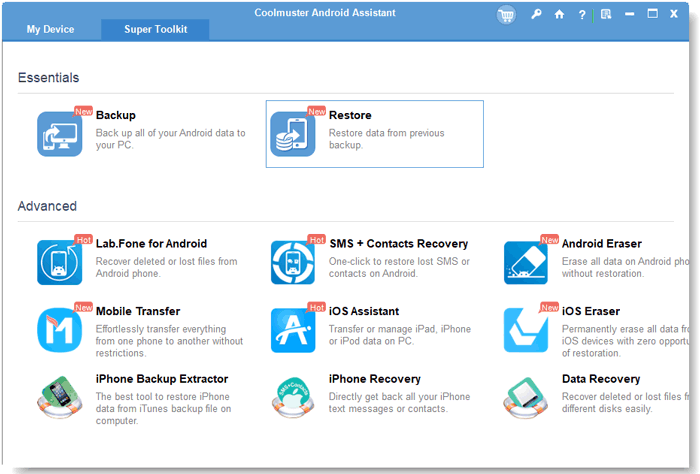 And here is the way for backup: Tapping on the "Backup", you will see the data on the pop-up page. Finally, select a location on the PC to store the files and hit on the "Back Up" button at the lower right corner, all your data will be backed up from the Android device to the computer soon.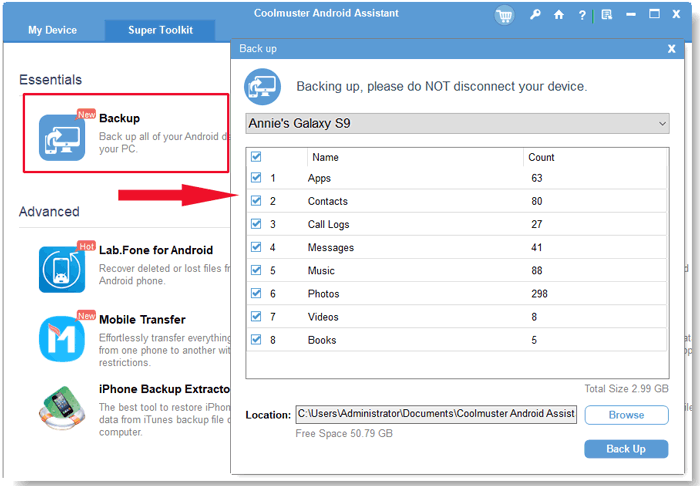 Bonus: Want to transfer files from Android to PC via WiFi? Why not see these 6 practical ways?
Conclusion
After reading, you will know Coolmuster Android Assistant is safe, and learn more about the Android Assistant. What's more, I hope it will be helpful for you. Lastly, please feel free to contact us if you have any questions about the product.
Related Articles
Back Up and Restore Android Data with One Click [Top 3 Ways in 2023]
How to Transfer Text Messages from Android to Computer (Windows/Mac)
How to Back Up SD Card on Android Phone and Tablet?
The Top-Chosen Worthwhile Methods to Back Up Contacts from Android Device
How to Back Up Android to Mac? [Top 3 Ways Offered]