Motorola witnessed the history of the whole mobile phone and as the wireless communications industry leader, it changes our familiar cell phone into indispensable personal communications products used in daily communication, data management and mobile entertainment. On August 1st, 2013, Motorola held a conference in New York and officially released Motorola Moto X. Moto X is carrying the latest Android 4.2.2 system, but did a lot of customizations, such as forever active voice recognition function that allows users to use "OK Google Now" voice to control the phone anytime and anywhere, without having to open the phone to send voice command. In the aspects of motion gestures, cameras and remind system, Moto X also has its own improvement. For example, when you waving the phones to make the photographing gesture, the camera application will automatically launch. When detected the action of picking up the phone, it will exhaled the remind list automatically without manual light the mobile phone - just like the samsung Galaxy S4 does.
If you are using Motorola phone for a long time, the contacts on the phone will become swell and messy. Irregular contacts display would make the contact management confused, especially when you need to contact somebody urgently, however, you just can't find his phone number in your phone because there are too many phone numbers marked with the same contact name. So you hope there is an contact managing program that can help you managing these messy contacts and make them clearly and orderly. Well, manage phone contacts on your computer would much easier than doing it on the phone. For instance, you have a lengthy contact list and want to add them all on your Motorola phone. I bet you don't want to type them to your phone one by one manually. Also there is another situation that you need to backup your Motorola contacts to computer because losing all contacts from your phone is no fun.
Problems can be solved once and for all with Coolmuster Android Assistant!
To make a summary, what you need is a tool which can not only allow you to backup all the contacts from Motorola phone to computer, but also enables you to edit the contact information on computer. No need to look up and down, just look no further than Coolmuster Android Assistant, which is just such a program that can meet your requirements fully. It is a simple yet professional Android phone application which is specially designed for Android users to manage phone data like contacts, SMS, photos, videos, apps, music, books and more on computer directly. With it, you can add, delete, edit, group and backup Motorola contacts on computer easily. It works on almost all Android-based devices, such as Motorola, Samsung, LG, HTC, BlackBerry and so on. Coolmuster Android Assistant for Mac is rightly made for Mac users to manage contacts on Mac computer. It has the same functions with the Windows version.
Read More Articles:
Manage/View Android contacts on computer
Take a trial version of this Android managing tool with below buttons and then follow the guide below. The following guide is based on Windows platform and all the pictures are captured from the Windows version. If you are running a Mac computer, you should get the Mac version of the software and also refer to this guide.
Detailed Guide Shows How to Manage Contacts on Motorola Atrix/Charm/Droid
Step 1. Connect Your Motorola Phone to Computer
Download and install the Motorola Contact Manager on your PC, launch it to get ready. Then, connect your Motorola phone to the computer via a USB cord and once the connection is successful, your phone will be detected by this program automatically. If it is the first time to run this software, you may encounter the following picture that requires you to enable USB debugging on your phone at first. If your phone can be detected by the program, you can skip to the next step.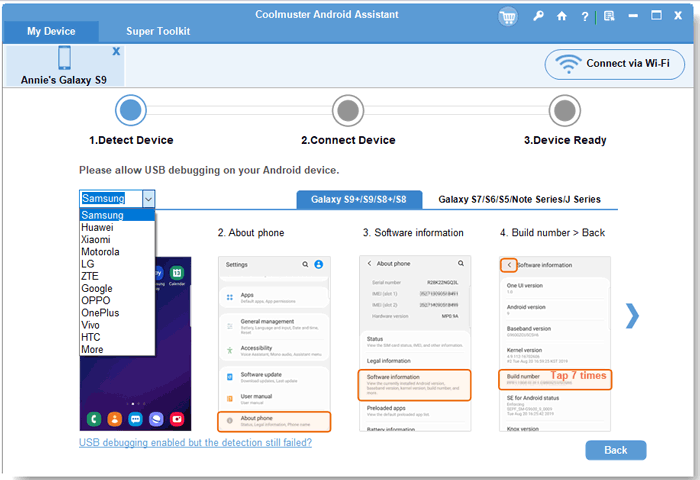 Follow the below instruction to enable USB debugging:
1) For Android 2.3 or earlier: Enter "Settings" < Click "Applications" < Click "Development" < Check "USB debugging".
2) For Android 3.0 to 4.1: Enter "Settings" < Click "Developer options" < Check "USB debugging".
3) For Android 4.2 or newer: Enter "Settings" < Click "About Phone" < Tap "Build number" for several times until getting a note "You are under developer mode" < Back to "Settings" < Click "Developer options" < Check "USB debugging".
Once the USB debugging is enabled, click "Allow" on your phone to allow the program super user authorization when an Superuser Request pops up. Then, the parameter information of your phone, including phone model, system version and storage space size will be shown in the main interface like below.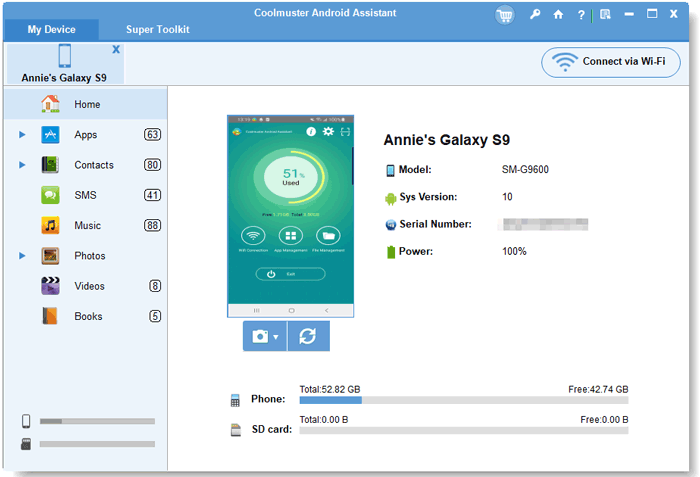 Note: Coolmuster Android Assistant is fully compatible with all Motorola phones, including Motorola Atrix, Motorola Atrix 2, Motorola Charm, Motorola Quench Cliq XT, Motorola Droid, Motorola Milestone, Motorola Droid X, Motorola Milestone X, Motorola Droid X2, Motorola Global, Motorola Backflip, Motorola Devour, Motorola DEXT, Motorola Defy, Motorola Flipout, Motorola Droid Bionic, Motorola Admiral, Motorola Droid RAZR, Motorola Droid RAZR MAXX, Motorola Atrix HD.
Step 2: Enter the Contacts window
From the top menu, you can see all the files in your Motorola phone are displayed in categories. Click the "Contacts" icon from the top and click on the "All Contacts" option from the left panel, you will see all the phone numbers in your Motorola phone will show in list on the right. Mark the contacts you want to manage on computer and click the button of "Export".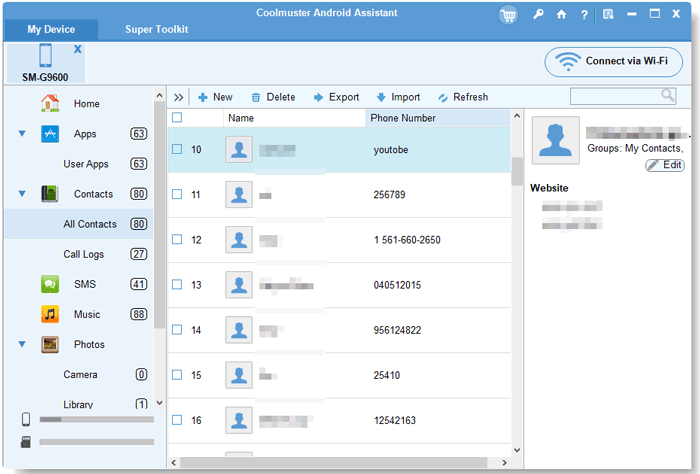 Step 3. Start to export and manage Motorola contacts
After that, a "Path" dialog will appear, asking you to choose an output location to save the exported contacts. Just choose a place on your computer and then click the "Ok" button to begin the transfer process. Wait for a short time, all the selected contacts will be exported to the specific location. Now, you can manage them on computer without any hassle.
More Functions of Coolmuster Android Assistant:
* Send group messages via computer to any mobile phone number;
* Back up text messages, contacts, photos, music, videos and apps to computer;
* Manage contact info on computer, including adding new contacts, deleting or editing existing contacts;
* Push music, pictures and videos from computer to your Android phone;
* Restore your phone from the backup files with one click.
Download the full-featured program to have a try:
Video Tutorial
Related Articles:
How to Print LG Phone Text Messages Conversations out