How to Recover Lost Data from OnePlus Phones?
With so many Android devices spreading all over the world, people can easily switch from one phone to another. One of those popular Android phones is currently known as the OnePlus One phone or better known by the abbreviation OPO. The name of the manufacturer of this device is called OnePlus One and they are responsible for releasing their first initial smart phone in the year 2014 in the month of April was the exact unveiled date. This phone was also noted as having pre-installed OS system that was described a commercial variant of Cynagenmod. Just like other Android devices, data can be lost from OnePlus phones due to various reasons and people are searching for an efficient OnePlus data recovery method.
Though there are many Android data recovery programs available on the web, some of which are much better than others, which involves the use of software like Coolmuster Lab.Fone for Android (with its Mac version - Lab.Fone for Android Mac). This application is idea for users who want to recover their information without a lot of unnecessary hassles.
What Can OnePlus Data Recovery Tool Do for You?
1) Help you recover overall types of lost and deleted phone data, such as contacts, text messages, photos, videos, audio, call history, etc.
2) Scan both the internal memory and the external SD card of your OnePlus phones.
3) It can be done easily with 1 to 3 step process for recovery.
4) Supports not only OnePlus One/2, but also Samsung, HTC, LG, Motorola, Sony and other more Android devices.
By the way, we also have a guide tells you how to recover SMS from OnePlus phones. We also kindly suggest you backup Android phone on computer, so that you can restore your phone from the backup file directly. The following guide tells you how to recover lost contacts, SMS, photos, videos, audio files, call logs and other more data from OnePlus phones by using the recommended OnePlus data recovery tool - Coolmuster Lab.Fone for Android.
One Click to Retrieve Deleted Files from OnePlus Phones
Step 1. Launch OnePlus data recovery software
You need to connect your USB cable from the OnePlus phone to the laptop or desktop computer, and then install Coolmuster Lab.Fone for Android application on the computer. Make sure to enable USB debugging on your phone beforehand.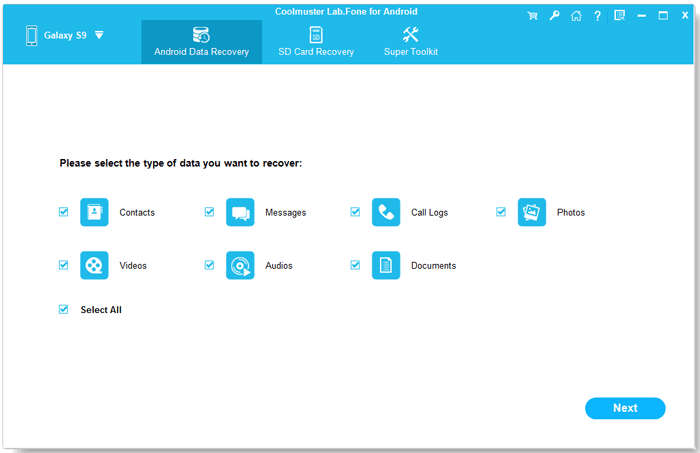 Step 2. Scan OnePlus phone for lost data
Select the data categories that you want to recover on the main interface and click on the Next button in order to let the software scan the connected OnePlus phone to find out all the lost data that needs to be recovered.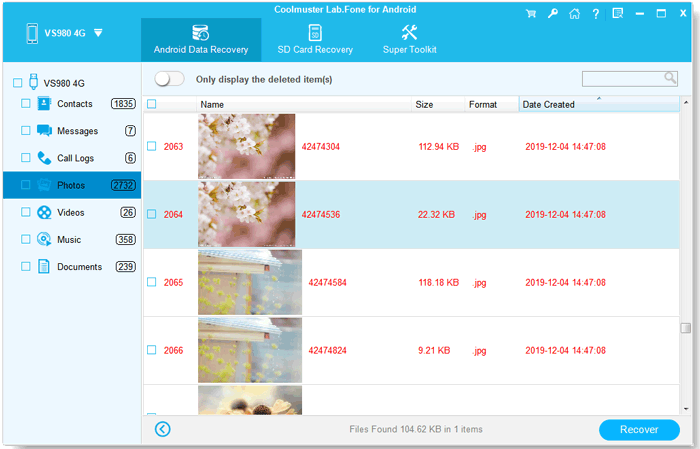 Step 3. Start OnePlus data recovery process
After the scanning, you can select all the data that you want to recover and click the button of "Recover" to start the OnePlus data recovery process.
Related Articles:
Recover Deleted Text Messages from ZenFone Phones
Recover Deleted Text Messages from Micromax
Add a comment