Mac users have a free program named Android File Transfer to help them browse and do file transfer from Android to Mac, and vice versa. But this tool has many limitations and it often fails to detect Android device, which makes the Android backup process difficult. In that case, you might want to try an Android File Transfer alternative.
However, how can you choose from so many Android File Transfer alternatives for Mac? And what are their main advantages? Does the newer software have better quality?
With these questions, please read on to find your reassuring answers from this passage.
Top #1 Android File Transfer Alternative for Mac - Coolmuster Android Assistant for Mac (Fabulous)
Top #2 Alternative to Android File Transfer for Mac - Commander One
Top #3 Android File Transfer for Mac Alternative- Handshaker
Top #4 Android File Transfer App for Mac - AirDroid
Top #5 Alternative to Android File Transfer for Mac - SyncMate
Top #1 Android File Transfer Alternative for Mac - Coolmuster Android Assistant for Mac (Fabulous)
So how to choose a suitable Android File Transfer alternative? Let's start with a few criteria for selecting Android to Mac apps.
Firstly, new or old products are not directly related to their effects, but it's better to boast a host of user groups and good evaluations. Secondly, the software functions are constantly updated, which is more important, as more features can provide more operation options, and one day we may need to use the new function for emergency needs. In addition, it should be safe, green and convenient to use. Of course, there are other indicators, such as independent operation, widely adapt to most Android phones and offering lossless results, etc.
Having said so much, here's what I'm going to talk about: Coolmuster Android Assistant for Mac (Mac OS X 10.9 or later) and Coolmuster Android Assistant (Windows 10/8/7/Vista/XP) can meet all of the above requirements. Do you want to know more about it? Let's have a rough look at it.
Here are some of the key points that Coolmuster Android Assistant for Mac attracts me:
* Support the latest Android phone such as Samsung Galaxy S20/S20+/S10/S10+/S10e/S9+, HUAWEI P40/P30/Mate X/Mate 20/Mate 10 Pro, Moto G8/G7/G6/G5/G4, E680I/E680,LG G7/G6+/Q8/Q7/Q7+/K10, etc.
* Run smoothly on almost all Android phones after connecting Android to PC via USB or Wi-Fi.
* Move music from Android phone to PC, and other data like photos videos, contacts, call logs, text messages can also be sent to PC.
* Transfer contacts, text messages, call logs from your PC to Android phone, and send messages in group.
* Back up and restore Android files selectively, and offer standalone and green management.
* Uninstall unnecessary apps from Android, take screenshot and regulate albums with one click.
Wow, fabulous! Do you want to test it in person? Download its trial version to have a go.
Many operations can be done with this tool. Here is one of the functions - how to transfer files from mobile phone to PC. Let's see how to conduct it.
1. Run the software on your computer, connect your Android to Mac via USB cables. Then enable USB debugging on your Android for the detection. After that, press Allow or OK according to the prompt to move on.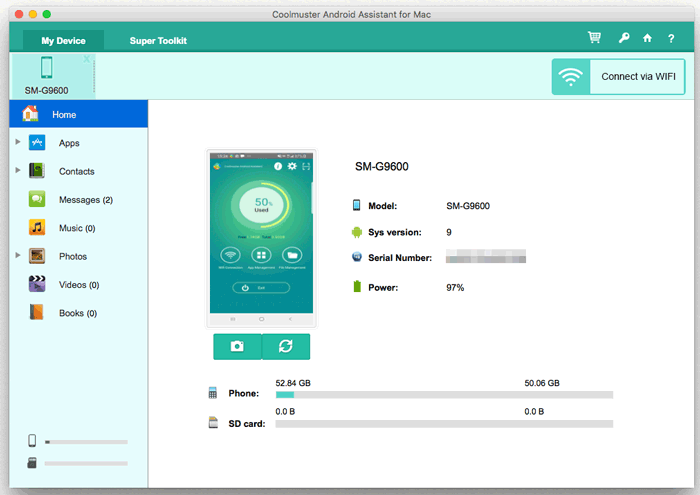 2. Tap Photos > Camera or Library tab on the left sidebar of the window. Then press the pictures and then click Export to send the images from your Android to Mac. (You can also transfer other file types with the similar way like transferring photos.)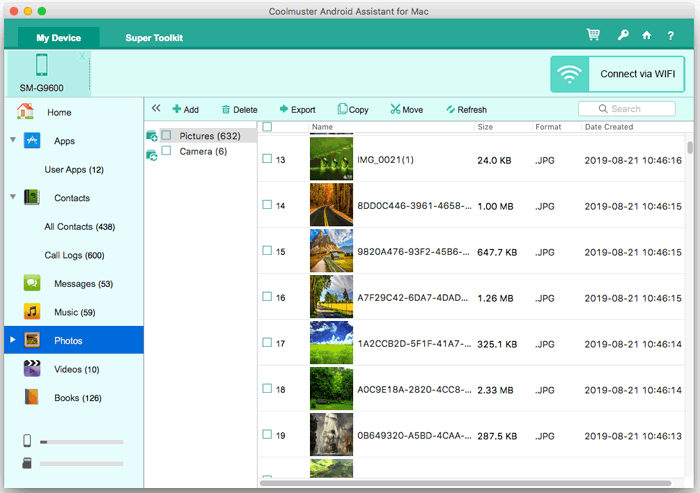 Tips: You can also conduct more Android management tasks such as backing up and restoring Android data with one click with this app.
Top #2 Alternative to Android File Transfer for Mac - Commander One
Vital Features: Commander One for MAC is a useful file management software. It has the features of adding search contents, shortcut key control, file moving and copying. After downloading, open its installation package and install it according to its direction, and click Continue to move ahead.
Commander One for Mac is a powerful software that comes with multiple functions for file management. It can integrate your clouds and network servers in one place, enabling you to manage your files efficiently. Furthermore, remote server can be accessed through FTP or SFTP, and hidden files on Mac can be displayed. Besides, it also has built-in fast FTP client, which can easily connect to SFTP remote server to run Android file transfer for Mac faster.
For those who have lost the Mac version of the double-sided board file manager, try to maintain a better solution with the Pro version of Commander One might not be as practical as using the tool in part 1.
Supported Data Category: Most media files such as photos, documents, videos, music and others.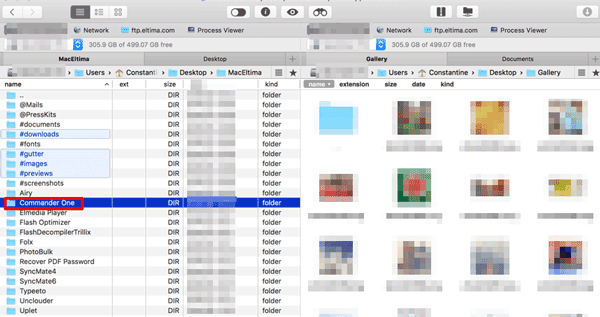 You May Like:
4 Ways to Transfer Music from iTunes to Android
How to Transfer Contacts from Android to Android in 7 Ways
Top #3 Android File Transfer for Mac Alternative - Handshaker
Key Traits: Handshaker is a file transfer and management tool that allows users to connect Android to Mac and easily manage the contents of Android mobile from Mac.
It has expanded the portability of flash capsules from the smartphone to Mac. Thus you can record and view flash ideas through flash capsules on different platforms. In addition, the new synchronization function of Handshaker album can easily conduct automatic backup for the album on the mobile phone and those on the local computer.
It is a newly launched management tool for cellphone and PC, being popular on Mac and now the Windows version. After the wire transfer speed of Smartisan is greatly updated, it supports to view the data of the Smartisan clipboard, and can input text in Handshaker as well as send it to the mobile clipboard the other way round. On top of that, it also supports data management in the external SD card.
Supported Data Category: photos, audios, videos, movies, documents, and so on.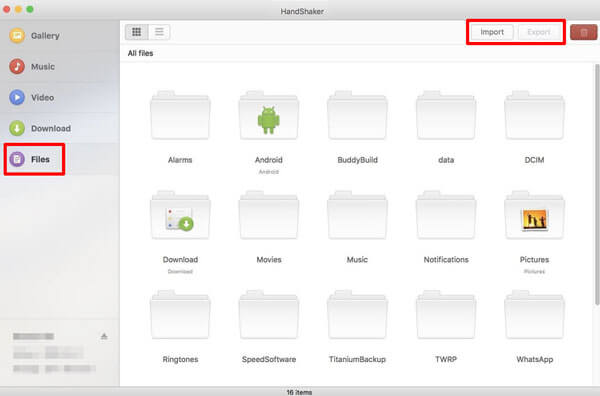 Top #4 Android File Transfer App for Mac - AirDroid
Tool Overview: After the virtual connection of Android to Mac are being made, AirDroid can view its related mobile in real-time through PC, solve all your remote access requirements, realize wireless transfer and share Android files between the cellphone and PC.
It is noteworthy that airmirror function can remotely control mobile devices and the cross platform file transfer is fast. Besides, SMS notification is synchronized to the computer, and it provides with quick response with lots of files.
Its [device] page of personal center adds the highlight of modifying the device name, and you can turn on and off the flash of mobile as well as drag and move files directly between folders. But to use some of its functions, such as remote control, remote hang up, remote assistance, remote observation and others, you need to pay a certain fee for a pro account, which is not very cost-effective.
Supported Data Category: videos, pictures, documents, music, APK files, and so forth.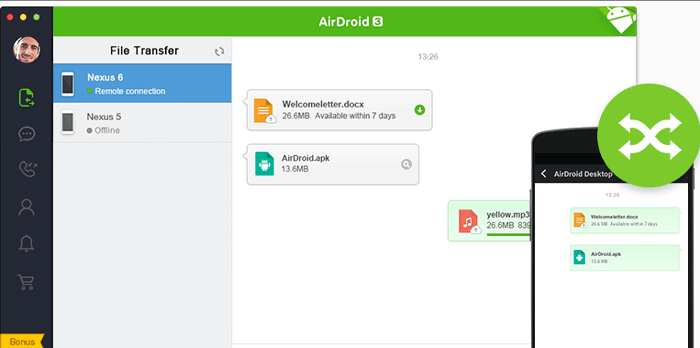 Top #5 Alternative to Android File Transfer for Mac - SyncMate
Introduction: SyncMate for Mac is a Mac mobile helper on the Mac OS system. It can help users connect their Android phone or Apple device to their Mac. SyncMate allows you to synchronize contacts and calendar entries between your Mac and supported devices. It also allows you to sync data with Google Account.
SyncMate enables you to read messages from Android and iOS on Mac. Its expert version provides with automatic synchronization options that allow you to set various parameters.
It helps you synchronize calendars, reminders and contact entries, Safari bookmarks and iPhoto libraries. You can even synchronize multiple folders, filter synchronization files, and configure SyncMate to automatically convert picture or video file to your required resolution and format before transferring them to your desired Android phone.
Supported Data Category: contacts, call logs, files, photos, music, memos, calendars, iTunes, etc.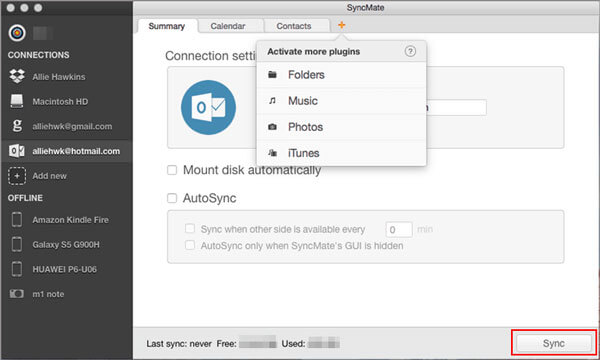 Attention: The cracked version of SyncMate has a poorer compatibility and many features like file configuring and format converting are not available sometimes.
Conclusion
This passage selects the Android file transfer app - Coolmuster Android Assistant for Mac as well as the features and the user guide of this Android file transfer. And 4 other alternatives to Android file transfer for Mac are also included in this passage, which is mainly discussed from their main features and supported file types.
Without trial, there's no reason to say those experiences. So, if you are looking for an Android file transfer alternative app, download your favorite one and try it. In addition to solving your problem, you can also verify my statements, which is a persuasive case for you to put forward some suggestions for this post, and accordingly, help more Android users.
Related Articles:
The Best 12 AirDroid Alternatives You Can't Miss
8 Top-notch Android File Transfer Apps for Mac
How to Recover Deleted Files from Android [Marvelous]
How to Transfer Photos from Android to iPhone? [4 Methods]
Get the Best Alternative to Samsung Smart Switch