Most people prefer communicating with others through text messages because it is the easiest way to interact with others. However, there are times when you unintentionally delete important conversations or messages. Or you factory reset your device, which results in losing your data. In such a scenario, you must learn how to restore SMS from Google Drive.
If you've ever experienced such trouble and you have made a backup on Google Drive, then it will be easier to restore the text messages. Google Drive is a wonderful tool that can assist you in restoring your deleted SMS and other important data. We will explore various ways you can use to restore your SMS from Google Drive regardless of whether they are backed up or not.
Part 1. Basics to Know When Restoring SMS from Google Drive
Before we take you through how to restore text messages from Google Drive, there are some things you should know about restoring data from Google Drive.
1. First, your phone must have a Google Drive app with an active account. Also, the version of your Android must be operating on 6.0 and later. Otherwise, the restoration process will not be successful.
2. You have to reset your device when restoring your SMS from Google Drive. This will erase files and data from your device.
3. Obviously, you should have made a Google backup before you recover your messages from Google Drive.
Read More:
Top 11 Android SMS Manager Apps - Manage Messages for Android Easily
2 Ways to Recover Deleted Text Messages from Android SIM Card
Part 2. Before Restore: Back Up Messages to Google Drive
To restore SMS from Google Backup, you must have backed them before they got deleted. In other words, you cannot restore any files from Google Drive if you haven't been using it to back up your files. Below are steps you can follow to back up your messages.
Step 1. Open the "Settings" application on Android and choose "Google", then click on "Backup".
Step 2. Next, ensure the option for "Back up to Google Drive" is turned on. If it is disabled, just enable it.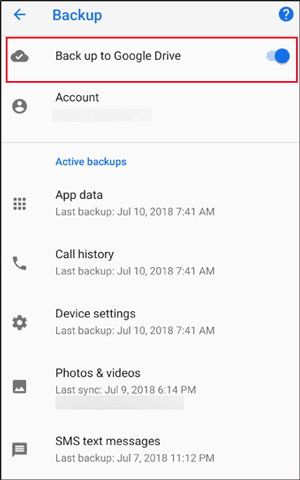 Step 3. Click on the "Backup Now" option to complete the backup process.
Note: Backing up your messages and other relevant files once a week will ensure the security of your data. Otherwise, you won't be able to restore Google messages to your new phone.
Part 3. How to Recover SMS from Google Drive Using SMS Backup & Restore
One solution that can help you restore text messages effortlessly from Google Drive is to use SMS Backup & Restore. This is a third-party app you can find in the Play Store and use to restore text messages from the Google backup. It is both a backup and restore tool. It can back up data on Dropbox, Google Drive, and OneDrive and restore the files.
Here are steps on how to restore SMS from Google Drive without factory reset:
Step 1. Install and open the SMS Backup & Restore app, then click on "SET UP A BACKUP".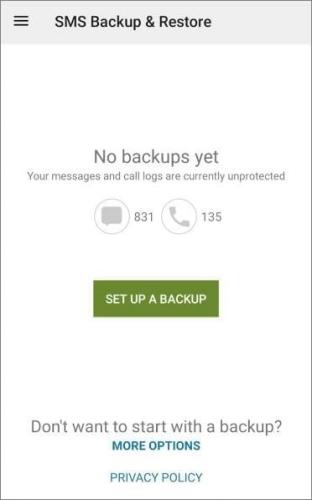 Step 2. Next, select the messages you want to back up, then Google Drive to keep them.
Step 3. Now sign into your Gmail account and start backing up the data. You should set up a backup schedule daily or weekly if you want.
Step 4. Open the app on the new device and click view backup info you're created.
Step 5. Click on the menu button and choose the "Restore" option. Choose the SMS to restore.
May Like:
Can You Recover Deleted Text Messages on Google Pixel Phone? (Solved)
Troubleshoot: My Text Messages Disappeared on My Android Phone (Reliable)
Part 4. How to Restore SMS from Google Drive via Factory Resetting
Restoring messages from Google Drive will only be possible if you have backed them before. That way, you can recover them after the factory setting. However, a factory reset will delete all the data on the phone. It is thus advisable to only use this method if you have already backed up your messages in Google Drive. Here are the steps to retrieve Google messages:
Step 1. Head to "Settings" in the Android phone and choose "Reset", then click on "Factory data reset". Or search for it if you can't find it. Click on it to view the information that will be reset, and choose "Reset".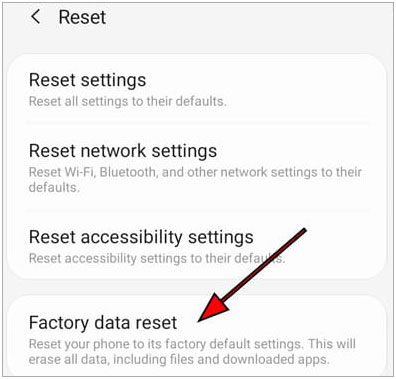 Step 2. Wait as the procedure finishes, and when the device turns on, you will have to set it up again. After that, open the "Settings" application and choose "Google".
Step 3. In the Google account, click "Sync" and choose the files to restore them. Click on "Restore all the synced data" to download the SMS backup to the phone.
Note: The downside of using this method is that it will overwrite the SMS and other data after backup. If you've important files that you do not want to lose, this method won't be appropriate for you.
Part 5. How to Restore SMS from Google Drive to Android Through Support Team
You can also contact support to help restore your SMS from Google Drive. Normally, this should be regarded as the last resort, as it is not a guaranteed solution.
You should log into your Google Drive and launch the main folder. Find the "Contacts Us" option. Choose the contact method and explain that you're trying to remove messages backup.
Can't Miss:
How to View Text Messages on Computer for Android Phone Users? (Solved)
How to Transfer Text Messages from Android to Computer (Windows/Mac)
Bonus: How to Restore SMS from Android Phone Without Backup via Coolmuster Lab.Fone for Android
Coolmuster Lab.Fone is considered one of the most effective methods of recovering text messages on Android devices. It can specifically recover SMS on your device with a few steps. Unlike Google Drive, this method does not require you to have previously backed up your SMS.
The most competitive feature of Coolmuster Lab.Fone for Android is the ability to allow the user to preview their SMS before restoring them. For instance, if you deleted a lot of SMS but you only need to restore a few chat messages, you will check the files first before recovering them. It is highly compatible with almost all Android devices, including tablets, hence making it a better option for Android users. Your SMS will be saved in XML or HTML, which is easy to read and print.
Key features of Coolmuster Lab.Fone for Android:
Restore deleted SMS, contacts, call logs, photos, videos, documents, and music.
Restore data from internal storage of the phone to SD card.
Recover and transfer both existing & deleted data from Android devices to computer.
High compatibility level with over 6000 Android devices supported.
Here's how to restore SMS from Android phone without backup:
01Install and Launch Coolmuster Lab.Fone for Android
Install, then launch the tool on the computer and choose "Android Recovery" when you see a Toolbox.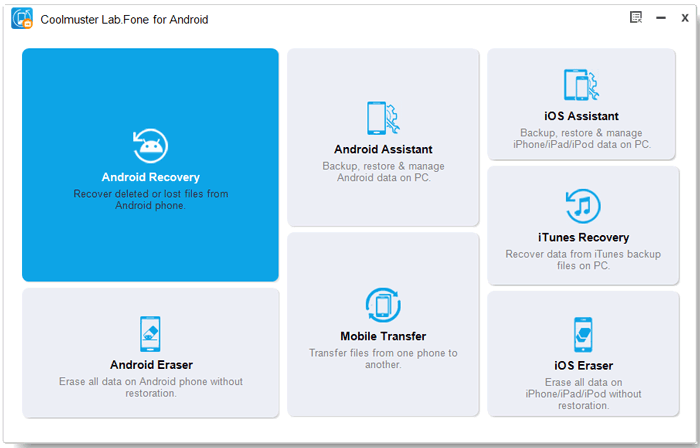 02Connect Device to PC
Link the device to the PC with a USB cord and ensure USB debugging is enabled. The tool will detect the device, and you will see all files you can recover on the interface. Just click on "Next" to proceed.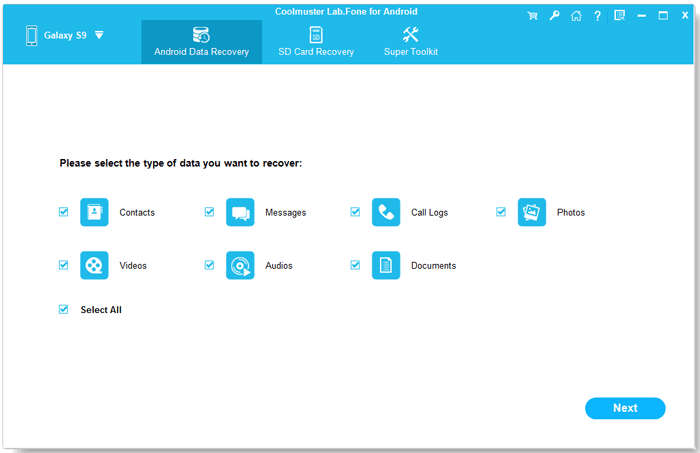 03Scan Files
You can choose either Quick Scan or Deep Scan mode to scan your files. After choosing, tap "Continue", and the scanning process will start.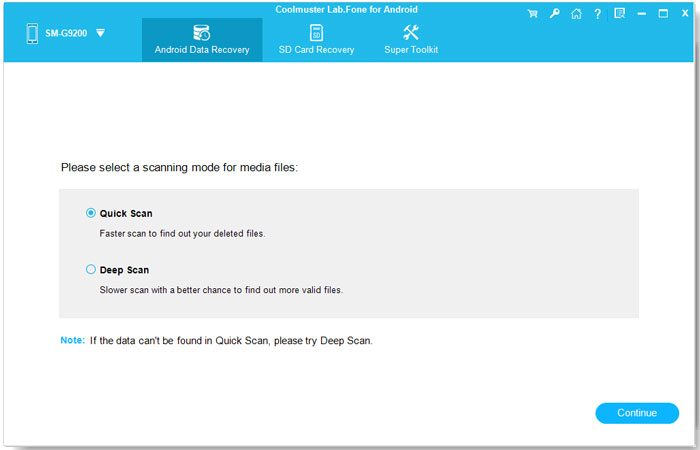 04Restore SMS from Phone
Once the quick scanning is complete, the existing and deleted files will be shown on the left panel in their specific categories, like text messages, call logs, contacts, pictures, songs, and more. Click on the "Messages" folder. Preview the detailed items as you mark those you wish to retrieve, and hit the "Recover" tab to save them to the PC.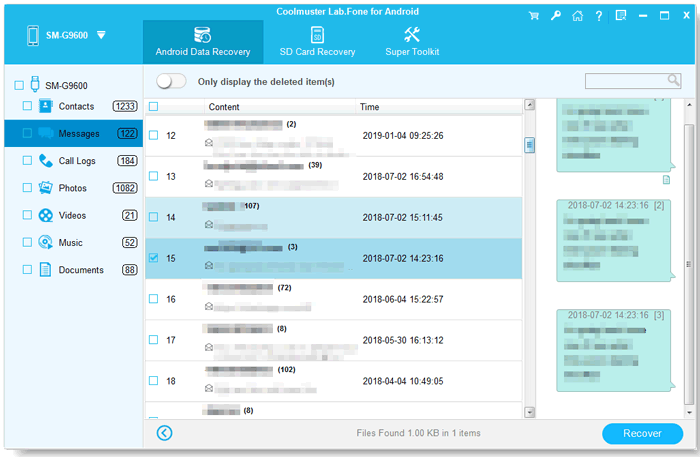 Further Reading:
How to Print Text Messages from Android [Clear Steps]
Transfer Text Messages from Samsung Phone to Computer | Top 6 Ways
Conclusion
There are various scenarios when your messages can get lost. It can be due to corrupt files, or you deleted them without knowing. If you ever find that your SMS is missing, the above methods should be your helper to restore Google messages. Remember that you can only recover data from Google Drive if you have previously backed them.
In general, if you are recovering any data on an Android phone, it is highly recommended you use Coolmuster Lab.Fone for Android because it is one of the most assured methods of recovering deleted messages and other data.
Related Articles:
How to Recover Deleted (SMS) Text Messages from LG Handset?
How to Transfer Text Messages from Android to Android (6 Methods)
3 Ways to Transfer Text Messages from iPhone to Computer? [Can't Miss]
Top 6 iPhone SMS Transfer Software in 2023
How to Do SMS Backup and Restore for iPhone? (Best SMS Backup Apps)
How to Retrieve Deleted Text Messages on iPhone with or without Backup