Because mobile phones have become a staple in our homes, offices and our personal lives, people can take them wherever they go. In fact, the norm for dealing with a lot of data is also common place. Therefore, whenever a user buys a new mobile phone, the information that they have stored on the old mobile device will need to be transferred. This is one of the primary reasons why Samsung File transfer tools have become so popular today.
As we know, there are many programs for you to transfer Samsung files nowadays. The most popular ones are Samsung Kies, Smart Switch and Sidesync. This article will introduce them one by one in details and tell you why Coolmuster Android Assistant stands out, which is regarded as the best alternative for the 3 previously mentioned tools.
Comparison: Samsung Kies vs Smart Switch vs Sidesync vs Android Assistant
1. Samsung Kies
Samsung Kies is an app that is a popular Samsung transfer tool that has been designed to do a lot of different things. Users can use this transfer tool to sync and backup their contacts and other data that resides on their device. This software focuses on the front end process so people can use it to transfer videos and music between devices.
Features:
- Used for backing up and transferring Data (between multiple platforms
- Designed with limitations : only certain media file formats
- Multimedia (audio, photos, video, etc.) management
- Gives User the capability to upgrade OS and firmware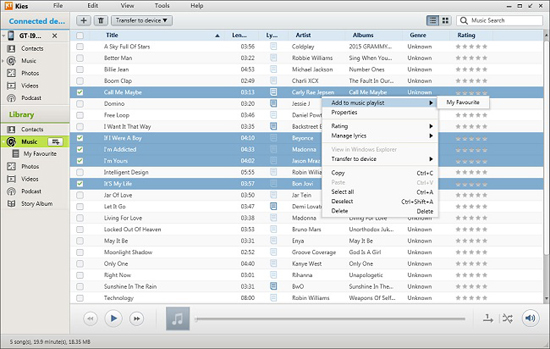 Pros:
Connects to the phone wirelessly
Backs up of your data
transfer photos, music, contacts, and various other data files
Cons:
- No mobile app available
- Limited support that only works on part of Samsung devices
Don't Miss:
Backup & Restore Samsung Data with Samsung Kies
How to Add New Contacts to Samsung with Kies
2. Sidesync
Sidesync can be described as a new PC-Mobile solution. The makers of this app has designed it to share data easily between PC and Samsung Galaxy/Note. Erases the border between PC and mobile devices. It's compatible with Samsung smartphones running Android KitKat 4.0 or higher and tablet running Android Lollipop 5.0 or higher.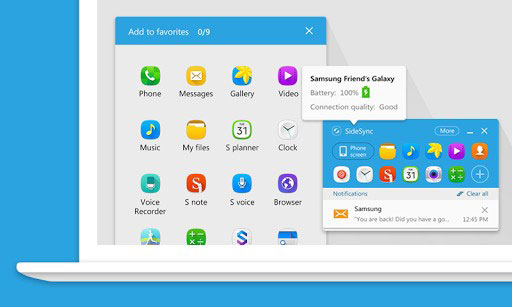 Pros:
- Makes it easy for users to share data between mobile devices
- Connects 2 devices through USB data cable or Wi-Fi or QR code
- Share files between PC and mobile devices
- Mirror Phone Screen to PC
- Free of charge
Cons:
- Need to install the app on both Samsung and PC
- Only supports to transfer media and document files
- Can't transfer data from Samsung to Samsung
3. Smart Switch
Samsung Smart Switch can be described as an Android app that has been designed to create an easy and fast way to transfer info. This data can be transferred via a USB adaper, micro USB and iCloud. It is preloaded with Galaxy S7/S8/Note 8 and supports the wireless transfer.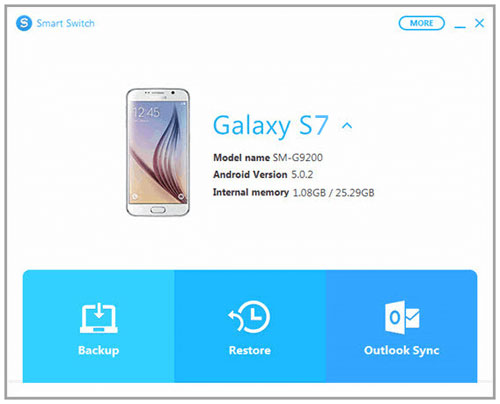 Pros:
- Easy to use
- Fast transfer Samsung files with one click
- Free of charge
- Supports to transfer data from iOS, Symbian, BlackBerry to Samsung phones
Cons:
- Does not come with support for music for iCloud
- Always having troubles in connecting Samsung to computer
- Don't allow users to select data before transfer
- Only supports Samsung devices
4. Android Assistant
Aside from Kies, Sidesync and Smart Switch, there is one more tool that can be used for a number of different reasons and purposes. Currently known as Coolmuster Android Assistant, this app has it all. Most people see Coolmuster Android Assistant as the ideal alternative to other tools. In particular, since it gives the user an easy-to-use method of backing up data and restoring it on another device. This app is compatible with almost every Samsung device and is available on Mac and Windows desktops. Users can transfer different types of formats including videos, pictures, music, and more.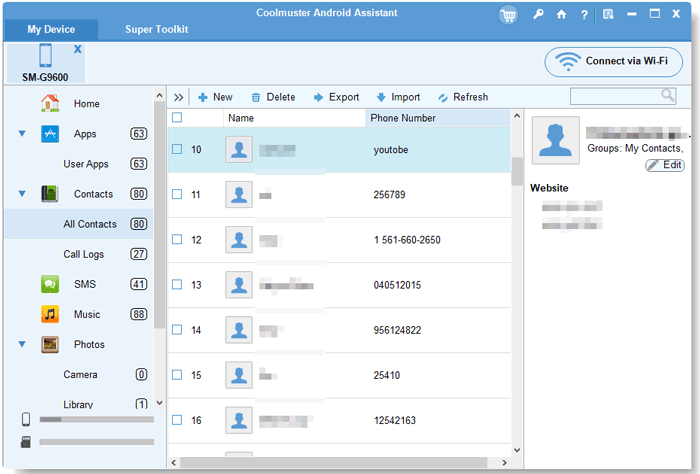 Pros:
- Reliable and secure to use
- Supports not only Samsung, but also other Android devices.
- Takes a full backup of your data
- Runs on all major versions of the latest Win, Mac OS (X 10.7 - 10.12)
- Backs up and restores pictures, videos, contacts, and more
- Also can be worked as a Contact & SMS assistant to edit and manage contacts and text messages.
Cons:
- Not freely available
Related Articles:
Top 5 Android eBook Readers You Should Know