Why my Samsung tablet won't turn on? If you are a smartphone owner, once in your lifetime, you've encountered a device that won't turn on. You attempted to charge the device for hours but no luck. Even though it's a common problem, we can't help but panic, and the worst part? It's the only device you depend on. In that case, we only have to cope with the problem and try to fix it. You just need to do three things: identify the problem, find a solution, and apply it. Sounds simple right? Well, keep reading to know how to put that into practice and get your Samsung tab working perfectly fine again.
Part 1. Why Won't My Samsung Tablet Turn On?
Maybe you bought your first-ever Samsung device a couple of weeks ago, and now galaxy tab a won't start. Just know there are reasons behind such odd behavior. Below are some of the causes;
* Your Samsung tablet has physical damage.
* The battery is very low.
* There are some bugs and glitches in the system.
* The battery is scrapped and can't be recharged.
* Your Samsung tablet has frozen.
You may like:
How to Get to Android System Recovery Mode and What Can It Do? [Answered]
Why Can't I See My Pictures in My Gallery? Fix It and Recover Pictures
Part 2. How to Fix a Samsung Tablet That won't Turn On
Now that you know several reasons causing your Samsung tab a not turning on, it's time we take you through the possible fixes.
Solution 1. Charge the battery
It seems like you're having a bad day because your battery is dead. In that case, you need to charge it. Make sure you use the original charger because other devices can't charge without their original chargers. Also, ensure the charge you are using isn't damaged. You can also try using another wall socket and cable, preferably the one you used when charging your device before. Don't unplug the device until it charges for more than 10 minutes; try turning it on again.
Solution 2. Reboot the Device to Safe Mode
If your device isn't turning on even after making sure the charge isn't the problem, try rebooting into Safe mode. Maybe a bad third-party app is causing the device not to turn on. Rebooting into safe mode will only temporarily disable the third-party apps causing the device not to boot. Here is how to restart your Samsung Galaxy into Safe Mode.
Step 1: Press the Power + Volume Down keys until the Galaxy tablet screen appears.
Step 2: Release the Power key and hold the Volume Down Key until you see the Safe Mode appearing at the bottom left of the screen, then release it.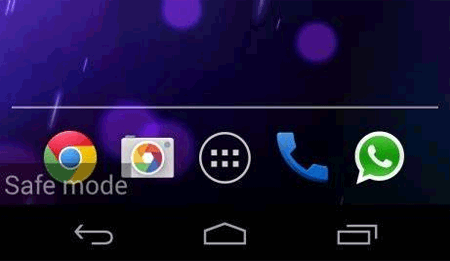 Step 3: When the Samsung Tab is in Safe Mode, you may check the faulty application and remove it.
Solution 3. Factory Reset Your Samsung Tablet
Android phones being trapped by black screens is very common. Try resetting it to see if the problem will be solved. This process will remove all third-party applications, settings, and data. Thus, try to save essential files before following the next steps;
Step 1: Press and hold the Volume Up and Home keys simultaneously.
Step 2: While still holding the buttons, press the Power button until the Recovery booting shows at the top left corner of the screen, then release them.
Step 3: Choose the Wipe data/Factory Reset option from the Android Recovery screen. Cycle through the option using the Volume Down and Up buttons and Power button to choose the Factory Reset option.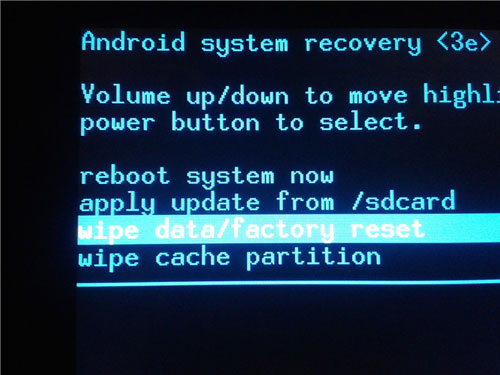 Step 4: Choose "Yes" and wait for the reset to finish. Once done, choose "Reboot System Now" to restart the phone.
Solution 4. Check for hardware damage
If your device doesn't turn on, it may be due to hardware issues. You can check the charging port or the body of your device to see if there is any damage. Clean the charging port in case there is any debris.
Solution 5. Force restart your Samsung Tab
Your device may be failing to turn on due to a crashed system. If your system has crashed, the device will not respond even when you press the Power key or connect it to the charger. Do this to force the restart a Samsung Tab;
Step 1: Press the Volume Down and Power buttons simultaneously until you see the Samsung logo on the screen.
Step 2: Release them when you see the screen turning on. Your phone will restart if the system crashes, freezes, or lags.
See more:
[Fixed] Apps Keep Crashing on Android Phones
Top 9 Android Phone Repair Software to Fix Common Android Issues
Part 3. Ultimate Way to Fix Samsung Tablet Won't Turn On Issue
Yes, Android Repair is the ultimate tool to fix your Samsung tablet won't turn on or charge. It's easy to use and will help you repair your device in no time. This software is compatible with Android devices, including Samsung tablets. Additionally, Android Repair is capable of fixing problems such as update errors, frozen screens, Samsung phone keeps restarting, and other issues that may prevent your phone from turning on.
What Android Repair Can Do for You:
* Fixes Samsung phones won't turn on due to glitches, bugs or system crashes.
* Fixes Android system problems such as the black screen.
* It can fix your Samsung phone to normal in 1 click.
* No technical skills are needed to use this tool.
* The fixing success rate is very high.
* It's compatible with most Samsung models, including Samsung S22.
How does this software work? You may wonder what magic tricks Android Repair uses to fix your device. Here is a step-by-step process;
01 Launch the Android Repair on the computer and click the "Repair" option from the program's primary interface. Connect your Samsung Tablet to the computer with a working USB cord, and after that, choose "Android Repair" to get you to the next page.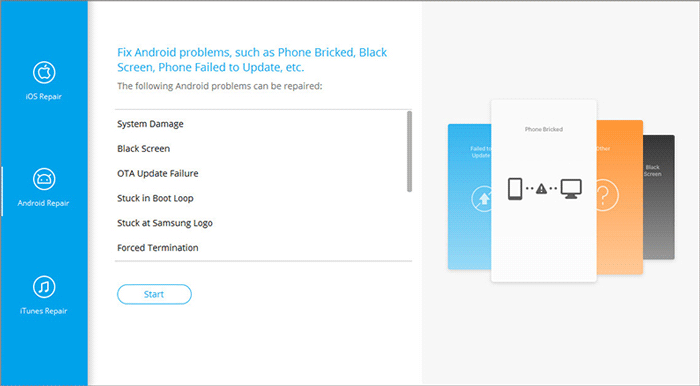 02 Once there, choose your device's name, brand, carrier, and model, input "000000," counter-check the details you've entered, and click "Next" to proceed.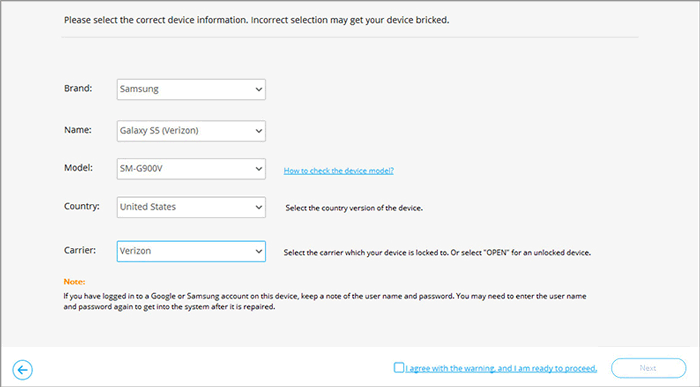 03 Boot your Samsung Tab into Download mode to make it compatible with the repairs. To enter Download mode, switch off the device first. Then follow the guide on the interface to get your device into Download mode, tap the "Next" tab, and the program will start downloading the firmware.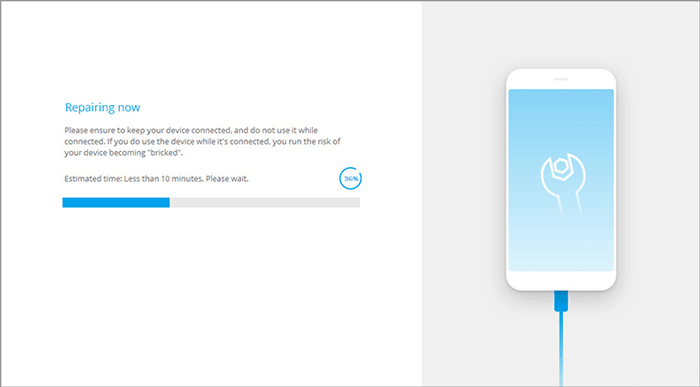 After the process is finished, you can now switch on your device.
Conclusion
It's prevalent for smartphones not to turn on, and Samsung devices aren't an exception. The fixes we have shared in this article are tested and proven to work. So, try them to see if they will work out for you. You may want to take the help of a powerful tool, Android Repair, and fix any problems regarding your Samsung phone or tablet without a hitch.
Related Articles:
Android Phone Keeps Turning Off Randomly? 15 Fixes Here
Powerful Android Flashing Software: Easily Flash Android Devices
Samsung Black Screen of Death: Reasons, Solutions & Preventions
How to Fix Android Phone Blue Screen of Death?
Touch Screen Not Working on Samsung: 15 Reliable Solutions To Repair Screen