Summary: Wondershare MobileGo is an app that organizes your mobile phone through your computer. Cases where you want to find an alternative tool to replace the Mobile Go, then, you can try the best Wondershare MobileGo for Android alternative here that enables you to have full control over your Android phone's files and folders and can keep your device always clean.
As Android phones become one of the mainstream mobile phones on the market today, Android manager has become demanding. When the files on your Android phone are getting more and more messy, you can organize these files with an excellent Android Manager, and use it to manage and back up Android files more easily. Or when you lose your Android phone or accidentally lose your phone data, Android manager can also help you restore the Android data you want. Wondershare MobileGo for Android is a good choice when you search the web for a valid Android manager. It is designed and developed to interact with many of Android's features. However, it is not the best option.
For those who are looking for alternatives to Wondershare MobileGo for Android, you have come to the right place. In the following, I will introduce an Android manager that is superior to Wondershare MobileGo for Android. You can compare and download your favorite Android manager to get the full functionality of your Android phone.
Part 1. What is Wondershare MobileGo for Android Exactly
Part 2. Best Wondershare MobileGo for Android Alternative Tool
Part 1. What is Wondershare MobileGo for Android Exactly
Wondershare MobileGo for Android is a reliable and convenient application to help you easily manage your phone files, exchange data between your Android phone and PC, add songs, manage media, repair corrupted files, back up data, access specific applications, and many more. Before getting these features from this software, you need to use a USB cable to connect your Android phone to your computer. When Wondershare MobileGo for Android recognizes the connected Android phone, it will show its model name, the variant of Android, and the battery level.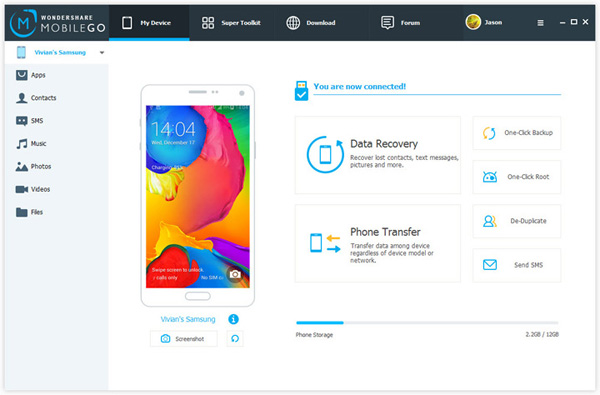 Wondershare MobileGo for Android Key Features:
- Import media from your device, export files to computer and organize your schedule with just a few clicks.
- Easily manage apps, contacts, text messages, music, videos, photos and document files on your Android device.
- The data erasing feature helps you clean up all your folders and keep your phone free from e-waste, even hidden folders.
- Transfer data from one phone to another.
- Download apps, music, videos to your phone from built-in Google Play, MP3 downloads, YouTube and any added websites.
- Back up and restore data.
- One-click root for your Android phone.
- You can choose to manage contacts, create new contacts or change contacts and convert them to Outlook Express, vCard records, Windows Live Mail, Window Address Book or Outlook.
Disadvantages of MobileGo for Android:
- Costs too much: it costs $29.95 for a 1-year license, which is too expensive.
- Not very user-friendly, takes a long time to detect your Android device.
- The function is complicated, the interface is not simple, and the novice may not immediately understand the usage of the program.
See Also:
Android File Transfer Alternative for Mac
Alternative to Kies for Samsung
Part 2. Best Wondershare MobileGo for Android Alternative Tool
Coolmuster Android Assistant is a program with well-designed, concise and easy to develop interface. This software is, in my opinion, the best alternative to MobileGo for Android, because it not only provides all the features you need to manage Android phone files, but it also has a cleaner interface and simpler usage than MobileGo for Android, which will be noticeable within a few minutes of use. In our tests, the software proved to be efficient, convenient, and easy to use. It is a dependable and lightweight utility that permits you to deal with your established Android gadgets.
Key Features of the MobileGo for Android Similar Software:
- Best backup app for Android to backup all data like contacts, SMS, music, videos, photos, apps and more from Android device to Windows or Mac computer;
- Push music, videos, photos and apps from computer to your Android device easily;
- Freely manage the Android contacts on computer, such as add new contacts, delete useless contacts, edit existing contacts, import contacts from Outlook and export contacts to Outlook.
- Send text messages, especially group messages, from computer to any phone number conveniently;
- Restore all or selective backup contacts to Android phone any time you like with one click.
- Backup Android call logs on computer, import call logs from computer to phone and delete unwanted call logs on computer smoothly.
- Be compatible with all Android based devices, such as Samsung, HTC, HUAWEI, Xiaomi, LG, Sony, etc.
How to Use Android Assistant - The Best MobileGo for Android Alternative?
Step 1. Download and install the Coolmuster Android Assistant on your PC or Mac.
Step 2: Connect your Android mobile phone to the computer via a USB cable. Make sure to enable USB debugging on your phone beforehand. Then, launch the Android manager tool and you will see the following screenshot.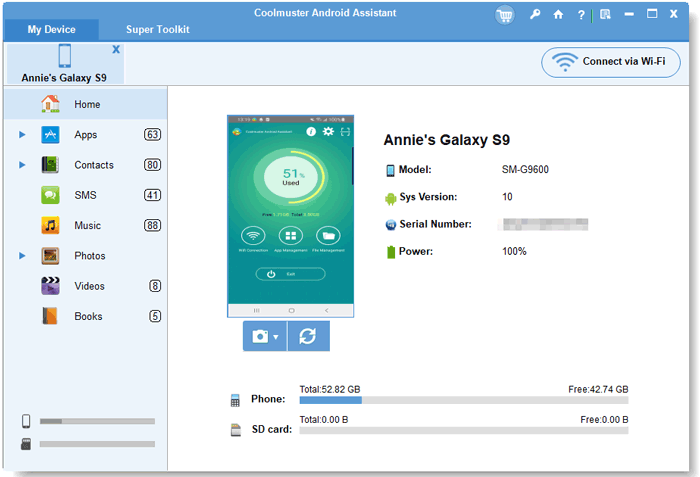 Step 3. Tick off the file tabs that you want to manage on computer from the left side interface, such as apps, contacts, SMS, music, photos, videos and books. Then, Android Assistant will scan your Android phone and show all the contained files on the right side window.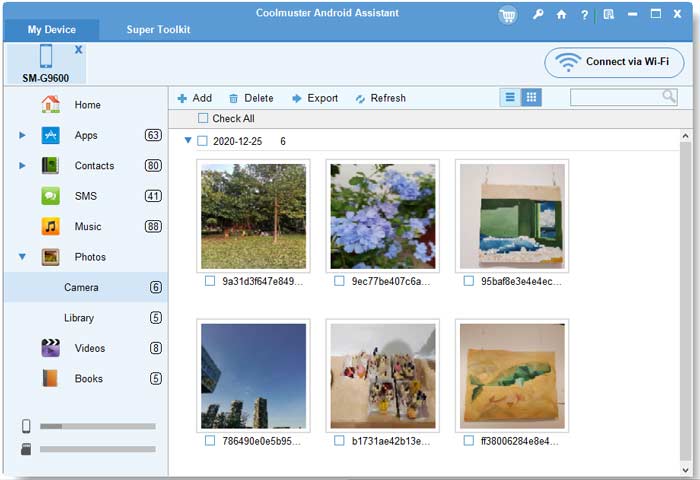 Step 4. Select the data type you want to manage and click the options from the top menu, such as Add/Import (transfer data from computer to your Android phone), Delete (remove unwanted data from your Android), Export (backup your Android data to computer), and Edit (edit contacts on your computer) buttons.
Conclusion:
Did you see it? With a few simple clicks of the mouse, Coolmuster Android Assistant can help you manage your Android phone data perfectly. It's much simpler to use than Wondershare MobileGo for Android, and it's much cheaper than it, which costs $25.95 a year. So if you're looking for an easy-to-use, affordable yet reliable Android manager to manage your phone data, Android Assistant is the best choice for you.
Related Articles:
Alternative to Wondershare Dr.Fone for Android
Android SMS Manager - Manage Android Text Messages
Top 5 Android Storage Managers to Free up Space