"The difference between iPad Pro released last September and the newest iPad only lies in the size?"
"At first sight, it looks like iPad Air. Does these two devices have some features in common?"
......
After Apple Company launched the newest iPhone SE and 9.7-inch iPad Pro on March 21 Event, similar questions as mentioned in the above keep cropping up. Jan Dawson, chief analyst at Jackdaw Research says, "The new iPad Pro is a logical extension of the iPad Pro line into the size that most people already buy, and should sell well too, though it will still be something of a secondary segment to the iPad Air and iPad Mini because of the higher price."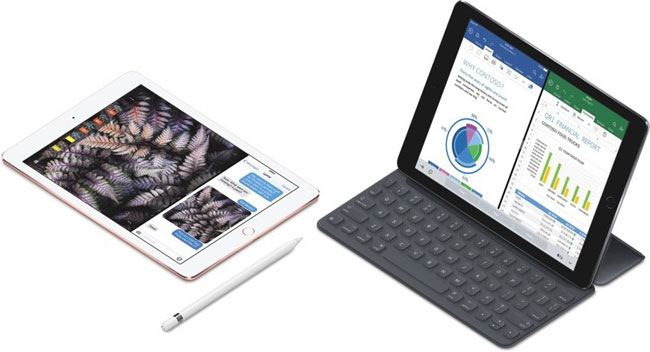 Speaking of the new 9.7-inch iPad Pro, it bears some features in common with the 12.9-inch iPad Pro released last year. For example, it also has two important accessories, i.e. Apple Pencil and Smart Keyboard, which are available for the new tablet at $99 and $149 respectively. Like the 12.9-inch iPad Pro, the 9.7-inch iPad Pro has a 64-bit A9X processor with an embedded M9 motion coprocessor, and four speakers (dual stereo speakers). Apart from those common shining points, this new device also distinguishes itself in the following aspects.
Smaller-Sized but More Mighty - 9.7-Inch iPad Pro
Smaller Yet Powerful, More Color Options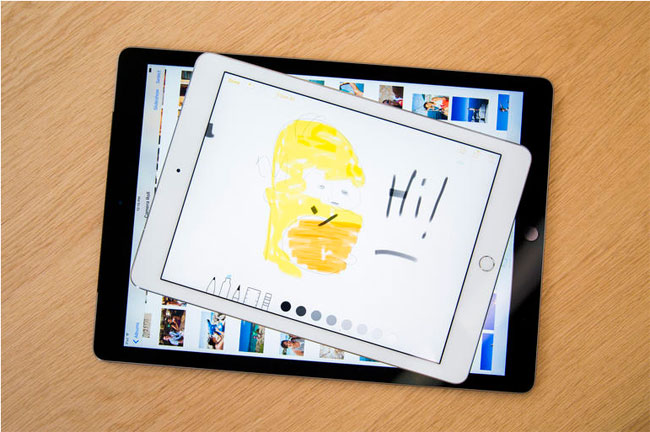 Unlike the old iPad Pro of 12.9 inch, this new tablet, as thin as 6.1 mm and as light as 0.96 pound, features on a 9.7-inch display, which makes it look tinier. But the performance is as still and even better. As to the color options, this new new 9.7-inch iPad Pro now comes in four colors, Silver, Gold, SPace Gray and Rose gold. The pricing starts at $599 for 32GB of storage, with 128GB and a new 256GB option available for $749 and $899, respectively. And the cellular models are also available in 32GB ($729), 128GB ($879), and 256GB ($1,029) configurations beginning on Thursday, March 24, from Apple.com, and in Apple's retail stores.
Brightest and Least Reflective Display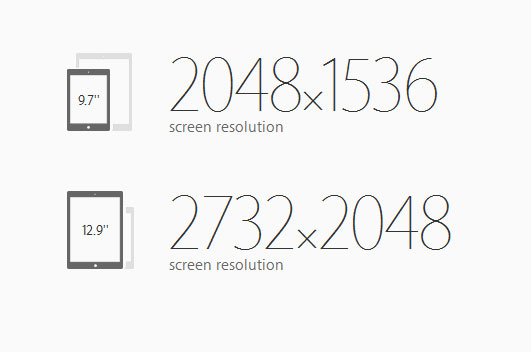 While the 12.9‑inch iPad Pro has the highest resolution of any iOS device, the new 9.7-inch iPad Pro screen has the most advanced display. This super iPad Pro is incredibly portable with an unprecedented combination of versatility and performance. The display of this new 9.7-inch iPad Pro is the brightest and least reflective in the world.
True Tone Feature - Adjust the Lightness Accordingly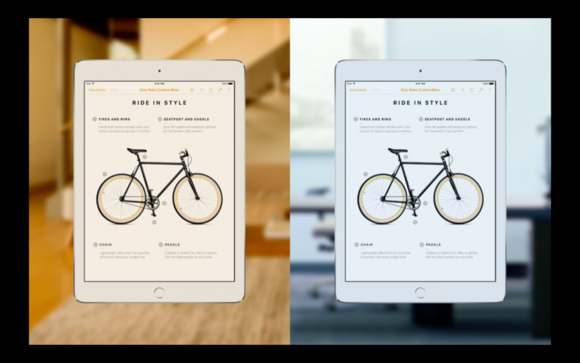 The feature of True Tone within iPad Pro of 9.7 inch called True Tone, which automatically adjusts the display's color and brightness of the display in accordance with the light of your environment. This actually makes reading more comfortable. And this brand-new feature can't be found in the bigger-sized iPad Pro of 12.9 inch.
Improved Camera with Higher Resolution
Both the front and the back cameras of the new 9.7-inch iPad Pro has been greatly improved. The 9.7‑inch iPad Pro comes with a 12‑megapixel iSight camera, which can capture 4K video, 240‑fps slo-mo videos, and Live Photos and 5.0-megapixel FaceTime HD camera, while the 12.9-inch iPad Pro features on a 8‑megapixel iSight camera and a 1.2-megapixel FaceTime HD camera. Smaller-sized as the new tablet is, it is mighty with more improved functions, right?
Also, the LTE Advanced within the new iPad tablet ensures up to 50 percent faster cellular connections. In general, this new 9.7-inch iPad Pro offers you the unparalleled smoothness, incredibly detailed visuals, fluid animations, and life-real effects. Playing games, watching movies, reading ebooks and etc. can't be more pleasant and fantastic! Below is the video of this 9.7-inch iPad Pro for your review if needed!
Related Articles:
See through Apple Fall Event 2015