In this mobile market, all devices are prone to being made bigger and bigger, but Apple says, "Bigger isn't always better!". And on March, 21, the new Apple Event have proved it with the newest product - iPhone SE. At first sight, you may think that the twins of iPhone 5S are coming? Absolutely not! Though resembling iPhone 5S, the internals are completely different with cheaper price than iPhone 6S or iPhone 6S Plus and better performance!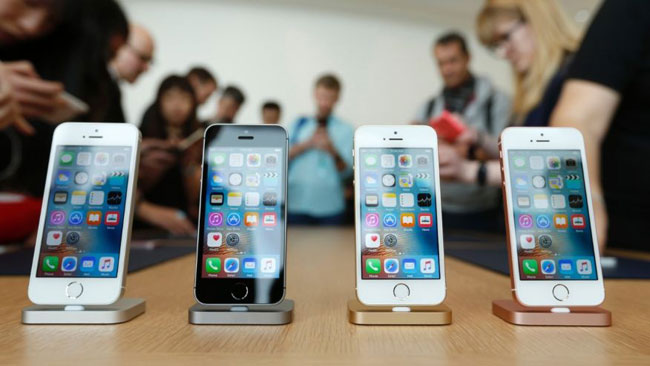 Part One: Two Minutes to Roughly Know iPhone SE
First of all, let's have a look at the below video to have a vivid picture of the new product. And then in the below part, you will know more detailed information of this new iPhone SE from various aspects.
Part Two: Specifications on Internals within iPhone SE
1. Size & Design
Opposite to the trend of making device bigger and bigger, the new iPhone SE is designed with 4‑inch Retina display, but the most powerful 4‑inch phone ever actually. As to the design, this new iPhone SE takes on a popular design with hands-on feature. Crafted from bead-blasted aluminum for a satin-like finish, this light and compact phone is designed to fit comfortably in your hand. Also, four colors of the new iPhone SE are available - Silver, Gold, Rose Gold and Space Gray. Pricing for the phone starts at $399 for a 16GB version of the phone and $499 for a 64GB version.
2. Weight & Dimensions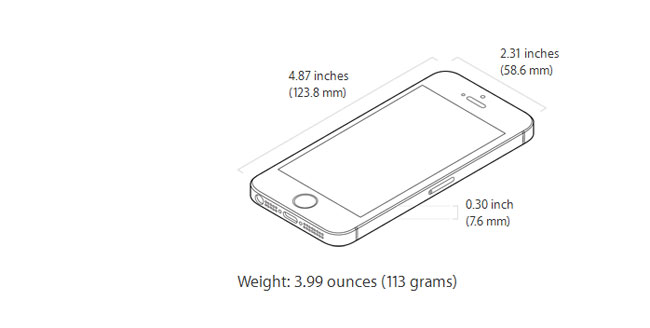 The same with iPhone 6S, this iPhone SE also has the A9 at the core of iPhone SE, which makes your new device run faster and more responsive since it is combined with 64-bit desktop-class architecture. Moreover, the M9 motion coprocessor, embedded into A9 chip makes it easier to connect to the accelerometer, compass, and gyroscope for a range of fitness tracking capabilities, such as measuring your steps and distance. That's also the foolproof why iPhone SE is tinier, cheaper but with better performance.
3. Camera
The 12‑megapixel iSight camera within iPhone SE assures you of taking sharp, detailed stills with high-resolution like one do with his iPhone 6S or Plus. Then you are free to save them within your device, print them out to make photo albums or simply make sideshows to treasure the beautiful moments. Also, you can use this device to shoot videos with 4K, which is up to four times the resolution of 1080p HD video. The features of Live Photos brings your still photos to life with sound and movement. So you can turn the precious moments into living memories, and the iCloud Photo Sharing guarantees a permanent and convenient photo sharing.
Bonus Articles:
Full Guide on How to Edit Videos on iPhone
What if I want to Hide Some Photos from iPhone?
4. Advanced Security
The feature of Touch ID now enables you to simply and safely unlock your iPhone SE, which is much more convenient than unlocking with password, since you could possibly forget your iPhone password. And Touch ID offers you more than this. It allows you to use Apple Pay at over two million stores and within apps. In stores, you just hold your iPhone near the reader with your finger on Touch ID and you're done.
Related Article: Where Did I Put My iPhone? How to Track it?
5. Faster LTE and Wi‑Fi
The new iPhone SE allows you to quickly and easily browse the web, download apps and games, and stream videos equipped with over 802.11ac Wi-Fi and LTE. And more LTE bands make iPhone SE better for worldwide roaming. What's more, iPhone SE is able to support Voice over LTE and Wi-Fi calling for high-quality wide band calls. The Bluetooth technology enables you to stay connected to your Apple Watch, external speakers, and other devices.
The listed above are just part of the main features of this new device. Apart from those major shining points, this new iPhone SE looks beautiful and works beautifully on the basis of the new iOS 9 with longer battery life. Your personal assistant - Siri now can even help you search your photo library to find the exact picture as you wanted and desired.
Words in the End:
Well, after having a full understanding of the newest iPhone SE, you may consider buying the newest iPhone SE. Or perhaps you insists on a bigger-sized iPhone 6S or iPhone 6S Plus. No matter which phone you choose, you need a professional data manager to organize those messy files in good order or back up files frequently in case of sudden data losses. Then this Coolmuster iPhone Backup Software absolutely can't be missed! By the way, as to the old iPhone device, you can choose to safely sell it for some money!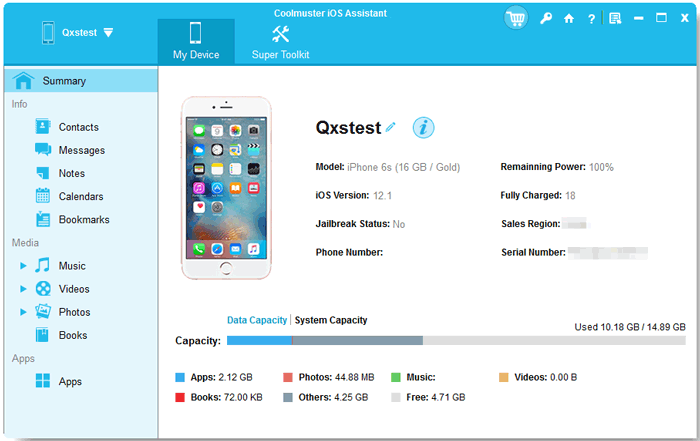 Related Articles:
Best Backup Software for iOS Devices