Although the iOS operating system is stable enough, it doesn't lack issues. You may find your apps disappeared from the home screen on your iPhone. This occurs after you update your iOS system. Sometimes only a single application is missing, and at times you find all of them missing. You don't need to be worked up about the app disappeared from home screen on iPhone problem since this guide provides top fixes to solve app not showing on iPhone problem.
Part 1. Why Icon Disappeared from iPhone
There are various reasons for app icon disappeared from iPhone but still installed. Some of them are listed below:
1. Offload unsaved applications is enabled
If this feature is on, it automatically removes your unused applications when the memory is full. However, you can reinstall the apps from your App Store and get your app data back.
2. Somebody removed all your home display pages accidentally
Also, removing home display pages may lead to iPhone app icon missing issue. However, these apps will still be available in your App Library.
3. Software updates glitches
Sometimes your apps disappear after you update your iOS 14/15. This is simply because the new iOS update may come with some bugs that may cause data loss.
Part 2. How to Fix App Disappeared from iPhone
Are you still worried about app disappeared from home screen on iPhone? Take it easy. We will introduce how to get icon back on iPhone this part. Let's read on and learn together.
Solution 1. Make Sure the Apps Have Not Been Moved
App disappeared from home screen on iPhone? Before you attempt any high-tech fix, first confirm that these apps were not moved around. For instance, if other people are using your phone or you let kids use it to play games, it's likely that these applications were moved to different home screen pages. This can happen easily by dragging the app icon and dropping it on a different page.
In such a case, it's easy to believe that your app is lost. If you've so many applications installed on your device, the best way to retrieve your missing app is by using Spotlight Search.
All you have to do is drag a finger down on the home screen and type the name of the app. Your app will appear on the search results if it's still on the device.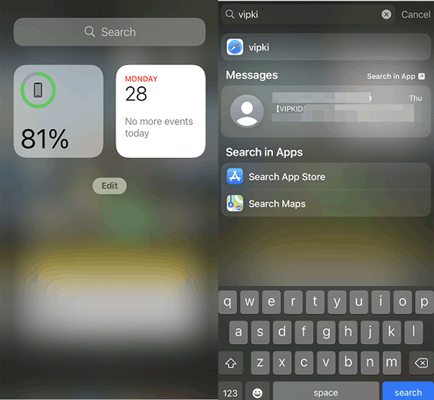 Solution 2. Find Apps in App Library
App not showing on iPhone? If your iPhone runs on iOS 14, you can use the find app feature on the Apps library to locate missing apps. On iPhone, the Apps Library feature automatically sorts your apps, helping you manage them. If you can't find it, but it's still installed on your device, look for it in your Apps Library. Here are the steps:
Step 1. Return to the home screen and swipe to the left.
Step 2. Look for your app in the relevant folders. If you cannot find it, use the Search option at the top.
Step 3. When you see the app, hold its icon until you see a dropdown menu. Tap on Add to Home Page.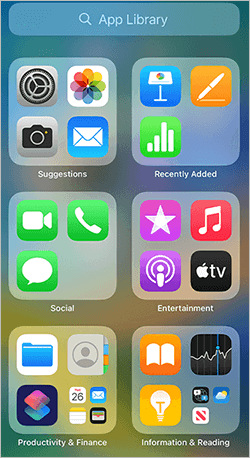 Solution 3. Check to See if you Accidentally Removed the App from the Home Page
Also, the app could have been deleted by mistake. Somebody may have purposely or accidentally deleted it if it doesn't appear on Spotlight search. Again, it can occur easily, especially when many people access your iPhone.
It is also worth noting that Apple nowadays allows you to remove your built-in apps. Therefore, if some of your apps are built-in, it's also very likely that someone, even you yourself, may have removed it from your phone.
Luckily, you can just re-download these applications from your App Store. Just enter their names and search for them in your App Store to download and reinstall them.
Further Reading:
iPhone Calendar Disappeared: How to Recover Calendar App & Events on iPhone
App Store Disappeared from iPhone? 4 Solutions to Fix
Solution 4. Check Your Screen Time Setting
How to get icon back on iPhone? You may also need to consider checking your iPhone Screen Time setting. Screen Time helps you control your app usage by hiding the app's icons. With it, you can hide apps such as Camera, Mail, Safari, etc., on the Home Page. Therefore, if you discover a missing icon on iPhone, check and then unhide it if it's restricted.
Step 1. Open your Settings app and scroll through to the Screen Time option. Next, tap on Content & Privacy Restrictions.
Step 2. Select the Allowed Apps option and turn on the toggle beside each app.
Step 3. Return to Content & Privacy Restriction. Next, select Content Restrictions, Apps, and Allow All Apps.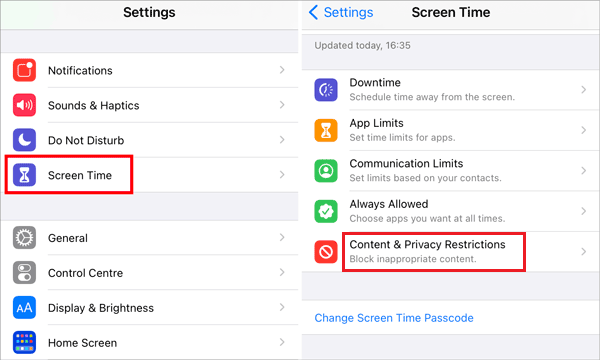 Solution 5. Reboot the iPhone
If you find all your app disappeared from iPhone, restart it. Rebooting your device will give it a fresh start, enabling you to regain the lost app icons. To restart an iPhone, here's what to do:
iPhone 6 and earlier versions:
Press and hold your Power and Home keys simultaneously until the Apple icon appears, then release them.
iPhone 7:
Press and hold your Power key and Volume Down key until the Apple icon appears, then release them.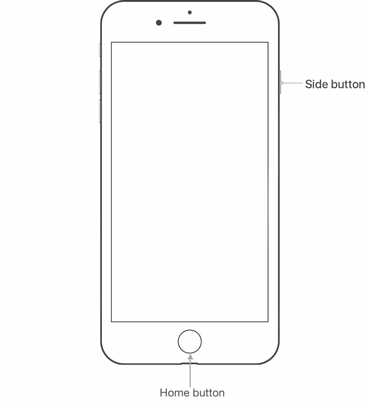 iPhone 8 and later:
Press and hold your Volume Up key and then release it quickly, then press and hold your Volume Down key and release it.
Now, press & hold your Side key until you see the Apple icon.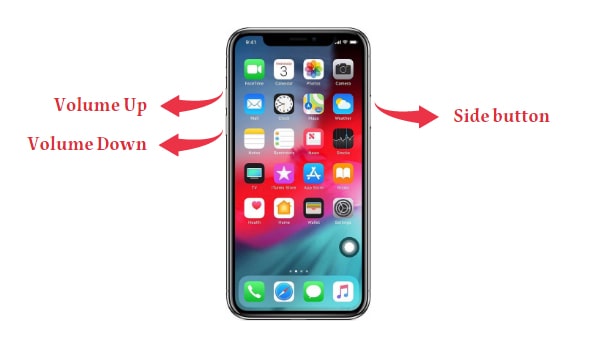 Solution 6. Check for Apps Restrictions
Also, some restrictions have likely been activated on your iPhone, making the apps disappear. While such restrictions are important for parental control, for instance, when you don't want your children to use certain applications, they can lead to an app icon not showing on iPhone problem when enabled. Also, they can prevent you from installing or deleting apps on your device.
If you believe such restrictions are responsible for the disappearance of certain applications on your iPhone, you need to check them by opening your Settings > General > Restrictions. If you find any restrictions enabled, you might need to input a passcode. Tap on the switch beside each of the apps that are restricted. Once you do so, the application will reappear on home screen.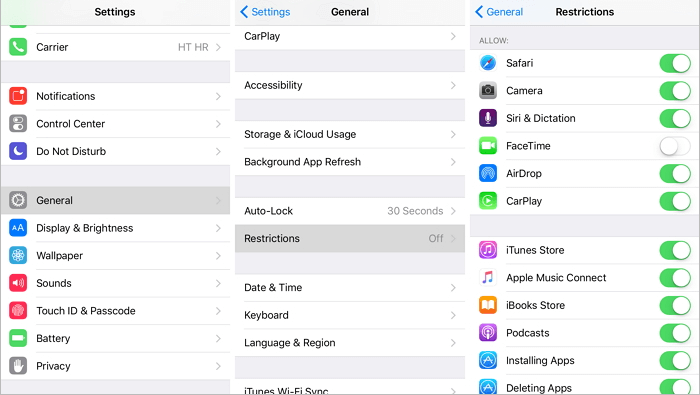 Learn More:
17 Optional Methods to Find the Videos Disappeared from iPhone Back
9 Ways to Fix the iPhone Photos Disappeared from Camera Roll Issue
Solution 7. Ask Siri to Run the Missing Application
You can ask Siri to run your downloaded applications that disappeared from your iPhone home screen. If you've already set up Siri on your device, simply enable your Voice Assistant feature and request it to Open/Run [application name].
To use Siri, simply press & hold your Side button (on devices with the Face ID feature) or just say, "Hey Siri". In addition to opening an app, Siri helps you to perform many other jobs you ask it to.
Solution 8. Unhide Your Home Screen Pages
App icon not showing on iPhone? iOS lets you hide your home screen to create a neat look. However, hiding the home screen can also make the app icon disappear. So, you can unhide your iPhone's Home screen pages to find the missing apps.
Solution 9. Reset the Layout of Home Screen
App icon disappeared from iPhone but still installed? Your device home page may not be arranged properly, which could be hard to find certain apps, and you think they have disappeared. So, you should reset Home screen layout to arrange the apps properly.
Step 1. Open your Settings and select General.
Step 2. Select the Reset or Transfer iPhone option.
Step 3. Tap on Reset. Select the Reset Home Layout.
Step 4. Select the option again to confirm the changes.
Your Home Page will get back to its default, allowing you to arrange it afresh and find your missing application.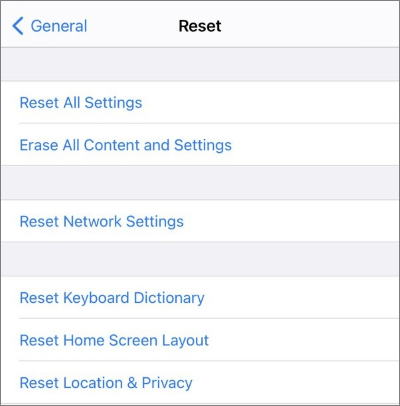 You May Like:
[3 Ways] How to Fix Disappeared Audiobooks on iPhone?
Music Disappeared from iPhone Unwittingly? Try 9 Fixes Here
Solution 10. Unlink Your Home Screen from Focus Profiles
If all of your home screen applications are missing from your iPhone, your home pages may have been linked to some Focus profiles. The Focus Profile feature lets you customize your pages, choosing the ones you want to disappear or appear when you enable a given Focus profile. Here is how to find missing app icon on iPhone:
Step 1. Open your iPhone Settings. Select Focus on your Settings menu. Select the Focus Profile.
Step 2. On the Customize your Screens section, select Edit. Now select the page you wish to unlink from this Focus Profile.
Step 3. Next, uncheck the checkbox for the page. Select Done.
You can repeat all the above steps for the other Focus Profiles, making sure all the profiles are removed from the home screen profiles. Once you finish this procedure, your home page will not change regardless of the profile you enable.
Solution 11. Reinstall the Application
If the above methods don't work, the final fix is to install your app again and return it to the home screen. To do this, follow the steps below:
Step 1. To begin, uninstall the application from your iPhone. Next, open your App Library and locate the application. Once you find it, tap and hold its icon until you see the Delete option. Tap on this option to remove the application completely from the device. (Can't delete apps on iPhone? Click here to check how to do.)
Step 2. After successfully uninstalling the app, open your App Store. Enter the app name you intend to reinstall on a search bar.
Step 3. Select the application from the results. Next, to install this app, tap on the Get option.
Step 4. Wait as your app is installed on the device. Once it is reinstalled successfully, open your App Library to locate it. Now, drag its icon to the home screen.
Also Read:
10 Methods to Fix iPhone Text Messages Disappeared Issue in 2023
iPhone Notes Disappeared? 6 Methods to Recover Lost Notes on iPhone
Part 3. Use iOS System Recovery to Repair iPhone System (Hot)
If all the above methods do not help you, you can try using the iOS System Recovery tool to repair your iPhone system. Sometimes issues with the iOS software can make your apps fail to work well, especially after updating them.
This amazing tool will help you solve any problem with your device, including app disappeared from home screen iPhone, black screen but still on, etc.
Key Features:
Fix the app disappeared from the home screen on your iPhone issue.
Safe to use, with a clean interface.
Support solving other problems like iPhone stuck in the Headphone Mode, and more.
Support most models of iPhone and the newest iOS 16.
Easy to use; you don't need any special technical skills.
Steps to use iOS System Recovery to fix app disappeared from home screen iPhone:
01 Download and install the tool on your computer. Connect your iPhone and click the More Tools option on the main interface. Next, click the iOS System Recovery option to access the Recovery page.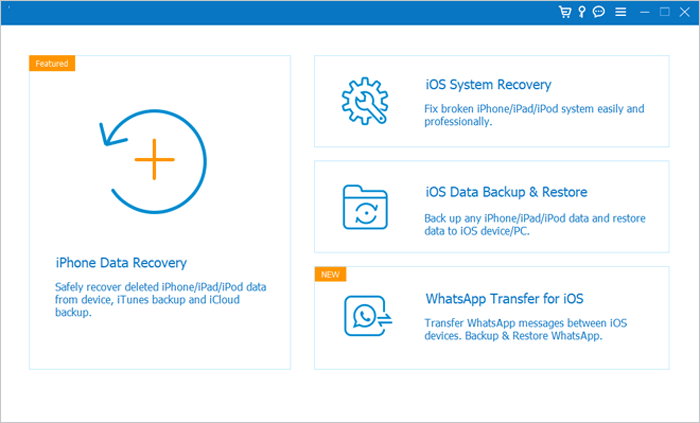 02Now, click the Start option to solve your app disappeared from home screen on your iPhone issue.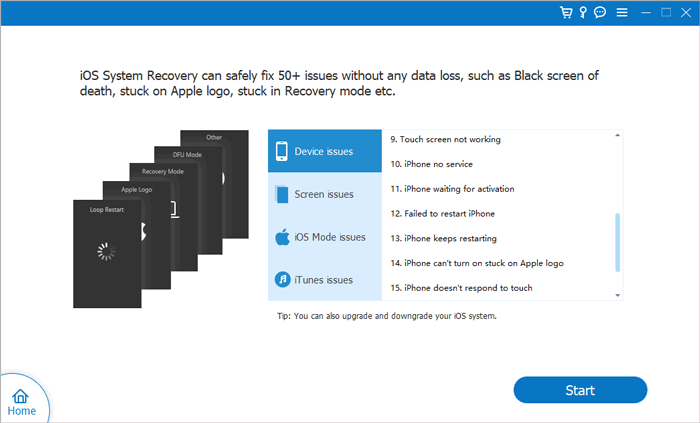 03Put your iPhone into DFU mode. Tap the Repair option to download the right iOS firmware.
04After it is successfully downloaded, the software will now repair your iPhone, returning it to normal.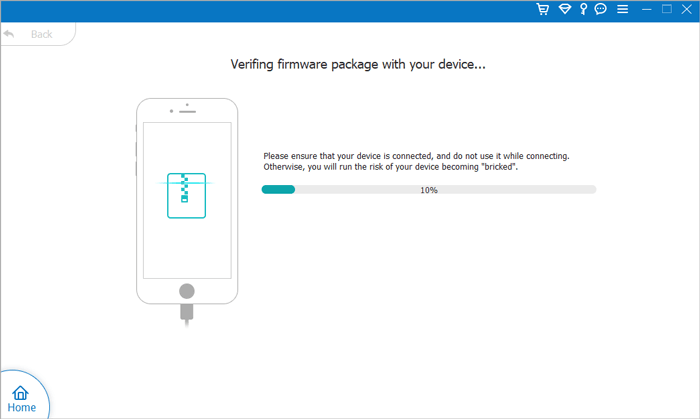 Final Words
App disappeared from iPhone? You can easily and quickly access your iPhone apps from your home screen after finishing reading this article. In addition to the normal fixes, there's an amazing all-in-one repair solution for iOS. So, if you encounter any problem with your iOS device, you can just use the iOS System Recovery software. It is easy to use and can fix any firmware and software-related problems on your device without loss of data.
Related Articles:
How to Fix Email Disappearing from iPhone
14 Tricks to Fix iPhone Contacts Missing Names (Comprehensive Guide)
9 Ways to Fix the Bookmarks on iPhone Disappeared Issue (iOS 16 Supported)
iPhone Contacts Missing? Here are 8 Ultimate Solutions
How to Fix iPhone Grey Screen of Death By Yourself? (8 Solutions)
[Complete Guide] Photos Disappeared from iPhone? Here Are 9 Solutions