"What should I do with my iPhone? It won't let me delete an app."
Removing apps on your iPhone is a good way to create more storage or declutter your device's Home screen. And it's ideal to regularly check the applications that you no longer use and remove them. Besides, it improves the performance of the phone. Deleting an app from a phone is straightforward, but things may go awry. When you can't delete apps on iPhone, the app may not jiggle, or it is unrestricted. Whichever the case, we have the best solution for you. We will explain why apps won't delete iPhones and possible fixes. So, let's dive into it.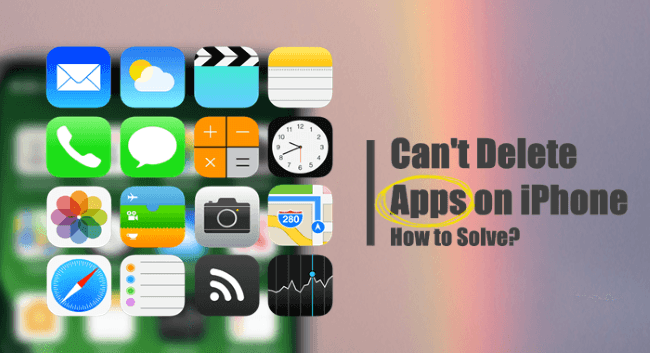 Part 1. Why Can't I Delete Apps on My iPhone?
Several reasons can hinder the removal of an app from your iPhone. Among the many reasons, here are the most common causes of such weird cases:
Not enough memory for updating apps.
Faulty apps.
You've set up deleting restrictions.
The apps are pre-installed.
MDM restrictions.
Part 2. What Apps Won't Delete on iPhone?
Apple does not allow the removal of certain applications from an iPhone because they help the device to function. Some of these apps you cannot delete from your iPhone are:
Settings
Photos
Phone
Camera
App Store
Messages
Safari
Even though these apps can't be deleted from your device, you can hide them.
Got more question? Read:
How to Change SIM Card on iPhone Easily? [Step-by-Step]
iPhone Calendar Disappeared: How to Recover Calendar App & Events on iPhone
Part 3. What's the Best Way to Delete Apps on iPhone? [Strongly Recommended]
If you want a very easy way to clean up your iPhone or you just want to remove that pesky app, then we recommend using Coolmuster iOS Assistant. Its advanced features make it easier to manage iOS files efficiently. You can effortlessly delete all Apps on your iPhone directly from a PC. The best part is that this tool lets you preview the applications as you choose the ones to uninstall. Honestly, this app makes your life easier regarding managing files on iOS.
Additionally, you may easily export the chosen application to a PC to keep it safe. There is no quality loss of the data being transferred. It is a safe and very secure tool that will bring the best results.
Features of iOS Assistant:
Help in managing iOS files from a computer.
Transfer data after previewing.
Uninstall and move apps directly on a computer.
Support apps, contacts, music, etc.
Support most iOS devices such as iPhone 14/13/12, etc.
Here's how to delete an app that won't delete:
01Install iOS Assistant on your PC and ensure you've installed the latest iTunes version. Link the iPhone to PC with a USB cable. Ensure you tap Trust on the phone.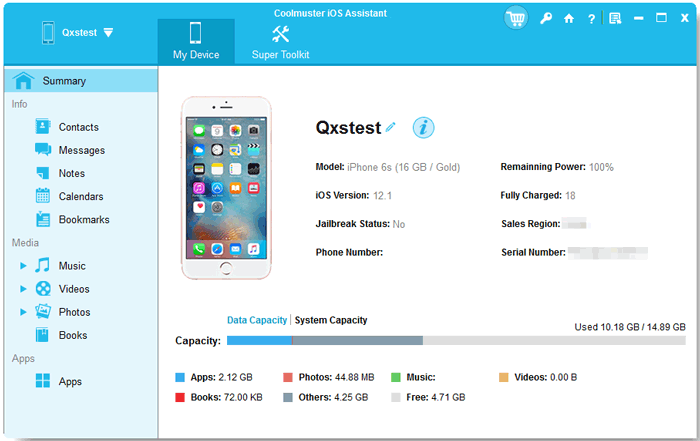 02After the device gets detected, all data and the app will be shown on the left panel. Open the Apps folder, and preview all app information. Choose Uninstall, then begin the procedure. You can also export the files to the computer.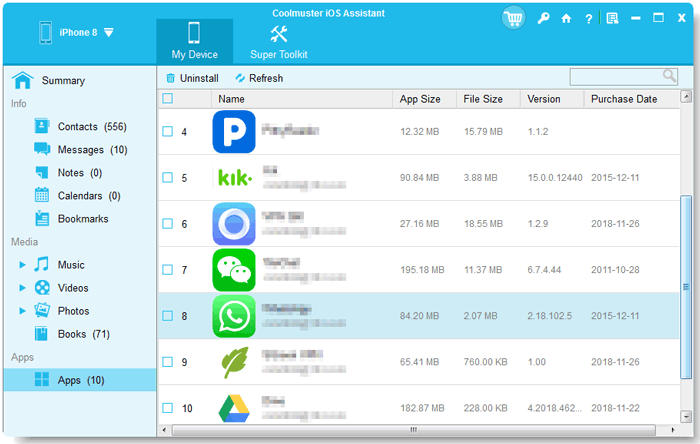 Part 4. What to Do if iPhone App Won't Delete? [Possible Fixes]
No matter the reason for the inability to delete apps on your iPhone, you must know how to resolve it. Below we will show you some tricks to try when your iPhone fails to uninstall an app.
Fix 1. Reboot iPhone
This troubleshooting trick always works. If it is a tech glitch that's hindering your device from uninstalling the app, rebooting it may solve the issue.
For iPhone X and newer versions: hold Power + Volume Down keys at the same time. Then slide the Power slider to the right to switch off the device.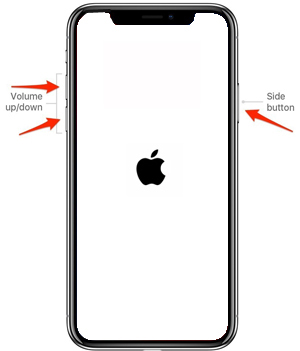 For older devices: hold Power + Home button till the slider shows and power off the device.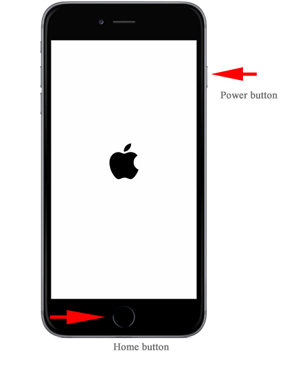 Wait for the device to turn off completely and then power it on again.
Fix 2. Remove Restrictions for Deleting Apps
You may have set deleting restrictions on your iPhone so that no person can make changes on the device. If you have changed the content restrictions in the past, then you may have mistakenly disabled your device from deleting applications.
Here's how to check the restrictions on your iPhone and modify them:
Step 1. Head to the Settings menu on your iPhone, then to Screen Time.
Step 2. From there, proceed to Content & Privacy Restrictions and click on iTunes & App Store Purchases. If you use a screen time passcode, enter your code to proceed.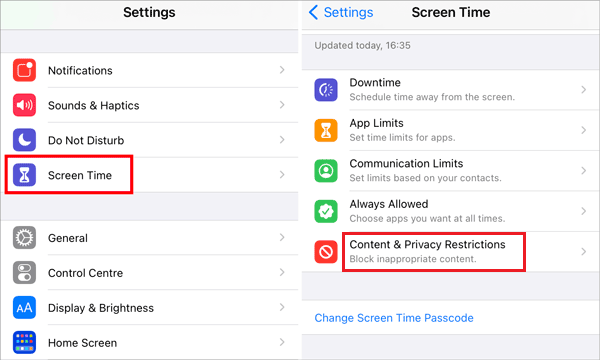 Step 3. Under the Store Purchases & Re-Downloads option, click on Deleting Apps option and choose Allow. Once done, you can now try deleting apps from your iPhone.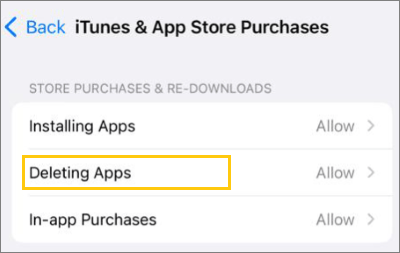 Fix 3. Deactivate the 3D Touch menu
Since the 3D Touch function is available on iPhone 6S devices and later, pressing on an app for less than 2 seconds activates the 3D Touch instead of X button. Thus, ensure you press then hold on an app gently for about 10 seconds if you wish to delete it. This will bring the X button to enable you to remove the application.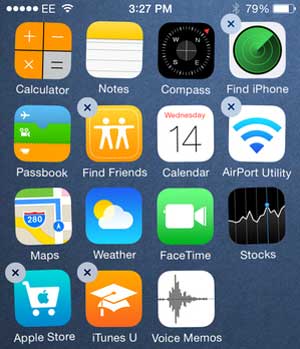 Fix 4. Utilize Settings
Still, having problems removing applications from Home Screen? You can try using the Settings application on your iPhone.
Here's how:
Step 1. Find the Settings application on your device and click on General. From there, proceed to iPhone Storage.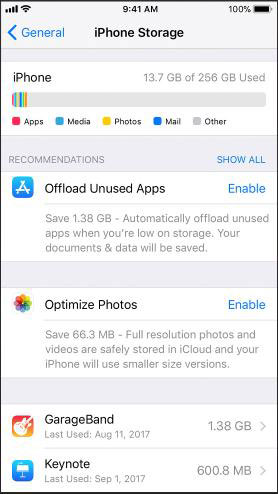 Step 2. Scroll down to the app you want to delete and click on it. Click the Delete App button to remove it from your device.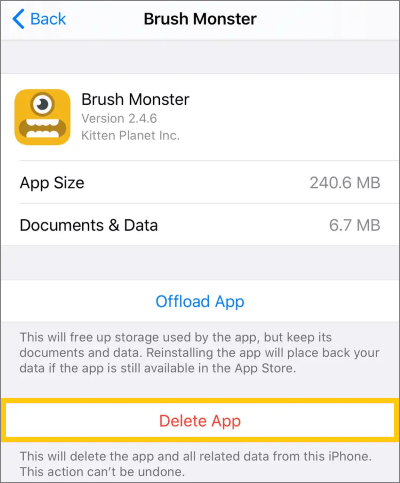 Fix 5. Delete the App from App Store
If the above solutions fail, you can also try deleting the application from the App Store. You never know; maybe the app will be removed with ease this way.
Can't delete apps on iPhone 11? Here are the steps to follwo to remove the apps:
Step 1. On iPhone, launch App Store and click on your profile at the top to proceed to your Accounts page.
Step 2. Look for the application you want to delete as you scroll down to locate it. When you find it, swipe left on it, this will bring the option to Delete. Click on it and choose Delete.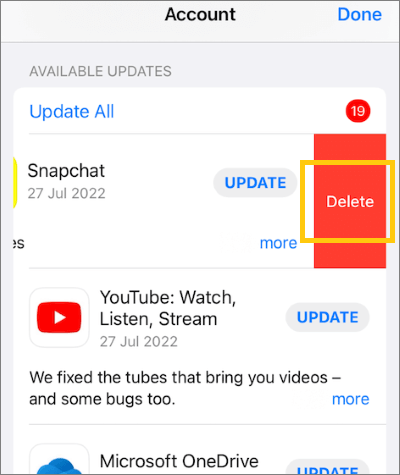 Fix 6. Download iOS Updates
Apple regularly releases iOS updates for iOS devices to add new features and fix bugs. So, if the apps aren't deleting due to iOS bugs, this fix could help. You should try installing new iOS updates on your device.
To do that, head to the Settings menu on your iPhone and find General. Click Software Update and then allow the phone to find new updates. Then download and install the iOS update and see if the problem is fixed.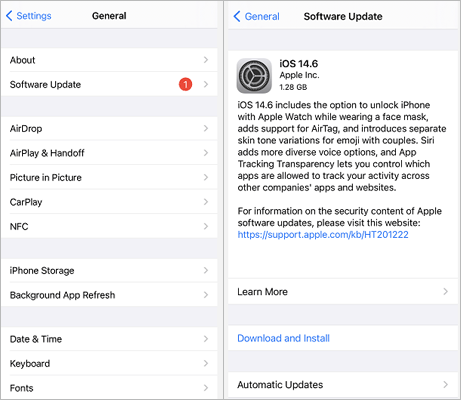 Fix 7. Reset Settings
You could try resetting all settings as a last resort. Do this and check if the issue will be solved.
Here are the steps:
Step 1. Head to Settings on your iPhone and click on General. Go to the bottom of the page, then choose Transfer or Reset iPhone.
Step 2. Click on Reset, then choose Reset All Settings on the menu.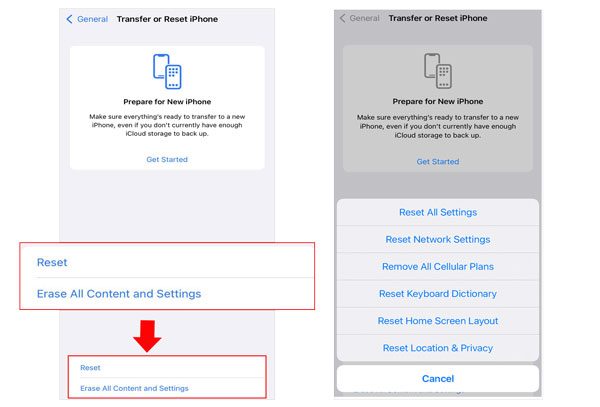 Follow the instructions on the screen to finish the procedure. Once done, your apps will be deleted without a problem.
Fix 8. Use iTunes
My iPhone will not let me delete apps; what should I do?
Cannot remove app from iPhone? You can manage your apps via iTunes and also deleted files like apps.
Here's how:
Step 1. Install the newest version on iTunes on your computer. Launch it and plug in your iPhone to the PC.
Step 2. Wait for some time to enable the device to create a connection. Tap at the top of your handset's icon.
Step 3. Choose the Apps tab, and it will show various images of the iPhone's home screen and app folders available.
Step 4. Right click the app you wish to remove and choose Delete. Then choose Delete App to confirm the deletion. They will be deleted automatically.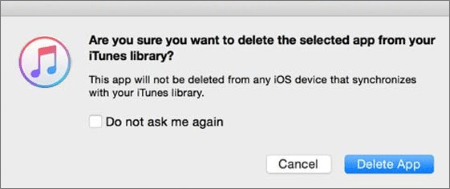 Also read:
[Reviews in 2023] Best Diskdigger Alternative for iOS Devices
Top 10 iTunes Alternatives for Windows You Can't Miss
Conclusion
That is all on why iPhone won't delete apps and the best fixes to help when you can't uninstall an app on your iPhone. The most efficient way to delete apps on an iPhone is to use Coolmuster iOS Assistant. It is a reliable software that is quick and easy to use.
Related Articles:
[2023] How to Recover Snapchat Messages on iPhone in Four Hassle-free Ways?
10 Methods to Fix iPhone Text Messages Disappeared Issue in 2023
How to Retrieve Deleted Messages on Messenger on iPhone with Ease?
How to Fix Touch ID Not Working on iPhone in No Time? (Incredibly Simple)
Contacts & SMS Recovery for SIM Card in iPhone 14/13/12/11/Xs Max/XR/X/8, etc.
How to Recover Data from Broken iPhone with or without Backup?