Try to play your favorite songs on your iPhone only to find the music missing from your iPhone and not remember when you delete them? At this moment, quick thinking will occur to you: My downloaded music is gone! What happened to my music?
There are many reasons for songs disappearing from the iPhone, like accidental deletion, insufficient storage space, etc. To know more about why music disappeared from iPhone and how to get them back, continue reading the following content to find out the answer.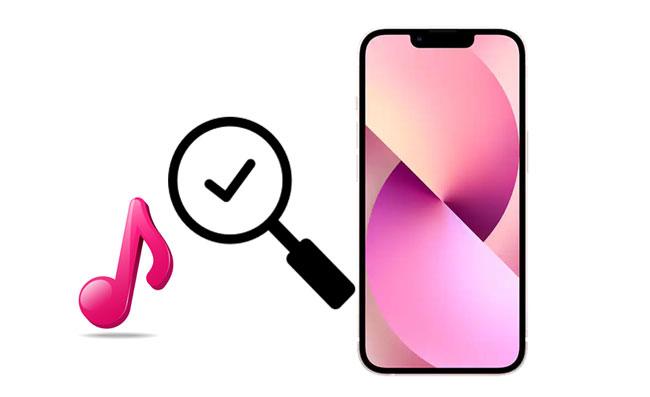 Part 1. Why Did My Apple Music Disappear?
Part 2. Where Did All of My iTunes Music Go on My iPhone?
Part 3. How to Recover Lost Music on iPhone?
Extra Bonus: Other Relevant Questions on iPhone Data Recovery
Part 1. Why Did My Apple Music Disappear?
My Apple music is gone. What's the reason for that? We list several possible factors responsible for this problem.
There is something wrong with the iCloud Music Library.
Expired Apple Music subscription.
Your iTunes account has synced across the devices.
You have turned off the Show Apple Music option.
iOS or Apple Music updates.
Sign out of your iTunes account.
Wrong Apple Music account.
Part 2. Where Did All of My iTunes Music Go on My iPhone?
So, where did my music go? Note that all songs will be saved in the default Music app on your iPhone, no matter you downloaded the music from Apple Music or synced across devices via iTunes.
Bonus Tips:
Apart from music, some people also find that the Apple Music app sometimes doesn't appear on their devices. Below are FAQs on the Apple Music app you may concern about.
1. Where Did the Apple Music App Go?
Swipe from top to down on the iPhone's home screen to bring out a search bar.
Tap the search bar and enter Music to locate the app.
2. How to Get Back the Music App on iPhone?
If you cannot find the Music app anywhere, it's very likely that you have deleted it from the device accidentally. To get it back, go to App Store and search for Music. Next, tap the Download button next to the correct app to install it on your device again.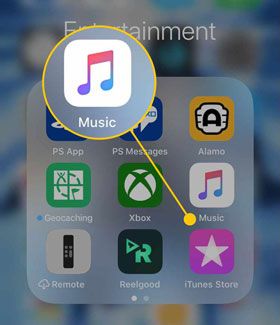 You might like: Click it to get usefule methods to back up your iPhone data with or without a computer.
Part 3. How to Recover Lost Music on iPhone?
Now, refer to the following methods to get the disappeared music back to iPhone.
Method 1. Turn on Show Apple Music
The first thing to check is to ensure whether you have enabled the Show Apple Music feature on your device. If not, repeat the following steps to turn it on.
Navigate to the Settings app on your iPhone.
Click Music > enable the Show Apple Music option.
Method 2. Turn on iCloud Music Library
Since updating your iPhone to iOS 14 and later may automatically toggle off the iCloud Music Library, you can check whether you have switched it on. For that, sign in to the same Apple ID and password on your iPhone and then try the following tips:
On an iPhone/iPad:
Go to the iPhone's Settings > Music.
Turn on iCloud Music Library.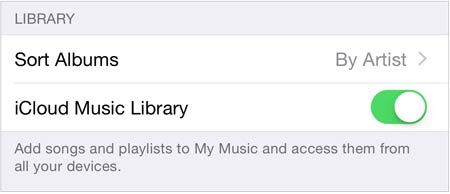 On Mac:
Open Apple Music on your Mac.
Choose Music > Preferences > General > check Sync Library.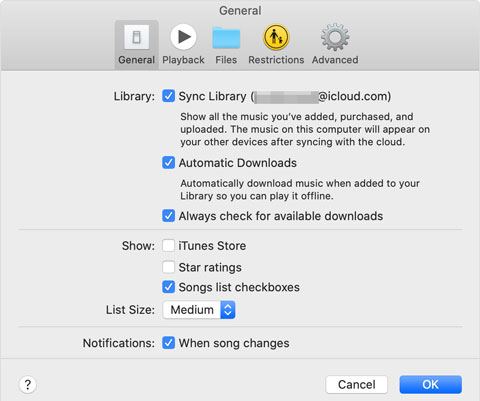 On Windows PC or Mac with iTunes:
Run iTunes on the computer and tap the Edit tab.
Select Preferences > General > turn on iCloud Music Library.
Once done, select the Keep Music option and wait for a while. Then, you can view and play your Apple Music songs.
See also: You can move your music from your iPod to a new computer without hassle. Let's check it out.
Method 3. Restart Your iPhone
In some cases, songs disappearing from iPhone is due to system delay. So, to resolve the problem, you can restart your device.
Press and hold the Power + Home buttons together until the Apple logo appears on the screen.
Release both buttons and wait for the iPhone to restart automatically.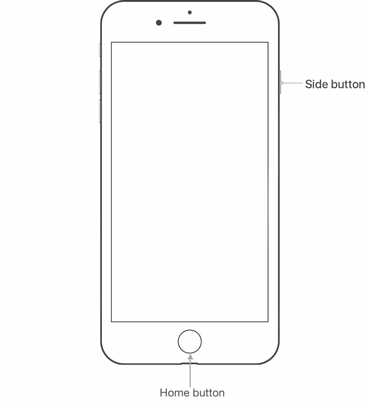 Method 4. Clean Up Junk Files
Too many junk files will take up much storage on your iPhone and cause the music to disappear from your iPhone. Thus, you can remove the junk files and temp data to free up more storage space to make the music show up. Later, you can check whether your music comes back.
Maybe you need: How can you fast remove the duplicate songs from your Android phone? This post will tell you the solution.
Method 5. Redownload Purchased Music from iTunes Store
If the purchased music from iTunes is not available, you can redownload them from the iTunes Store to your iPhone.
Open iTunes and sign in with the correct Apple ID credentials.
Tap Account on the top and select Purchased.
Tap the Not in My Library option and pick the music you want to get back.
Hit the Download icon at the upper-right corner to redownload it.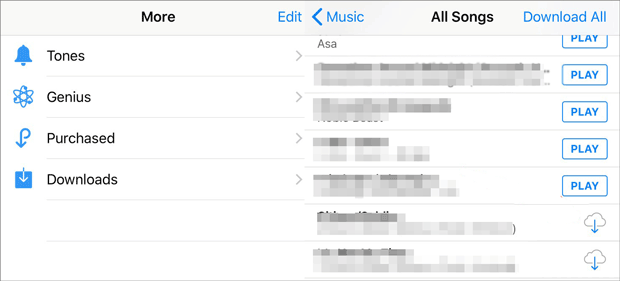 Method 6. Renew Your Apple Music Subscription
If the Apple Music subscription on your iPhone expires, renew it in time to access your music again.
Go to iPhone's Settings > tap your name > click Subscription.
If there's no option, go to iTunes & App Store > tap your Apple ID > View Apple ID > sign in and tap the Subscription option.
If expired, renew it right now.

Read more: It is efficient to transfer songs from one iPad to another in different ways. Open this link and you can get the detailed steps.
Method 7. Check the Device Settings & Network Connection
Another way to fix the music that disappeared from iPhone is to check the device settings and network connection.
To reset all device settings:
Open iPhone's Settings > General.
Tap Reset > Reset All.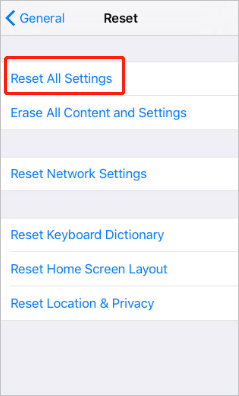 Note that this will restore your device to factory settings while removing the system glitches. Hence, make it your last resort if you don't want data loss.
To check the network connection:
Go to Settings > Music.
Scroll down to click Mobile or Cellular Data.
Turn on options for Streaming or Downloads.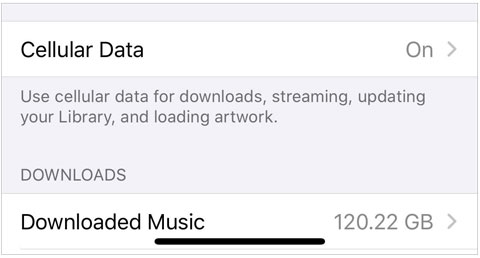 Further reading:
iPhone Calendar Disappeared: How to Recover Calendar App & Events on iPhone 14/13/12/11/11 Pro/11 Pro Max
iPhone Notes Disappeared? 6 Methods to Recover Lost Notes on iPhone
Method 8. Turn Sync Library Off and On
Although it is hard to believe, turning the Sync Library off and on will also resolve the problem in rare cases.
Open Settings > Apple Music > ensure the Sync Library option is On.
If it's off, turn it on and choose whether to Keep Music or Delete & Replace Music on your device. Here, you can select the Keep Music option.
Wait for one or two minutes to make the music show up.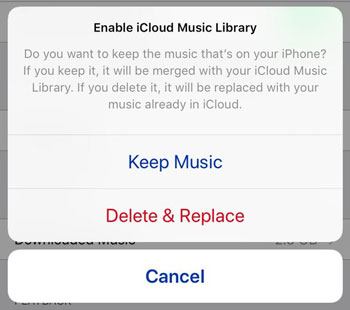 If Sync Music is on, toggle it off for seconds and turn it on again.
Perhaps you like: If you get a powerful iPhone transfer program, you can complete the data backup and management without trouble.
Method 9. Get Music Library Back on iTunes
You can also restore the lost music to your iPhone if you previously backed up the iTunes library and media files.
Double-click This PC from the Windows PC's desktop and find the iTunes folder you want.
Copy and paste the folder to another folder you wish to store.
Press and hold the Shift key on the keyboard while launching iTunes.
A pop-up window will appear and ask you to Choose an Existing iTunes Library or Create a New One.
Select the location and open the iTunes Library.itl file.

Extra Bonus: Other Relevant Questions on iPhone Data Recovery
1. How to Restore Other Lost Files from My iPhone?
Suppose you also need to restore other data rather than music from your iPhone. In that case, you are recommended to try Coolmuster iPhone Data Recovery. It enables you to recover various deleted files from the iPhone directly or iTunes backup. What's more, you can preview all the content and pick the desired files to recover.

The key features of Coolmuster iPhone Data Recovery:
* Recover the deleted and existing contacts and messages from the iPhone to a computer without backup.
* Restore the deleted and existing messages, contacts, message attachments, notes, note attachments, voice memos, photos, calendars, etc., from the iTunes backup file to a computer.
* Export the existing notes, reminders, voice memos, calendars, photos, music, iBooks, videos, etc., from the iPhone to a computer.
* Preview all the iPhone content and choose the items you want.
* No data damages and quality change.
* Support all iPhone models (iOS 16 supported), such as iPhone 14/13 Pro Max/13 Pro/13/13 mini/12 Pro Max/12 Pro/12/12 mini/SE/11 Pro Max/11 Pro/11/XS Max/XS/XR/X/8/8 Plus/7 Plus/7/6S Plus/6S/6 Plus/6/5S/5C/5/4S/4, etc.
2. How to Avoid Music Library Being Deleted by Apple Music?
The Music Library disappeared from the Apple Music app? Try the solutions below to avoid losing music files.
Make Apple know the computer where your music library exists is your primary device.
Unselect the Remove Download option when deleting tracks from iTunes.
Final Thoughts
Get yourself a trustworthy tutorial when music disappeared from your iPhone. This post offers nine reliable solutions to find the songs back. You can pick the best way for your device. Meanwhile, if you also want to recover other deleted data from your iPhone, pick Coolmuster iPhone Data Recovery. It's foolproof, fast, and secure to use.
If you think this post is helpful, repost or share it with more people. Thanks!
Related Articles:
How to Recover Deleted Songs from an iPhone with or without a Computer? (4 Practical Methods)
How to Fix Email Disappearing from iPhone 14/13/12/11/11 Pro/11 Pro Max? (Solved)
Photos Disappeared from Android Phone? Here's How to Get Them Back
[Complete Guide]Photos Disappeared from iPhone? Here Are the Reasons & 9 Solutions
10 Methods to Fix iPhone Text Messages Disappeared Issue in 2023
14 Amazing Tricks to Fix iPhone Contacts Missing Names (Comprehensive Guide)