Mobile phones are a critical component of our daily lives. We use them to do almost everything, from communicating with loved ones to shopping online, conducting business transactions, and more. iPhone uses are innumerable. On the other hand, this means when they aren't working normally, it can be a huge problem.
Have you ever encountered an iPhone screen that's not working at the bottom half part? The bottom of iPhone screen not working problem is common problem and most users have reported to have encountered it. When the screen's bottom fails to respond, you can't flexibly swipe down or up. It could be because of hardware components related to touch malfunctioning, or there was an issue with software communication.
This article addresses the lower part of touch screen not working on iPhone issue and possible fixes that work.
Part 1. Why Doesn't the Bottom of My iPhone Screen Work?
If you find that the lower half of your iPhone's screen isn't responding, something could be wrong with your device. It's likely due to software bugs preventing it from working properly. Unresolved glitches like this can prevent you from using certain features and even limit app access if unresolved.
Below are a few potential reasons why the bottom half of iPhone screen not working problem:
You recently dropped your iPhone, and the digitizer function responsible for processing touch on display stopped operating correctly.
Attempting to jailbreak your iPhone, but it fails. If things don't go as anticipated with a jailbroken device, it can become unresponsive.
If you're using a poor screen protector, this may cause your touchscreen to suddenly become unresponsive.
Occasionally, software errors or updates can make your iPhone's screen unresponsive.
But don't despair. The "iPhone bottom screen not working" issue can be quickly remedied. You won't need to break the bank on costly repairs or replacing the phone. With just a few easy tricks, your iPhone will soon perform like it's brand new again.
You may like:
How to Solve It When iPhone Keeps Crashing? 9 Easy Tricks
How to Fix the iTunes/App Store Keeps Asking for Password Issue on iPhone/iPad?
Part 2. What to Do When 'Lower Part of Touch Screen not Working on iPhone'?
If your iPhone screen is not performing as expected, try out these tips:
Tip 1. Restart iPhone
Is your iPhone screen malfunctioning due to some applications running in the background? If so, restarting is a simple yet effective solution to solve such iOS problems. Restart and see if it helps restore proper touch functionality.
If you are an iPhone 12/11 or later model user, press then hold the Side button together with one of the Volume buttons till you see the slider.
For iPhone 8 and below models, press either the Side or the Top button to bring up the slider.
Now, swipe the slider to the right to power off the iPhone. Wait for some time and switch it on again.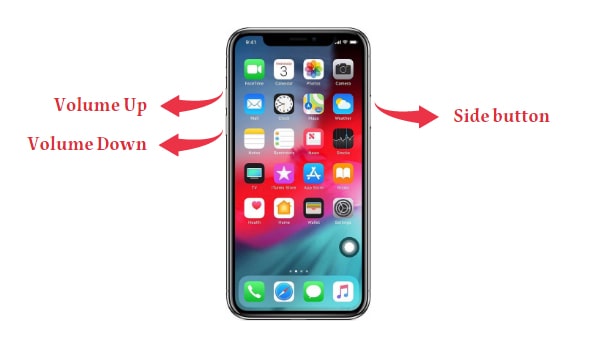 Tip 2. Check the Available Storage on iPhone
When you always use your device every time, videos, photos, and other large files will fill up its memory storage. If this happens, it will get full faster, which may bring unresponsive screen problems. To solve such an issue, check to be sure there is sufficient storage on your iPhone.
To check the available space, head to Settings and select "General." Then tap on "iPhone Storage."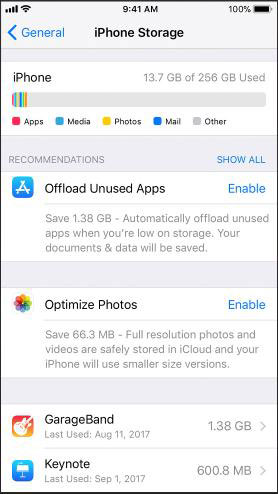 All files available in the iPhone's storage will be displayed together with the space they each occupy. If the remaining space isn't enough, consider deleting those files you don't use to free up space on iPhone. Don't forget to make a backup copy of your device before deleting some of its files. This will help when you want to restore it later.
Tip 3. Delete Unused Apps to Create Some Storage Space
Is your iPhone's touchscreen not working as it should? It could be because of an overload of apps clogging up the storage, making it sluggish. Not only is this incredibly frustrating, but also inconvenient. Consider deleting all the unused apps on your phone. This simple act will create more space and instantly boost your device.
To delete an app from your iPhone, head to "Settings," click on "General," and select "iPhone Storage." Tap the app to be removed and then click "Delete App." It's that simple.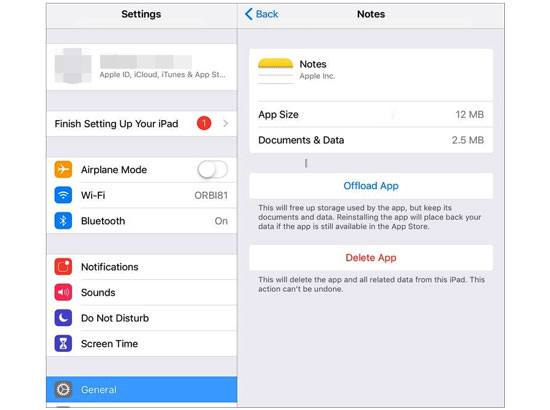 See more:
How to Fix the iPhone Stuck on the Emergency SOS Mode Issue?
[Solved] How to Unlock Disabled iPad without iTunes | Latest Guide
Tip 4: Clean The iPhone's Screen and Your Fingers
The iPhone has an incredibly sensitive capacitive screen that detects even the smallest electrical conductance, meaning it can be easily affected by dirt or grime. A much more pressing problem arises when there's moisture or liquid present on the screen. If this happens, make sure to dry it off thoroughly. Use a soft cloth to clean any dirt and debris from the screen.
Additionally, you should understand that you can't swipe on the touchscreen if your fingers have gloves or mittens. So remove any clothing on your fingers before operating your iPhone. That said, there are specialized capacitive-touchscreen gloves to use during cold weather.
Tip 5: Remove the Screen Case
A screen case or protector is very important on our phones. It helps protect the screen from damage in case you drop it. However, it an sometimes bring the issue of the bottom part of the iPhone screen not working properly. Thus, removing any cases or screen protectors on your phone can make an iPhone screen work properly.
Tip 6: Tweak the 3D Touch Settings
Also, an iPhone's bottom half screen may fail to respond because of the 3D Touch function. This function regulates how much pressure you require when tapping on the display. To fix this issue, consider adjusting the 3D Touch settings and then see if the issue is resolved.
Navigate to Settings, "General," and click "Accessibility." Then select "3D Touch" and toggle it on or off. Additionally, you can alter the 3D touch sensitivity levels if desired.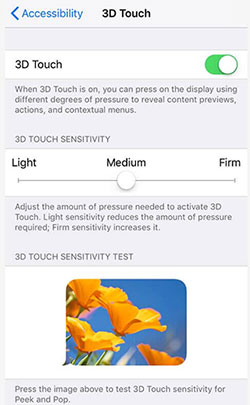 Tip 7: Inspect the Orientation Lock
Sometimes, an iPhone may get stuck in landscape mode and not change to portrait, or vice versa . This can also lead to the bottom part of the screen not responding. So, you can also try changing the orientation lock to see if the problem will be solved, though it's not a permanent fix.
To switch your device's orientation, head to the control center and tap the "portrait lock" symbol. Then select the orientation you want to use.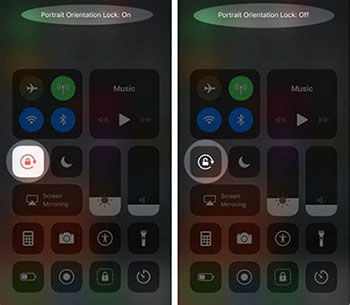 Tip 8: Upgrade iPhone to Newest Version
Also upgrading your iPhone to the newest model can help in this case. New versions are known to fix any glitches in the software. After upgrading the OS, your device will perform optimally, thus improving the touch sensitivity on the device's screen. Here's how to upgrade iPhone's version:
Step 1. Head to the "Settings" page. From there, click "General" and then "Software Update."
Step 2. Your device will begin searching for updates; if one is available, simply press "Download and install" to get it installed on your system.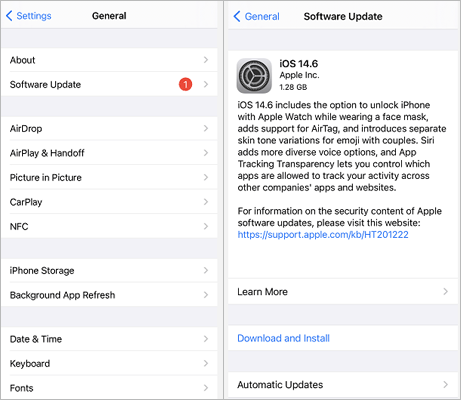 Tip 9: Factory Reset the iPhone
You can try factory resetting an iPhone when all other solutions prove futile. However, bear in mind that all files will be erased. It resets your iPhone completely to its new state. Ensure you backup all your files before you try a factory reset. After a reset, you will now be able to restore the files.
Here's how to factory reset an iPhone to fix the bottom half of your iPhone that's not working:
Step 1. Open Settings, then head to "General" on your iPhone.
Step 2. Then, select "Reset" and "Reset All Content & Settings."
Step 3. After that, you'll need to back up all data stored on iCloud. Finally, hit "Erase iPhone."

Tip 10: Update Apps on iPhone
If your iPhone isn't responding at the bottom of the screen when using applications, consider updating those apps from the App Store. This issue often occurs due to outdated versions on your device that may need refreshing. Doing this may save you all the hurdles of screen unresponsive issues. Do this to update apps:
Step 1. Visit the App Store, and tap "Updates" at the bottom of your screen.
Step 2. You'll find a list of all apps that have available updates.
Step 3. To update them once, press "Update All," in the upper right corner of your iPhone display.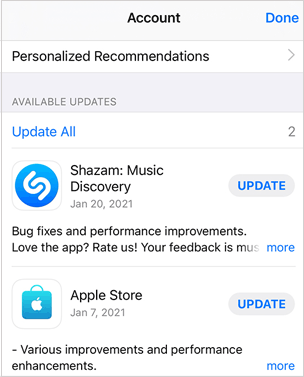 Tip 11: Reset All Settings on iPhone
The iPhone's bottom screen not responding can be so annoying. You can try resetting all settings to help eliminate any system bugs on your device and get it functioning again.
Step 1. Unlock your iPhone and navigate to the Settings app. Then, select "General" and "Transfer/Reset iPhone."
Step 2. Tap the "Reset" button and "Reset All Settings" to confirm.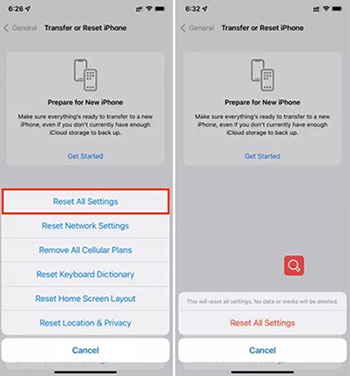 Tip 12: Restore Your iPhone as New through iTunes
If none of these options have given you the desired result, try restoring your iPhone via iTunes. Here is how to go about it:
Step 1. Plug your iPhone into a laptop or computer via a charger cable. When the connection is established, launch iTunes and tap on the "Mobile" button in the top left corner of its interface.
Step 2. Head over to the "Summary" tab and look at every information on your device. Then press "Restore Backup," followed by confirmation. You'll now have access to the files you backed up.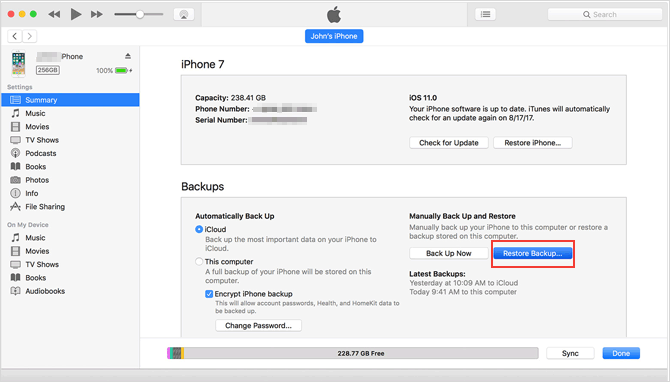 Step 3. Wait until the restoring procedure is completed, unlock your iPhone, and check if the screen functions correctly.
Part 3. Use iOS System Recovery to Fix "Bottom of iPhone Screen Not Working"
Is the bottom half of iPhone screen not working or can't unlock? When solving such an issue on your iPhone, ensure you won't lose your data in the process. Be sure to use software that guarantees excellent results without data loss. iOS System Recovery is professional software that resolves unresponsive screens on iPhone.
Besides, the standard mode doesn't erase any file on your device; so you are sure your files are safe. However, the advanced mode will erase everything from your device but still resolve the issue as well. Moreover, iOS System Recovery is designed to solve most iPhone-related issues swiftly. It's compatible with all iOS devices, including the latest iPhone 14 and iOS 16.
Key Features of iOS System Recovery:
Fix iPhone bottom screen not working back to normal.
Fix your iOS system form various issues such as being stuck on the Apple logo, recovery mode loop, black/white screen, and more.
The iPhone repair software provides two repair modes: Standard Mode & Advanced Mode.
No data loss when fixing your iPhone in Standard Mode.
100% safe and secure.
Compatible with all iOS devices, including iPhone 14/13/12/11/X, iPad, and iPods.
Steps to fix bottom half of iPhone screen not working via iOS System Recovery:
01 Launch iOS System Recovery
Install the software on your laptop and plug your iPhone into the computer with a lightning cable. Select the "More tools" option from the menu on the left and select "iOS System Recovery." On the next window, choose "iPhone System Recovery."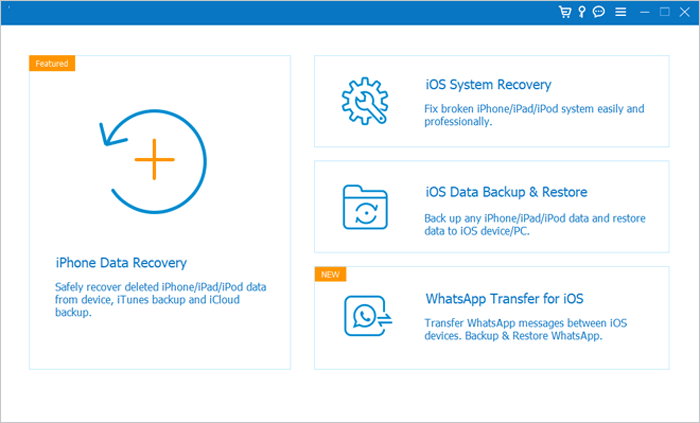 02 Start fixing your iPhone
Hit the "Start" icon and start fixing the bottom of iPhone screen not working. This program can recognize if your phone is stuck in Recovery mode and resolve it immediately.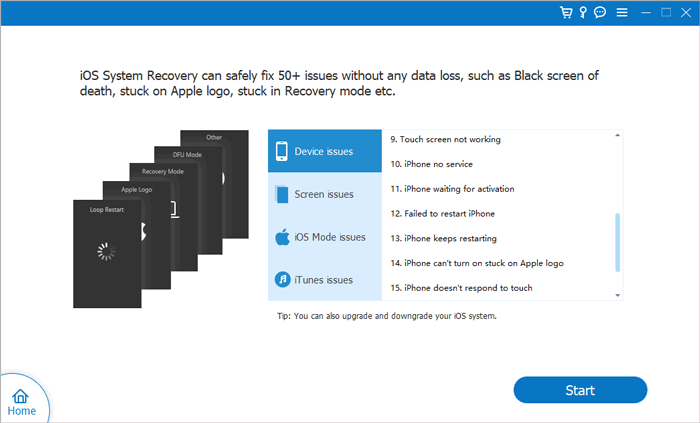 03 Enter the iPhone into DFU or Recovery Mode
To enter DFU mode on your iPhone, click the "Question" button and follow the guide. After that, press the "Repair" icon to download the appropriate iPhone firmware.
04 Fix the bottom of iPhone not working
Once the firmware download is complete, iOS System Recovery will instantly resolve your iPhone's screen unresponsive problem. The device will get back to normal.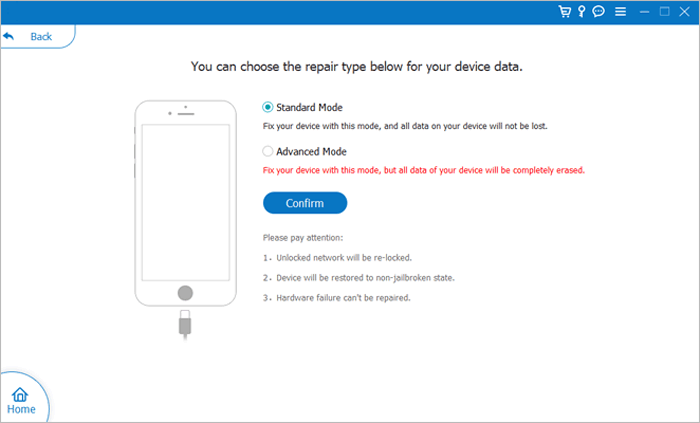 Bonus: Backup Your iPhone Before Fixing Bottom
To avoid any potential data loss while repairing your iPhone, backing it up beforehand is essential. You can keep your files in iCloud or on a computer. Also, cloud storage services can allow you to securely back up your files. This will help restore the data back to your iPhone in case you lose them after the repair. Here is a detailed guide about how to back up and restore iPhone.
Conclusion
It is common to face glitches with our smartphones which could lead to unresponsive screens. Therefore, when you find your iPhone's screen failing to work on the lower part, use the solutions outlined in this article to fix it. iOS System Recovery is a reliable tool that can help fix all sorts of iPhone issues such as this one. Besides, rely on this tool to safeguard your iPhone data, like contacts, videos, messages, and photos, during the repair process. All you need to do is download and install iOS System Recovery and see how easily it can resolve the iPhone screen's unresponsive issue.
Related Articles:
Is Your iPhone Storage Full? Free It Up without Delay [Solved]
How to Fix iPhone/iPad Screenshot Not Working
Siri Not Working after iOS 12 Update, How to Fix It?
How to Fix the iPhone Stuck on Apple Logo Issue
iCloud Backup Failed | iPhone Not Backing Up to iCloud (12 Fixes)