If you are an Apple user, you must have created an Apple account to access Apple services like iCloud, Apple Store, and many more. Besides, you can still sync subscriptions or purchases across your Apple devices like iPad, iPhone or Mac signed into the same Apple ID. Surprisingly, you may try logging into your Apple ID on a Mac computer, only to get an error message that you can't sign into Apple ID due to an unknown error. This will hinder you from getting any of the services associated with the Apple ID.
Honestly, it can be very frustrating not being able to access Apple features that require an active account. As such, Apple users are seeking effective tricks to resolve such Apple ID problems. Fortunately for you, though, in this article, we'll provide solutions when you can't sign into Apple ID on iOS devices. So let's dive right into them and get back on track.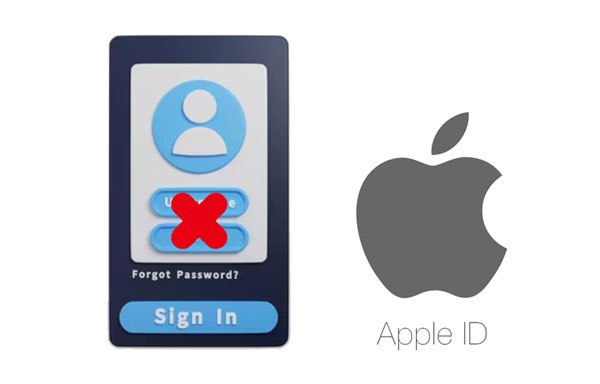 Part 1: How to Restore from iCloud Backup without Reset Selectively?
If you can't sign into your Apple ID, then there is an underlying reason for that. It could be due to any of the following reasons:
1. Wrong Apple ID or password.
2. Problems with account settings in the Face Time application or iMessage.
3. The device isn't allowing connecting to iCloud verification servers.
4. System data & time, and settings are out of sync.
5. The Apple services are down.
Part 2: Can't Sign Into Apple ID Due to Unknown Error? 8 Simple Tricks
With many iOS users running into Apple ID issues, we've gathered some solutions that can help you if you can't sign into your Apple ID.
Solution 1. Force Reboot Devices
If you can't sign into your Apple ID, it could be due to bugs or glitches in the device so, a force reboot might be worth considering. Rebooting any device is known to clear minor system and app glitches which can be causing Apple ID malfunctions. So try it out by doing this:
For iPhone 8 and later:
Step 1: Press then release the Volume Up button, followed by Volume Down.
Step 2: Keep on holding the Power button till the Apple logo shows.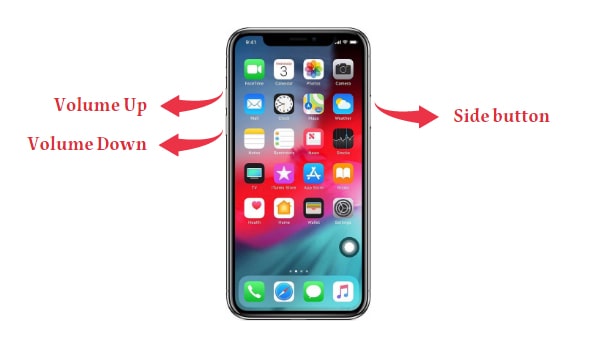 For iPhone 7/7 Plus:
Press and hold Power + Volume Down keys together until you see it restart.
For iPhone 6 and former:
Press the Power + Home keys together till it reboots.
Solution 2. Check Apple System Status
Apple ID issues can sometimes arise due to unexpected server disruptions, though it's rare. Apple servers may sometimes collapse despite offering a dependable operating system and outstanding bug-free aspects. To ascertain whether all Apple services are running smoothly, search for the "Apple System Status" using any browser. If the status of your Apple ID appears green, it indicates that everything is running as expected.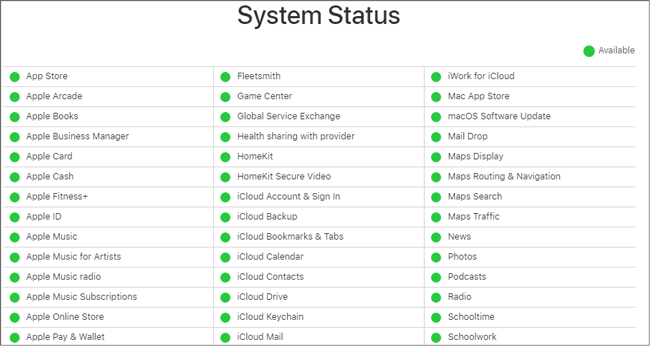 Solution 3. Exit and Login Again
If you can't seem to log in with your Apple ID after multiple attempts and there are no positive outcomes, exit from Apple Store. Then give your iPhone a break by waiting several minutes before attempting to log in again. Sometimes this action does the trick. Though this technique can work for some users, it can fail to work for others.
Solution 4. Stop Some Applications Using the Apple ID
If you're perplexed as to why your Apple ID isn't logging in, it could be suspicious apps using the Apple ID. Some applications installed on your iPhone require access to Apple ID, but they can do more harm than good. If they are not needed and are still present on your phone, it's best to delete them; otherwise, they can bring such issues to your account.
Step 1: To delete these apps, navigate to "Settings" and tap on the option for "[your name]" on the top part of the page.
Step 2: Select "Password and Security" and tap on "Apps Using Apple ID".
Step 3: Enter your ID and remove those apps by clicking "Stop using the Apple ID".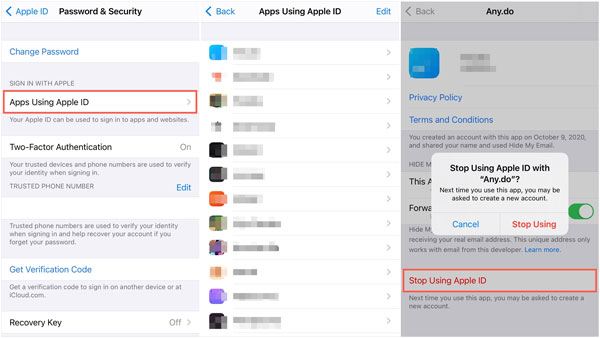 Guess you need: How can you recover photos from a dead iPhone? There are 4 solutions to help you.
Solution 5. Check Your Network
"I can't sign into my Apple ID on my iPhone but the account works on my MacBook? How can I fix my phone?" If your iPhone has issues logging into the Apple ID, your network may be bad. A stable internet is necessary for successful login credentials when attempting to connect with the Apple ID server. Double-check that your Wi-Fi is functioning at its best to make sure you can log in without any hiccups.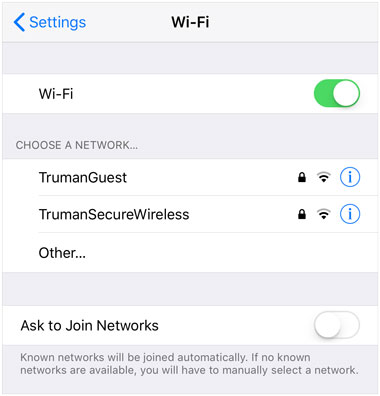 Solution 6. Reset All the Settings
Still, I can't sign into my Apple ID on my iPhone even after checking the internet. What to do? Although it requires a drastic measure, restoring your device to its factory settings can be an effective solution. However, remember that this will delete all your data unless you have recent backups stored online or elsewhere. To reset your iPhone:
Step 1: Navigate to "Settings" and proceed to "General" and "Reset".
Step 2: Now head to "Reset All Settings", and then enter your passcode when prompted to confirm the process.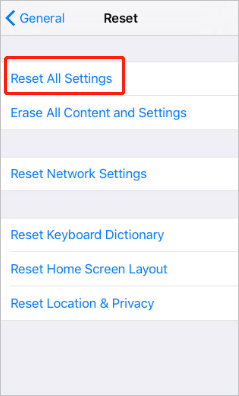 Solution 7. Update the iOS Version
Regular system upgrades play a major role in keeping your iOS devices secure and functioning properly. Not only do they help prevent potential issues from occurring, but they also identify any hidden bugs that were present in the previous operating system.
When you can't sign into Apple ID on an iPad, please update the iOS:
Step 1: First, go to "Settings" > "General" > "Software Update".
Step 2: If there's an update, install it on your device. Now restart the device, and if the issue is resolved.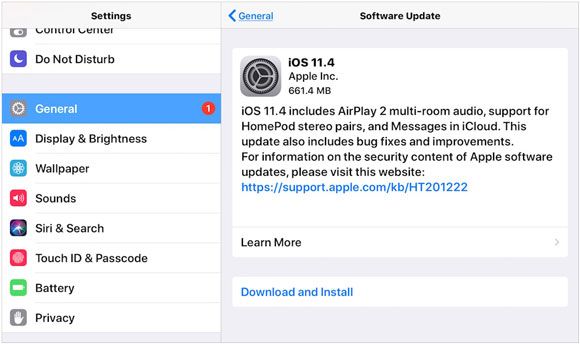 You might like: Your iPad screen turns to white suddenly? Then you can follow this guide.
Solution 8. Reset Your Apple ID Password
If you've entered the accurate credentials but still cannot log into your Apple ID, your account has likely been compromised. To avoid any more problems, consider resetting your password by following the steps listed below:
Step 1: Open Safari browser and head to the iforgot webpage. Input your Apple ID; then, you'll be asked to enter the number to verify.
Step 2: Click on "Allow" from the screen and start the resetting process.
Step 3: Afterward, try logging in using a new password and Apple ID.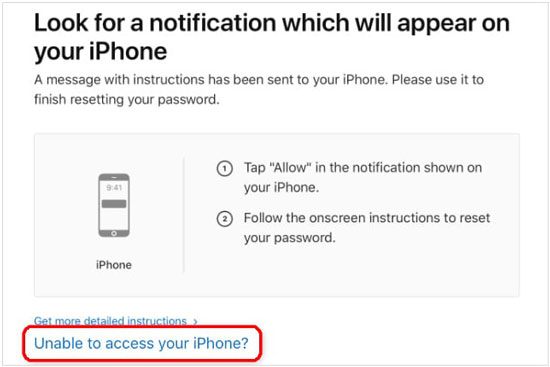 Learn more: iPhone Blue Screen of Death? Here are 7 Easy Ways to Fix
Part 3: Can't Sign Into Apple ID on iPhone? Repair It in 1 Click
Why can't I sign into my Apple ID account? Well, it happens due to several reasons. But what to do when you still can't sign into Apple ID on iPad even after trying all the mentioned easy solutions? Lucky for you, there is amazing software designed to fix such issues in one click. iOS System Recovery is that one-click tool that can help you if you cannot sign into your Apple ID.
You only have to enter your iPhone into either Recovery mode; then, you can easily restore your iOS device's system to its normal state. This tool is compatible with most iOS devices and offers two distinct recovery modes that can be used for most issues affecting the operating system, like iPhone grey screen, iPad crashing, etc.
If you're new to this iOS system recovery software, have no fear. This software is incredibly easy to use. Thanks to its crystal-clear guide, you can rest assured that fixing any issues with your device's system won't take long. Moreover, this tool is completely secure; all your data will remain safe via the standard recovery mode.
Key features of this software:
* Fix your iPhone and iPad when you fail to sign in to your Apple ID.
* Effectively repair various iOS system issues, such as Touch ID not working, and more.
* Support many generations of iOS devices, like iPhone 14/13/12/11/X/8/7, iPad Pro, iPad Air, iPad mini, etc.
* Work with the latest iOS.
Download this system recovery software.
Use this recovery software if you can't sign in to your Apple ID on an iOS device:
01Install and launch the program on the computer and connect the device with a USB cable. Click on "iOS System Recovery" from the primary interface.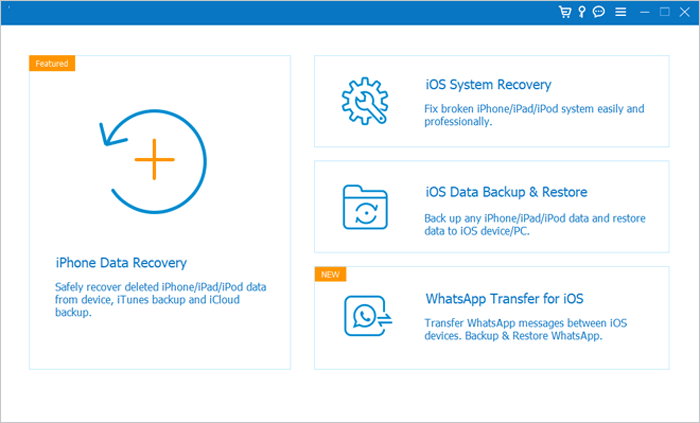 02Hit "Start" to start fixing your device. The tool can detect the issue with your iOS device and fix it instantly.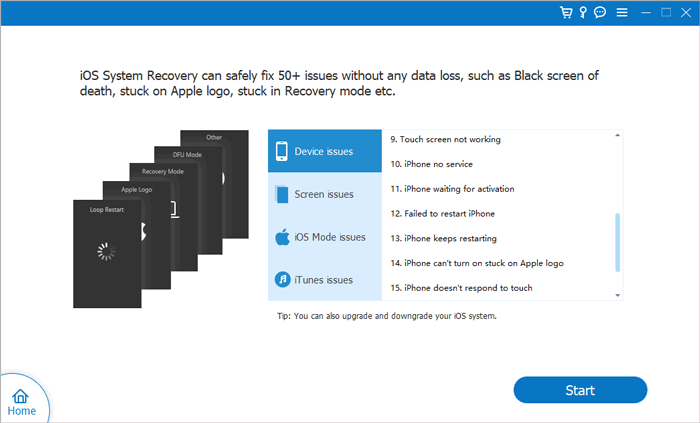 03Now boot the device to Recovery Mode by following the instructions on the screen. After that, tap "Repair" to download the proper firmware.
04Once the firmware is downloaded, iOS System Recover will start fixing the phone automatically back to normal.
Conclusion
Are you fed up with the difficulty of signing into your Apple ID? Do not worry; we have compiled a list of helpful methods to assist you. However, if all the solutions fail, iOS System Recovery can swiftly fix this problem for good. Quit struggling and give it a try today. Forget all your Apple ID login woes once and for all.
Related Articles:
[Fixed] How to Recover Deleted Videos from iPhone 14/13/12 with or without Backup?
How to Recover Pictures from Text Messages on iPhone [2 Excellent Ways]
How to Recover Photos from iPad without Backup? (Top 2 Ways)
How to Recover Data from iPhone Internal Memory? Top 3 Ways
5 Quick Ways to Recover Deleted Text Messages on iPhone without Computer
How to Fix Green Lines on iPhone Screen? Proven Solutions Are Here