Calendar is very important in our day-to-day lives since it help us keep track of our activities. Moreover, technology has made tracking our activities and events convenient by providing us with virtual calendars. Our iPad calendars are always close to us, making it easy to access the calendar.
However, do you know how to print calendar from an iPad? you may need to print the calendar from your iPad and place it where you will see it frequently. If you want to print your iPad calendar, this article will guide you step by step.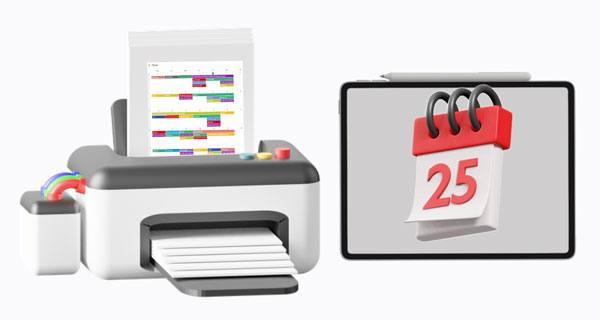 Part 1: How to Print Calendar from iPad on Mac by Turning On Calendar Sync
You can print calendars from your iPad by syncing calendars on a Mac computer. Below are steps to print calendar from an iPad:
Step 1: Sign in to your iPad and Mac devices using a similar Apple ID and Password.
Step 2: Sync iPad calendar to your Mac after logging in successfully. To do this, you must launch your Settings application and click on the option for your name. Click on the iCloud button and turn on Calendar option.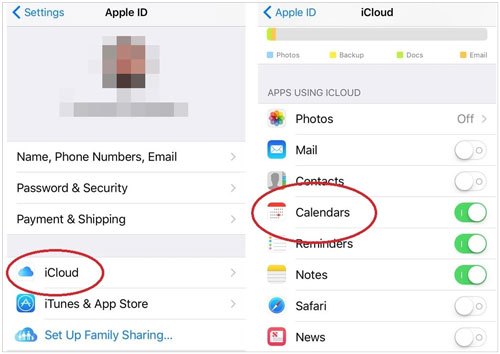 Step 3: To sync the calendar on a Mac computer, you can navigate to the System Preferences > iCloud Settings, and enable the syncing by checking the Calendar option.
Step 4: You'll see the calendar on your iPad and Mac computer once you have enabled syncing on the two devices. To print your calendar, you need to tap on the "File" option and tap on the "Print" menu item.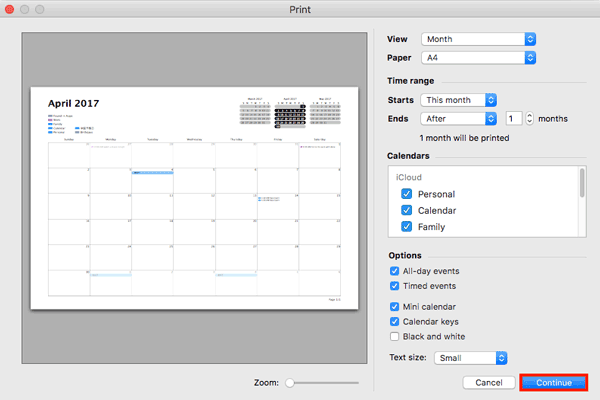 Learn more: This article is going to help those who need to recover deleted photos from their iPads.
Part 2: How to Print Apple Calendar from iPad Using Print Calendar by VREApps
If you do not want to print the calendar from an iPad using iCloud or Mac, you can use an app called Print Calendar by VREApps. This third-party app will allow you to print calendar from your iPad without problems. This application is available on iPad, iPod, and iPhone to assist you to print for free. Moreover, it can change your calendar's notification, view, and event settings.
Follow the steps below to print calendar from an iPad using this app:
Step 1: Navigate to your iPad's App Store and search for Print Calendar by VREApps on your iPad. Then install it.
Step 2: Launch the Calendar application on your phone. Tap on the OK pop-up if you are using the application for the first time. Then allow the app to access the calendar on your iPad.
Step 3: Select the period range on the calendar that you should print. Click on the 2nd icon on the topmost part of the screen and choose the date. You can now see all the events and activities that are within the selected period.
Step 4: Select the printer and determine the number of copies you want to print. Start printing the Calendar by clicking on the Print tab and wait as the printing process completes.

Read also: Can you swiftly copy iBooks from one iPad to another? If no, refer to this guide.
Part 3: How to Print Calendar from iPad on Computer Using iOS Assistant
If you want the simplest way to print a calendar from an iPad, Coolmuster iOS Assistant is the tool for you. This is a reliable program that lets you copy your calendar events from an iPad to your computer for easier printing. With it, you can also preview and manage your calendar events on your computer. Of course, you can print your iPhone calendar easily.
Besides, if you want to transfer your iPad videos, songs, photos, contacts, etc., to your computer, this software will be also suitable. In a nutshell, it is not only a calendar transfer tool but also a powerful iOS data manager.
Highlights of iOS Assistant:
* Back up iPad, iPhone, and iPod calendar to a computer with ease.
* Only one click is needed to restore backup files on your PC.
* Support calendars, call logs, videos, books, apps, contacts, text messages, etc.
* Manage multiple devices on one computer.
* Compatible with most iPads, iPhones, and iPods.
Download this iPad manager below.
Follow the below step-by-step guide to print iCal from your iPad:
01Launch Coolmuster iOS Assistant
Start the process by installing Coolmuster iOS Assistant on your computer. Open the application and connect your iPad to the computer. The software will detect your iPad automatically. Tap on the Trust option and then click the Continue button to proceed to the next step.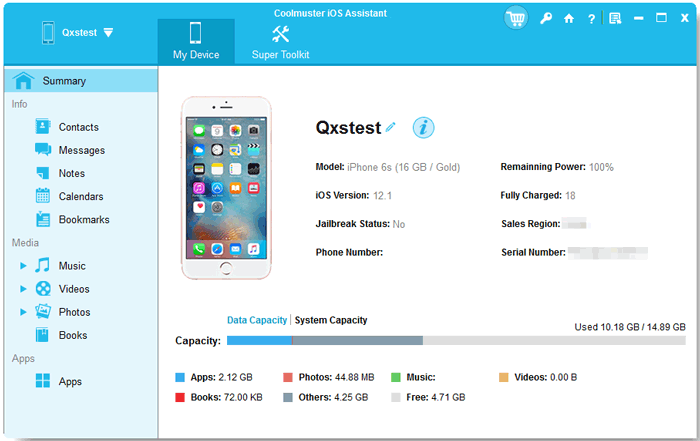 02Preview Your iPad's Calendar
Coolmuster iOS Assistant will be able to categorize the data into different categories, and you can preview the calendar information by tapping the Calendars option.
03Transfer and Print the iPad Calendar
Select the calendar events you want to print and click on Export to copy the calendar field to the computer. Once done, open the calendar file you have transferred on the computer, and press the Ctrl + P keys on the computer to print them.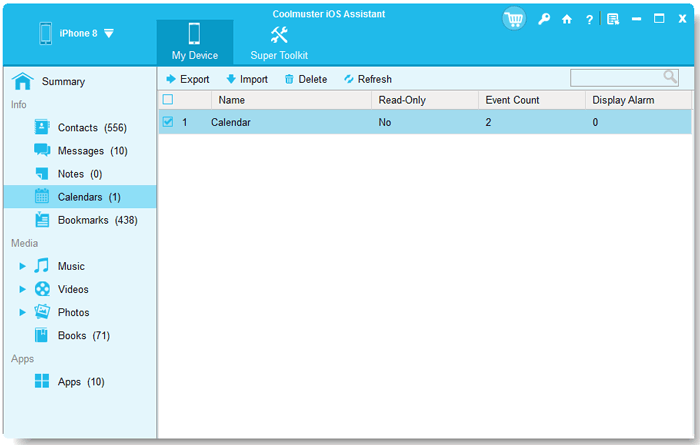 Guess you like:
How to Recover Photos from iPad without Backup? (Top 2 Ways)
Top 10 iPad Backup Software | Full Reviews with Pros and Cons
Part 4: How to Print Google Calendar from iPad with iCloud
What if you want to print your Google calendar on your iPad? Don't worry. Even if you cannot print the Google calendar via iCloud, you can use Google Calendar, an app to sync your calendar data via your Google account. Here's how to print the calendar on Google:
Step 1: Visit the Google Calendar webpage on your computer, and log in with your Google account that you use on your iPad.
Step 2: Make sure your computer is connected to an available printer. Then click Settings > Print.
Step 3: Choose the print range, and tap Print. Then you will get your iPad calendar in paper.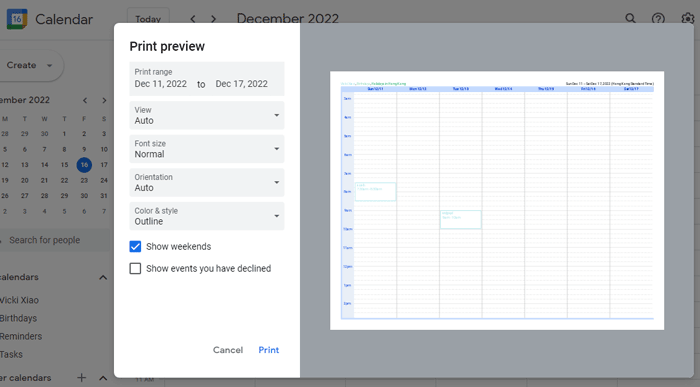 Conclusion
You now understand how to print an iPad calendar. You can use any of the four methods to print out a calendar from your iPad device. As you have seen from the above article, using Coolmuster iOS Assistant is the easiest way to print calendar from an iPad. You will get all your calendar events in one file. Plus, you can keep your files safe because the application allows you to back up your iPad without effort.
Related Articles:
Top 7 Ways to Mirror iPhone to iPad Easily [Latest Tutorial]
Top 5 Ways to Sync iPad with Android Phone/Tablet
How to Transfer Files from iPad to Android Phone? (6 Evaluated Methods)
How to Transfer Music from Computer to iPad (New Tips)
How to Transfer Contacts from iPad to Android (Effective)