Sometimes, you may want to view your iPhone call log history to save a number. iPhone devices allow you to view up to 100 recent calls, including the recent outgoing, missed, and even incoming calls with the date, time, and duration of the calls made.
If you make many calls in a week, the call log history will be full and run out of space. This will also remove the dialed numbers you had forgotten to save. This will prompt you to look for ways to view the contacts that have disappeared from the iPhone's call history. This post will guide you on how to view old call history on iPhone and the best methods to use. So, keep reading.
Part 1. FAQs on Viewing iPhone Call Log History
Call log history is an important feature on any phone that is often overlooked. It is also a simple feature on iPhone that can provide information about iPhone recent calls that're made and received. It could be invaluable information when you want to check the records for the work or show it in a legal matter.
Here're some of the questions frequently asked about iPhone call log history:
Q1. How many calls does an iPhone keep in call history?
The iPhone keeps a maximum of 1000 calls in the call history by default. However, it only allows users to view the recent 100 calls. To check the whole call history above the 100 recent calls on iPhone, you should delete the current record to create room for other call records. Also, you can check with your carrier and request access to your call history from months ago.
Q2. How long does an iPhone keep a call history?
Immediately you stop backing up your data to iCloud, the call information or any other files are stored for approximately 180 days and then deleted.
Q3. How far back can one get the call records?
It depends on the service provider. Mostly, the provider stores the records for at least one year. You have to contact the service provider and then request the call records. Know that you must provide personal info and other details before your request is granted.
Q4. How to see full call log on iPhone?
You can only see a full call log on your iPhone through the carrier website. You have to log into the account and view the call history. If you can't, you have to contact them.
Continue reading to learn how to see call history on iPhone.
Also read:
[Complete Tutorial] How to Restore Call History Backup from Google Drive?
How to Retrieve Deleted Call Logs on iPhone 14/13/12/11/X Easily and Quickly?
Part 2. How to Check Call History on iPhone
There are different ways to check the call history on an iPhone. If you want a detailed statement of your call history, you can get it from the cellular carrier website or on the iPhone phone application. Here are the methods on how to see call logs on iPhone.
2.1 How to See Past Calls on iPhone from iTunes Backups
Coolmuster iPhone Data Recovery will allow you to access iTunes backup to check older call logs on your iPhone. This data recovery software lets you restore from iTunes backup without effort. It scans the iTunes backup at lightning speed and lists the files with their detailed information like name, size, time, version, and more. Moreover, the encrypted files can also be accessed with much ease. After scanning, you choose the call logs to restore and preview them before you recover them.
Top Features of Coolmuster iPhone Data Recovery:
Allow you to view older call history in iTunes backups.
Restore any lost or deleted file from your iOS, iCloud, and iTunes backup.
Simple to use without technical knowledge needed.
Support the latest iOS 16.
Support call logs, contacts, photos, SMS, etc.
How to see call history from months ago iPhone:
01Install the software on a PC and launch it. You will see the modules on the left of the screen; tap on Recover from iTunes Backup File.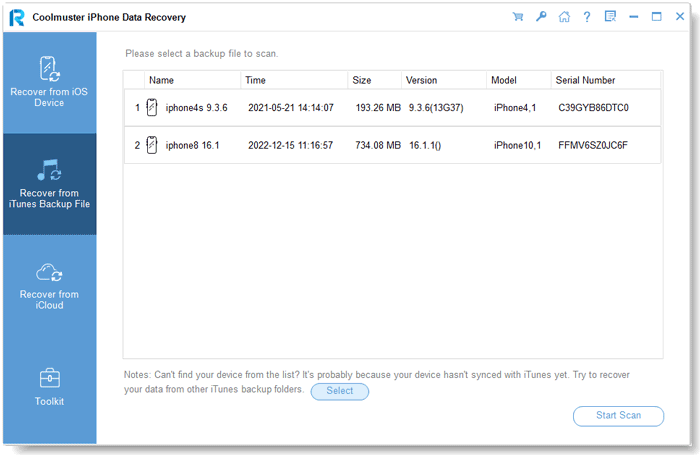 02Let the software scan the iTunes backup on the PC, choose the backup file on the left, and hit the Start Scan icon. If you can't find the file from the provided list, press the Start Scan option at the lower right.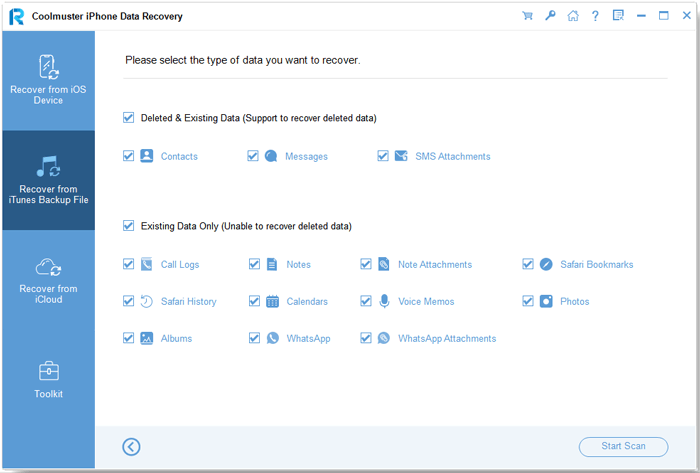 03Choose the Call Logs option from the left panel and preview the files on the PC. Then tap on Recover to the Computer.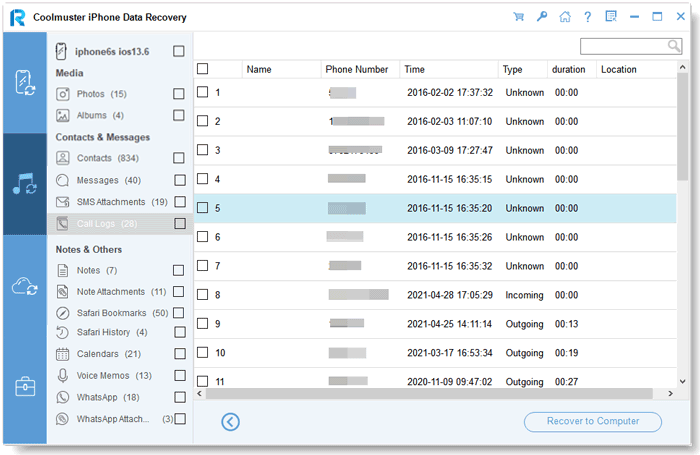 2.2 How to See Call Log on iPhone via the Phone Application
You can view the recent call logs you've made or even received on any phone by checking the phone application. Similarly, this in-built application lets you view and manage the iPhone's call history.
Normally, the recent calls are found in the Recent section. After you open the Phone app, you will come directly to the Recent section with all the call logs.
Here's how to look up call history on iPhone:
Step 1. Click on the Phone application on your iPhone to open it.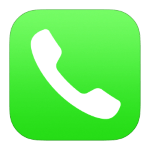 Step 2. You will see the recent call entries, usually up to 100 calls, under the Recents tab.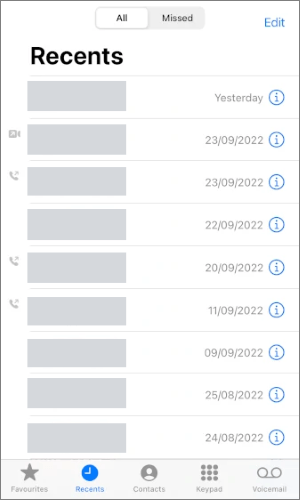 Step 3. To check more details on every entry, click on the i icon next to the phone number or name. When you hit the icon, you will see the time the call was made or received, if it was declined or missed, and the duration of the call lasted.
This way, you can check the call history on an iPhone with the help of Phone application. A major downside of using Phone applications to check the call entries on an iPhone is that it will only show limited recent calls. To view the call entries beyond that, you'll have to access the carrier call records.
2.3 How to See Older Calls on iPhone Through the Phone Carrier
An iPhone's Phone app will only show 100 recent calls unless you delete other entries to see the older call logs. To make things easier, you can check the call log statement from your carrier and see the full call history on your device. You should reach out to the customer service of your cellular carrier or check their official site and request the call history for your iPhone.
However, note that cell phone providers usually keep the call records for at least 18 months, with others keeping up to 6 years.
Here's how to find call history on iPhone from the AT&T website:
Step 1. Using any browser, head to the official website of AT&T, then sign in if you've already registered. If you don't have an account, tap Create one now.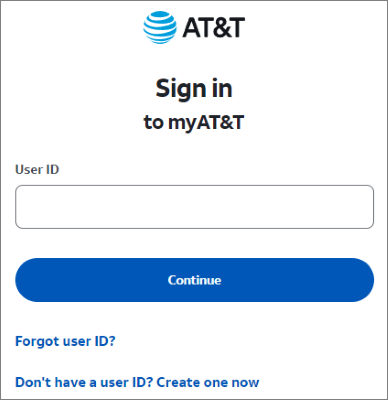 Step 2. Head to the Phone Features page and hit Call History. You can access your call history from there.

Remember that the process of requesting the carrier for the call history can be long. You might be asked to prove your identity, show that your reason is legitimate and go through other hurdles.
See more:
Troubleshooting for AT&T Mobile Transfer Not Working [New]
Unlock AT&T iPhone? One Passage to Answer Your Questions!
2.4 How to Get Call History on iPhone from iCloud Backup
iCloud is an important cloud service made by Apple to help Apple users keep and sync their files across devices. They can store files such as notes, call history, contacts, photos, calendar settings, and more.
If you usually back up your data to iCloud on an iPhone, you can also check the iPhone's call record by recovering the backup. However, this method has downsides. Before recovering the backup file on an iPhone, the existing data must be deleted. Besides, you cannot view the call history before restoring it.
Additionally, the backup will lose the recent calls made that were not backed up. Therefore, you must save important files somewhere before you can start the restoration process. Here's how to access the call log on iPhone via iCloud:
Step 1. Open the Settings application and choose General, and press Reset from there, scroll down, then click on Erase All Content & Settings.
Step 2. You have to follow the instructions on the screen to set it up. Then tap on Restore from iCloud Backup in the Apps & Data screen.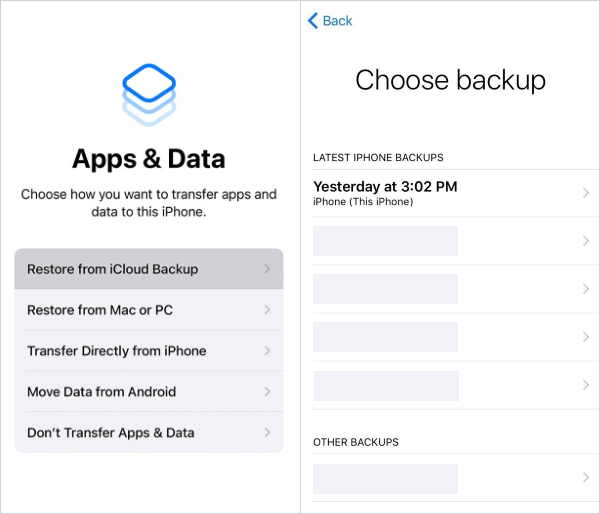 Bonus: How to Delete a Call on iPhone
How to delete calls on iphone? Easy. You can do it in a few steps. Here's how to do that:
Step 1. Open the Phone application on your iPhone, then click on the Recent icon on the lower part of the screen.
Step 2. Locate the call entry to delete, then swipe left.
Step 3. Click on the Delete option.
To delete many call logs, here are the steps:
Step 1. Open your iPhone's Phone app and click the Recent option at the bottom.
Step 2. Click on Edit at the bottom.
Step 3. Select the call log you want to delete and click on the Delete option.
Conclusion
That's all for checking the call history on an iPhone. As we can see, viewing older call history records on an iPhone is possible, whether you have a backup or not.
We recommend using Coolmuster iPhone Data Recovery to check your older call logs on your iPhone. It allows you to conveniently view call history from iTunes after restoring them.
Related Articles:
[Reviews in 2023] Best Diskdigger Alternative for iOS Devices
iPhone Calendar Disappeared: How to Recover Calendar App & Events on iPhone
Contacts & SMS Recovery for SIM Card in iPhone 14/13/12/11/Xs Max/XR/X/8, etc.
How to Fix Touch ID Not Working on iPhone in No Time? (Incredibly Simple)
How to Retrieve Deleted Messages on Messenger on iPhone with Ease?