Making phone calls is one effective way to stay connected with others. Each call made or received is recorded on the mobile phone, and these calls will contain the mobile number, name of the caller, call duration, time, date, etc. Believe it or not, these small details are very important as they can help in business or legal matters.
Since the size of call log history is always limited, some of the entries won't appear, especially if you frequently make or receive calls daily. In case you're looking for a call history that happened long ago, you may be disappointed not to find it there. Then, you may want to find a way to increase iPhone call log history to see all call logs on your iPhone. Luckily, there are tricks to make it happen, and this passage will show you how.
Part 1. FAQs on iPhone Call Log History Increase
Q1. Why does the iPhone call log limit?
The iPhone call log has a limit to:
Manage Memory: To prevent your phone from running out of memory, ensuring smooth performance.
Enhance Security: Reducing the amount of sensitive information that could be accessed if your device is compromised.
Optimize Performance: Speeding up the retrieval and display of call log entries.
Improve User Experience: Providing a manageable, user-friendly call log.
Manage Data: Preventing excessive storage use on your device.
Q2. Is there an official way to increase my iPhone call history limit?
Unfortunately, there's no official way to increase iPhone call log history. By default, an iPhone keeps only 100 entries in the call log history. Consequently, you can only view 100 calls on the call history, and there is no way to change the specified size limit.
Apple doesn't provide an official method to display more than 100 call history entries on your iPhone, but there are alternative approaches to access the concealed call history on your device.
Q3. Does an iPhone delete call history automatically?
Yes. An iPhone can accommodate 100 calls only. So, when a new call gets in, older ones will get deleted automatically.
You May Like:
Find iPhone Call Log History [Useful Tips & Tricks | Can't Miss]
How to Recover Deleted Call History on iPhone Without Computer? [Top Ways]
Part 2. How to Extend Call Log on iPhone
Despite the fact that Apple doesn't provide an official way to see your call log history after reaching 100 calls limit, you can still extend it through other tricks. Here, we will take you through a couple of ways to help you check your call log history beyond the first 100 call logs.
Solution 1. Manually Delete Call Logs
Normally, when you delete an item in the iPhone's call history, you will still see the recent calls in the Phone application. This implies that whenever a single call entry gets deleted, an older one appears automatically. When you need to find a phone number you didn't add to your contacts list months ago, you can try removing the unnecessary calls from the "Recent" to access the older records. It's a simple process since you only need to identify and delete those entries you no longer want. Just follow the simple step-by-step process to increase iPhone call log history:
Step 1. Locate the Phone app from the iPhone's home screen and tap on it.
Step 2. Click on the "Recents" option to check the list of the recent call log history on the iPhone.
Step 3. Choose the "Edit" option at the top right corner.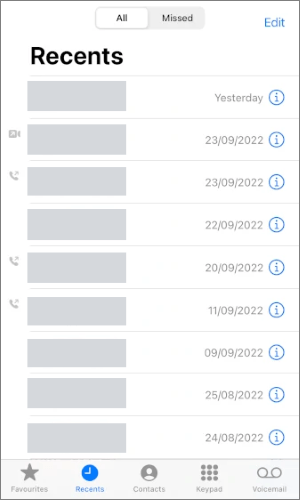 Step 4. Click on the "red circle" beside the phone number to be removed. You can also swipe left on the contact to bring the "Delete" option to remove the phone calls from the call history.
Solution 2. Check iCloud Backup
Aside from removing those call entries, if you don't want them from your iPhone manually, you can still check the full call history from iCloud backup. However, this will only be possible if you have backed up your iPhone regularly with iCloud. The call history will then be saved in the backups. You may check call logs that aren't displayed in the Phone application by retrieving the backup from iCloud.
But remember, this process will delete all your current files from your phone. Worse, this procedure does not allow reviewing of the call history before backup restoration. Steps to increase call log history on iPhone via iCloud backup:
Step 1. Open the "Settings" application on your iPhone and click on "General".
Step 2. Choose "Reset" and scroll down to the "Erase All Content and Settings" option.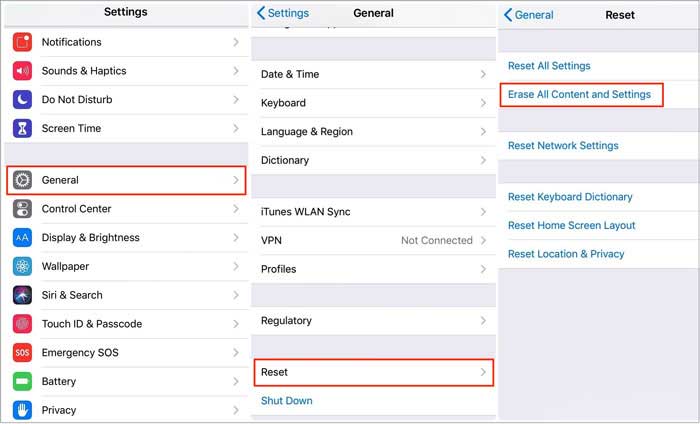 Step 3. Follow the instructions provided on the screen to set up your iPhone.
Step 4. Once you get to the screen for "Apps & Data", choose "Restore from iCloud Backup".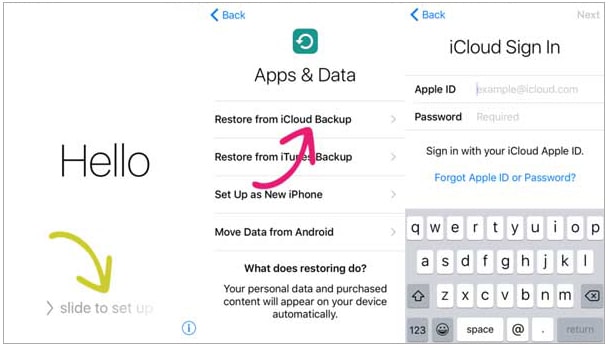 After confirming the timestamps of the accessible backups, choose the iCloud backup that includes the call logs you're looking for.
Further Reading:
[Complete Tutorial] How to Restore Call History Backup from Google Drive?
4 Ways to Retrieve Deleted Call Logs on Samsung
Solution 3. Check the Call History from the Carrier's Website
Almost all carrier companies will keep the call history longer than the mobile phone. So, if you're looking for a way to increase the call history on your iPhone, you can check your phone's carrier. You will be able to see the call history beyond the 100-limit entry. It allows users to check their calls from months ago or even up to a year.
The carrier info is more detailed than the "Recents" menu since it includes the time the call was made, the duration of the call, and the cost. In general, the "Recents" tab aims at providing a shortcut for retrieving the callbacks rather than helping you view the history.
Steps to look up your call history on an iPhone from the carrier:
For Verizon:
Step 1. Head to the Verizon website and log into your account. Once done, go to the section for "View Previous Cycles".
Step 2. Scroll down to the "My Bill" option and pick a cycle from the dropdown menu.
Step 3. Click on the "Get the Details" icon, then opt for the "Data, Text & Talk Activity".
For AT & T:
Step 1. Go to the AT&T website and create a new account or sign in to an existing one.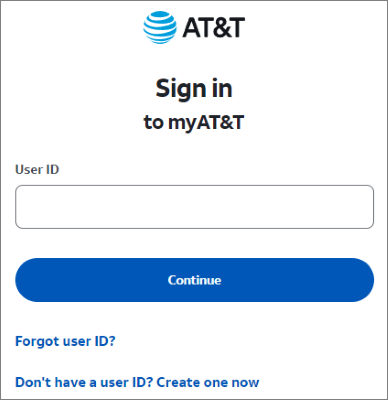 Step 2. Choose the "Phone Features" option, then go to "Call History".

Step 3. You will see your phone's call history on the screen.
For T-Mobile:
Step 1. Visits T-Mobile website and logs in using a valid username and passcode.
Step 2. From the home screen, tap on the "Main Menu" and choose "See My Bill".
Step 3. Go to "Call Log" at the lower part of the screen, tap on "Option", and choose "Call Timers".
Learn More:
How to Transfer Call logs from Android to Android (Best 4 Ways)
How to Delete Call History on Android Easily? Use These Methods to Make It
Part 3. How to Save All Call History from an iPhone to a Computer Without Limit
Deleting one call log at a time can be tedious. Besides, you may not have the backup already made to get the full call history. What could be a better way to check the older call history on your iPhone? You can seek the help of iPhone Data Recovery, a professional third-party software that restores data from iOS devices and exports them safely to a computer.
iPhone Data Recovery software will come to your aid at any time, whether you need to restore call logs from your iPhone without backup or recover iTunes or iCloud backups. You will effectively restore your files and save them on the PC without data loss. There are various data types you can restore, including call history, photos, contacts, text messages, iMessage, videos, notes, etc.
After restoring the iPhone's call history, you can then find the particular entry you wanted from the list. A big plus is that, before restoring, you can preview all call logs to affirm that a particular call entry is there before restoring them, which is quite convenient.
Key Highlights of iPhone Data Recovery:
Restore call history from iOS devices and save it on the computer without limit.
Recover files from iOS devices, iTunes, and iCloud backup.
Support 35+ data types, including photos, notes, videos, contacts, etc.
Restore files from different scenarios: locked, damaged, broken devices, etc.
Highest success rate in data recovery.
How to save call history from iPhone to computer without limit:
01Download and install the iPhone Data Recovery application on your computer. Then, open the program on the computer and connect your iPhone to the computer via a USB cable. Click "Trust" on the iPhone.
02Select the "Recover from iOS Device" option and press the "Start Scan" tab to scan the files on your phone.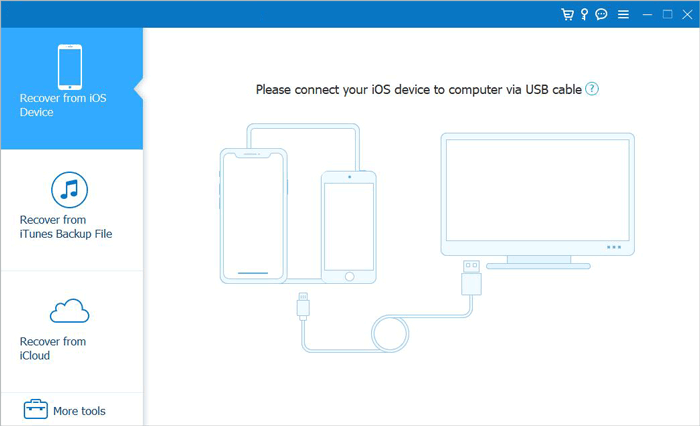 03When the scanning process finishes, all your files will be displayed in categories. Choose the target file, which is "Call History", and preview all the files to restore. When done, tap the "Recover" button, and your call logs will be exported to the computer.
Also Read:
[Solved] How to Transfer Call Logs from Android to PC in 2023?
How to Retrieve Deleted Phone Calls on Android? 7 Ways to Fix
Wrap Up
That's all on how to increase iPhone call log history. There is no official approach to extending the iPhone call history limit, and you're restricted to 100 recent calls. But that doesn't mean you cannot view past the default size limit. There are doable workarounds to allow users to check iPhone's call logs from months ago.
If you are a person who takes data backup seriously, then you can restore the call history from iCloud backup. But you will encounter data loss, and it doesn't allow data preview. On the other hand, you can manually delete the recent calls to give room for older ones. However, it will be tiresome if you are looking for a call log of many months ago. Checking with your carrier can also be a good option, but you may not be guaranteed to get the full call log list. The only best, easiest option remains using iPhone Data Recovery software. Its effectiveness and awesome features make the data restore process a breeze. Even if you have thousands of call logs, you will successfully restore and save them without limitations.
Related Articles:
How to Recover Deleted History Safari iPhone with/Without Backup
How to Recover Permanently Deleted Photos on iPhone with/without Backup
How to Recover Permanently Deleted Files on iPhone Without/with a Backup
[Workable Solutions] How to Retrieve Contacts from iPhone with Broken Screen?
How to Recover Deleted iMessage on iPhone? [2023 Tips]
How to Recover Voice Memos from iCloud Smoothly | 2 Advanced Solutions