iPhones are known to be sophisticated and luxury smartphones. But, they are far from perfect and occasionally run into issues. When checking the storage space, you may find yourself staring at the iPhone storage not loading screen. If you are a die-hard Apple fan, you have certainly used Apple devices for some time and know that iPhone devices don't have expandable storage. So, it is good to always keep an eye on storage space if you don't want surprises.
However, it's possible the page won't load, and it may take forever to finish loading. Luckily, we have solutions for the problem. This post outlines the top ways to remedy the iPhone storage won't load issues. So, keep scrolling.
Part 1. Common Asked Questions About iPhone Storage Not Loading Issue
Q1. Why won't my iPhone storage load?
There are several reasons why your iPhone storage is not loading. The most common ones include:
Q2. Do I need an internet connection to load storage on my iPhone?
Yes. You require an internet connection to load the iPhone storage. The internet connection should be stable and very strong to load files like iPhone settings or videos. If not, you will get iPhone storage not loading problems.
Part 2. The Best Way to Fix iPhone Storage Stuck on Loading Issue Safely
No matter the issue our phones run into, we always look for a method to fix it without putting the files at risk, and, at the same time, easy, quick, and guarantees positive outcomes in the process. iOS System Recovery is the best program that repairs iOS devices that encountered system problems. Besides, if you aren't a techie and just want a simple way to solve this problem hassle-free, this is the tool for you.
Whether software glitches/bugs or any other issue causes an iPhone to get stuck while loading storage, iOS System Recovery will help fix that in just a click without data loss. It is jam-packed with features and uses the latest technology to fix all system issues on most iOS devices. Some top highlights of iOS System Recovery include:
Repair iPhone storage not loading error without data loss.
Fix other iOS system issues, such as being stuck in the Apple logo, the black/white screen of death, etc.
Support most iOS devices.
Work on both Windows and Mac.
Steps to use iOS System Recovery to repair an iPhone that's stuck when loading storage:
01Launch the iOS System Recovery app on the computer after installing it. Locate the "More Tools" option and click on it.
02Select the "iOS System Recovery" module from the main interface and link the iPhone to the PC.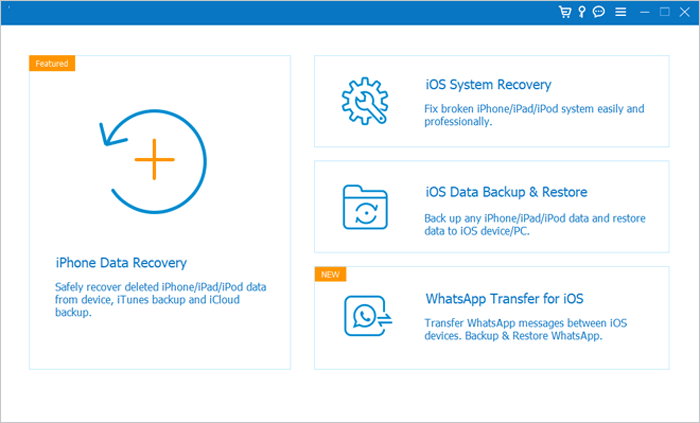 03Click on the "Start" icon in the lower right section and boot the iPhone into Recovery/DFU mode using the on-screen instructions.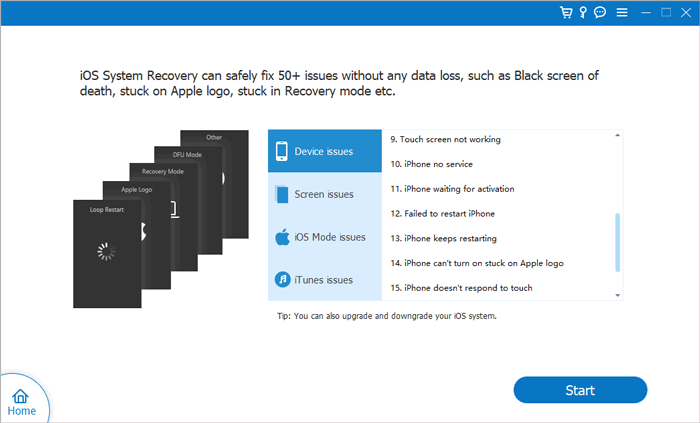 04Click the "Repair" option to download iOS firmware. Once done with the downloading process, the tool will start repairing the iPhone and help it load storage properly.
Read More:
iPhone Stuck on Apple Logo Storage Full - How to Fix in 4 Easy Ways?
iPhone Internal Storage DCIM Folder Is Empty on Windows 10/11? Fix It Here
Part 3. What to Do When iPhone Storage Won't Load [Quick Tips]
There are numerous solutions to handle iPhone stuck on calculating category size problems. But before you try them, wait for more time to allow the files to load completely. They may be too many and require more time to load. If that doesn't help, apply these fixes to get rid of this issue simply and quickly:
1. Clear All Background Activities Before Checking Storage
It is advisable to remove all background activities before you check the available storage on your iPhone. It will be difficult for your iPhone to load multiple activities simultaneously. Therefore, you should cease some activities operating in the background. To do that:
Step 1. Swipe on the screen from down to up and select an activity to close first. Remove several of them to enable the loading to occur successfully.
Step 2. Check the storage to see if it loads.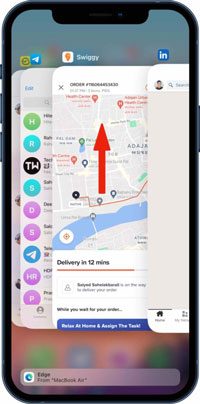 2. Sign Out of iCloud and Back In
iCloud and iOS are ever connected, so connectivity issues can prevent storage from loading completely. In this case, logging out and back in iCloud can be a viable option. To do that:
Step 1. Click on iPhone's "Settings" app to open it.
Step 2. Tap on "your name" and the "iCloud" option to log out.
Step 3. Sign back into iCloud again with your passcode.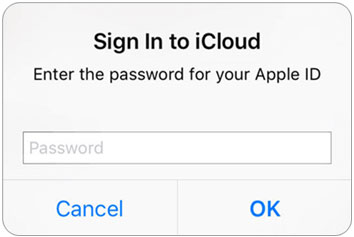 3. Force Close Settings App and Restart It
Another effective solution when you experience iPhone storage failing to load is to force quit the Settings application. This may help reboot the loading procedure that did not finish. After that, you will need to restart the Settings application and see if the storage loads. Do this to force quit your iPhone's settings app:
Step 1. Swipe up from the lower part of the screen to open "App Switcher". Swipe the "Settings card".
Step 2. On iPhone's Home screen, click on the "Settings" icon to restart it.
See Also:
Best iPhone Cleaner App for Cleaning Junk and Release Memory on iOS
12 Tips to Fix the Safari Not Loading Websites in iOS 16 Issue
4. Restart iPhone
Restarting fixes software problems and refreshes iPhone's operating system, which may eliminate the error. Therefore, if your iPhone storage doesn't load, try restarting it.
iPhone 6/7/8 and earlier versions:
Step 1. Press the "Power" key until you see the "slide to power off". Swipe it to switch off the device.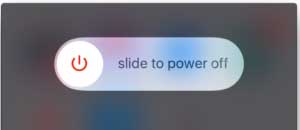 Step 2. Wait for a few seconds for the screen to go black, and press the "Power" button to switch it on.
iPhone X and new versions:
Step 1. Long press the "Power" and "Volume" buttons concurrently. Release them when you see the power slider. Drag the slider to the right to switch the iPhone off.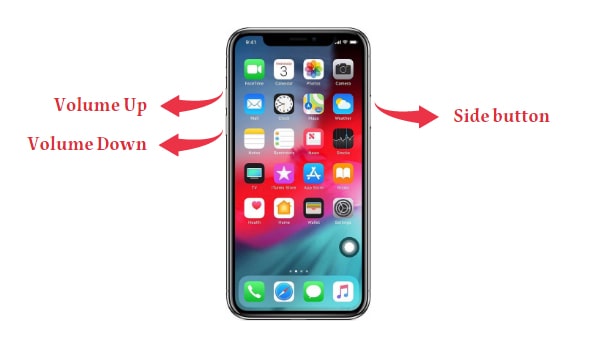 Step 2. Wait for the phone to screen to go black, and hold the "Power" button to switch it on.
May Like:
Fix iCloud Link Not Working or Loading | Effective Solutions
How to Fix an iPhone Stuck on Loading Screen?
5. Update iPhone
An outdated iOS version limits the device from operating as required. For instance, you may be unable to use its features and, in turn, prevent access to storage. What's more, updating the operating system will eliminate any potential bugs. So, check for available updates and install them. These are the steps:
Step 1. Head to the Settings menu and choose "General".
Step 2. Click on "Software Update" and check for new updates. Install them on your iPhone if they are available.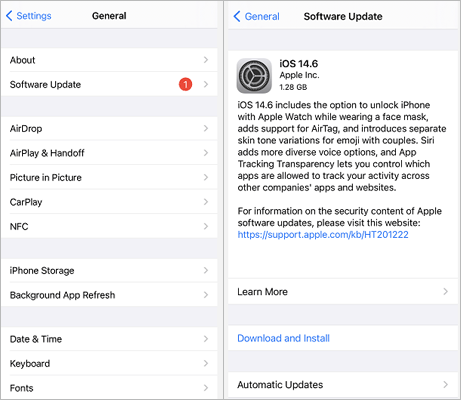 6. Free Up Some Space on iPhone
One major cause for iPhone calculating category sizes taking forever is insufficient storage space. Insufficient storage may slow down the loading procedure. Therefore, the only way out is to free up storage. This may shorten the loading time and get the iPhone out of the loading stuck.
Steps to free up space on iPhone:
Step 1. In the Settings menu, choose "General" and "iPhone Storage" on the next page. You will see the applications that are using storage. Select the unwanted apps that are taking up a lot of space.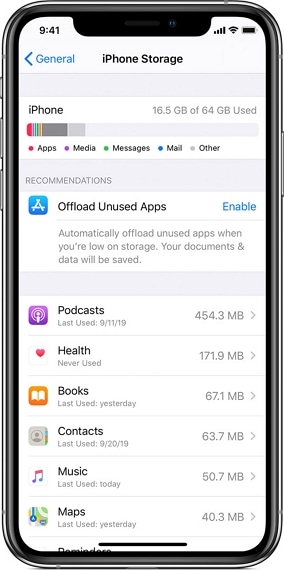 Step 2. Click on the app to be deleted, then find the "Delete App" button and click on it. Do this for all unnecessary apps. Choose the Offload App option if you want to keep files and documents of the app.
Can't Miss:
How to Free up Space on iPhone/iPad without Deleting Apps [9 Possible Ways]
iOS 16 Face ID Not Working? Try These Professional Solutions
7. Connect iPhone to PC
When you link the iPhone device to the computer and sync your storage, iTunes will check for any problem in the device. Then it will take the right action or recommend you do so.
This can be a great solution to sort out software-related issues in the iPhone. Here's what to do:
Step 1. If iTunes is already installed on the computer, just connect the iPhone to the computer with a lightning cable.
Step 2. Your iPhone should sync with storage data. Tap the "Sync" tab at the bottom.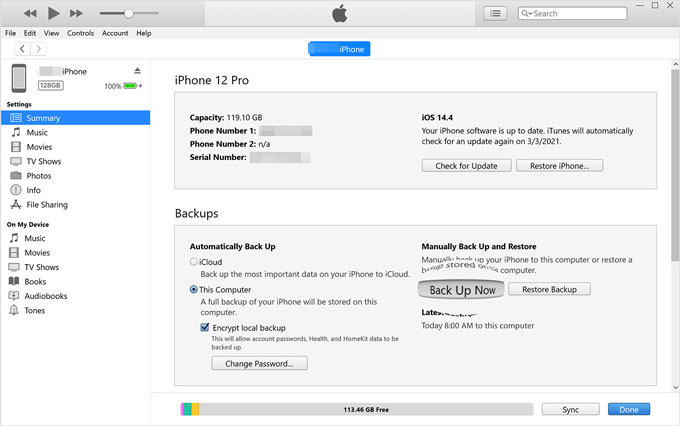 8. Reset iPhone Settings
The iPhone storage calculating category sizes stuck error may also be due to changes in the device's settings. So, try resetting iPhone settings and see if the unable-to-load storage issue will be repaired.
Steps to reset iPhone settings:
Step 1. From the Settings menu, select "General" and choose "Reset" in the next window.
Step 2. Choose "Reset All Settings".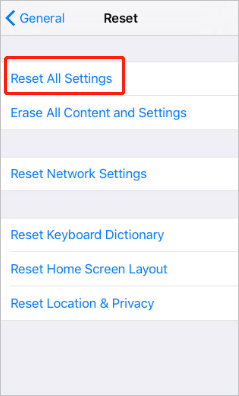 Conclusion
Why is my iPhone storage not loading? This article has discussed why your iPhone storage may be unable to load and solutions to the problem. The ways provided are very simple and may help you get out of the problem. However, if you don't want to try these fixes one at a time, we advise using iOS System Recovery. It will solve any system problems on your iPhone in no time. Its higher success rate makes it a highly sought-after tool.
Related Articles:
Not Enough iCloud Storage? Fix This Issue with This Full Guide
[100% Success] iPhone Save Image Not Working, How to Fix?
iOS 16 Photo Cutout Not Working? How to Fix It Effectively?
Transfer Directly from iPhone Not Working? Here are the Fixes
13 Practical Ways to Fix iPhone Keeps Turning On and Off Randomly (Updated Tips)
How to Fix iPhone Grey Screen of Death By Yourself? (8 Solutions)