TikTok is a contemporary social media application that allows people to share creative and fascinating content. Recently, it has grown its users significantly, with billions of people now addicted to it. Getting popular on tik tok is easy; you only need one viral video. But before achieving that, you must be very creative and give your audience something they will like. But imagine, after all the hassle of creating the videos, they suddenly go missing, or you delete them by accident.
Indeed it can be a nightmare. You will surf from one web to another, looking for ways to recover your lost videos. Fortunately, all you want is in this article. We'll take you through various ways how to recover deleted tik tok videos. So, stay tuned as we take you through it!
Part 1. How Did My TikTok Videos Got Deleted?
Before you start using Tik Tok, you must have an account where you can share content. Creating and sharing videos can be quite overwhelming. It takes a lot of energy and time. But, we sometimes find these videos missing. The main reasons why that may happen includes;
* Third-party apps such as editing apps.
* Sudden power loss.
* Errors or bugs in the Tik Tok application.
* Forgetting to save the video while shooting.
* Insufficient space in your device. (How to free up space on iPhone without deleting data?)
The good news is that not all hope is lost after videos get accidentally deleted on TikTok. There are particular things you can undertake to recover your erased TikTok videos. Adopt these simple strategies to get back your TikTok videos.
You may like:
How to Recover Formatted Data from iPhone 14/13/12/11/X/8/8 Plus/7/6
How to Retrieve Deleted Text Messages on iPhone with or without Backup
Part 2. How to Restore Deleted TikToks from Backup
Ensure you carefully cross-check your backup to confirm if the deleted videos are still available. Some TikTok users know that TikTok automatically saves video files and images in default applications, for instance, iPhone's Photo App and Android's Google Photos (how to recover videos from Google Photos). If you have set your TikTok to save any deleted data in the default applications automatically, you can recover deleted TikTok videos on Android or iPhone from there.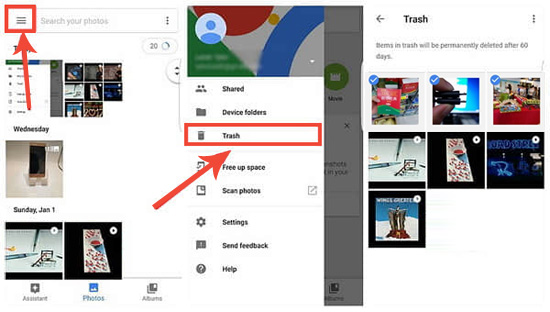 Furthermore, you can confirm if you have stored your videos on external devices, for example, a USB drive or a hard disk. If it's there, connect the phone to your computer and recover the videos. For a Mac user, a 'Time Machine' device can help you recover the videos from the backup. Just connect the Time Machine drive to your device, which will help you recover the deleted videos from the backup.
Lastly, remember to check your cloud backup. There is a high chance that the deleted videos are in the cloud backup. If you don't have a backup of your videos, the next method can help you.
Part 3. How to Recover Deleted TikTok Videos from Your Liked Videos
You can also restore your Tiktok videos from the Liked videos. However, this method will work if you have a public account on TikTok because the 'Like' feature only works after allowing other people to like your video. This method will not work for you if you have a private account. Follow the below steps to find deleted TikToks on Android or iPhone from Liked videos.
1. Open the TikTok application and log in to your account.
2. Click on the "Me" button located in the bottom right corner.
3. Click on the heart button located below the "Edit Profile."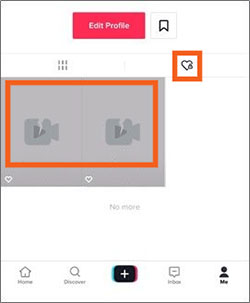 4. Next, it will show your liked videos. Select the deleted video and open it.
5. Click on the icon with three horizontal dots.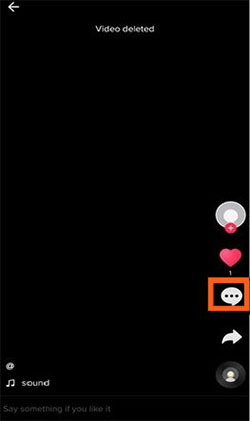 6. Next, click the "save video" or "recover" button. This will automatically restore the deleted video on your device's gallery. You can re-upload the deleted video to TikTok.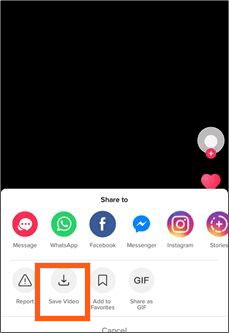 Remember, a public Tik Tok account is needed to be able to recover your videos from the Liked videos. If you have a private account, try the next method.
See more:
3 Proven Ways to Recover Data from iPhone that Won't Turn On (with Troubleshooting)
How to Recover Data from Broken iPhone with or without Backup
Part 4. How to Get a Deleted TikTok Back Using Photos App
iOS devices generally use iCloud as their backup service. If you use Android, then it is highly recommended you confirm that your iCloud backup settings is permitted. To do that, go to "Settings" to "(your name)" and look for "iCloud" then "iCloud Backup" and confirm if it's enabled.
After confirming that your backup is enabled, you follow this process to recover deleted videos on TikTok from your iPhone:
1. Visit iCloud.com and log in to iCloud account.
2. Navigate to "Settings"
3. Click on "Advanced," then choose "Recover Files."
4. Choose the data you want to recover.
5. Click on the "Restore" icon.
Part 5. How to Recover Deleted TikTok Videos on iPhone with iPhone Data Recovery
Suppose you lost TikTok videos from your iPhone and didn't make a backup in advance, can you recover deleted TikToks on iPhone directly? Well, you can easily recover them by using professional video data recovery software. iPhone Data Recovery is software that helps to restore deleted iPhone files, for example, emails, photos, audio files, videos, and documents, among others. The earlier you use this software, the higher the chances of recovering your deleted videos.
Key Highlights of iPhone Data Recovery
* Recover up to 19 types of data from iPods, iPad, and iPhones.
* Easily and securely recover lost files from iCloud, iTunes, and iPhone.
* Recover lost data with rapid speed and rate.
* Compatible with macOS and Windows.
How to undelete a TikTok video on iPhone Directly by using iPhone Data Recovery?
01 Launch the iPhone Data Recovery on the computer after downloading and installing it. Open the program and connect your iOS device to your PC through a USB cable. Click on the "Trust" option to trust the computer.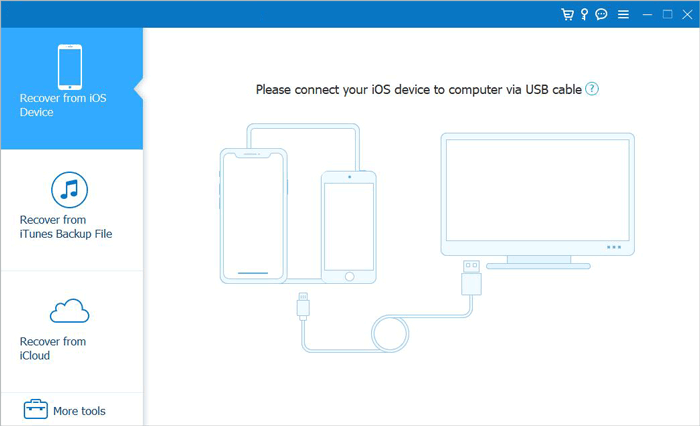 02 Select "Recover from iOS Device" and click on the "Start Scan" button to start scanning your device's files.
After scanning, all the data in your device will be categorized. If you have a lot of data on your device, the scanning process will be longer; just wait patiently.
03 You'll find specific files in their specific categories, just like TikTok videos are included in the "App Videos" category. Open and confirm it.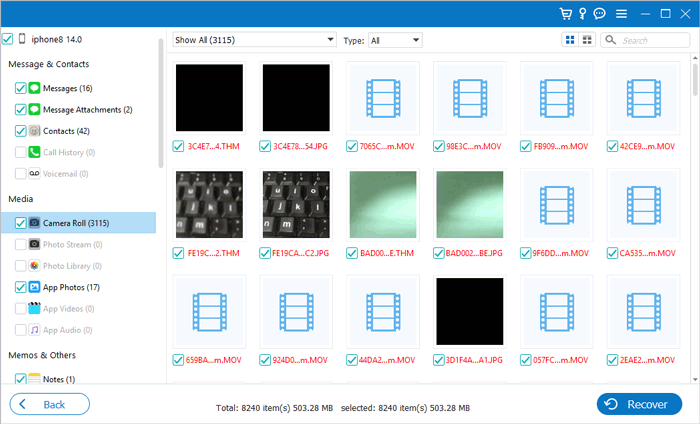 04 Select the video files you need to recover and click the "Recover" button. The selected files will be restored and saved on your PC.
Bonus: How to Protect TikTok Videos from Being Lost?
These tips come in handy for protecting TikTok videos;
* Turn on the "Save to Album" button in TikTok to automatically save the videos on your videos.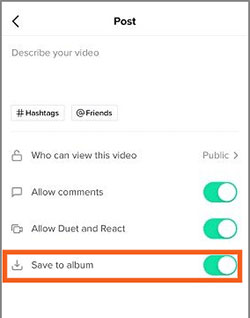 * Avoid switching TikTok accounts on your device. This can cause unnecessary loss of your valuable videos.
* Before uploading the video on TikTok, save it on your device to have an extra copy.
* Turn on the syncing option to secure your TikTok videos with iCloud or Google Drive.
* Share your TikTok videos with friends to have an extra backup.
FAQs About Restoring TikTok Videos
Q1. Can you recover permanently deleted videos?
Yes. You can use the iPhone Data Recovery to recover permanently erased Tik Tok videos and other multimedia files.
Q2. What exactly happens when I delete a video from TikTok?
Deleting a TikTok video is different from deleting a TikTok account. Thus, when you delete a TikTok video, it will disappear from the TikTok profile but can be found in your liked videos. However, deleting a TikTok account will permanently remove all data associated with the TikTok account.
In The End
With the ways highlighted above, recovering your deleted TikTok videos won't be a hard thing anymore. The smart strategies that we have expounded here are convenient. If you want to directly see your deleted TikToks on iPhone, you can use the iPhone Data Recovery software. It is a smart and effective program that can quickly recover your videos.
Related Articles:
iPhone Data Recovery: Recover Lost Data/Files from iPhone
How to Recover Data from iPhone after Factory Reset? (4 Ways Available)
How to Recover Data from iPhone Internal Memory? Top 3 Ways
13 Best iPhone Recovery Software in 2023 (Detailed Reviews)
How to Recover Data from A Stolen iPhone 14/13/12/11/X/8/7/6
How to Recover Deleted Files on Android without Computer and Root