How to Recover iPhone Data after Factory Restore?
New smartphones and tablets are released by different manufacturers every year and they come fitted with better features that improve the use of the device. This makes users to shop for new devices once they are released into the market. Old iPhones will have to be sold off or handed over to family members who don't have a smartphone. iPhones just like other smartphones, contain private data and information such as messages, contacts, photos, videos, music playlist and app usage data. To ensure that the data is completely erased, one feature found in smartphones is the ability to restore the device to factory settings. Factory settings refer to a mode where the device functionality is reversed back to the way it was the first day it was bought.
The downside of restoring iPhone to factory settings results in data erasure, which means all important data on your iPhone would be lost. If your have erased any data by mistake, you can recover it using the Coolmuster Data Recovery for iPhone or iPhone Data Recovery for Mac. The application is designed to help the user recover lost data from their iPhone after they have performed factory reset. Below are the features of the application.
1-click recovery
The application is designed to recover important files that were erased when the user reset their iPhone to factory settings. The application can recover 9 different types of data and they include call history, contacts, messages, note, calendar, voice memos and photos.
Recover from iTunes backup file
iPhones and other Apple products are designed to sync with iTunes and save a back up file just incase the device develops issues. The Coolmuster iPhone data recovery application can recover files from iTunes therefore ensuring that the user has access to data and information important to them.
Supports different models
The application supports various models of iPhone which include iPhone 6S, iPhone 6S Plus, iPhone 6, iPhone 6 Plus, iPhone 5S, iPhone 5C, iPhone 5,iPhone 4S, iPhone 4 and iPhone 3GS.
Below are the 3 simple steps to recover iPhone lost data after restore, with the help of Coolmuster Data Recovery for iPhone. You can choose the corresponding Windows or Mac version of the program according to your computer system.
Step by Step Guide to Recover iPhone Data after Factory Restore
Step 1: Install and launch the application
Download the iPhone data recovery software and install it in your laptop or desktop. Once you have done so, launch the program by double clicking on the icon. The application will detect all iTunes backup files even without connecting your iPhone device.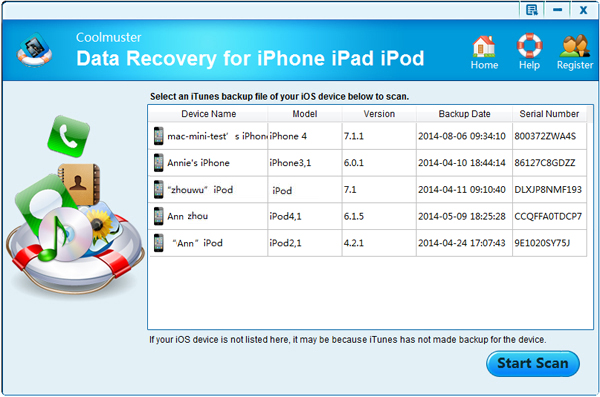 Step 2. Scan the backup file for your iPhone
To display all files in the backup files, click on Start Scan and let the application scan for a few minutes. Once the scan is done, data will be displayed on a panel. You can select a category such as photos or messages to select individual files you would want to recover.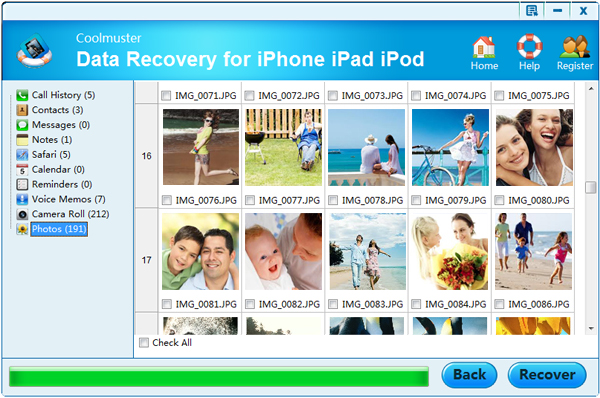 Step 3. Recover iPhone data after factory restore
Make sure all your wanted iPhone files have been selected. Then, click the "Recover" button to let the application complete the iPhone data recovery process.
Related Articles:
How to Recover Data from Water Damaged iPhone