Data loss in iPhones has increased significantly recently, not just due to accidental deletion or water damage, but also because of system upgrades and bugs in the recent Ios. The first response to such instances is using iCloud backup to restore your data. On many iPhones, iCloud is enabled by default, backing up data without notice. But if you're out of luck, you might not be able to recover your data through iCloud. It may not recover files deleted a long time ago, allowing for only limited respite.
Articles You May Want to Know:
How to Sync iPhone with iCloud
Restore iPhone from iCloud Backup
Possible problems you may meet during the file recovery process. Also, you may be unable to recover the files you had just transferred if your iCloud backup was not performed recently enough. These problems also arise due to jailbreaking failure and resetting your phone to factory settings. In such instances, an iCloud backup proves futile and need for a third party data recovery app arises.
An easy solution is opting for the following two apps that can recover your contacts and SMS in a matter of minutes:
This software recovers your messages and contacts both from your SIM card and internal memory. There is no quality or content loss in the recovered data and because of being 100 % read only, it is completely safe. You will be able to save all your essential data, including SMS attachments and iMessages as an HTML file on your PC. The software is compatible with all generations of iPhones.
Here is how you can use this software to recover your data:
Step 1: After downloading, run the program and connect your iPhone using a USB cable.
Step 2: On the interface, tick on the "Contacts" or "SMS" button or both of them, depending on what you want to recover.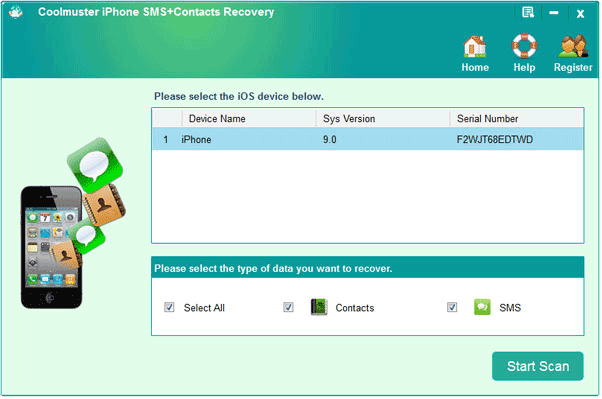 Step 3: Click on the "Start Scan" button. After previewing all the information on the interface, mark the deleted files you want to recover.
Step 4: Click on "Export" and the selected files will be recovered.
This software allows you to recover as many as 9 types of data from any iOS device including Safari bookmarks, notes, calendars, etc. You can use it easily to recover your contacts and messages from your iPhone. You don't need to connect your iOS device as the program uses the iTunes backup file on your computer to recover your data. It finds all the synced files and divides them in different folders. You can easily preview all your files in the software's interface before recovering them.
Here is how you can use the program to recover your lost contacts and messages:
Step 1: Once you run the program, it will automatically detect your iTunes backup records. Select the backup you want to use and click on the "Start Scan" button.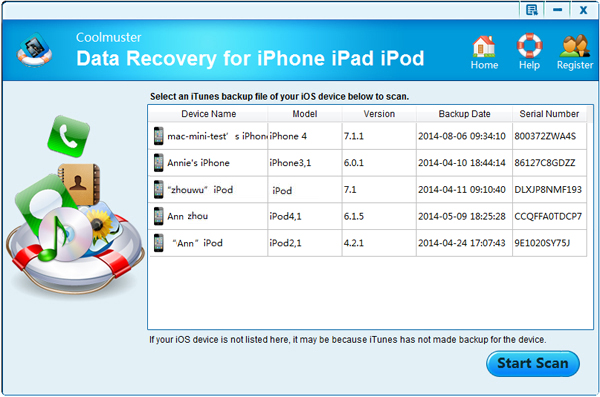 Step 2: All your data will be shown in categories after scanning. Select the "Contacts" or "Messages" button from the left panel. Preview and select the files you wish to recover and click on "Recover".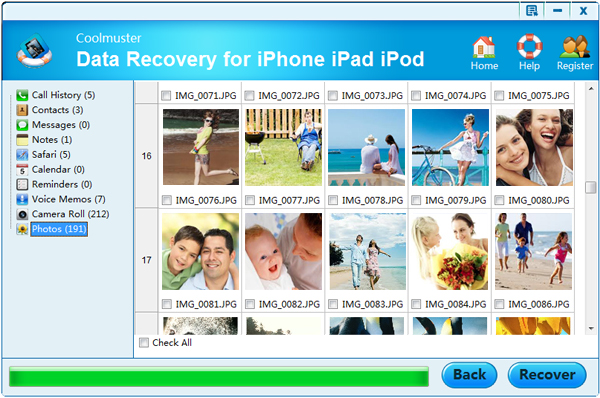 Finally, specify a destination folder to save the lost files and then click on the "OK" button.
Words in The End:
There are certain measures you should take at all times to ensure you don't lose valuable data. Regularly make sure that your iCloud backup is updated. Also, sync your iPhone regularly using iTunes as an alternative. When it comes to using third party software, you need to be wary of suspicious programs that may contain malware and other virus. Always go for those with a good amount of genuine reviews.
Related Articles:
How to Search SMS Messages from iPhone
List of 10 Best iPhone Backup Extractor Software
[Fixed] How to Extract Photos from iPhone Backup?
How to Undo a Restore on iPhone
iPhone Calendar Disappeared: How to Recover Calendar App & Events on iPhone