If you are an iPhone user, you have at least experienced your phone freezing out of nowhere. It can be a huge pain. Whether your phone has frozen during a crucial conversation or you're on the brink of completing an important task, it's just not worth it. What if I told you there are various tricks to unfreeze your iPhone? So put down the hammer, and let's get to work on a few simple fixes!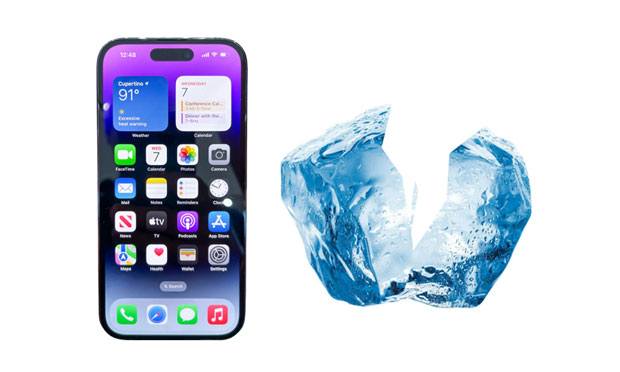 Part 1: Why Is My iPhone Freezing and Not Responding?
There are several reasons why your iPhone might be freezing and not responding. They include:
Old iOS version: If your iPhone has an older iOS version, say iOS 8 or below, then the chances of it freezing are quite high. All the latest iOS versions have a fixed bug incorporated into the system.
Overworking your phone: An iPhone is not a supercomputer. If you have downloaded too many apps or mobile games, it will become hot, leading to freezing.
The iPhone's internal memory is very low: If your iPhone has a low internal memory space, it can't work properly.
Having many apps running: If you have too many applications running simultaneously, it could overwork the iPhone.
See also: Can you restore your iPhone backup to an iPad? Here are 3 helpful methods for your reference.
Part 2: Things to Know Before Getting iPhone Unfrozen
There are certain things you should know before you unfreeze your iPhone.
Back up your data: Keep in mind that unfreezing your device will wipe out all the data. Do a full backup to either computer or iCloud before unfreezing the device.
Also, ensure you have enough battery: The reason you should keep the device fully charged is that unfreezing requires you to have enough battery charge to last for about 15 minutes. Unfreezing your device may take a bit longer than that, so it's imperative to have backup power for your device.
Part 3: How to Unfreeze iPhone Easily
1. Charge iPhone
One of the simplest and easiest things you can do to unfreeze your iPhone is to charge it for about 10 minutes. After charging, turn it on to see if it still freezes. If the problem is with power, then it should work normally.
2. Force Restart iPhone
If you are stuck on one screen that won't move no matter what you do, or an application has frozen such that you can't use your phone anymore, doing a force restart can help. This can be achieved by pressing a couple of buttons at the same time:
On iPhone 8 and later
Press the Volume Up button and release it quickly.
Press the Volume Down button, then release it quickly.
Long press the Side button till an Apple logo appears.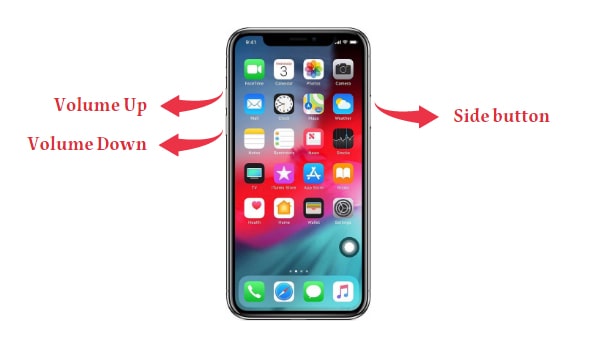 On iPhone 7 and 7 Plus
Long-press the Side and Volume Down buttons.
Release the buttons when the Apple logo shows on the screen.
On iPhone 6s and below
Long-press both the Home and Side buttons.
Release when you see the Apple logo.
You might need: How to easily control an iPhone with a broken screen? Maybe this guide can support you.
3. Uninstall Unreliable and Problematic Applications
This is a simple way to get back control of your iPhone. Some apps will start consuming a lot of memory when installed. So, the best way will be to remove them. Remember, built-in applications can't be deleted and won't show the uninstall option. Here is how to uninstall unreliable apps:
01Find the specific app you wish to uninstall on your iPhone's screen and long press on its icon.
02Click Remove App once you see the menu on the screen.
03Click the Remove and Delete App option. Finally, click Delete to uninstall the app from the iPhone.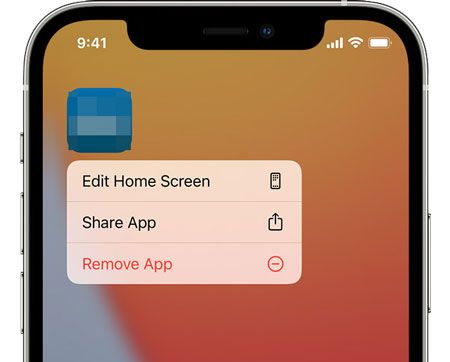 Learn also: What if your contacts don't show up on your iPhone 14? In this case, you can fix it with this guide.
4. Release Internal Storage
When your iPhone starts to run out of space, it slows down and becomes unresponsive. So what you have to do is delete a few things on the phone to create more storage space. Do this to get more internal storage:
01Navigate to Settings on your iPhone, and select General.
02Go to the iPhone Storage option. You'll see recommendations for creating more storage space, like deleting unused applications or optimizing pictures.
03Click on the app you want to delete, then delete it.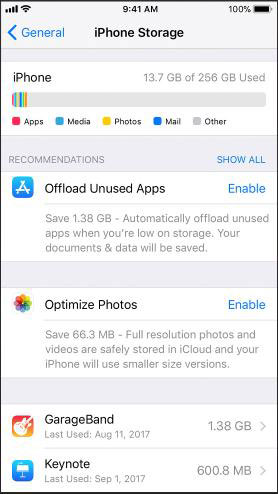 You might need: How can you fast delete all contacts on your iPhone? Open this link to get 5 ways.
5. Update iOS
If your iPhone is of older version, it's always a good idea to update it to the latest version. The latest versions of iOS come with some fixes and feature upgrades that will prevent the iPhone from freezing. To update your phone's system, do this:
01Connect the iPhone to the internet using Wi-Fi, and navigate to Settings > General > Software Update.
02Select the update you wish to install. You may decide to stay on your current iOS and still get essential security updates or choose to upgrade.
03When you see the Download option, click on it to download the update. Enter the passcode and click Install Now.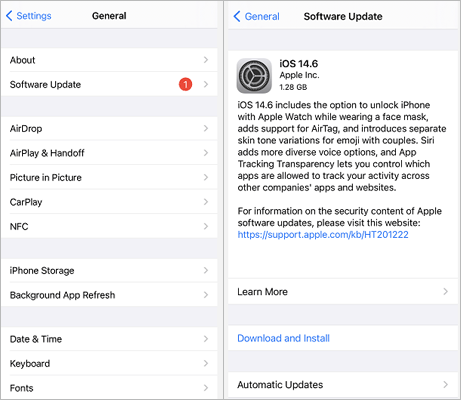 See also:
Fix the iPad Touch Screen Not Working Problem in 12 Pro Ways(All iPad Series Supported)
14 Amazing Tricks to Fix iPhone Contacts Missing Names (Comprehensive Guide)
6. Restore iPhone with iTunes
Restoring your iPhone with iTunes is also a reliable way to fix freezing issues on your phone. Doing this will erase all of your settings and data from the device. Here is how to restore your iPhone with iTunes:
01Connect the phone to the computer using a USB cable.
02On your PC, look for the iTunes app, open it and tap on the Device icon on the top part of the iTunes window.
03Tap Summary and the Restore option. Once done, check if your iPhone is unfrozen.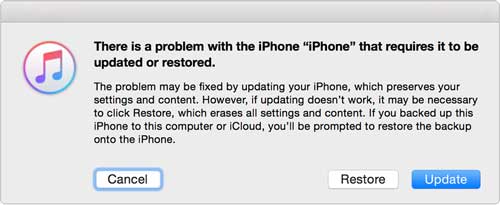 7. Reset iPhone
If the above methods don't fix the issue, then it's time to reset your iPhone. But, you must back up your data to a computer or to the cloud to prevent data loss. After that, ensure you sign out of Apple ID. Resetting a phone can remove any unwanted programs like third-party applications. Here is how to reset your iPhone:
01Go to your phone's Settings app, scroll down, and click General. At the far bottom part of the page, click Reset.
02Choose Erase All Content and Settings. Then enter your password when prompted. Then you'll be asked to confirm deleting your data. Click on the Erase option to confirm.
8. Use iOS System Recovery
If your iPhone is frozen and can't be restored with iTunes or a factory reset, you might consider using the iOS System Recovery software. This all-in-one solution allows you to fix various issues on your iOS device. It is a safe and reliable tool for fixing common issues like freezing, restarting loops, and many more. This tool has a simple interface that is easy to use, even for newbies.
It keeps phone data safe and secure when repairing the device and helps to transfer data from one iPhone or iPad to another or from one computer to another. The app is available in Windows and Mac versions, which helps different users manage their iPhone devices effectively.
Main features of this iPhone system recovery tool:
* Effectively fix iOS system issues, including frozen screen, charge issues, iPhone disables, battery drain loop restart, etc.
* You have the option of choosing between standard mode and advanced mode to fix your phone.
* The standard mode doesn't erase your device's data.
* Support Mac and Windows computers.
* Well compatible with iOS 16 and iPhone 14 and formers.
Download this iPhone system recovery software.
How to unfreeze iPhone using this recovery program:
01First, you have to download and then install the program on the computer. Once done, it will launch automatically.
02Use a working USB cord to connect the iOS device to your computer. Select the iOS System Recovery module from the screen and tap Start.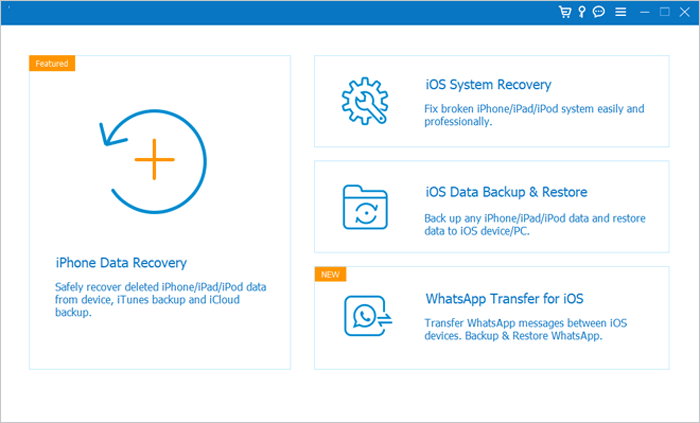 03Here, you'll have to choose between Standard Mode and Advanced Mode. Then confirm your device's information. After that, tap on the Repair button to fix the problem.
Final Words
Now that you know how to unfreeze iPhone, there is no reason to be frustrated with this problem again. Your iPhone should operate at optimum speed and efficiency now. To make everything easier for you, use the iOS System Recovery tool that can fix common iPhone problems such as freezing and slow performance in no time.
Related Articles:
[Fixed] How to Recover Deleted Videos from iPhone 14/13/12/11 with or without Backup?
How to Recover Voice Memos from iCloud Smoothly | 2 Advanced Solutions
How to Retrieve Deleted Call Logs on iPhone 14/13/12/11/XS/XR/X Easily and Quickly?
How to Extract Contacts from iPhone Backup | 4 Flexible Approaches
Ultimate Way to Extract Text Messages from iPhone Backup [Latest Tutorial]
[Solved] How to Recover Deleted Photos from iPad? (2023 Update)