Apple devices, especially iPhones, are incomprehensible, and understanding them can be difficult. These devices have many terms used to specify certain functionalities and, at times, can be confusing. As a proud iPhone owner, you should learn these terms before you take the wrong action that may lead to data loss. Often, people get confused with "Restore iPhone". So, what does "Restore iPhone" mean? With many terms pointing towards one or many functions of an iPhone, it's crucial to comprehend what they stand for to use them correctly.
This guide will give a comprehensive answer to that and go further to enlighten on what happens to your device when you press the Restore iPhone option, when it can be used, and how to use it.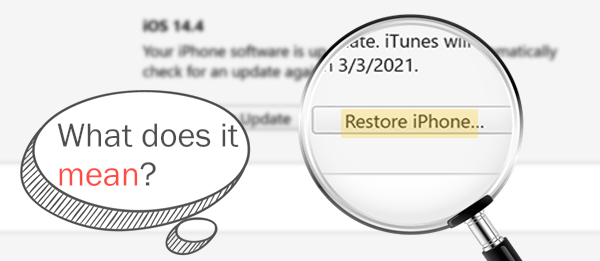 Part 1. FAQs About "Restore iPhone"
Here are some frequently asked questions about "Restore iPhone". Check if any could answer your questions:
Q1. What Is "Restore iPhone"?
Restore iPhone simply means importing a copy of data backed up from a device. It is a process of getting data back to your iPhone after you've previously backed it up with iTunes. Basically, restoring your iPhone entails reinstalling the OS. An iPhone is an Apple-made device, so it runs on iOS. Your device's operating system will be reinstalled after performing this process.
Hopefully, this has answered the restore iPhone meaning query that has been disturbing you.

Q2. What Does Restoring iPhone Do?
You also need to understand what restoring an iPhone will do and, more importantly, whether it will wipe out all your files. Restoring the iPhone to factory settings wipes out the entire device and all files, including photos, apps, videos, contacts, as well as the files saved in local storage space. Only default apps and settings will remain on the device.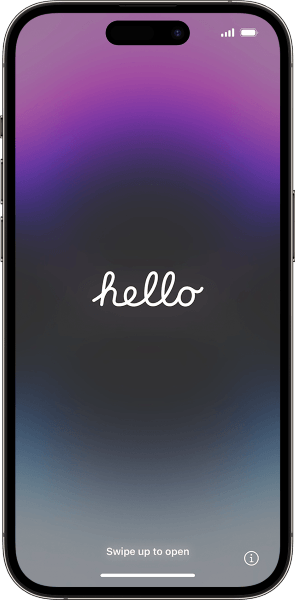 Therefore, when you see the "Restore" option in Finder/iTunes after linking your iPhone to a computer, do not click it before backing up the data available on your device unless you want to dispose. After a phone is restored to its factory settings without a backup, data recovery may be impossible unless you want to spend a few bucks on a data recovery app. But there's no guarantee that all your files will be restored.
You'll find the option to take a backup of your data on the same window before the restore. Click on the "Backup" option and wait for a few minutes for the backup to complete. The time taken to backup data depends on the network connection and the size of the files.
Q3. Are "Restore Backup" and "Restore iPhone" the Same in iTunes?
"Restore Backup" and "Restore iPhone" are often used at the same time. But are they similar? After all, they are both used in iTunes.
Restoring backup deals with restoring data to the iPhone from a backup created some time back. This is where data and other content, like application settings, screen layouts, etc., are restored.
On the other hand, restoring the iPhone deletes all files from the phone and then re-installs its operating system. Essentially, it entails resetting the phone to its factory settings. When done, the phone will have the latest iOS and default apps. Note that the "Find My iPhone" feature must be turned off for these processes to work.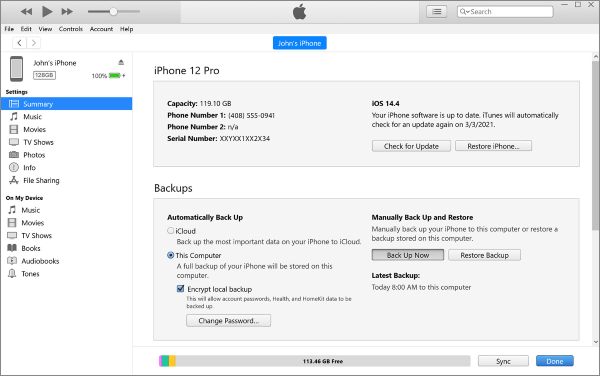 You might also be wondering:
Back Up iPhone Contacts to Google? Check the 5 Easy Methods Here!
How Long Does It Take to Back Up iPhone? [Updated and Informative]
Q4. Is It Necessary to Restore iPhone?
Well, despite the fact that restoring an iPhone results in data loss, it's at times necessary. Below are various reasons why you may need to restore your iPhone:
Repair: One main reason for restoring an iPhone is to repair it. The process fixes some common iOS problems caused by corrupt systems, software problems, or faulty applications. It's the solution to try if others fail.
Transfer ownership: You should also restore your iPhone when you want to give it to someone else or resell it. Since all data will be completely wiped, including settings, apps, and other files, restoring it is an ideal way to ensure the new owner won't access your info.
Increase performance: Another important reason to restore an iPhone is to increase its performance. If the phone has many applications containing too much data, it can become bogged down, thus affecting the performance. Restoring an iPhone wipes clean the device, refreshing its memory.
Part 2. How to Restore iPhone
In this part, you'll learn about how to restore your iPhone easily. Check the two methods we recommend:
Method 1. How to Restore iPhone via iTunes/Finder
The restoration process is very straightforward. However, it is advisable to back up all your files before starting the restore. Also, you need to delete Apple ID by disabling the Find My iPhone feature.
Below are steps to accomplish that:
Step 1. Link the iPhone to a computer, then launch iTunes or Finder.
Step 2. Tap on your iPhone device in the iTunes interface. Choose "Summary" from the left panel.
Step 3. Next, select the option for "Restore iPhone" to initiate the restore.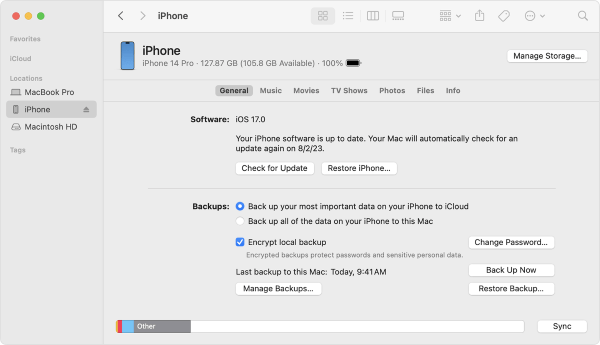 Step 4. Confirm the process by clicking on the "Restore" option. Wait for the process to finish, and when done, your iPhone will have been reset to factory settings with all files erased.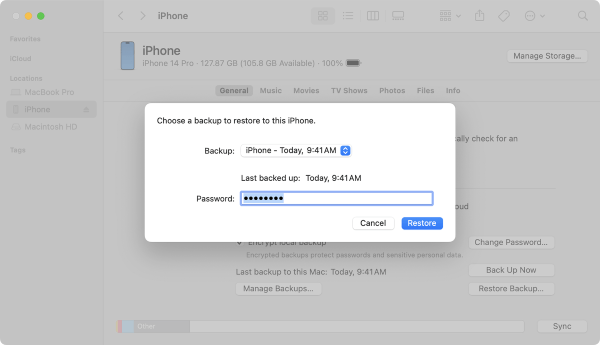 Also read:
How to Restore iPhone 15 from Backup Efficiently? [4 Techniques]
Wondering How to Back Up your iPhone to OneDrive? This One Tells
Method 2. How to Solve iOS Issues Directly via iOS System Recovery [Recommended]
Now you know what "Restore iPhone" is and how to perform the restoration process. But keep in mind that you will encounter data loss. So, if you just want to fix issues within the device and improve its performance, restoring an iPhone using iTunes is not a sound decision. Third-party software will be a better option. iOS System Recovery will help in repairing your device without deleting any of your files.
It fixes almost all issues related to the system on all iOS devices in just a single click. This software repairs the phone back to normal without putting the data in it at risk. After the repair, all the files will be arranged as they were without changing them or losing them.
Top Highlights of iOS System Recovery
Repair iOS devices to normal effortlessly.
Doesn't lead to data loss.
Fix plenty of problems with the system like disabled iPhone, Unable to turn on, restart loop, etc.
Clean interface.
Easier and secure.
Widely compatible with all iOS devices.
Here are steps to restore the iPhone without data loss via iOS System Recovery:
01Download iOS System Recovery on the computer, then install it. Click on More Tools, then enter the iOS System Recovery module from the primary interface.
02On the next window, press the "Start" tab, and the tool will detect the phone to start fixing it. Boot the phone into "Recovery Mode" using the on-screen instructions.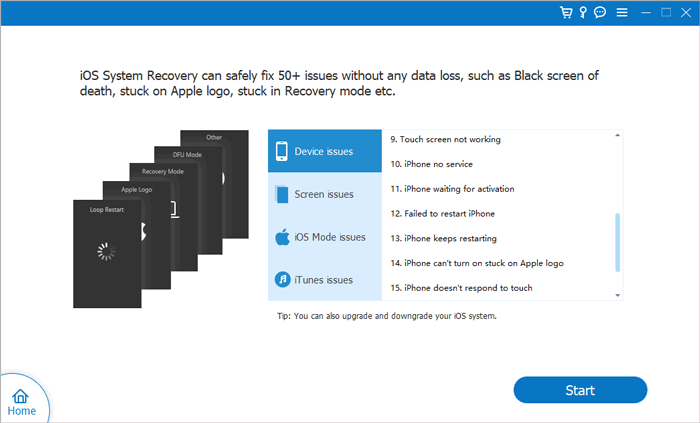 03When done, directly tap "Repair" to install iPhone firmware. After the firmware has been installed, the software will fix your iPhone back to normal.
Conclusion
What does it mean to restore an iPhone? By now, you should have known what restoring an iPhone means. Basically, it is importing files from a previous backup, which re-installs the operating system of the device. As an iPhone owner, you must learn these little terms. Little prep won't hurt.
However, the most recommended solution to restore an iPhone without data loss is with iOS System Recovery. It is the most reliable third-party software that will help you deal with system issues in your iPhone like a pro. Ease of use and fast speed is the cherry on top.
Related Articles:
How to Undo a Restore on iPhone 14/13/12/11/XS/X/8 Instantly? (Blow-by-blow Tutorial)
How to Do SMS Backup and Restore for iPhone? (Best SMS Backup Apps)
How to Fix iTunes/iPhone Stuck on Preparing iPhone for Restore?
How to Restore from iCloud Backup without Reset? (5 Effective Methods)