Do you regularly create documents and want a reliable PDF editor? PDF format is gaining massive popularity for its versatility, portability, and quality retention when it comes to file management. Therefore, you need an all-powerful PDF editor like Microsoft PDF Editor to manage your expectations. Does Microsoft have a PDF editor?
Yes - Microsoft PDF Editor. However, while Microsoft's PDF editor is reliable, many people are comfortable trying out alternatives before settling on one choice. This article reviews Microsoft PDF Editor and a few other top alternatives to create and edit PDF files like a pro.
Part 1: Microsoft PDF Editor Review
Microsoft PDF Editor is an in-built feature for Microsoft users to create and edit PDFs from their computers. It features some of the most enhanced editing tools across its interface. These tools and features allow you to edit your PDFs, though the functions may be limited.
Microsoft Word, an extension of Office 365, is a dedicated PDF editor that you can use to edit PDFs. It allows you to create files that you can then edit and convert the final file to PDF formats.
You can also use a dedicated PDF converter to convert the file format to Word and edit it, then reconvert it to the preferred PDF format. This Microsoft PDF editor is available for free usage. However, like most suites, Microsoft has premium packages that lock more enhanced features and tools in the package.
Features
Edit PDFs directly on the interface.
Add or remove different elements of your PDF files.
Enjoy the free usage, seamless user experience, and easy-to-navigate user interface.
Pros
It is readily available on most Macs and PCs.
It allows easy addition and editing of images.
First-class text editing capabilities.
Cons
There is almost no easy method to reorganize file pages.
No PDF annotation tools.
You may experience file distortion if your file has plenty of graphics and heavy formatting.
How to Use Microsoft PDF Editor
Here is how to use Microsoft PDF Editor to edit your PDF files:
Step 1: Download the PDF Office: PDF Editor PDF Reader app. Install and run the software on your computer. Click the Edit PDF button to launch the PDF editing tool.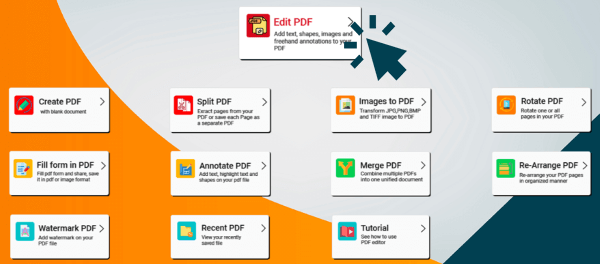 Step 2: Import your PDF for editing from your local or cloud storage. Once you've imported your PDF file, you can perform various editing functions, such as annotation, highlighting, and drawing shapes across the PDF.
Step 3: Finally, navigate to the Save button from the top bar once you're done with the PDF editing.
Extra Tip: How to Use Microsoft Edge PDF Editor
Most people are confident in the lack of a Microsoft Store PDF editor. Why doesn't Microsoft have a PDF editor?
For starters, Microsoft already has Word, a popular file-editing app. However, editing PDFs in Word directly can be risky, especially if you want to retain file formatting, layout, and quality.
Does Microsoft Office have a PDF editor? Strictly speaking, not. However, besides the aforementioned Microsoft 365 Office Editor, you can leverage Microsoft Edge PDF Editor, a built-in PDF editor for Microsoft's popular browser, Edge.
Here is how to use Microsoft Edge PDF Editor to edit your PDF files.
Step 1: Locate the PDF you want to edit. Right-click on it, hover over Open with options and select Microsoft Edge from the list of options.
Step 2: Navigate the top bar for PDF editing functions and tools you can manipulate to edit your file.
You can use Microsoft Edge PDF Editor to add text, draw on your PDFs, add comments, and highlight your documents. Benefits of using this browser PDF editor is you don't have to install any software or extensions.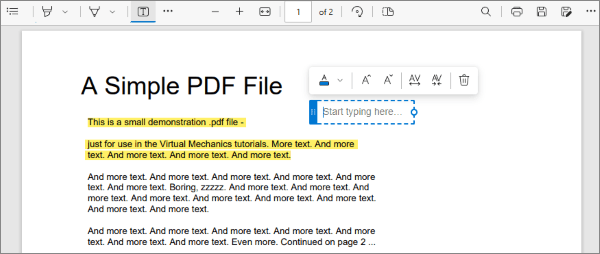 More PDF solutions:
[Comprehensive Guide] 7 Ways to Unlock PDF for Editing for Free
How to Remove Highlight in PDF with Effect [Expert Tips]
Part 2: Alternatives to Microsoft PDF Editor
While Microsoft PDF Editor is a reliable software for editing basic PDF files, you need a more dedicated professional tool to create and edit even the most complicated PDFs. The best PDF editor lets you create, edit, manipulate, and convert PDF files as you would with popular text documents like Word doc.
PDF Editor is the most popular PDF editor, followed by Adobe Acrobat, which, historically speaking, is the go-to alternative for most users. Find out why below.
Alternative 1: PDF Editor - RECOMMENDED
If you are looking for the best Microsoft PDF Editor alternative, PDF Editor is the best tool for your needs. It is a more professional suite of tools capable of handling different PDF-editing needs, from creating PDFs to removing elements of PDFs like watermarks, fillable forms, headers, footers, etc.
PDF Editor allows you to edit PDFs as you would Word files. It allows you to edit anything present in a PDF, whether text, images, or graphics.
Worried about file quality loss? PDF Editor is designed to ensure it can process your files without hurting file quality/ integrity. Other features include a high encryption level to protect your document's data and ensure confidentiality. Such features come in handy if you're handling large, sensitive PDF files.
Features
Create and edit PDF files effortlessly.
Batch process your PDFs.
Convert PDFs to multiple file formats.
Convert images into text easily.
Retain file quality, formatting, and layout.
Pros
A dedicated, all-in-one solution for your PDF editing needs.
Free to try.
User-friendly interface.
It is easy to navigate and use.
A broad variety of PDF editing tools.
Convert your documents into multiple varying formats.
It allows batch processing simultaneously.
It is available for both Mac and Windows.
Cons
Though easy to use, PDF Editor's broad range of functions can be overwhelming for new users.
Price
Free to create and edit PDFs with an option to buy a premium package starting at $79 per year for individuals and $139 for teams and businesses.
How to Use PDF Editor
Here is how to edit your PDF with this powerful Microsoft PDF Editor alternative.
01Download, install, and run PDF Editor.
02Click Open PDF to upload your PDF on the interface for editing.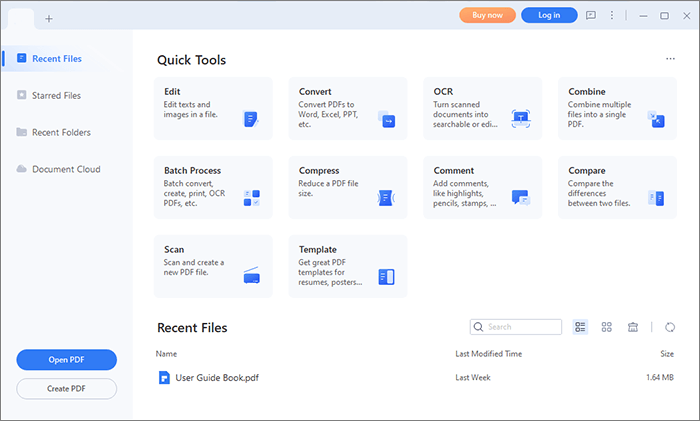 03Navigate to the Edit tab. Highlight any word or sentence you want to edit. The same will apply for images, too.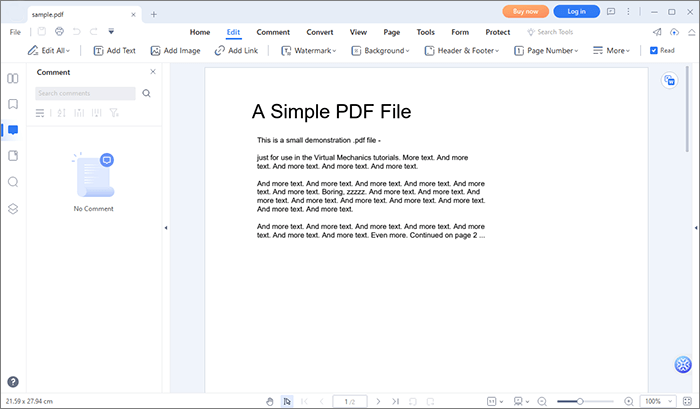 Alternative 2: Adobe Acrobat
Adobe is a popular Microsoft PDF Editor alternative, famed for its wide range of functionalities. It remains among the top industry standards for a good reason. For starters, Adobe has a rich combination of features to streamline your PDF editing process.
It undergoes several interface redesigns, making it easier to navigate. While it has a free alternative, its cloud subscription option provides more advanced features for professionals and small businesses looking to edit complicated PDFs.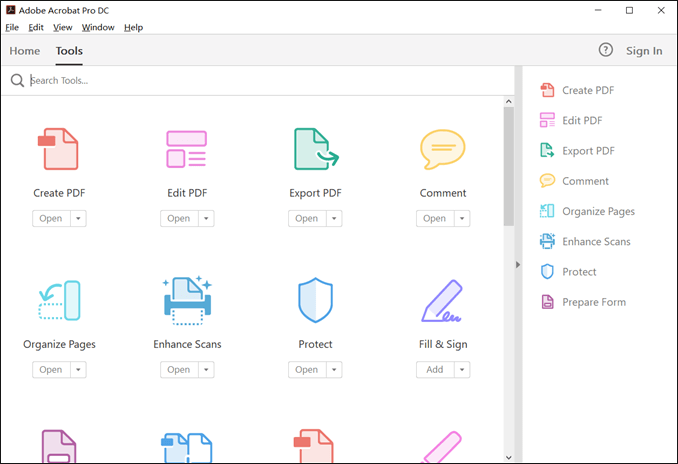 Features
Create and edit PDFs easily.
Secure your PDF with strong encryption features.
Enjoy the friendly user interface and seamless user experience.
Pros
Comprehensive PDF editing features.
Easy-to-navigate user interface.
Streamlined sharing features. This makes it easy to fill files and get signatures.
Cons
The wide range of features can be overwhelming for beginner users.
Price
It has a free trial.
You can pay to access more features. The Acrobat Standard DC's monthly subscription starts at $23, whereas the Pro DC's monthly subscription starts at $25.
Alternative 3: PDF Candy
PDF Candy freely offers several PDF editor features that you would ordinarily pay for. While it's not as dedicated as Microsoft PDF Editor, it is still an efficient solution to edit your PDF files.
It offers special features and functions, such as:
Multiple file conversion.
Scanning.
OCR functionality.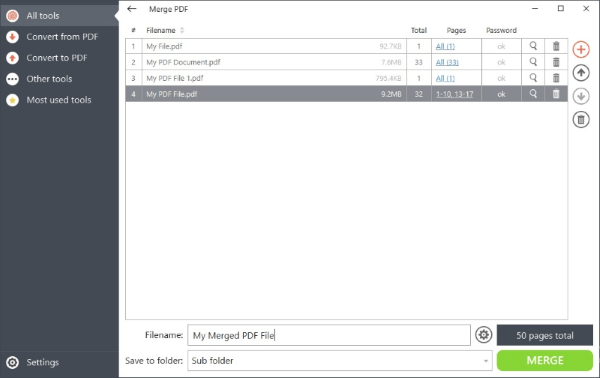 These features combine to make this PDF editor stand out among the top free PDF editor choices. While it may have a bit of a shaky interface, once you've gotten the hang of it, it can work almost half as well as the comprehensive PDF Editor.
Features
Convert multiple files to PDF simultaneously.
Edit your PDF using a wide range of functions, like splitting, compressing, merging, rotating, etc.
Pros
It is very easy to use.
It has OCR capabilities.
It has plenty of advanced features.
Cons
The free trial only offers basic PDF editing features.
There is no Mac support.
Price
Free. However, this free version allows you access to strictly one PDF task per hour. You can go for the premium choice, which will cost $6 monthly or $48 annually.
Also read:
Unlocking the Power of Microsoft Print to PDF: A Comprehensive Review
Convert Photos to PDF: Top Offline & Online JPG-to-PDF Converters Free
Alternative 4: pdfFiller
pdfFiller is a browser-based PDF editor that lets you perform a wide range of functions related to PDF editing, such as:
Creation and editing.
Sharing.
Securing.
Storage.
It has an intuitive and simple web interface for seamless PDF editing. It has a design similar to a desktop app, with the document thumbnails along the side and the toolbar across the top.
Therefore, it is easy to use if you can navigate the tools efficiently. pdfFiller has an impressive set of features for business and personal use.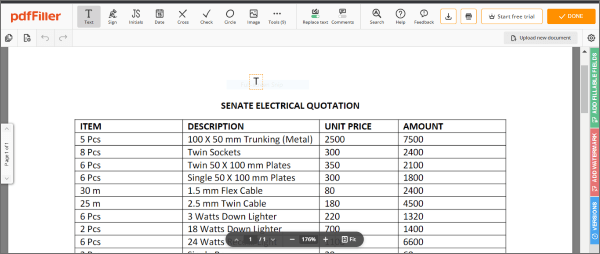 Features of pdfFiller
Edit your PDF files effortlessly.
Enjoy the wide range of PDF editing functionalities and features.
Pros of pdfFiller
A wide range of features for comprehensive PDF editing.
It has a standard set of markup tools.
Cons of pdfFiller
Though versatile, not all of pdfFiller's advanced features suit every user.
Price
pdfFiller has three subscription tiers, allowing you to perform your editing needs without paying for unnecessary features. These include:
Basic @ $8 per month.
Plus @ $12 per month.
Premium @ $15 per month.
These tiers are for the annual plans. You can also go for the monthly options, which are typically costlier.
Key Takeaway
Does Microsoft 265 have a PDF editor? Yes and no. If you're looking for a dedicated PDF editor from Microsoft, you may be disappointed. However, Microsoft leverages its store to supply users with a powerful Microsoft PDF editor for their PDF editing needs. In addition, Microsoft's browser, Edge, has a built-in PDF editor for more convenient PDF editing. Microsoft Edge PDF Editor eliminates the need for downloading third-party software or extensions to edit your PDFs.
On the other hand, if you want a more dedicated professional PDF editor, PDF Editor takes the win. It is free for your most basic PDF editing needs and powerful enough to handle even the most sophisticated PDF editing. Download PDF Editor to create and edit your PDFs for free like a pro.
Related Articles:
How to Easily Merge PDF Offline & Online? Find the Method That Suits You
[Solved] How to Merge PDF Files in Google Drive & Using Alternatives
[Easy PDF Solutions] How to Convert Scanned PDF to Word via Multiple Ways
The Best Free PDF Security Remover Tools to Recommend [7 Tools]
[Hot] How to Encrypt a PDF - Prevent Unauthorized PDF Access
How to Split PDF Pages? Solve It Using Top Recommended Methods