PDFs are prevalent in the expansive realm of digital documents due to their universal compatibility and ability to maintain document integrity. Nevertheless, extracting text from scanned or image-based PDFs might be hectic. Fortunately, with the correct software and procedures, you can quickly convert PDF images to text without losing quality.
The programs are equipped with Optical Character Recognition (OCR) technology, which allows you to access the text hidden in pictures. This allows editing, searching, and reusing the PDF image in other contexts. How to extract text from a PDF image is covered in detail, along with other useful pointers, in this article. Whether a researcher, professional, or student, you will learn how to extract text from PDF images.
Part 1. How to Convert PDF Images to Text Using Offline Methods
Due to their accessibility and ease of use, many offline software apps excel at converting PDF images to text. In situations where you need to protect the confidentiality of your work, have complete command over the conversion process, or don't have access to the internet, offline tools come in handy. Here are some excellent offline methods to extract text from image PDF:
Method 1. How to Convert PDF Images to Text by PDFelement (Recommended)
PDFelement is a robust PDF editor that imports scanned documents and allows you to change the text within the PDF image by exporting it as a Word or TXT file. This facilitates editing in the same way as with a standard text document.
In addition to converting PDFs to and from images, PDFelement also supports converting PDFs to and from various file types like DOCX, PPTX, XLS, HTML, RTF, and TXT. It's ease-of-use is one of its defining characteristics. PDFelement is cross-platform, supporting Mac OS X, Windows, iOS, and Android.
Here are some key features of PDFelement that make it to be among the best PDF editors:
Convert PDFs from images to text effectively.
Build your own customizable, fillable forms and templates from scratch.
Utilize high-quality OCR features.
Annotate, create, highlight important texts, and delete unnecessary text.
Adjust font size, style, and more using this convenient and inexpensive editing tool.
So, how do you convert image PDF to text using PDFelement?
01Download and run PDFelement. Drop the image file onto the program to open it.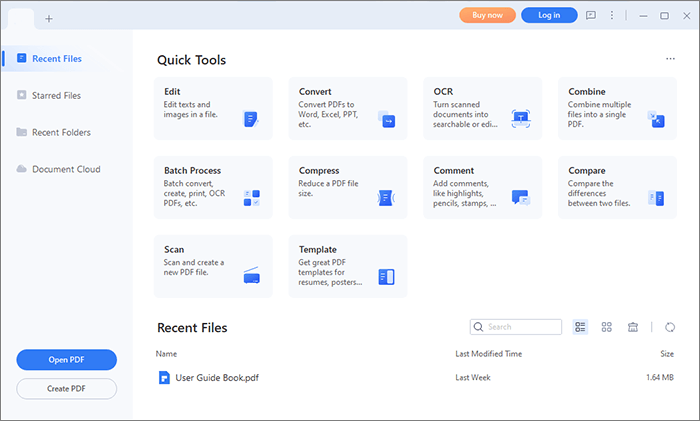 02To activate OCR, click "Tools" and tap the "OCR" button; select the "Scan to editable text" option. Select the page and the language you want, then click "Apply" to translate the photo's text and titles into your chosen language.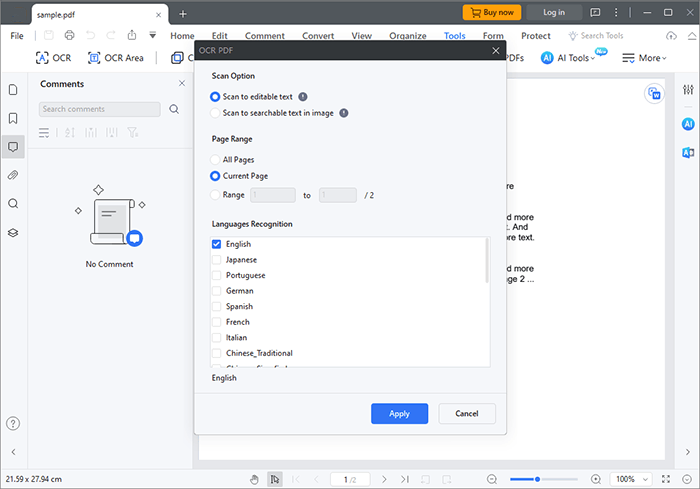 03Click "Convert" > "To Text" on the resulting home page. Select "TXT" from the drop-down option, name and save the file in the chosen folder, and click "OK".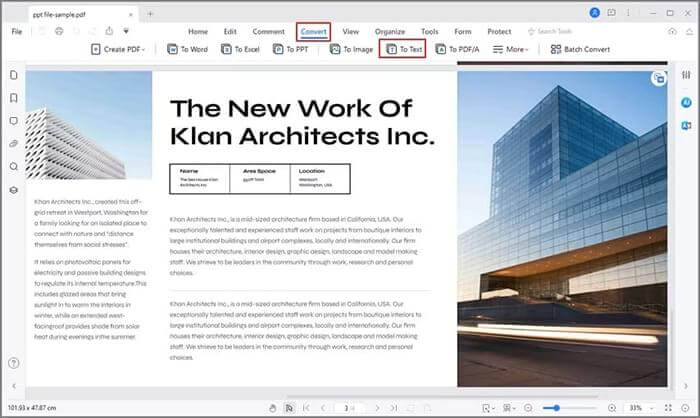 Read More:
Top 5 Free OCR Software for Converting Images to Text
Text to PDF Made Easy: Your Step-by-Step Conversion Handbook
Method 2. How to Convert PDF Image to Text with Adobe Acrobat
Adobe Acrobat for Windows and Mac eliminates the need to retype, reformat, or rescan PDFs to obtain text documents that are editable and searchable. You can convert scanned PDFs to text files using the robust OCR function built right in while maintaining the original fonts and structure.
Follow these easy steps to extract text from PDF images using Adobe Acrobat:
Step 1. Launch Adobe Acrobat after downloading it, then open the scanned document you want to OCR and choose "Tools". Start by selecting "Recognize Text", followed by "In This File".
Step 2. Controls are available to adjust your OCR. To proceed with text recognition, select "OK" if the document you want to translate is written in the language set as the system's default. Click "Edit" and choose "Primary OCR Language" > "PDF Output Style" > "Downsample To".
Step 3. Right the PDF image and select "Copy With Formatting". Acrobat will store the recognized text in the original file if you OCR a PDF. However, if you OCR an image, it will store the image together with the text in a new PDF file.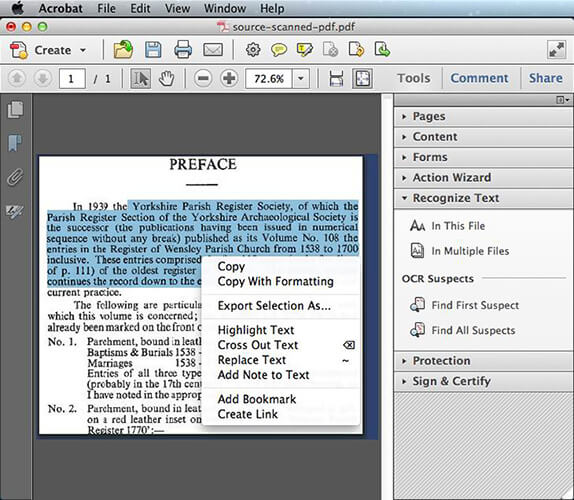 Step 4. You'll be taken to the Export Selection As tab. To export your OCRed files, choose "Save As" and pick "Word Document" as the file type. Choose a location for the new file and save it.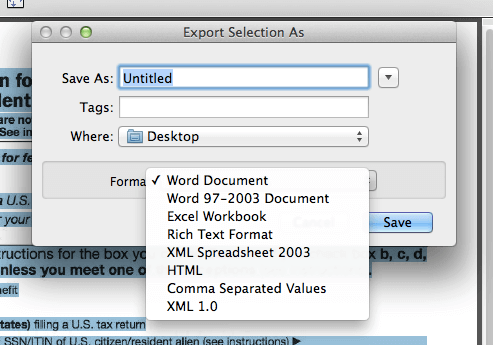 Method 3. How to Convert PDF Images to Through Soda PDF
Soda PDF is a suite of over 50 PDF applications for PC and mobile, making it simple to convert, secure, create, and edit PDF files. The built-in OCR technology can smoothly convert PDFs with images into editable text.
Learn how to copy text from PDF images using Soda PDF:
Step 1. Download the Soda PDF and run it. Select "Advanced" in the Create & Convert module, then select "PDF to TXT".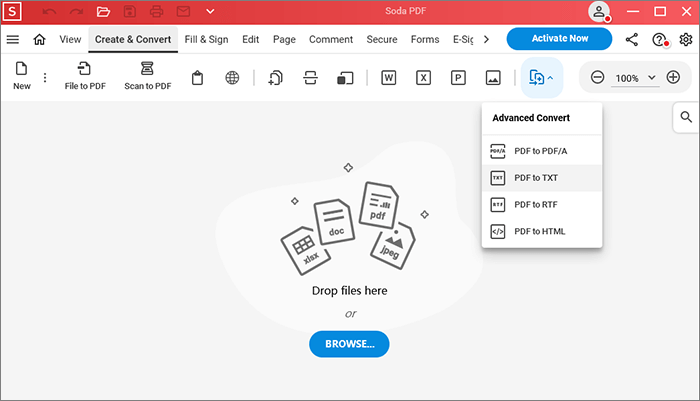 Step 2. Figure out which pages need the conversion. To access additional settings, select the three dots.
Step 3. Click the folder icon to alter the default saving location. Use OCR to make your scanned file editable. Then mark the "Open TXT document after conversion" and click "EXPORT".
Step 4. As soon as the conversion of your file is complete, you will receive this alert.
May Like:
Mastering the Art: How to Copy PDF to Word Like a Pro [5 Ways]
PDF to Word OCR Software Review: Unleashing Precision and Efficiency
Part 2. How to Copy Text From PDF Images Using Online Methods
Online PDF picture text copying is an easy and efficient solution. You may convert PDF photos to text without installing any extra software thanks to online applications like iLovePDF, PDF2Go, Online OCR, etc. Here are some helpful methods for converting PDF images to text online:
Method 1. How to Convert PDF Images to Text Online Using PDF2Go
One of PDF2Go's many impressive features is its OCR, which makes converting image PDF to text quick and easy. With PDF2Go's OCR features, you can easily extract key details and open the documents in a format that can be edited.
Here are three simple steps to use PDF2Go to convert PDF images to text.
Step 1. On the PDF2Go website, drop files here or click "Choose File".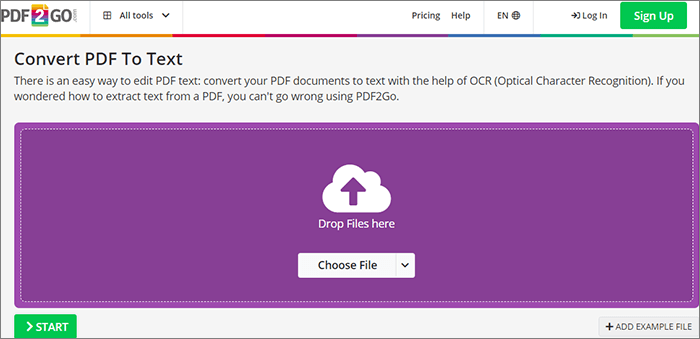 Step 2. Convert with OCR and tap the "START" button.
Step 3. Download your converted file.
Method 2. How to Convert Picture PDF to Text Online by Online OCR
With Online OCR, you can easily convert scanned PDFs into editable text. In addition, any image file type (JPG, BMP, or PNG) can be converted to a text output format while retaining the original file's formatting. Online OCR is compatible with Windows, MacOS, and Linux.
Follow the below simple procedure to convert PDF pictures to text using Online OCR:
Step 1. On the Online OCR page, click "SELECT FILE" and select "ENGLISH" language and output format as "Text Plain". Then, hit the "CONVERT" button.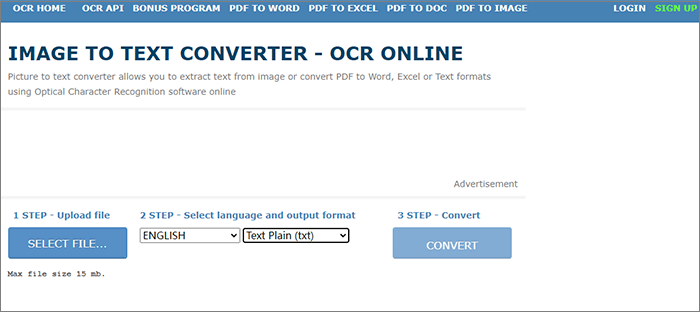 Step 2. Download the output file.
See Also:
[Comprehensive Tutorial] How to Save a PDF as a Word Document
[Easy PDF Solutions] How to Convert Scanned PDF to Word via Multiple Ways
Method 3. How to Convert PDF Images to Text Online with OCR2EDIT
OCR2EDIT is a cutting-edge program that allows users to read text from scanned PDFs. The user-friendly interface makes it possible to quickly and accurately pull text from scanned photos.
Follow the below simple steps on how to convert scanned PDF images to text using OCR2EDIT:
Step 1. Open the OCR2EDIT web page and tap "Choose File" or drop files here.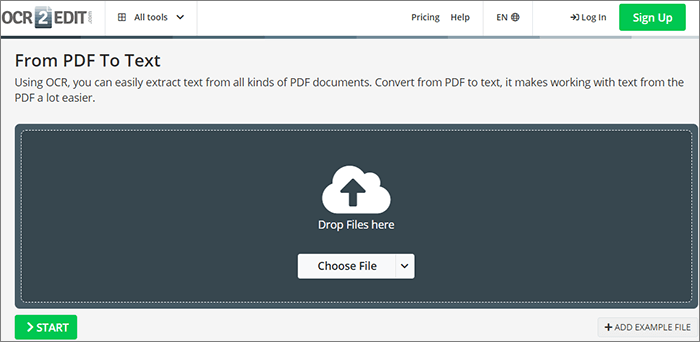 Step 2. On OCR settings, configure according to your needs. Then click "Start".
Step 3. Download your converted file.
Method 4. How to Convert Image PDF to Text Online Through iLovePDF
iLovePDF, a well-known online platform for PDF-related tasks. It provides a straightforward method for converting PDFs created from images into editable text files. Using iLovePDF OCR software, you can access and work with the text in PDFs created from scanned images and graphical content. Follow these 3 key steps to learn how to convert scanned PDF images to text using iLovePDF.
Step 1. On the iLovePDF website, tap "Select PDF file" or drop PDF here.

Step 2. Tap on "OCR PDF".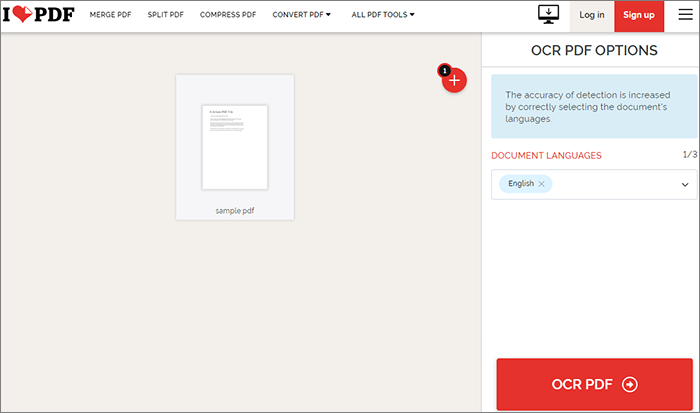 Step 3. Download PDF, which you can select and search as you like.
Can't Miss:
How to Convert TIFF to PDF: Online and Offline Methods Unveiled
How to Scan a Picture to PDF Like a Pro? Your Ultimate Guide
Method 5. How to Convert PDF Images to Word Text via Google Docs
Google Docs is a free online service allowing users to open, read, edit, and export PDF, Word, Image, and other formats. It can do OCR on scanned PDFs and images as well. However, if you use Google Docs' OCR, you will rectify the formatting manually. Follow the below simple procedure to extract images and text from PDF:
Step 1. Upload files to your Google Drive on the My Drive tab.
Step 2. Right-click the PDF image. Select "Open with" > "Google Docs".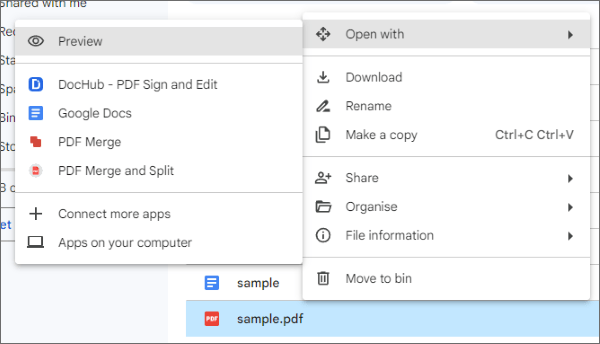 Step 3. The file's content is now editable in Google Docs. Click "File" > "Download" > "Plain Text (.txt)".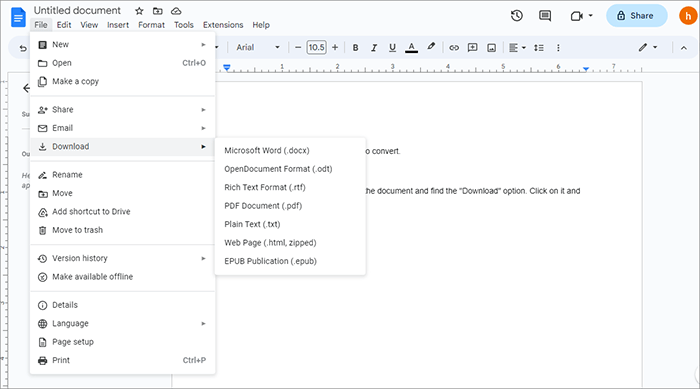 The Verdict
Knowing how to convert PDF images to text is useful for making documents more accessible and usable. We suggest utilizing PDFelement among the various alternatives available for this purpose. Its innovative and straightforward OCR functionality makes it stand out from the crowd. Download it now for accurate PDF text conversion from images.
Related Articles:
How to Embed a PDF into Word Effortlessly? [Tips and Tricks]
[4 Labor-Saving Tricks] How to Add Text to a PDF Document
How to Insert a PDF into a Google Doc: Quick and Easy Steps
Text Be Gone: How to Remove Text from PDF [The Complete Tutorial]
How to Convert PDF to PNG with High Quality? 8 Expert Tips and Tricks