OCR (Optical Character Recognition) technology has been a game-changer for digitizing printed or handwritten text from physical documents and making it editable and searchable. Removing OCR from a PDF file essentially means converting the text in the PDF back into images or simply removing the recognized text layer. There are various ways you can leverage to remove OCR from PDF files.
In this article, we will guide you through the process of removing OCR from PDF files step by step. Continue reading and find out how to remove OCR from PDF.
Part 1. FAQs About OCR in PDFs
Before you learn how to remove OCR from PDF files, here is a brief understanding of OCR and why you may need to remove it from your PDF file.
1. What is OCR in PDF?
Optical Character Recognition (OCR), in the context of a PDF, refers to the process of converting scanned or image-based PDF documents into machine-readable and searchable text. A PDF can contain text that is either embedded as selectable text or presented as images.
OCR tech is used to extract text from these image-based PDFs, making it possible to search, copy, edit, and manipulate the text within the document. OCR is popularly used to digitize printed materials, improve document management, and archive documents.
2. Why remove OCR from PDF?
Reasons you may want to remove OCR from PDF files include:
File Size Reduction: OCR can significantly increase the file size of a PDF because it adds a layer of searchable text on top of the scanned images.
Confidentiality: In some cases, the OCR text may contain sensitive information that you don't want to be accessible to others.
Text Integrity: If the OCR process didn't accurately recognize the text or introduced errors, you might want to remove it to maintain the integrity of the original scanned images.
Legal or Regulatory Requirements: In certain situations, organizations may need to retain only the scanned images of documents for legal or regulatory compliance.
3. What are the benefits of using an OCR remover?
Using a powerful OCR remover has its set of benefits, which include:
Quality Enhancement: Using a powerful OCR remover improves the PDF quality, making it easier to read and share.
Editing Enhancement: OCR-generated text may contain some errors, making it hard to edit. Therefore, using a powerful OCR remover can eliminate such errors, making your PDF text fully editable.
Increased Compatibility: On rare occasions, OCR makes PDFs incompatible with various software and devices.
Time-Saving: Manual removal of OCR from PDF files can be tiring and time-consuming. On the other hand, using software to remove OCR from multiple PDFs can be seamless and time-saving.
4. How do I remove OCR layers from PDF online?
There are several manual methods you can use to remove OCR layers from PDFs. One of the common ones is by printing the PDF. The default print function on Windows supposedly removes the text layer. Another way you can remove the OCR layer from PDF is via a command line utility – i.e., writing a script.
5. How do I know if a PDF has been OCR applied?
Open the PDF file and search for whether you can search for words in the file or whether you can select any text. If you can't select text or search in the PDF, it is perhaps a scanned image. On the other hand, if you can search or select text in the PDF, there is a high chance OCR has been applied.
Read More:
Liberating Your Files: The Magic of PDF Secured Remove [Updated]
[Solved] How to Remove Permissions from PDF Files Easy & Efficiently
Part 2. How to Remove OCR from PDF Through WPS
WPS is an office suite for MS Windows, Android, macOS, iOS, Linux, and HarmonyOS. It can help you create and view files on the go, provided you have it installed in your gadget. You can also use WPS special features to remove OCR from your PDF files effortlessly. Here is how to remove OCR text from PDF using WPS Office.
Step 1. Ensure you've installed WPS on your device, then open your PDF with WPS.
Step 2. Click the "Tools" tab in the top menu once you've opened the PDF.
Step 3. Choose "OCR" from the Tools panel, and a window with OCR settings will launch.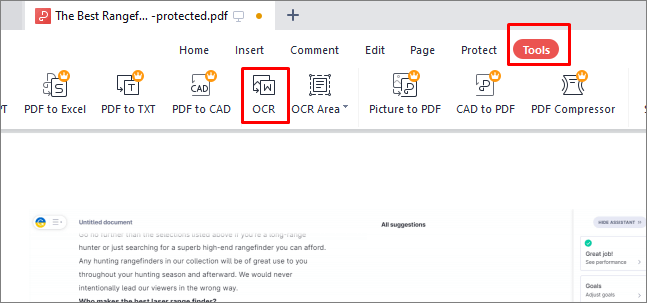 Step 4. Set the OCR language to "None" to remove OCR from the PDF in the OCR language drop-down menu.
Step 5. Click "OK" to save the settings. Next, press the "Convert" button to convert the PDF file without OCR.
Step 6. Finally, hit the "File" button in the top menu, then select "Save As" and rename the new PDF accordingly.
Can't Miss:
Effortlessly Remove Background from PDF Documents [How-to Tutorial]
[Useful PDF Tips] How to Open Password-Protected PDF Without the Password
Part 3. How to Remove OCR from PDF with Adobe Acrobat
Adobe Acrobat comes with multiple functionalities for PDF creation and editing. One of these functions includes removing OCR from PDF files. You can use it as a desktop application or online via your web browser.
Adobe Acrobat allows you to turn off/remove OCR for PDF or scanned documents. OCR tends to turn on by default. As such, in most cases, when you open a PDF or scanned document for editing, the current page converts to editable text. Fortunately, you can remove or turn off/on the automatic OCR option, depending on whether or not you want to convert your file to editable text. Here is how to remove the automatic OCR from PDF files using Adobe Acrobat.
Step 1. Ensure you've installed Adobe Acrobat on your computer. Launch the app, then navigate to "Tools", then click "Edit PDF".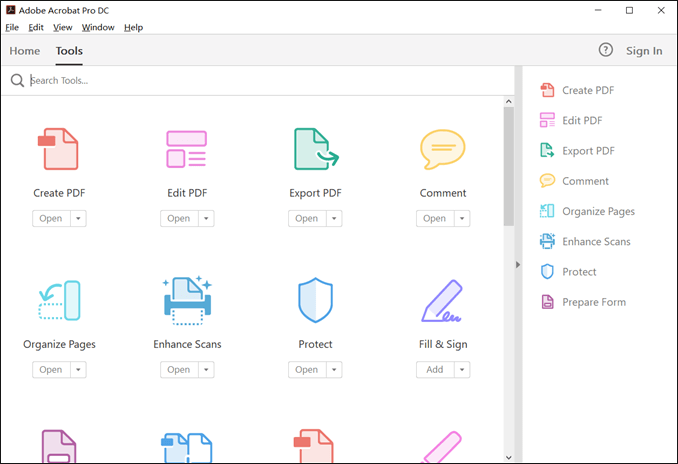 Step 2. To remove or turn off OCR, go to the right pane, then uncheck the Recognize text checkbox. That way, Adobe won't automatically turn on OCR on your PDF/scanned document.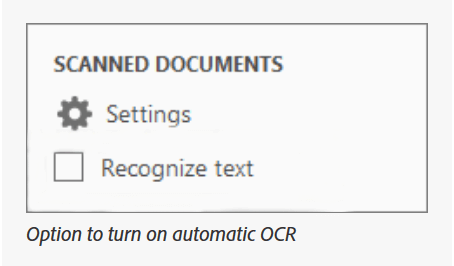 Note: If the OCR output comes from Searchable Image or Searchable Image Exact, you can use Adobe Acrobat Pro to remove the OCR. If you're using Adobe Acrobat X, go to "Tools"> "Protection" > "Hidden Information". Click the "Remove" button in the Remove Hidden Information pane. If you see a tick next to the Hidden Text entry, this means the OCR output is removed.
On the other hand, if you're using Adobe Acrobat 8, go to "Document", then navigate to "Examine Document". Click the "Remove all checked items" icon in the Examine Document dialog. If the Hidden Text entry is ticked, then this means the OCR output is deleted.
See Also:
[Easy Guide] Convert Word to PDF via Adobe Acrobat & Alternatives
PDF to Word Magic: Convert PDF to Word with Adobe Acrobat & Alternatives
Bonus: How to Convert Scanned Documents or Text from Images into Editable Text
Whether you have a stack of old printed documents, a handwritten letter, or a scanned image with important information, converting them into editable text can save you time and effort. PDFelement is a versatile and user-friendly software solution that can help you accomplish this task efficiently. While it can't directly remove OCR from PDF, PDFelement can convert scanned documents or text from images into editable text.
Besides converting scanned documents and text, PDFelement can perform multiple other PDF editing functions, such as removing headers and footers from PDFs, removing text from PDFs, removing fillable fields from PDFs or removing watermark from PDFs, etc. This document converter comes highly recommended for its batch-processing feature. It can process multiple PDFs simultaneously without compromising the file quality.
Amazing features of PDFelement include:
Convert scanned documents or text from images into editable text without hurting file quality.
Process multiple PDF files simultaneously.
Edit text in scanned PDF documents.
Enjoy the program's seamless user experience.
Here is how to use PDFelement to convert scanned documents or text from images into editable text.
01Download, install, and run PDFelement on your device. Click "Open PDF" to upload the PDF for editing.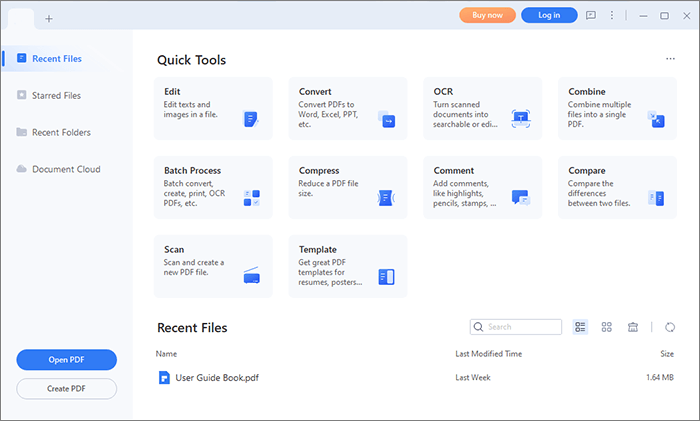 02Click the "Tools" button and select "OCR".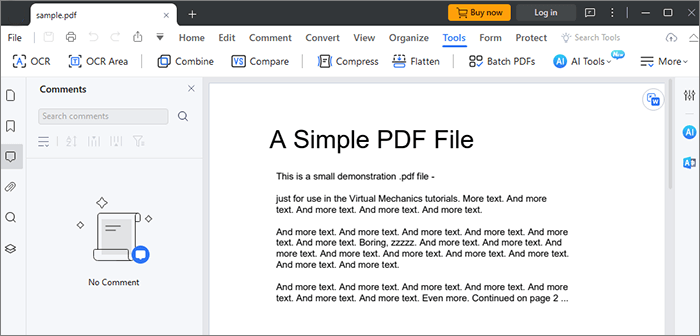 03At this point, a pop-up window will appear. Select "Scan to editable text", then choose the desired page numbers and language, and click "Apply".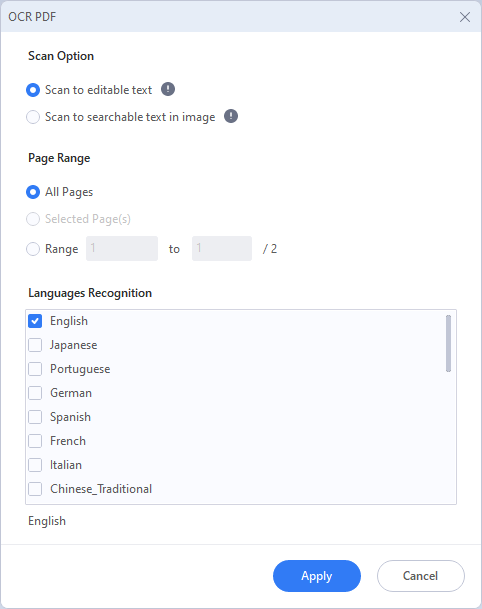 04After the process is finished, the program will automatically open the newly created editable PDF file. Once it's open, you can click the "Edit" button to make changes to the PDF text.
May Like:
PDF to Word OCR Software Review: Unleashing Precision and Efficiency
From Pixels to Paragraphs: PDF Image to Text Conversion
The Bottom Line
Removing OCR from PDF files is a straightforward process, and it offers several benefits, including enhanced document security, improved file quality, and increased compatibility across various devices and platforms. To achieve this, you'll require a dedicated and convenient tool. The methods and solutions we've discussed here provide you with the option to remove OCR from PDF files at no cost, and for those seeking more advanced features, premium alternatives are also available.
However, if you want to edit or convert the scanned PDF files, PDFelement takes the win. It is a powerful PDF editing software with multiple capabilities and functionalities.
Related Articles:
Top PDF to Word Converter Free Offline: Converting PDF to Word Made Easy
[9 Tools Review] The Hottest PDF to Word Converter Online/Offline
[Make Your Office Easy] 6 Best Free PDF to Word Converters
How to Scan a Picture to PDF Like a Pro? Your Ultimate Guide
How to Insert a PDF into a Google Doc: Quick and Easy Steps
[Efficient PDF Tips] How to Create a URL Link for a PDF Document for Free