PDF is a great file format that is not only secure but also reliable. Despite its benefits, it can restrict users. One is that you can't modify a PDF file or make the changes you want. Therefore, you need to turn a PDF document into an editable format such as Microsoft Word. This is where a PDF-to-Word converter comes in. Basically, this tool is specially designed to turn PDF files into MS Word formats.
Compared to online tools, desktop offline PDF to Word programs are often more secure and powerful. So, if you are looking for a PDF to Word converter free offline, this guide has the answer. We introduce the 7 best free PDF to Word converters offline. Check them below.
1. Coolmuster PDF to Word Converter
Coolmuster PDF to Word Converter stands out as an essential tool for seamless PDF conversions, compatible with both Windows and Mac platforms. This software provides a user-friendly solution for various PDF conversion needs, serving as a reliable one-stop shop for users across different operating systems. Whether you're working on a Windows PC or a Mac computer, this versatile tool simplifies the process of transforming PDF files into Microsoft Word documents with just a single click.
This PDF converter boasts a built-in viewer for instant file previews, aiding in locating pages for accurate conversion. It excels in batch conversion, enhancing productivity by processing multiple files simultaneously. The selective partial conversion feature effortlessly converts specific page ranges. Robust security measures protect sensitive data during conversion. Most impressively, original formats, including complex elements like text styles and hyperlinks, are faithfully preserved in the output Word documents. The user-friendly interface ensures an accessible and comfortable experience.
Key features:
Support batch conversions to convert multiple PDF documents to Word at once.
Preview and select the specific pages to convert.
Provide accurate and quick results.
Retain formatting, including images, layout, and fonts, during conversion.
Protect files during conversion.
Concise and intuitive interface.
Pros:
* Convert multiple files at the same time.
* Powerful and advanced features.
* Don't tamper with formatting and layout.
* Accurate and quick results.
Cons:
Only convert 3 files in the free version.
Supported platforms:
Windows & Mac.
How to convert PDF to Word offline via Coolmuster PDF to Word Converter:
01Install Coolmuster PDF to Word Converter, and add PDFs using "Add File" or drag-and-drop. Preview and remove unwanted files with the "Delete" button.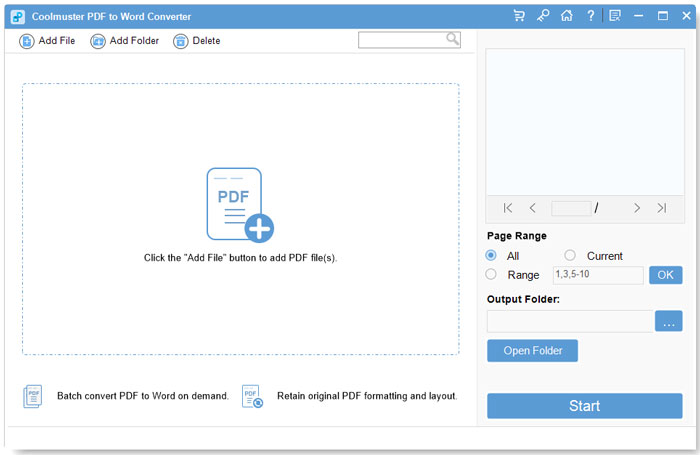 02Choose from 3 modes: "All" for all PDFs, "Current" for the previewed page, and "Range" for specific pages. Then, customize and select the output destination.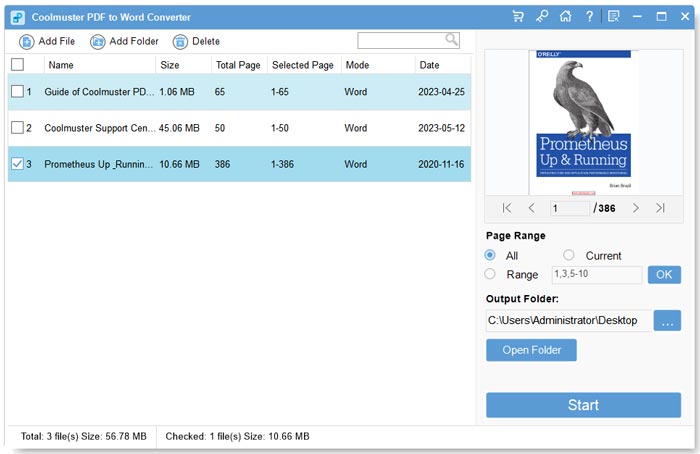 03At last, hit the "Start" button, and the conversion will start instantly. After the process, you can check the output files by clicking the "Open" button.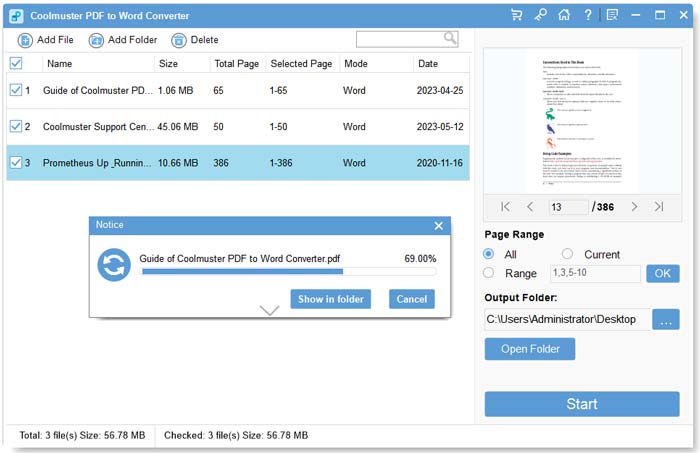 Read More:
How to Convert PDF to Word in Windows 10/11? A User-Friendly Guide
Streamline Your Document Workflow: How to Convert PDF to Word on Mac
2. Adobe Acrobat
Adobe introduced PDF format, so it's a suitable program to handle PDF to Word conversion. It's a top PDF-to-Word converter program that emphasizes only high-quality output and the highest levels of efficiency. All tables, images, margins, and any other element in the original file are copied to the output document as they are. Its overall accuracy is amazing, thanks to its diligent OCR tool.
Additionally, converting multiple PDF files at the same time is also supported to reduce the time taken to change PDF files to Word documents.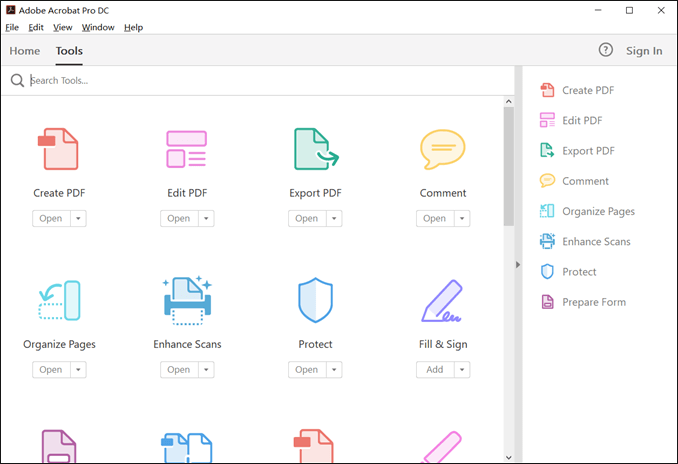 Pros:
* Faster conversion.
* Support batch conversion.
* Built-in OCR to help scan and edit PDF files.
Cons:
* Quite costly.
* The interface isn't intuitive to the user.
Supported platforms:
Mac, Windows, iOS, Android.
See Also:
[Comprehensive Tutorial] How to Save a PDF as a Word Document
[Efficient Office Solutions] How to Convert Word to PDF in 4 Different Methods
3. SmallPDF
This free offline PDF to Word converter will take you on a journey of great productivity while working smartly. You can convert, edit, or compress documents in a couple of steps. What sets SmallPDF apart is its integration with cloud services such as Google Drive and Dropbox.
What's more, it provides cloud storage space for Pro users. This way, you can expect only the best quality each time you convert PDF to Word. You are not limited to the file size you upload, and no need to register to access features. Just like other offline converters, it guarantees the safety of your files. The OC helps scan the PDF pages to editable Word files.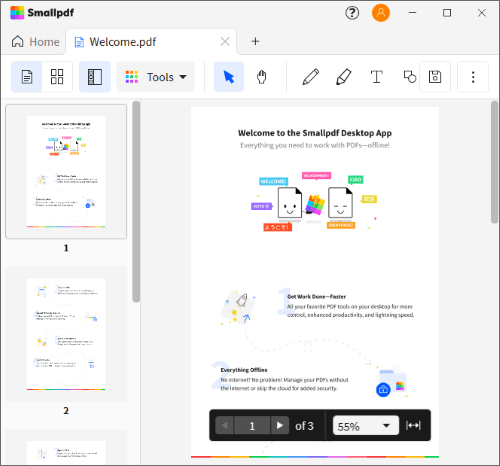 Pros:
* Great converter and compression tools.
* No file size limitation.
* Compatible with all platforms.
* Incorporate OCR tool.
* Provide batch conversion options.
Cons:
Cloud features and OCR are paid.
Supported platforms:
Windows, Mac.
4. Wondershare PDFelement
This is a go-to offline solution for all your PDF tasks. It is a great tool for teams, individuals, businesses, and students. PDFelement is loaded with only top-quality features for easier management. You can turn PDF files into Doc/Docx files depending on your preferences.
Apart from converting features, it also allows you to do some final touch edits before exporting it as a Microsoft Word document. Additionally, its batch conversion feature lets you turn many PDF files without a hitch. Also, it features an embedded OCR function that's proficient enough to offer accurate extracted data from image-based PDF files easily.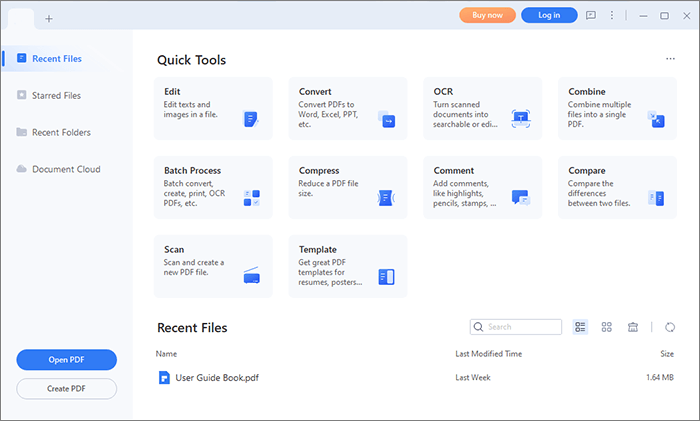 Pros:
* Let users perform partial and batch conversions.
* Have a powerful OCR tool.
* Great output quality.
* Convert large files easily.
* Edit the PDF documents before they're converted.
Cons:
Quite costly.
Supported platforms:
Windows, Mac.
Can't Miss:
[Solved] How to Change Word Document to PDF in Efficient Ways
Effortless Document Transformation: Converting Word to PDF with iLovePDF
5. Icecream PDF Converter
Icecream PDF tool is a simple yet very efficient tool to easily manipulate PDFs. This tool lets you convert and edit PDF images, files, eBooks, etc. You'll have full control over the PDF document's appearance since you can smoothly tweak the provided output options without any problem.
You are presented with features such as batch processing, password protection, combining files, and manipulating PDF layout settings. It supports numerous file formats.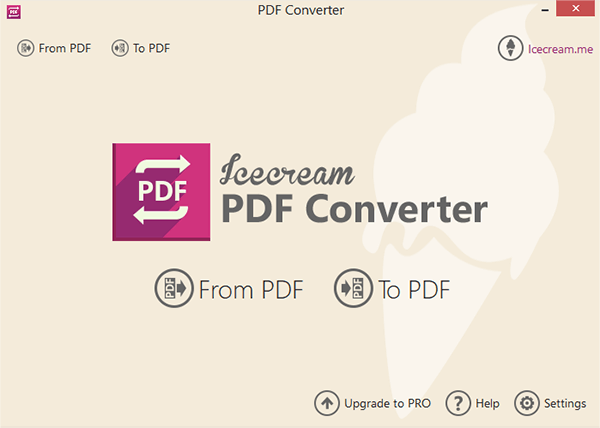 Pros:
* Allow editing of encrypted PDF documents.
* No watermark in the output documents.
* In-built OCR feature.
Cons:
* Not many options in the free version.
* Require hotkeys and shortcuts to quicken the editing process.
Supported platforms:
Windows.
6. TalkHelper PDF Converter
This downloadable offline tool allows users to quickly convert, manage and edit their PDF files. Also, it features a built-in OCR tool to quickly scan and edit files, thus enabling digitizing hard copies of files. Not only can you slit, but you can also merge and extract PDF documents for better management.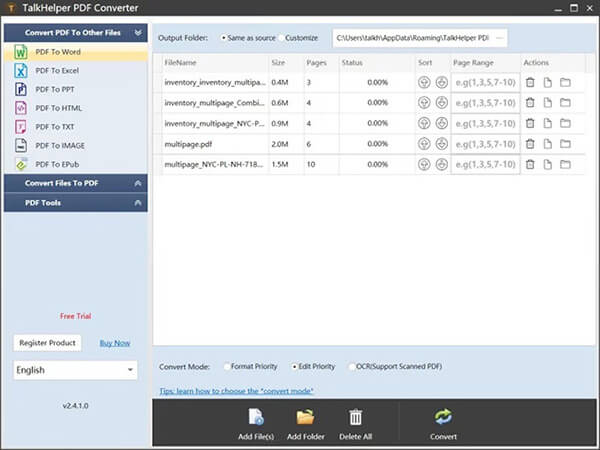 Pros:
* OCR feature that supports many languages.
* Allow you to save PDF documents in different file formats.
Cons:
The user interface needs to be improved.
Supported platforms:
Windows.
May Like:
[Easy Office Solutions] How to Convert DOCX to PDF - 6 Methods
How to Save a Word Document as a PDF on Windows & Mac Systems
7. WPS PDF to Word Converter
Another PDF to Word free converter offline that's worth your time and effort is WPS PDF to Word Converter. It allows users to seamlessly convert and, at the same time, manage their PDF documents. This downloadable tool lets you create only great-quality documents.
WPS PDF also provides free cloud storage space to keep all your converted Word documents and templates, which helps to simplify the conversion procedure. The in-built OCR tool is at your beck and call.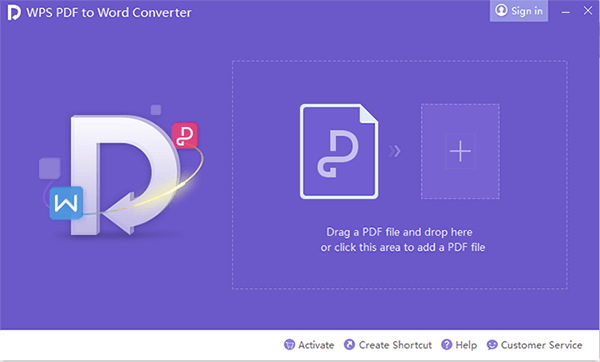 Pros:
* Come with a built-in OCR feature to make the conversion process simpler.
* High-quality results.
* Provide cloud storage.
* Safe to use.
Cons:
The trial period is very short.
Supported platforms:
Windows, Mac.
Summary
Certainly, the best PDF to Word converter is a tool you require in your arsenal. With such software at your disposal, you are guaranteed only high-quality results, produce editable Word documents quickly, batch processing capabilities inclusive, and a lot more. Coolmuster PDF to Word Converter is the recommended tool to turn PDFs into editable Word documents. It works like a charm during the conversion.
Related Articles:
How to Convert Word to PDF Free Offline & Online: Easily Solved
Word to PDF Hyperlinks Not Working? Troubleshooting Tips and Tricks
How to Convert Microsoft Word Document to PDF: Quick and Efficient
[Easy Guide] Convert Word to PDF via Adobe Acrobat & Alternatives
How to Save a Google Doc as a PDF? [Computer & Mobile Device]