There are several reasons why people delete their Facebook messages from the Facebook app or the Facebook Messenger app on their iPhones. While some do it because a conversation is no longer required, others do it simply in order to create more space on their phone. It's an extremely common practice just like deleting emails and other unnecessary files and applications that are no longer needed on your iPhone.
Nowadays, it is not possible to delete your messages on the Facebook app or the mobile site of the social media. The messages can only be deleted via the Facebook Messenger app that is one of the most commonly used apps these days and allows one to be in constant touch with one's family and friends.
Also Read: How to Delete Snapchat Messages for Good in These 7 Situations?
Top Ways to Delete Your Facebook Messages
You have the option of just deleting one message in a conversation or the entire conversation from the Facebook Messenger app. Here is a look at all that you can do here.
1. Just deleting one message
• Open up the Facebook Messenger app on your mobile iPhone.
• Select the conversation from which you wish to delete the message.
• Now press and hold the message you wish to delete. From the options menu that you will get, select the Delete option and the message will be deleted from the conversation.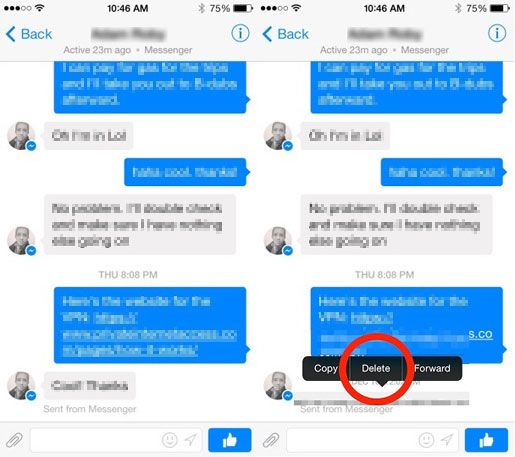 Related: How to Delete Whatsapp Messages on iPhone
2. Deleting a conversation
• Open up the app on your iPhone.
• Now select the conversation that you wish to delete. However, instead of opening it, just swipe your finger from right to left on that conversation slot.
• You can Delete or Archive the conversation.
• Select Delete to delete the conversation.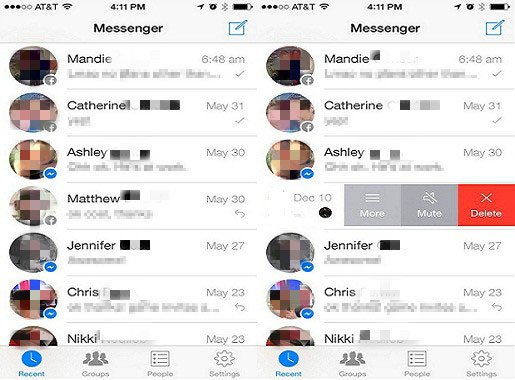 Remember that when you delete a message or a conversation, it only gets permanently deleted from your iPhone only. The other person can still have those messages and conversations on his or her phone. These are the two, simple and free ways in which you can erase your Facebook messages if you don't need them, or are just trying to create more space.
Extra Bonus: Permanently Deleting All Messages on iPhone
Instead of individually deleting messages on your iPhone, Coolmuster iOS Eraser gives you a faster, easier and a more secure version to delete all your messages in one go. In fact, that's not all. You can choose from three different security levels - low, medium and high - while erasing your messages:
- The first level allows you to quickly delete your messages and saves a lot of time.
- The second one will leave no trace of the erased data and will overwrite the existing and deleted messages on your iPhone.
- The third level is a more time consuming option. However, it is the most secure option of deleting messages and other data as it re-writes over the data three times!
Notice: The latest iPhone 14 Pro/14//13/12/11/11 Pro/11 Pro Max/XR/XS/XS Max are also supported.
Here is how to use the program:
Before the process, please back up your iPhone in case further need in the future.
- Run the program after downloading and installing on your computer.
- Link your iPhone to computer with a USB cable, and choose "Erase All Data" mode to move on.
- Hit "Erase Now" button to delete all data on your iPhone, including the Facebook messages.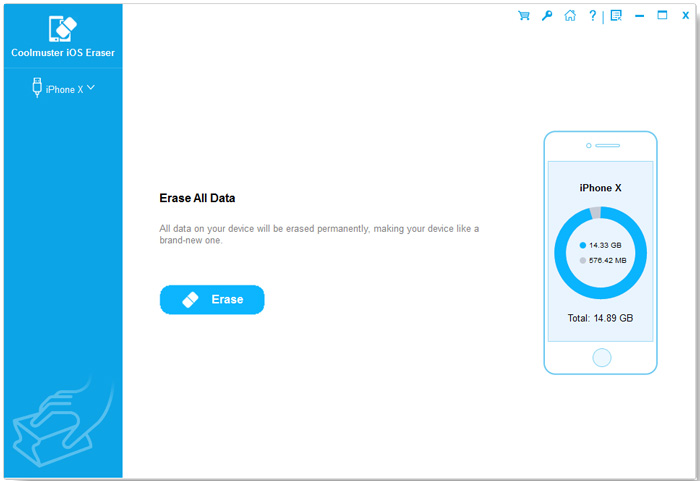 Conclusion
Coolmuster iOS Eraser will give you the advantage of deleting your messages almost instantly. This software can easily be downloaded and installed on your computer and it is such a user-friendly software, that thousands of people all over the world swear by it. The software is also great when it comes to baking up all your data so that you never lose out on your memories even if you lose your phone. Just save them easily on your computer just the way you want.
Related Articles:
How to Uninstall Apps on iPhone/iPad
How to Fully Delete iPad Podcasts
How to Transfer Notes from iPhone to iPhone
Contacts Didn't Transfer to New iPhone? 7 Flexible and Easy Fixes