Owning an iPad places the owner in a compromising situation of losing the gadget due to theft or damage, from time. For this reason; owners strive to keep their personal information on iPads as confidential as possible, for example, by deleting voicemails. Additionally, not everyone loves piling up voicemail messages in their devices as most of them end with the annoying verbal ramblings of "Call me back!"
The good thing about Apple is that it has given its customers some ways to get rid of the annoying auditory messages. Nevertheless, owners need to know the appropriate time to delete these messages. They include:
- To Free up Storage Space- Setting up a Visual Voicemail on your iPad, where people will leave the messages assures users of getting messages in the end. However, the messages may pile up fast, causing unnecessary clutter in the interface and waste your iPads valuable storage space.
- Trading in Your Old iPad - Surely, no one wants their private messages falling into the wrong messages. Even if it is gifting the iPad to a new owner; a close relative or a friend, your privacy is much more important in the end.
- Closing your Apple Account- You will need to delete your voicemail messages, with a few other personal items, like call and browser history from your Apple account if you fully intend to switch to other devices with different OS other than iOS.
Part 1. Tips to Remove iPad Voicemail on iPad Directly
Part 2 . How to Delete Voicemail on iPad without Recovery (Recommended)
Part 1. Tips to Remove iPad Voicemail on iPad Directly
Delete Voicemail One by One Using the Phone App:
- Launch the Phone icon.
- Tap the Voicemail button. It is usually on the lower right-hand corner of your iPad's screen.
- Hit the Edit button on the upper right corner. A red minus button will pop up, on the left side of all your voicemails.
- Go ahead to delete the messages, one by one, by hitting the red minus buttons.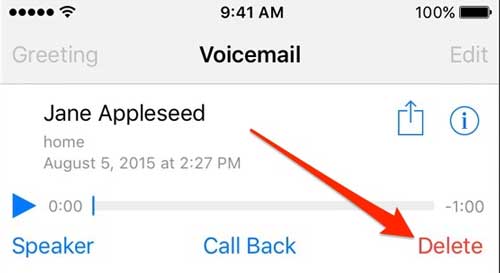 To Delete Multiple Messages:
- Open the Phone app on your iPad. Tap on the Voicemail tab.
- Hit on Edit. Using multiple touch points, tap on the multiple red minus buttons simultaneously.
- Tap on the red Delete buttons.
More Similar Articles:
* How to Delete Multiple Photos on iPhone
* How to Uninstall Apps on iPhone/iPad
Note that deleted voicemails are saved in "Deleted Voicemails" folder within the Phone App. The above methods only delete voicemails on your device, putting them into a recycle bin. It is not advisable to leave the deleted messages here, as they are recoverable. You will need to remove them permanently.
- Repeat the process as mentioned above to erase any othervoicemails you wish to remove in from the iPad.
- Tap Deleted Messages, and hit the "Clear All" button, usually on the upper-right hand side of the screen. Confirm that you wish to remove all deleted voicemails.
- Once your voicemails get deleted from the Delete Message folder, they are removed from the iPad's file system permanently and are irretrievable.
Part 2 . How to Delete Voicemail on iPad without Recovery (Recommended)
This professional Coolmuster iOS Eraser program offers one of the most secure ways of professionally cleaning data from your iDevice. It is a reliable and useful tool to smash anything on your iPad; messages, videos, apps or even account information. After cleaning your phone off data, even the smartest software cannot retrieve this data.
The software is easy to use, as you will only follow three simple steps. They are:
Step 1. Connect iPad to the computer and run the installed software.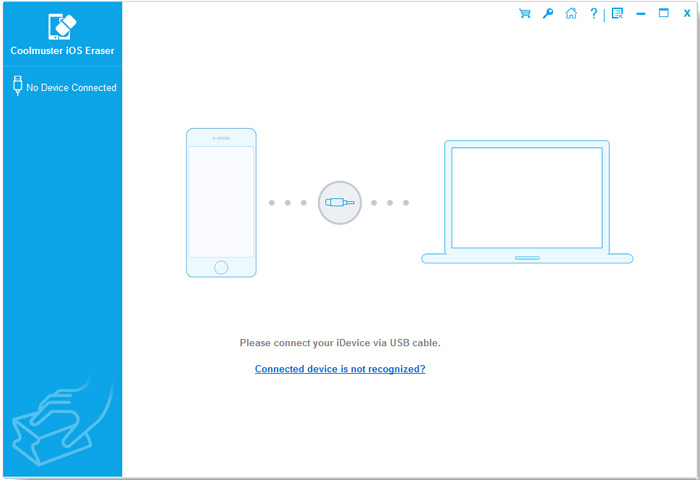 Step 2. Select desire erasing, just select "Erase All Data" mode to erase all files on your device, including the voicemails. Since the software has an irretrievable feature, do remember to backup important data, before making the permanent deletion.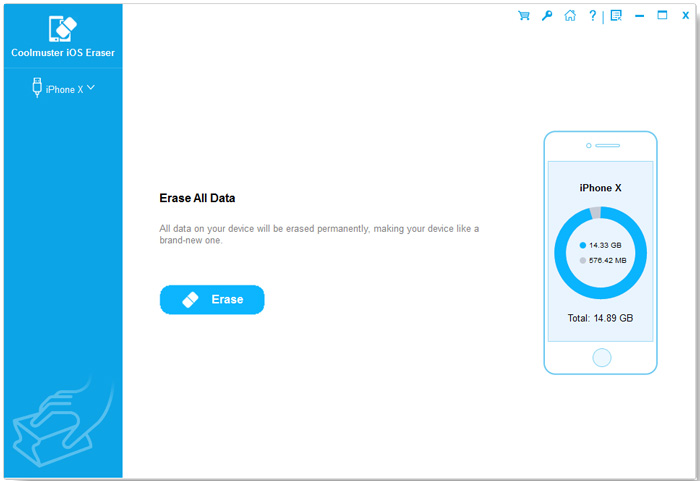 Step 3. Click "Start" to delete iPad voicemail messages. All voicemail messages will be successfully erased from your iPad.
Conclusion
By following these guidelines, you can effectively delete voicemails from your iPad, whether you choose to remove them manually or use a professional erasing tool, such as Coolmuster iOS Eraser. Remember to consider the reasons for deleting voicemails, such as freeing up storage space, ensuring privacy when trading in your iPad, or closing your Apple account. Regularly managing your voicemails will help maintain a clean and organized interface and protect your personal information.
Related Articles:
How to Easily Delete iPhone Backup
Tips to Clean up Junk Files from iPhone
How to Transfer Photos from Android Phone to External Hard Drive