Android phones tend to get slow over time. Apps take time to open and run and the transitions between screens takes longer. This could be due to various reasons. For example, the operating system updates may not be optimized for the device or there could be bloatware apps which slow things down. Also, solid state drives which are full slow down the system as well as lack of trim support can be part of the reasons.
In this case, many people may opt for either selling old Android device or iPhone to buy a new one with more memory, more storage and faster processor speeds or they may opt for 4G SIM cards. Actually, as long as you follow the useful tips and trust the professional tools as instructed in the below, you can make your 3G phone run almost as fast as 4G phone. Now, let's unveil the magical instruments one by one!
Several Tips to Speed up 3G Phone (Android/iPhone)
- To delete apps that are not being used. They only take up memory and use CPU cycles for background services; the same with the widgets. Those that are not needed should be disabled. Animations and special effects slow down the phone.
- The storage space should be cleaned. Pictures and videos no longer needed should be cleaned. Zip files, images, sound clips which are not needed and are in the downloads folder need to be cleaned out as well.
- Cached data of apps need to be cleaned out, including photo caches when downloading photos or transfer photos, download temp files when getting music songs online, app crash logs and etc.
- The SD card should be backed up and formatted. Then the files can be put back. In this way, you can not only free up more space on your phone and have a backup of important files.
- Finally factory settings can be run to delete everything and start again.
Best Tool You Can Trust to Optimize 3G Phones for Android/iOS Devices
Introduce of Phone Cleaner for iOS/Android:
Coolmuster iOS Eraser is an all-in-one cleanning tool for both Android and iOS devices, which can clear the junk files and personal files for smart phones. And it is well compatible with all models of Android device and iOS devices, including Samsung, Huawei, HTC, LG and iPhone 14 Pro/14/SE/13 Pro/13/12 Pro/12/11 Pro/11/X/XS/XR/8/7/6, iPad mini, iPod touch and etc.
This clears junk files including app caches, temp files, cookies, crash logs, photo caches and more. It also removes the call history, browsing history, system notification, cookies, caches, app orphaned files as well as fixes android errors, so as to speed up your slow Android device. It frees more memory space as well as it does not leave behind files. This integrates 20+ data analyzing technologies and can be used on all android devices.
It ensures the deleted files cannot be recovered. It cleans cached data, junk, useless files, text messages, photos, contacts, videos, music, usernames and almost everything as wanted and needed. There are 3 modes for selection. The lowest erases data efficiently. The second provides two passes to overwrite the current deleted data so no trace is left of the files and the high mode is the most secure. This supports all android devices.
Steps to use Phone Cleaner for iOS/Android:
Step 1. Connect your Android or iOS device to computetr after installing the program, and launch the program.
For iPhone/iPad/iPod, the program will automatically detect your device.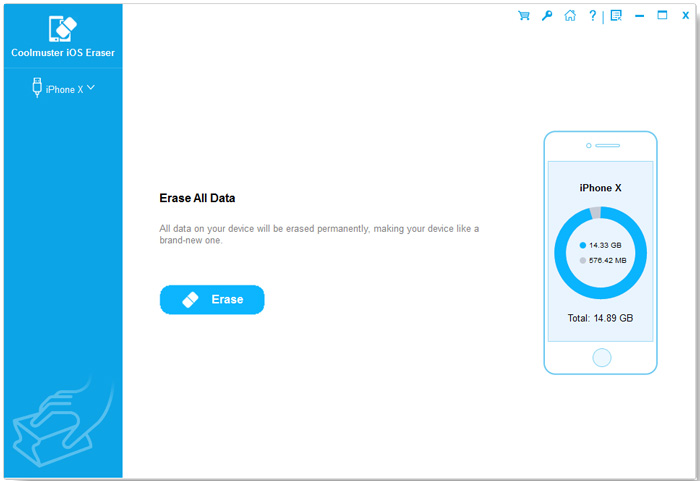 Step 2. Then you can choose the desired mode to delete junk files or personal files, like "Erase All Data" mode and "Erase Private Data" mode.To permanently delete your photos, contacts, messages and other personal files, please choose "Erase Private Data" mode.Then you might select the unwanted items and type "delete" on the pop up window and click "Erase Now".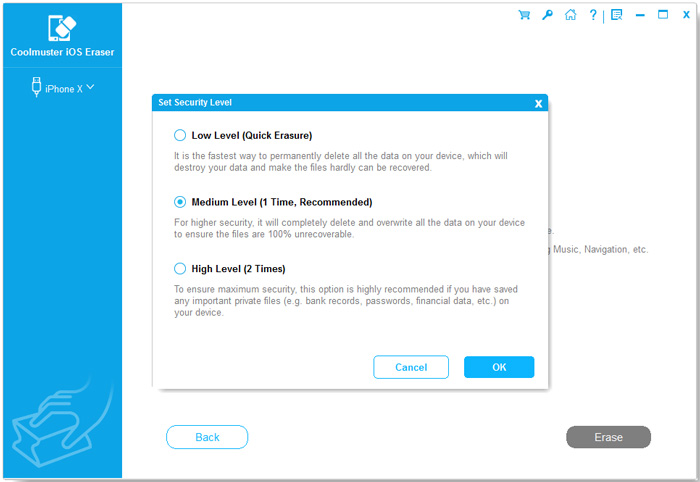 Words in The End
Find your 3G phone is running slower and slower, don't rush to update to 4G SIM card. Follow the useful tips and trust these professional tools to make your 3G phone run as fast as 4G phone, no matter you are using Android phone or iPhone!
Related Articles:
How to Easily Backup Samsung SIM Card
What if Space is Not Enough for Downloads?
Transfer Music from iPhone to Computer Effectively
How to Recover Photos from Locked iPhone