Have you purchased a new iPhone, and you now want to transfer all of your valuable data? Well, you will want to know how you can do that. When switching to a new iPhone 15 Pro/15, it is important to transfer your apps and other valuable data. The best thing about owning an iPhone is that it lets you transfer data to other Apple devices faster. The transfer process is simple and only requires a few clicks to move your applications to the new iPhone.
But what if the apps fail to transfer to the new iPhone? "Apps didn't transfer to new iPhone" is a common problem that can be easily fixed. If you are stuck with this problem, continue reading to learn how to fix apps didn't transfer to new iPhone issues.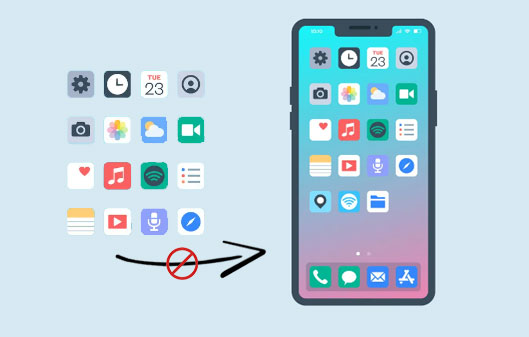 Part 1. Why Didn't My Apps Transfer to My New iPhone?
Before we look at the fixes, you should know why your applications did not move to the new iPhone. Transferring data between devices depends on many factors. That's why sometimes it might fail. Below are the common reasons why your applications did not transfer to the new device.
Poor network connection - The network plays a vital role in transferring data between devices. If the network isn't stable and strong, it may affect the transfer. It is impossible to restore a backup with a slow network connection. Ensure you connect your device to a reliable power source.
Different Apple ID - Transferring apps to an iPhone requires them to be signed in with a similar ID.
Apps aren't available in the App Store - If the bought apps are unavailable or are refunded in the store, you won't be able to transfer them to the new iPhone. Furthermore, some third-party apps need to be downloaded again from the provider.
You may like:
Top 9 Ways to Fix "Messages Didn't Transfer to the New iPhone"
How to Transfer Passwords to New iPhone Easily? (Latest iOS Supported)
Part 2. How to Fix "Apps Didn't Transfer to New iPhone 15" Issue?
After knowing why the applications may fail to be transferred to the new iPhone, you should know how to fix that. The solutions below are reasonable attempts to resolve the iPhone transferring data stuck problem.
Fix 1. Input the Right Passcode to Transfer the Purchased Apps
After you recover the iCloud backup to your new iPhone device, you will get a pop-up notifying you to enter the passwords. To securely complete the transfer of purchased applications, ensure that you input the right password.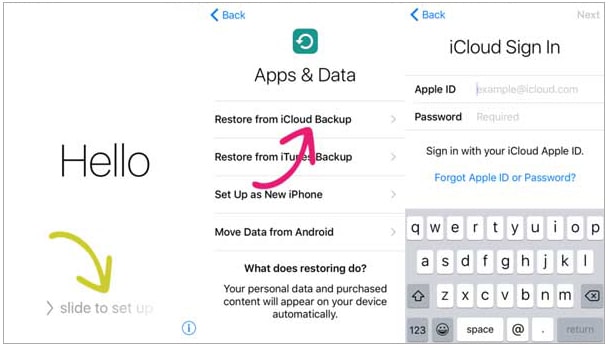 Fix 2. Check if the Transfer is Happening in the Background
Sometimes, it may seem the transfer process has been completed; but it's still in process. To confirm this, click on the "Settings", then to the "(your name)" option. Once there, look for "iCloud", click on it, and hit "iCloud Backup".
If the restoration process is still progressing, you will see the "This (device) is being restored and will backup automatically when done" on the screen. Be patient for some time for the process to complete.
Fix 3. Check Your Network Status
Firstly, you need to confirm the condition of the network if it's stable and strong. You can go to any browser and try searching any webpage to check if there's an internet connection. To be sure the issue isn't with the network, reset network settings.
Step 1: Go to your phone's Settings.
Step 2: Click "General" and proceed to "Transfer/Reset iPhone".
Step 3: Proceed to "Reset" and "Reset Network Settings". Enter the password to continue.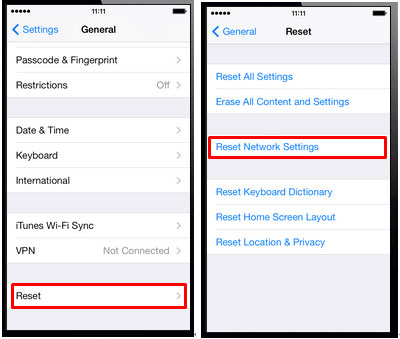 Doing this won't delete any files on the iPhone. Only Bluetooth connection and WiFi password will be deleted.
See more:
How to Transfer Data from Broken iPhone to New iPhone? (4 Ways Out)
10 Ways to Fix the iPhone Migration Not Working Error without Trouble
Fix 4. Check iCloud Storage
Confirm if you have sufficient space on your iCloud storage. If there is insufficient storage, the apps will not be in iCloud backup and cannot be transferred to the new iPhone (Not enough iCloud storage?). On your old phone, go to "Settings" > "(your name)" and click on "iCloud" > "Manage Storage". You will then see iCloud backup storage available. You can purchase more space and try to transfer the apps to the new iPhone again.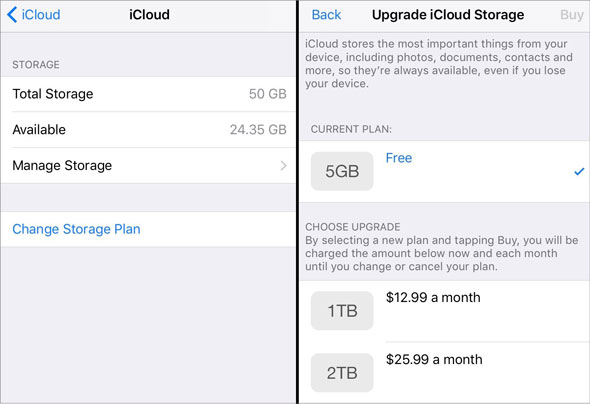 Fix 5. Sign Out and In of iCloud
There may be a syncing issue error in your iCloud, causing apps not to transfer to the new iPhone. Sign out and in of iCloud should resolve the issue. To sign out and in of iCloud, do this;
1: Navigate to "Settings" on your iPhone.
2: Click the "[your name]" option and tap "iCloud".
3: Scroll to the bottom screen, select "Sign Out", and enter your password to confirm.
4: Reboot your iPhone and sign into iCloud again.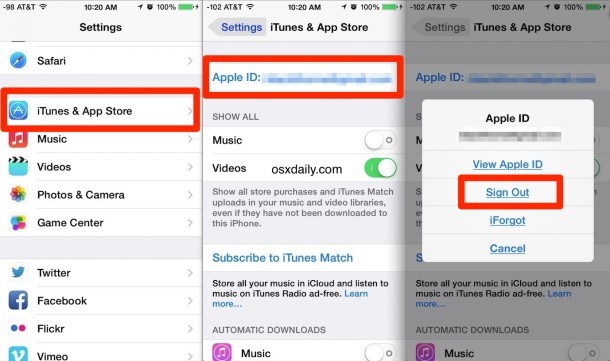 Fix 6. Update iPhone to the Latest Version
Make sure your iPhone's version is up to date, which can fix undetected bugs in your iPhone. The latest iOS versions usually come with improved reliability, making your device function effectively without lag issues.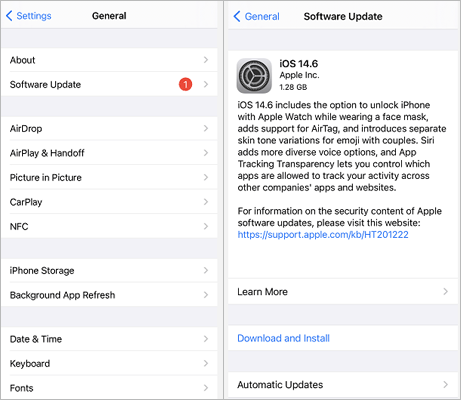 Fix 7. Restart Your iPhone
This is a simple and effective method of resolving a software problem on your iPhone device. Just restart your device and observe how simple and effective it is. To restart your iPhone, press the power button on the device's upper right-hand side. Long press it until you notice a change in the screen's appearance. Next, swipe your finger on the part written power off. After the iPhone is off, wait a few seconds, then press the power button to restart.
Suppose you have an iPhone with Face ID and simultaneously press the side button. The screen will show a power icon; wait for 1 minute and long press the side button to restart your phone.
Conclusion
Transferring data between devices is not an easy task, and it sometimes always fails. As we've seen, it can be due to several reasons that can be avoided. If your applications didn't transfer to the new iPhone, follow the tips we've given to you, and you should be able to resolve it successfully. They are simple but effective fixes to help troubleshoot apps didn't transfer to new iPhone issue. And luckily, as long as your iPhone is connected to a stable network and there is sufficient iCloud storage, transferring apps to the new iPhone shouldn't be a problem at all.
Related Articles:
iPhone "Save Image" Not Working, How to Fix?
Photos Didn't Transfer to New iPhone? Work It Out with Easy Solutions
Transfer Viber Messages to New iPhone [Including iPhone 15/14]
Contacts Didn't Transfer to New iPhone? 7 Flexible and Easy Fixes
Full Guide on How to Transfer WeChat History to New Phone