How to Transfer Text Messages from Motorola to Samsung?
What issues might we encounter when transferring messages from Moto to Samsung?
Lots of people tend to make the switch from Motorola to Samsung. In such a case, it is important that all our data be conserved and transferred with ease. We often have important text messages archived away; we need to be able to shift them to our new Samsung from our old Motos. Unfortunately, this process isn't always a necessarily smooth one;
- Text messages can't be transferred using Bluetooth, Wi-Fi Direct, etc.
- Although you can take screenshots of conversations, you cannot transfer an entire thread from your old inbox to new one.
- Even if you copy text messages and then send them to yourself via email, the information stored with the message like the sender, the date and time when it was received, its priority, its delivery status, etc is all lost.
- While it is possible to save some messages to your SIM card and then retrieve them after placing your SIM in your new Samsung, only a limited number of texts can be relocated in such a manner.
Coolmuster Mobile Transfer can help you out!
You need an easy-to-use app which will quickly and conveniently facilitate Motorola to Samsung text message transfer, and Motorola to Samsung Transfer fits the bill perfectly. With this app you can transfer any sensitive content from your old phone to your new one, like contacts, videos, music, photos, apps, call log, notes, and most importantly, TEXTS! As it is primarily designed for Android to Android transfer, it is ideal for your switch from Motorola (Motorola DROID RAZR, RAZR Mini, RAZR Maxx and ATRIX III)to Samsung Galaxy S7/S6/S5/S4, Galaxy Note 5/4/3, Galaxy Nexus, etc. It also supports iOS and Symbian phone systems. No need to worry about losing data now, everything will reach its new destination safe and sound.
Click the following buttons to get the Windows or Mac version of the program free trial to have a try.
Simple Way to Copy SMS Messages from Motorola to Samsung Galaxy
Step 1. Launch Motorola to Samsung Transfer
Download and install this phone to phone data transfer program on your Mac or Windows computer. With two USB cables, connect both the Motorola and the Samsung phones to the same computer. Launch the app and you will get the primary interface like below.
Step 2: Enter Phone to Phone Transfer
You will see three different options are shown on the screen. Click on the first one - "Phone to Phone Transfer". Then, you will see the two phones are placed side by side and get a list of all the transferable files for each phone.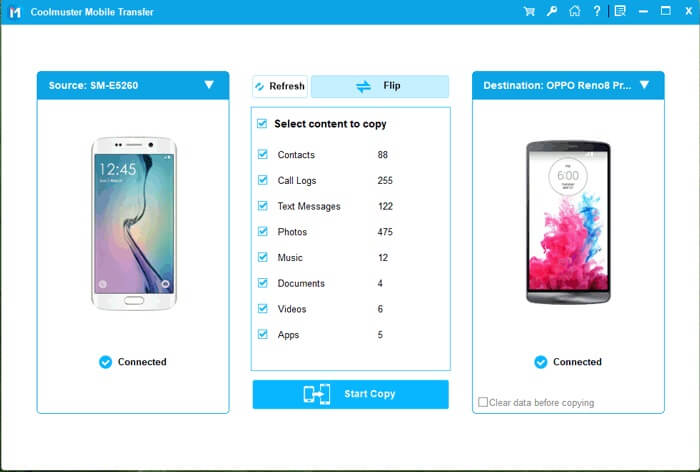 Step 3. Move SMS from Motorola to Samsung
Select the files you want to transfer. In this case, you will need to check the SMS option and then tick off the messages you need. Once you are done with your selection, click on the direction key to begin the SMS transfer.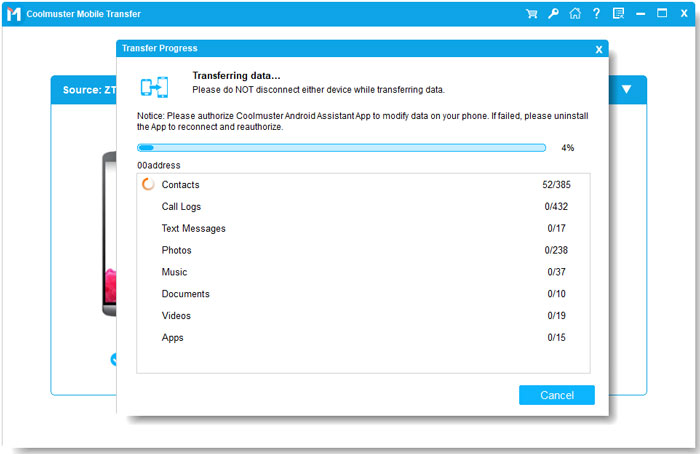 So there you have it, a great way to make sure your messages reach you safe and securely, from Motorola to Samsung!