When switching from an Android phone to a brand-new iPhone, you'll likely use the Move to iOS application to transfer your files. This app enables users to move photos, videos, contacts, messages, calendars, and more quickly from Android to iPhone. It makes data transfer hassle-free. However, you may notice your device displaying a low battery alert when using the Move to iOS application. Even charging the device does not seem to help.
If you've encountered Move to iOS low battery, you are certainly not alone. Despite being a useful application for quickly transferring files from Android phones to iPhones, errors like this occur. Don't worry. Continue reading to learn how to solve the problem easily.
Part 1. What Is the Minimum Battery Level for Move to iOS?
When using Move to iOS, you should ensure your device has enough charge to last till the transfer process finishes. The minimum battery charge your device should have is at least 20%. The transfer process can take longer, so having sufficient power in your device is ideal.
Furthermore, you need enough battery charge to prevent interruptions while transferring your files. Low battery alerts can interfere with the process and leave you in a tight spot.
Therefore, it is best to check the battery level before using Move to iOS and make sure you have enough charge for the entire transfer process. If your device does not have at least 25% battery left, we recommend charging it up to 80% before starting the transfer.
Further Reading: Answered: How Long Does Move to iOS Take? [Informative Guide]
Part 2. How to Solve Move to iOS Low Battery Issue
If you're still experiencing Move to iOS low battery issues even after charging your phone, you'll need to take manual steps to fix it. To solve this issue, you can try one of these common methods:
1. Ensure your Android has at least 20% of battery
The minimum battery level for charging an Android phone is usually 20%. Any percentage lower than this could bring issues while using the app. So keep an eye on its charge and use a reliable charger. Ensure your Android device is charged to at least 80% or higher by connecting it to a power source. Alternatively, you can keep it connected to a power source while using the Move to iOS application. Please avoid allowing the battery to drop below 20%.
2. Disable the low battery mode
When your device's battery runs low, it goes into low battery mode. This feature allows you to conserve power to enable it to run longer. But if maximum efficiency is what you're after, disabling this mode may be a smart decision.
To disable the low battery mode, head to your phone's Settings menu, then locate the Power Saving Mode. You can now turn it off when you find it. However, doing this can lead to your phone consuming more power.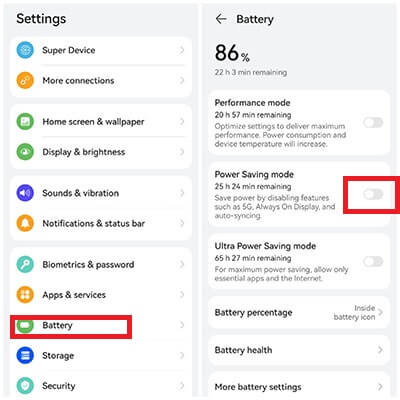 3. Check system settings
Ensure your system has all the necessary settings enabled for a seamless transfer. Double-check that WiFi, Bluetooth and Location services are activated and any battery optimization preferences to prevent Move to iOS from becoming restricted or optimized by your device's setup.
4. Update the app
Also, double-check that you have all the updated versions of both the Android and the Move to iOS app. This will help avoid any potential inconvenience due to known technical issues with your device.
5. Clear cache and data
If you're still having trouble using Move to iOS, try resetting the app and clearing your cache and data so that everything is fresh-starting. That should help get you back on track.
6. Reinstall Move to iOS
If you keep receiving low battery notifications despite having a fully charged phone, it could be due to software-related problems. Try to uninstall the app from your phone and then reinstall it. This step usually resolves most problems.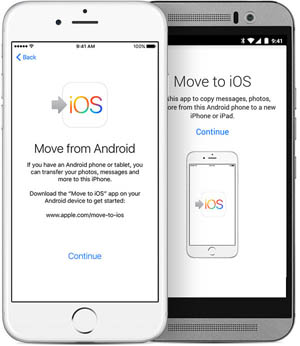 7. Restart both phones
If you're still having trouble with the low battery prompt when using Move to iOS, it could be due to network or connection errors. To fix it, try restarting your Android and iPhone devices and reconnecting.
To restart an Android, press then hold the power button for 5-10 seconds until the power menu appears. From there, select Restart to turn off and power on your device again.
For the iPhone, hold the side button for a few seconds until a slider shows. Drag it and wait for 30 seconds to shut down your device completely. Press and hold the side button to turn your device back on until the Apple logo is displayed.
You May Like:
[Fixed] How to Solve Move to iOS Not Working Issue
Move to iOS Transfer Interrupted? Repair It Now [Why and How Guide]
Part 3. Use Move to iOS Alternative to Transfer Data from Android to iPhone
Because of Move to iOS low battery issue, you could try using another app as a solution. One such app is Coolmuster Mobile Transfer, which can transfer your data from Android to iPhone, either all of it or just some of it.
Coolmuster Mobile Transfer works with Android and iPhone devices and allows you to manage your data regardless of the platform. It can securely move files from one platform to another. The best thing is that you can copy multiple files at once and move them to a different device in just one click.
This tool is designed to move data from your old device to your new iOS device. It allows you to transfer contacts, calendars, books, bookmarks, and other items between various mobile devices. Coolmuster Mobile Transfer can move contacts and documents from Android to iOS without any data loss. It is a one-stop process that does not involve storing data on a cloud server or a computer.
Key features:
You can transfer your contacts and eBooks, including ePubs from Android to iOS devices with just one click.
You can sync SMS, contacts, music, photos, videos, and OS to Android with just one click.
You can transfer data between different mobile phones without any data loss.
You can track transfer progress easily.
It is user-friendly and secure.
Widely compatible with Android and iOS devices.
How to use Move to iOS Alternative to transfer data from Android to iPhone:
01Install Coolmuster Mobile Transfer on Computer. Now choose the Mobile Transfer option from the list of options.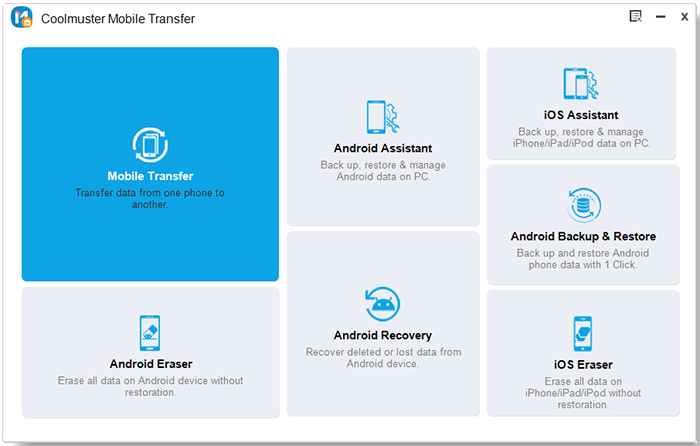 02Connect Android and iOS devices to the PC, and turn on USB debugging on your Android. Additionally, click the Trust option on your iPhone.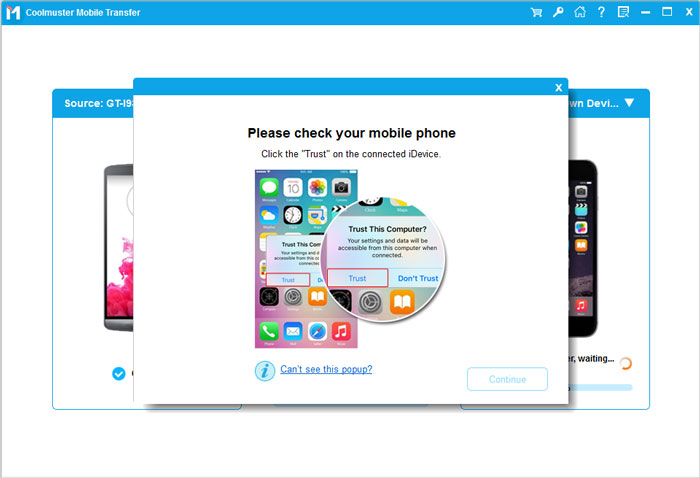 03Ensure that the Android device is the Source and the iPhone is in the Destination section. If they are not in the correct positions, tap Flip. Check the file to transfer and click the Start Copy tab to start transferring files from Android to iPhone.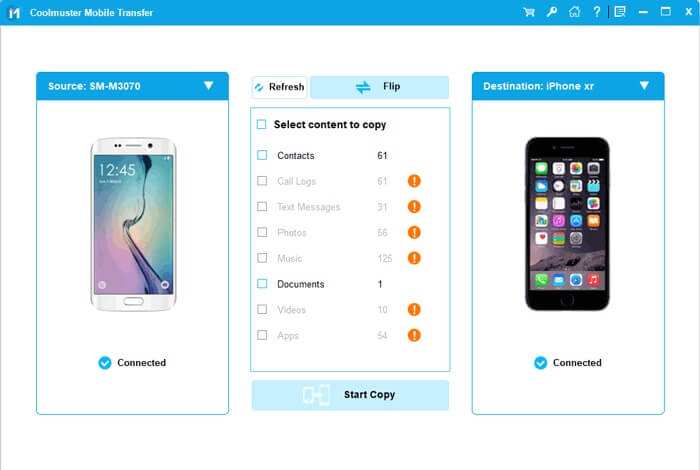 Learn More:
How to Move Data from Android to iPhone after Setup in 8 Proven Methods?
How to Transfer Files from Android to iPhone [Full Solutions]
Final Words
Now you know what to do when you get the Move to iOS low battery alert on your device. You can fix the issue by following the above-mentioned tips. Remember that a fast battery drain is a known issue when using this app. So, make sure the battery is charged properly before starting.
Furthermore, you have a wonderful Move to iOS alternative app, Coolmuster Mobile Transfer to transfer your contacts and eBooks without a hassle. It's faster and more user-friendly. What's more, you will not get low battery alerts on your device because it does not consume a lot of power on your devices.
Related Articles:
Why Is Move to iOS Taking Forever? Fix It and Make the Data Transfer Faster
How to Fix Move to iOS Unable to Migrate Issue without a Hitch?
How to Transfer Photos from Android to iPhone Wirelessly [Guide in 2023]
5 Best Methods to Transfer Contacts from Samsung to iPhone
How to Transfer Contacts from Android to iPhone? 4 Ways for You
App to Transfer Data from Android to iPhone Smoothly - 10 Top Options