Top 5 Similar Apps to Move to iOS: Makes Android to iOS Transfer A Simple Task
When people are buying a new iOS device, there are many different things that they may need to do before getting started. Even though an iOS can be a very friendly device to use, some functions are only available at the time of the initial set-up. With this in mind, it is very important that people who buy an iOS device know that they will only have the capability to move their apps from their old devices during set-up. Specifically, when the user would like to move some or all of their Android apps to an iOS device. That's why Move to iOS app and other apps like Move to iOS occurs.
Part 1. What is "Move to iOS", and What Does It Used for?
Typically, one of the best ways to move apps from an android to any iOS device is to use the Move to iOS app, which has been provided by Apple. This app is designed to:
1. Allow the user to move all of their photos, contacts, and their Gmail from android to iOS.
2. This can easily be done by following a step by step guide that has been designed to make this process simple to do for virtually anyone.
3. The only catch to using the Move to iOS app is that this functionality does not work if the user has already customized their settings for its initial use.
4. It is also important to note that this app has been made to work on Android Devices that have the operating system of Icecream Sandwich and later.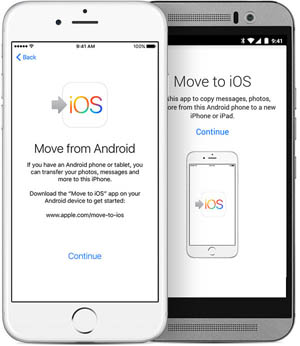 Actually there are many other good phone to phone data trasnfer programs that are similar to "Move to iOS" that can help you transfer files from your Android to iOS devices like iPhone, iPad and iPod touch. Given below is a list of top 5 apps like "Move to iOS" that can help in transferring data from Android to iOS:
Part 2: The Best 5 Apps Like Move to iOS
SHAREit
SHAREit can be described as an app that is free people to use. It has been developed by Lenovo for a number of different reasons. In fact, people who use this app can do a variety of functions including transfering apps from their old Android device to an iPhone. The most common apps that people usually transfer include the users music, video, and photos. No need for a user to be sitting a desktop computer to perform these transfers. With the functionality that this app provides, people access a hot spot and still have incredible transfer speed.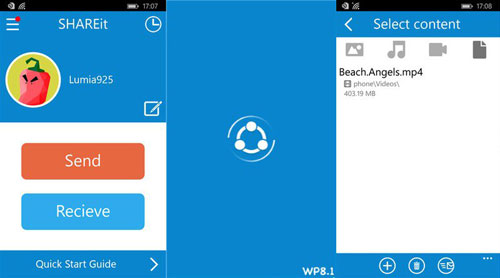 Read More:
Top 3 Phone Cloning Software of 2017
Top 5 Samsung Backup Software in 2017
Dropbox
Similar to the Move to iOS app, Dropbox is an additional great option to move apps an android device to IOS. It is ideal for numerous reasons, including being a cloud-based service that people use all of the time. As far as transferring apps from an android to an iOS, this solution will give the user the capability to move files to a drop box folder prior to transferring the apps to an IOS device. Once the transfer has started, the next step for the user is to ensure that all files are synced correctly.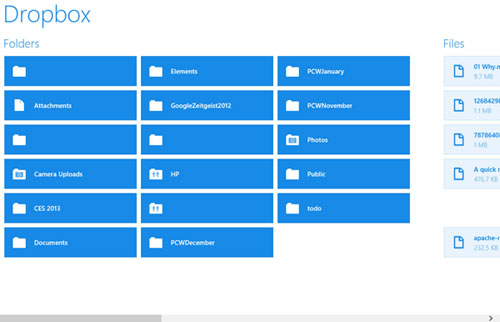 Xender App
Xender is another great tool that can be used to make these file transfers too. Some people like this tool because it is free for use so there is no cost tied to file sharing and file transfer functions. This app has been designed to enable each user to transfer apps from either Android or iOS based. The benefit of this application is that the user can make the app transfers without the need of Wifi. Users can transfer all of the apps, music, photos, contacts and their videos at any time. To make the process easy and simple to do, all the user has to do is create a transfer group on their devices. In fact, if the user chooses to do so with this app, they can even transfer apps to 5 different devices at the same time.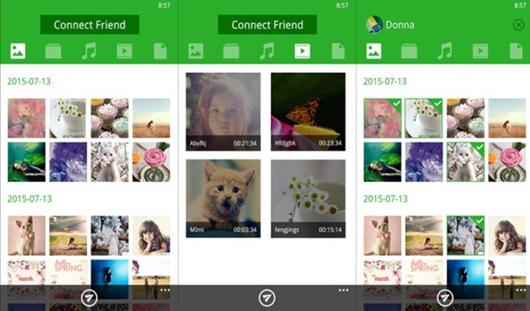 Wireless Transfer App
This Wireless transfer app is also available for those who want to use it for their specific needs and purposes today, and it is important to note that this app is available free. This app can be used to transfer apps from Android devices to Iphone so it is ideal for those who are switching from an Android device to an iPhone. However, before the user begin its usage, it is important that everyone knows that the functionality will only allow the user to transfer their videos and photos from one of these devices to another. So, for those who are interested, you should know that the functionalities are limited.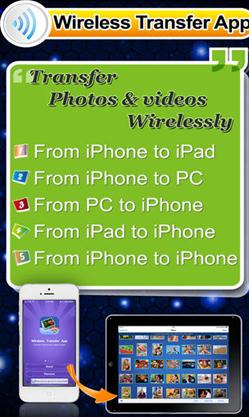 Phone Transfer App
Unlike other transfer applications in the industry, AnyTran offers a huge advantage. Especially because it is a comprehensive tool. One in which will allow its users to transfer virtually any file from Android to iPhone. This software will also allow the user to make the transfer in just one click. So, for those users who want to transfer their apps from their old Android device to their new iOS device, they may want to start by transferring all of their contacts, photos, videos, calendars and much much more.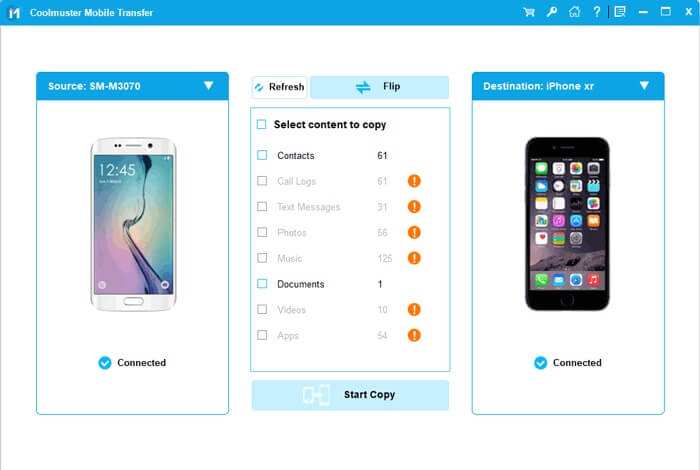 Related Articles:
How to Transfer Contacts from One iPhone to Another
How to Transfer Content/Data from Samsung to Samsung
How to Export Sony Apps to Google Nexus