For you who would like to acquire a new iOS device, you need to look at how you can move data from your old device to brand-new iOS, especially if you are using an Android device. To help fix this issue, Apple developed a data transfer application called Move to iOS. This app grabs your account info from your Android and copies it to your iPod, iPad or iPhone. Note that this method can only be used when setting up your new iPhone.
However, it doesn't mean the app is perfect because many users complain that Move to iOS is stuck on calculating time remaining problem while using it every year. You may not have imagined what to do when you suddenly receive a Move to iOS calculating time remaining error notification on your screen when transferring your data from the old Android device to your new iPhone. This article will discuss Move to iOS time remaining estimating error fixes to assist you in transferring your data successfully.
Part 1. Different Ways to Solve Move to iOS Stuck on Calculating Time Remaining Error
You need to note that most errors that result in getting stuck while moving data using a particular application are usually related to the phone's Internet connection. It would be best to have a stable internet connection while transferring data between devices. Ensure that your Wi-Fi does not get disconnected under whatever circumstances. Also, while transferring your data, it is paramount to ensure you do not receive any calls when using the devices, or perform any other job, not even when in sleep mode. The section below will discuss how to keep your Wi-Fi stable throughout the process and how to solve issues such as Move to iOS says 13 hours.
Further Reading:
How to Fix the iPhone Transferring Data Stuck Issue Effortlessly? 14 Quick Tricks Here
Is Android Phone Stuck on Boot Screen? Repair It via Effective Tricks
Solution 1: Switch On Airplane Mode
Switching on airplane mode on your phone helps you prevent distractions from interrupting your data migration process. Here is how to do it in the fastest manner:
Step 1. On your home screen, swipe down twice to open Quick Settings.
Step 2. On the grid, look for a feature named Airplane mode.
Step 3. Tap on it. Switch on your Wi-Fi connection while the Airplane feature is still on.
Step 4. If you can't find the toggle, swipe sideways. This will enable you to access more icon.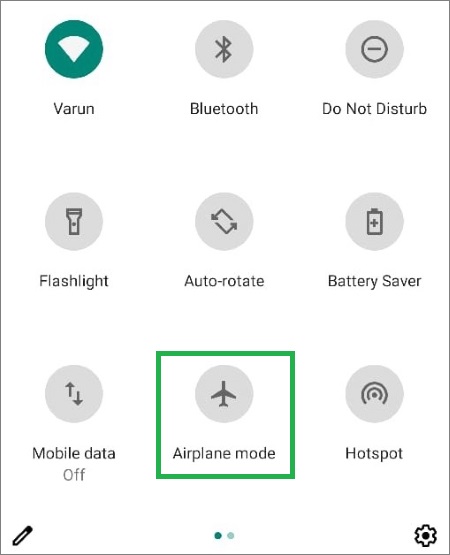 Solution 2. Maintain Wi-Fi Connection
If your Wi-Fi gets disconnected, Move to iOS stuck on transferring error message will pop up. Please ensure that your Wi-Fi connection is stable.
Step 1. From your Home screen, hit the application icon, find Settings, and tap it.
Step 2. Tap Wi-Fi under the Wireless and Networks menu.
Step 3. Hit the menu symbol at the upper right corner, select Advanced and then adjust the Keep Wi-Fi On During Sleep feature to Always.
Step 4. If your cellular data is on and you face this issue, it is recommended that you disable the Auto-connect feature.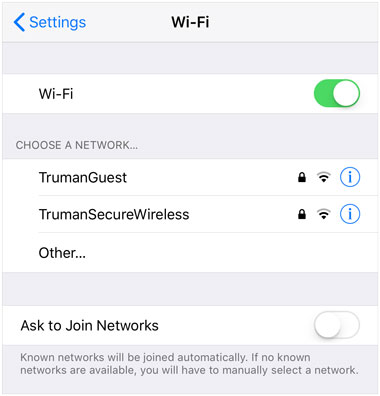 Solution 3. Update Your Firmware
Experiencing Move to iOS stuck on calculating time remaining problem on your devices can be frustrating, but you're not alone. Many other users have likely encountered this issue before, so don't worry. Updating your firmware through Over-The-Air (OTA) could help solve the problem and get you back in business. It helps distribute software updates to keep everything running smoothly. Follow the below steps for an effortless upgrade experience and fix Move to iOS calculating time remaining problem:
Step 1. Open the phone Settings application and navigate to Software Updates.
Step 2. Select the Download updates automatically option.
Step 3. Select the latest update available.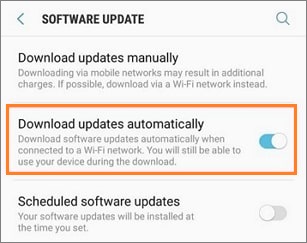 Solution 4. Turn Off Wi-Fi Power Saving
Sometimes, your connection to Wi-Fi may get disrupted, or you might have already realized that your device doesn't connect to Wi-Fi networks occasionally. Your device may also appear connected to your Wi-Fi network but doesn't access the internet. This might have been caused by a Wi-Fi Saving feature, usually enabled by default. Turning it off may help fix the issue you're facing here. Below are the steps to do so:
Step 1. Go to the phone's Home screen.
Step 2. Touch and hold down the Wi-Fi icon.
Step 3. Tap Settings (represented by the gear symbol in the notifications panel).
Step 4. Tap Menu (the three dots at your upper right corner), select Advanced, then select Wi-Fi Power Saving (the feature will turn off once you tap it).
Step 5. Restart your device.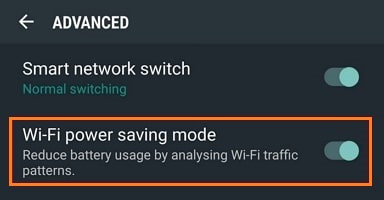 Solution 5. Use Your Mobile Network Instead of Wi-Fi
If you're still getting Move to iOS stuck on calculating time remaining error message, it's time to try using your mobile data connection instead of your Wi-Fi network. This will help you determine if the issue is due to a problem related to your wireless network. Follow the below simple steps to turn on your mobile data:
Step 1. On your home screen, swipe down twice to open Quick Settings.
Step 2. On the grid, look for Mobile Data and turn it on by tapping on it.
Step 3. Switch off your Wi-Fi connection.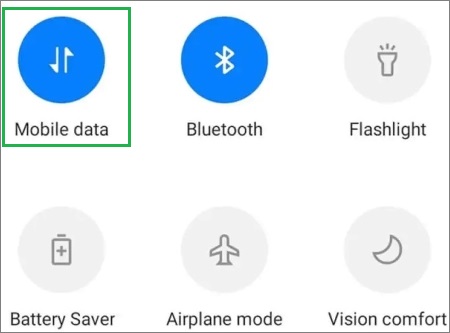 Part 2. Best Move to iOS Alternative
The Move iOS application is challenging to use, and many users have reported issues with the app. It doesn't transfer all data and can skip important information like calendar events, messages, and contacts. Additionally, the app frequently stops or crashes when being used. If you've had a bad experience with Move to iOS, consider trying one of its best alternatives. If you're looking for the easiest, most hassle-free way to move data from an Android to iPhone, Coolmuster Mobile Transfer is your best bet.
With Coolmuster Mobile Transfer, you can effortlessly and securely share data between iOS and Android devices. It works well with iPhone, iPad, iPod, Samsung Galaxy S/Note series phones and more. It also supports the latest versions of both operating systems (iOS 16 & Android 11). This software allows fast transfers without any worries about overwriting the existing content.
Key Features:
Supports to transfer data from an Android device to iOS.
Transfers videos, music, calendar, notes, contacts, SMS, photos, etc.
Works well with the latest Android & iOS versions.
Swift, stable, simple and secure process.
Below are some simple steps to move data from an Android device to iOS using Coolmuster Mobile Transfer:
01 Download and install Coolmuster Mobile Transfer. Launch the application and connect your devices to your PC using USB cable. Click the Mobile Transfer option from the available choices on the Coolmuster Mobile Transfer interface.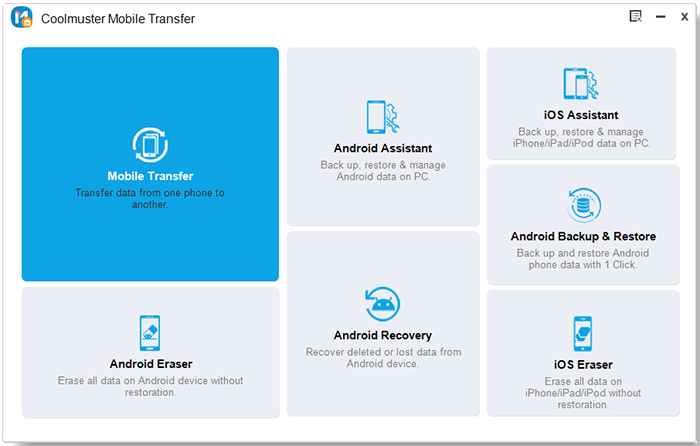 02Confirm that the devices are arranged correctly. Your Android phone should be set as the Source device, and the iPhone should be set as the Destination phone. If they are not connected in the right way, click on the Flip button to interchange their positions.
03Select all the data you want to move. In this case, the program supports the transfer of Documents and Contacts. Click the Start Copy button to begin transferring your data from your Android to your new iPhone.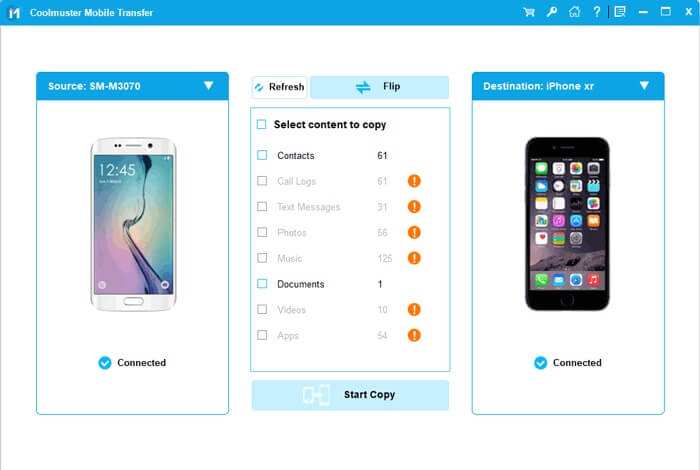 Learn More:
3 Easy Ways to Transfer Your Calendar from Android to iPhone
How to Transfer Photos from Android to iPhone 14/13? [4 Methods]
Part 3. Other Apps to Move Data from Android Device to iPhone
Below are some more applications you can use to move data from an Android device to iOS:
1. MobileSync
If you are switching from an Android device to iPhone, consider using the MobileSync application since it offers a convenient way to transfer data without cables but using Wi-Fi and Bluetooth technologies. However, setting up the wireless connection may be tricky for some users, despite its popularity among many.
2. Phone Copier
Phone Copier is an innovative app that effortlessly transfers data between your phones. Rather than using the tedious and time-consuming Move to iOS app, Phone Copier helps simplify and expedite the process.
3. Xender
Xender makes transferring and sharing files simple, quick and completely free. It lets you easily send data from an Android device to an iOS device without cables or an internet connection. It also allows you to send anything from contacts to apps in seconds. All it takes is to keep the devices close to each, create your transfer group, and enjoy effortless file-sharing.
4. SHAREit
Lenovo developed a free application, SHAREit, that allows users to share files such as videos, music, and photos. The app works without an internet connection but requires both devices to be connected to the same Wi-Fi network. SHAREit creates its Wi-Fi hotspot, providing fast file transfer speeds.
You May Like: [Review] Top 10 Move to iOS Alternatives to Switch from Android to iPhone
Conclusion
Move to iOS data transfer process is time-consuming and sometimes gets stuck on the move to iOS stuck on calculating time remaining error. But there are other applications you can use to move data from an Android device to iPhone without having to worry about the issue. All the apps mentioned above support transferring data from an Android device to an iPhone. However, if you want to avoid Move to iOS completely, Coolmuster Mobile Transfer is the best bet. It is easy to use. With the help of this app, you will be able to enjoy a hassle-free transfer process without interruption in no time.
Related Articles:
Why Is Move to iOS Taking Forever? Fix It and Make the Data Transfer Faster
How to Fix Move to iOS Unable to Migrate Issue without a Hitch?
[Fixed] How to Solve Move to iOS Not Working Issue
Move to iOS Transfer Interrupted? Repair It Now [Why and How Guide]
[2023 Newest] Switching from Android to iPhone: Ultimate Guide
How to Transfer Files from Android to iPhone [Full Solutions]