Part 1: Why People Choose Alternative Tool to Replace PhoneCopy?
Does PhoneCopy Live up to the Hype That Surrounds It?
When PhoneCopy was first introduced on the market, there was a lot of hype surrounding it, making many people question if it really lived up to it. PhoneCopy is still being promoted as a versatile, reliable, and easy way to back up data, such as photos, SMS, and contacts. It is mainly geared toward those individuals who have a new phone and need to make a transfer of data or need to synchronize data to more than one device.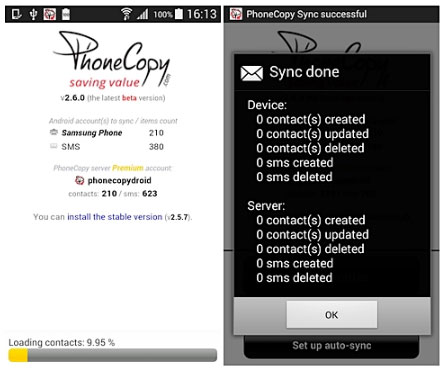 Although these are really good features, PhoneCopy is quite limited when compared to other tools that fall into the same category. Not only that, but many of the reviews that it has received from consumers reflect that it does not really provide an easy process when it comes to conducting transfers, because it take a lot of time and there are errors present in some instances; therefore, numerous users have come to the conclusion that it is not really worth it.
This is why countless consumers have opted for alternatives, such as the Coolmuster Mobile Transfer.
Part 2: PhoneCopy Best Alternative: Mobile Transfer from Coolmuster
Coolmuster Mobile Transfer, this particular tool, which has been designed for both Windows and Mac, has been referred to as an outstanding option that can aid you to move data from one device to another at a rapid pace in three easy steps, without any issues. It does not matter if you are utilizing an iOS or Android or Symbian tablet/phone. Contrary to popular belief, opting to just format a phone does not mean data will be permanently deleted. So, in addition to phone to phone transfer ability, Coolmuster Mobile Transfer can aid you in this area to ensure that everything is deleted once and for all. It can also backup and restore phone data on computer in one click.
Three Simple Steps to Conduct Phone to Phone Transfer with Mobile Transfer:
Step 1. The first step consists of downloading the Coolmuster Mobile Transfer software for either Mac, or Windows PC. After doing so, you should launch it and then connect both devices utilizing USB cables.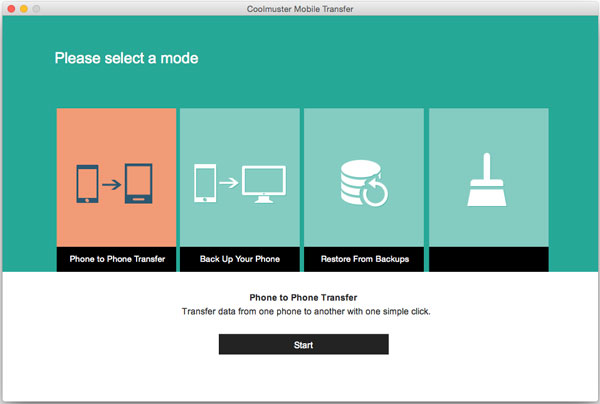 Step 2. In the second step, you should turn the main interface of the device to device transfer tool. Click on the 'Phone to Phone Transfer' mode in order for this PhoneCopy alternative tool to detect both devices and then show them next to each other on your screen.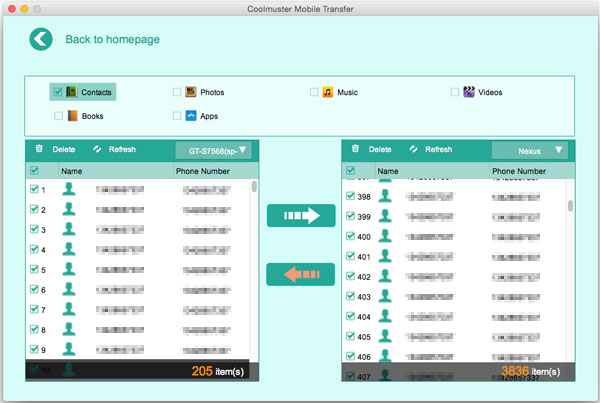 Step 3. The third step consists of selecting the data that you want to transfer from one device to the other and then clicking on the icon 'transfer'. Once the process is completed, you can go ahead and disconnect both devices from your computer.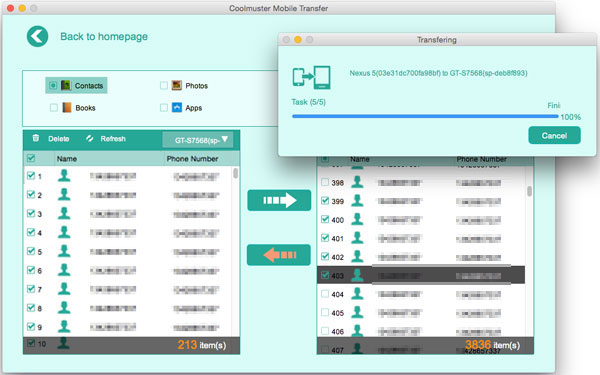 By following the user guide above, you would be able to use PhoneCopy alternative program - Coolmuster Mobile Transfer without much trouble.
Related Articles:
Copy Data between two HTC One/Desire HD/Wildfire
5 Best Methods to Transfer Contacts from Samsung to iPhone