Every day, countless photos are uploaded on Instagram without even taking into account the countless others shared on other social media platforms or those that are never posted. The number is indeed mind blogging. With the large number of photographs we take daily, finding ideal online storage to keep them is necessary.
If you have switched to Apple or do not like Google since it started limiting the previously unlimited storage, you may consider transferring your pictures from Google Photos to iCloud. This article will guide you on how to transfer Google Photos to iCloud quickly and safely.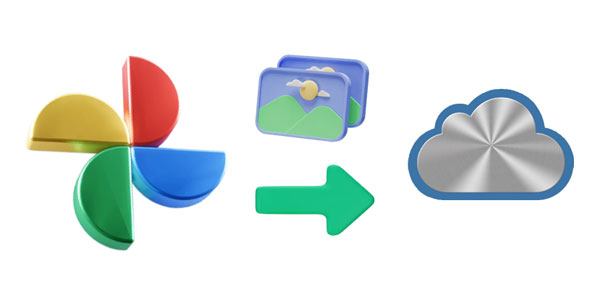 Part 1: Can I Transfer Google Photos to iCloud?
Google Photos is a great service that allows you to store and organize your photos. However, moving Google Photos to iCloud can be tricky but not impossible. Luckily, there are a few ways to move your snaps from one platform to another.
One way to achieve that is to download the pictures to the computer and upload them to iCloud. Another possible way is to use an application such as Google Takeout, which allows you to export all of your photos in a zip file format and upload them to iCloud after unzipping them. This is a great option if you have a lot of photos to transfer and don't want to do it manually.
Also, there is a Google Drive application to make your work easier. The app lets you create, keep and share your files, like documents, pictures, videos, etc., online. With Google Drive, you can easily access your files anywhere and anytime, even if you don't have an internet connection.
Part 2: Why Move Google Photos to iCloud
Google Photos is your go-to storage solution for all the photos and videos that are important to you. Not only can they be transferred from PCs or phones with utmost efficiency, but users can also utilize the many amazing features of Google Photos, from online editing tools to convenient sharing options that will meet the user's needs.
Apple's iCloud is an incredibly useful cloud storage tool that lets you store photos, documents, audio files, and more in the cloud. Even better, it allows you to set up automated syncing across your Macs, Windows computers, and iPhones, thus saving you time and energy.
You may therefore want to transfer photos from google photos to iCloud because iCloud offers native service whereby its Camera Roll is connected to iCloud Photos. This means that when you post your picture on social media, you will find it in iCloud Photos.
If you wish to transfer photos from Google Photos to iCloud, it's likely the right choice. This is because using iCloud provides a built-in service where its Camera Roll is connected with the iCloud photos. Whenever you post on image social media, it can also be found in your iCloud Photo collection.
Moreover, iCloud Photos gives users quicker and more efficient photo management. Whether you want to access your images on a desktop or edit any photographs on your smartphone, this incredible feature allows that. Your edits will be synced automatically.
Although both Google Photos and iCloud offer wonderful features, some users are deterred by the storage limit of Google Photos. If you're looking for an alternative cloud storage service, moving from Google Photos to iCloud may be a good option. But how to move photos from Google Photos to iCloud? Keep reading to know more.
You might like: Google Photos vs iCloud: Is Google Photos or iCloud Better?
Part 3: How to Transfer Google Photos to iCloud via Google Takeout
How to transfer photos from Google Photos to iCloud? Instead of downloading your photos from Google Photos one by one, quickly export them all using the user-friendly service called Google Takeout. Tailored to help users access their data stored in various locations such as Drive and Photos, this expedient app lets you easily transfer many files with no hassle.
Google Takeout is developed by Google to offer a seamless photo transfer from Google Photos to iCloud. This outstanding tool supports transferring various data files linked with Google services such as Calendar, Chats, and more. So, if you are wondering how to move Google Photos to iCloud, here are the steps:
Step 1: Head to Google Takeout on any of your PC's browsers. Sign into your Google account using the correct information. Now scroll down to "Google Photos" and tick the box next to it.
Step 2: Find the icon for "Next step" at the lower right part of the screen and tap on it. A page will display on the screen. Choose "Export once", then change the "File type & size". After that, click "Create export".
Step 3: Then the Google Takeout app will move the photo to your PC's local Drive, and you will receive a confirmation email that your data will be sent to your mail. Finally, go to iCloud on the PC, sign into your iCloud account then sync the pictures to iCloud.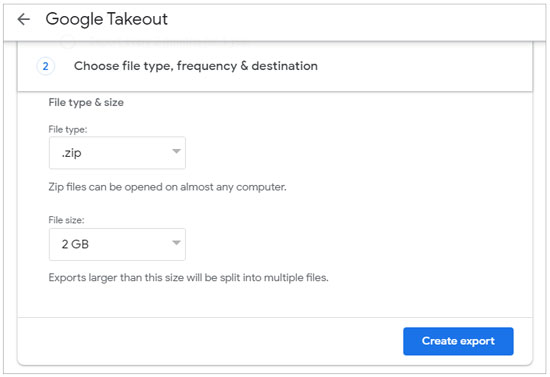 Learn more: [Solved] 5 Ways to Convert HEIC to JPG in Google Photos
Part 4: How to Move Google Photos to iCloud through Downloading and Uploading
If you have only a few images to transfer from Google Photos to iCloud, there is a straightforward method that you can use. First, download the files on your device, then upload them manually. Follow the below steps:
Step 1: Go to Google Photos, then log into your account. Find the pictures you wish to move from Google Photos to iCloud. Select all of them, tap on the three dots menu at the upper right of the screen, and click the "Download" button.
Step 2: Also, you can press the Shift + D keys on the keyboard. Doing this will download the pictures to the PC.
Step 3: Now, head to your iCloud on the web and select the "Photos" icon. Tap on the "Upload" icon at the top to upload the downloaded photos from Google Photos.

Guess you need: How can you move your photos from Google Pixel to a computer? You can refer to these 5 easy methods.
Part 5: How to Transfer Photos from Google Photos to iCloud on Mac
How do I move my photos to iCloud with a Mac computer? Actually, it's simple as well. However, before you go ahead, you should download the pictures from Google Photos on the Mac and then drag them to iCloud. Here is how to download pictures to a Mac computer:
Step 1: Open Google Photos in a new tab on Mac. Look for the folder with photos. To choose many images at once, press and hold the command key, which is just beside the space bar.
Step 2: Now tap on the three-dot menu at the upper right, choose the option to download, and choose the location.
Step 3: Open the Photos application on Mac. Drag the downloaded pictures from the download folder to iCloud.
Step 4: Once you open the photos app, head to "System Preferences" > "iCloud", and ensure you've turned on the iCloud Photos option. Then you will successfully export Google Photos to iCloud on Mac.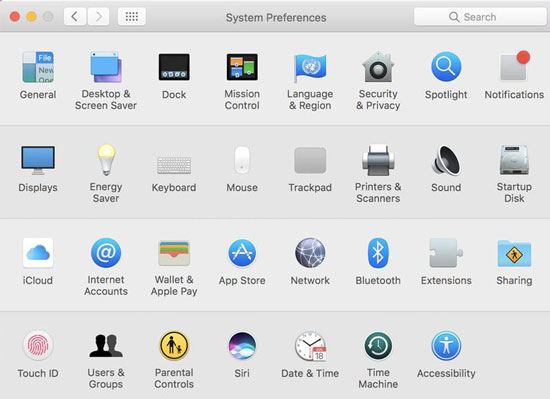 Read also: It is easy to move photos from a computer to an iPhone if you know these approaches.
Part 6: How to Transfer Pictures from Google Photos to iCloud on iPhone
How do I move my photos to iCloud using an iPhone? If you have an iPhone, it's also easier to migrate Google Photos to iCloud. Here is how:
Step 1: On iPhone, open the Google Photos application. Head to the albums in your Google Photos to find the pictures there. Press and hold on to a picture to choose it; you can also take multiple photos.
Step 2: Click on the "Share" icon located at the upper part of the screen. It's a square with an up arrow. Then choose "Save Images". Your photos will now be downloaded to "Camera Roll".
Step 3: To access the images you downloaded from Google Photos, open the iPhone's Photos app. To ensure that all of your photos are synced across iCloud, turn on "iCloud Photo Library".
Step 4: To enable "iCloud Photos" on your iPhone, open the Settings app and head to "Photos". If the toggle is off, switch it on; if it's already turned on, leave it as is.
Step 5: You are presented with two options: Optimize iPhone Storage or Download and Keep Originals. If you'd like to save space on your device, select the "Optimize iPhone Storage" option; this will store low-resolution versions of the photos while iCloud retains the originals.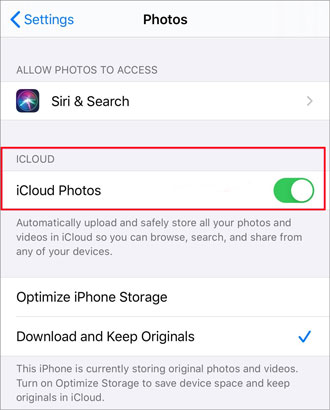 Bonus Tip: Directly Transfer Android Photos to iPhone
If you plan to switch to Apple but are concerned about the memories stored on your Android device, we have just what you need. Photo Transfer is the ultimate software for transferring data from Android to iPhone devices. It's a professional tool that can directly transfer files like photos, contacts, and other media files between iPhone devices and Androids in just one click.
Key Features of this transfer tool:
* Smoothly transfer Android photos to an iOS device and vice versa.
* Allow you to transfer videos, audio files, and other media data at once.
* Copy Android contacts to an iPhone easily.
* No file or quality will be lost.
* Support popular Android phones/tablets and Apple devices.
Download this phone transfer software.
Steps to transfer photos directly from Android to iPhone:
01Install the app on the computer you will use. Then connect both devices to it with USB cables. After launching the program and the device, you'll see the connection between the devices.
02Tick off the "Photos" option, and click "Start to copy" to begin transferring your photos. Once done, you will receive the pictures on your iPhone.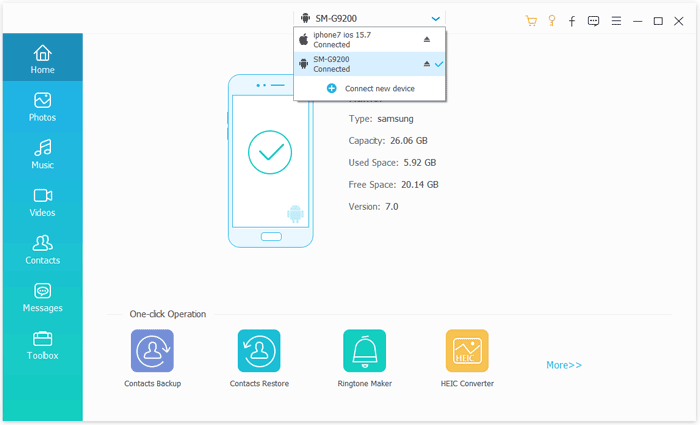 Conclusion
If you want to migrate your Google Photos collection to iCloud, the methods outlined above will make it a simple process, regardless of whether you use a computer, phone, or tablet. Besides, to directly transfer your photos from Android to iOS, use Photo Transfer. This tool will help you copy your phone data without cloud servers.
Related Articles:
Top 7 Solutions to Fix iCloud Photos Stuck at 1%
[Solved] How to Sync Photos from iCloud to Android in 3 Flexible Ways?
How to Back Up iPhone Contacts to iCloud? (Ultimate Guide)
How to Recover Photos from iPhone without iCloud [With Tutorial]
iCloud Backup Failed | iPhone Not Backing Up to iCloud (12 Fixes)
How to Recover Deleted Photos from OnePlus 10 Pro/9 Pro/8 and More