Switching from Android to iPhone can be exciting. iPhones offer a lot of features and capabilities that Android phones don't. First, iPhones have a streamlined user experience with easy-to-use apps and intuitive controls. The large selection of high-quality apps available in the App Store makes it simple to find the right app for whatever you need. Additionally, Apple's iOS operating system has been continuously updated over the years, so your switch will be worth it.
However, the problem comes when you want to transfer photos from Android to iPhone wirelessly. Since these devices operate on different platforms, transferring files between them can be challenging. To help you, we've created this comprehensive guide detailing the simplest ways to transfer photos to an iPhone from your Android. Every approach is explained well so you can find it easier to successfully move your precious pictures to the new iPhone.
Way 1. Transfer Photos from Android to iPhone Wirelessly Via Email
One of the most convenient ways to transfer photos from an Android to an iPhone is via email. You only need to connect your devices to an internet connection and start your transfer process. Though an Email is an uncomplicated and practical solution for transferring photos from Android over to an iPhone, it comes with limitations.
First, you can't send pictures of over 25MB in a single mail. This means that large-sized photos can't be sent through email. Besides, you will have to send multiple emails if you have many images, which can be tiring and time-consuming. Secondly, you manually choose the pictures to send. Even if you have to send multiple photos, you will have to attach each photo one by one individually.
Here is how you can migrate pictures from Android to an iPhone using email:
Step 1. Open the Email application on your Android and tap "new message." Enter your email to send the photos directly to your email account.
Step 2. Now attach the photos you want to share with your iPhone by clicking the paperclip. Once you have chosen the required photos, they will be attached to the Email ID so you can access them on your iPhone.
Step 3. Now click on the "Send" button to transfer the attached files.
Step 4. Open your iPhone's Email app and login if you haven't. From there, you'll be able to access the files sent from Android; you only need to download them to your device.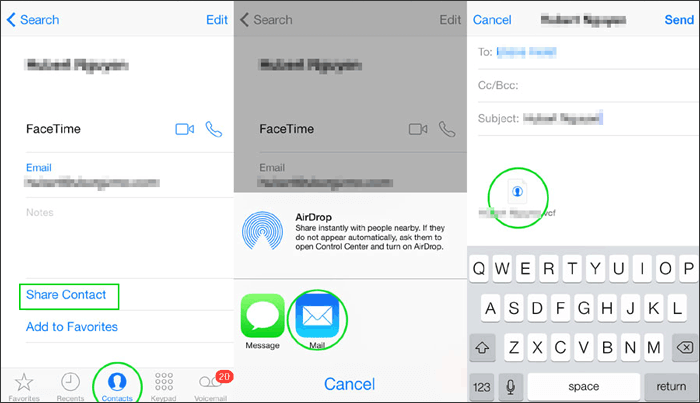 See more:
How to Run iPad Apps on Android Phone/Tablet?
How to Sync Android Calendar with iPad Easily and Safely?
Way 2. Transfer Android Photos to iPhone Wirelessly Via Google Photos
Another great way to move your photos to an iPhone is through Google Photos. It's one of the secure ways to get your Android photos to iPhone. With its easy-to-use interface, transferring pictures will be very easy. Google Photos simplifies the process of syncing photos across two phones signed into a single Google account. You have to upload pictures from an Android to your Google Photos and then save them on an iPhone.
Here is the step-by-step process:
Step 1. Open Google Photos application on your Android, then log into the Google account.
Step 2. Click on your Profile at the upper-right corner of the page, and choose "Original quality."
Step 3. Your photos and videos will be automatically saved to Google Photos on Android to the cloud. The backup process can take some time; wait for it to complete.
Step 4. Download Google Photos application onto your iPhone, and log in using the Google account credentials used on the Android. Afterward, find the Photos tab to access all of the images imported from the Android phone.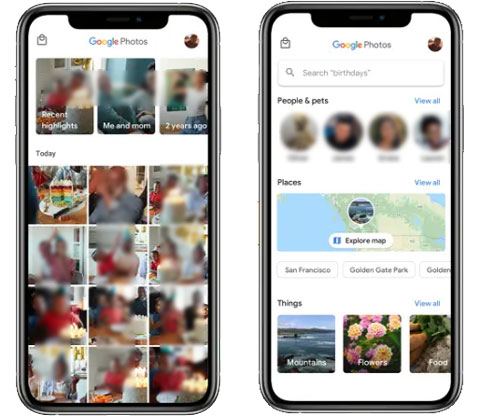 If you wish to keep your newly transferred pictures on your iPhone, select the desired images and press the "Save to device" button. This will put them directly onto your Photos app so you may access them at any time.
Way 3. Transfer Photos from Android to iPhone Wirelessly via SHAREit
For an effortless transfer of Android images to iPhone, SHAREit is the perfect solution. This acclaimed file-sharing application offers an easier way to move files between Android and iPhone.
Boasting lightning-fast transfer speed and remarkable features, SHAREit has been ranked as one of the best third party apps to move files between phones. This is confirmed by the millions of people who have already downloaded this app.
It doesn't rely on mobile data, since it creates its hotspot network to transfer files. With such convenience and effectiveness, SHAREit will be your go-to option for all of your file transfer needs. You'll need to install the SHAREit app on both devices first. Here are the steps:
Step 1. To begin, install the app on both of your devices. Then, connect the Android and iPhone to the same Wi-Fi network and launch it on both devices.
Step 2. Next, press "Next" to open a window that displays all files on your device classified into various categories.
Choose the pictures you wish to transfer to your iPhone. When you've picked all of them, hit the "Send" button to start the process.
Step 3. Open the SHAREit application of your iPhone and choose "Receive" from the screen.
Open the app on your iPhone and select "Receive" from the menu. When the sending device identifies the receiving one, click its icon to transfer your photos.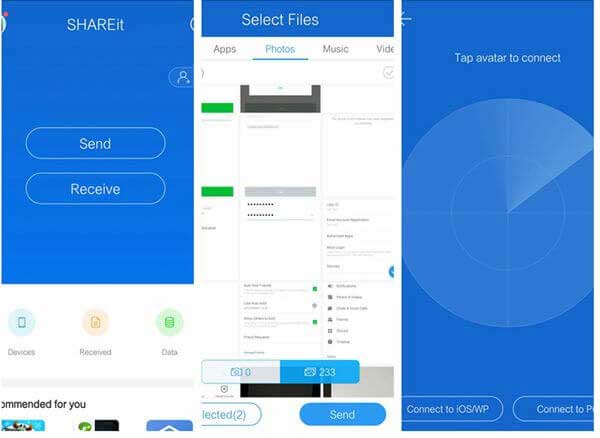 In moments, you can see all the selected pictures have been moved to an iPhone.
You may like:
How to Sync Samsung Phone to iPad Pro/Air/4/mini/2
How to Sync Android Phone with Tablet (iPad & Android Tablets)
Way 4. Transfer Pictures from Android to iPhone Wirelessly Via Dropbox
One of the most convenient ways to transfer photos from the Android device to an iPhone is with Dropbox. With this free file-sharing app and cloud storage service, you can simply upload your photos from an Android device to a folder in Dropbox and then access them on your iPhone.
Since it's a cloud service, it's safe to keep your precious pictures there and access them whenever you want. However, it has little storage space, so you must buy more space when you want to keep many images.
Here's how it works:
Step 1. Open the Dropbox application on Android and choose "Settings" to change the backup settings.
Step 2. After activating the settings, ensure you allow the "camera uploads" when you're done choosing the "sync contacts" option. This will ensure that your photos are synced with Dropbox automatically without needing you to do anything manually.
Step 3. To transfer files to your iPhone, simply tap on the "+" icon and choose the desired photos.
Step 4. Install the Dropbox application on your iPhone, then sign into your account. It should be the same as used on an Android phone. You can download the photos you've uploaded from your Android device to an iPhone.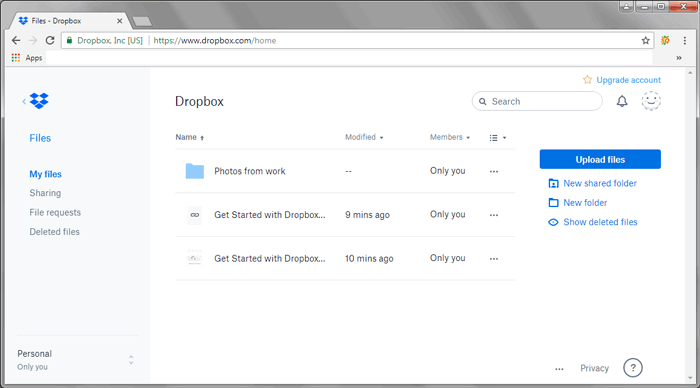 Way 5. Transfer Photos from Android to iPhone Wirelessly With Google Drive
Google Drive is a secure, cloud storage solution for those who have a Gmail account. Users can keep their files, such as photos, in the cloud and access them easily on any device with the same account. The 15 GB free storage space is more than enough for most users to store their pictures.
Follow the steps below to transfer Android pictures to an iPhone wirelessly via Google Drive:
Step 1. First, ensure Google Drive is already downloaded on an Android device. If not, you can get it from the Play Store and download it. Head to "Gallery" on your Android, choose the images you want to transfer and click the "Share" button. Finally, select "Share via Drive." Your pictures will be uploaded to Drive instantly.
Step 2. Next, download Google Drive on your iPhone. Launch it and sign in to the Drive using the Google details used on Android. Once logged in, locate all uploaded media files (Photos) and choose either "Save Image."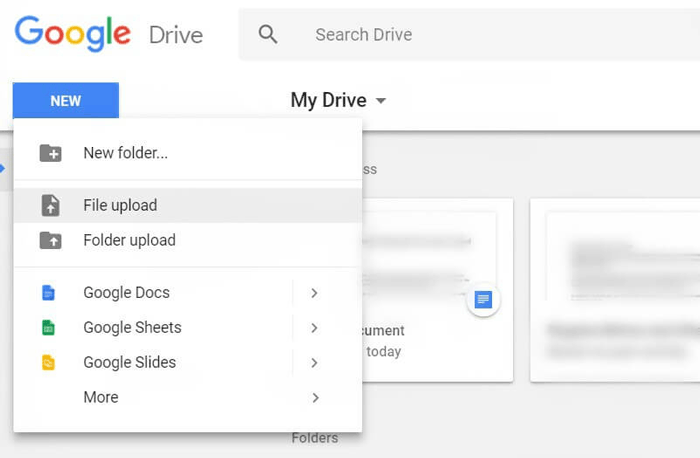 Way 6. Transfer Pictures from Android to iPhone Wirelessly With Move to iOS
Apple's Move to iOS app is the perfect solution for Android users looking to move their Android pictures to iPhone wirelessly. This app is free in the Google Play Store and can transfer data, including photos, contacts, messages, music, calendars, and more. After downloading it, it only takes a few moments to have your pictures moved to an iPhone.
However, there's still more to know about this app, though. It can only work on Android devices operating on Android 4.0 and above. Before you transfer, ensure that your device hasn't been set up. If you have set up your iPhone, erase its settings by heading to "Settings," then to "General," and look for "Reset" and then "Erase content and settings."
Each method has its downsides, and if you want to use Move to iOS, follow these steps:
Step 1. Start by setting up the device with the onscreen instructions.
Step 2. On the "App & Data" screen, select "Move data from an Android."
Step 3. Install the Move to iOS app on Android from Play Store. Once installed, launch it.
Step 4. On both your Android and iPhone, select "Continue." To move forward, tap on the "Agree" and "Next" buttons on your Android phone's screen.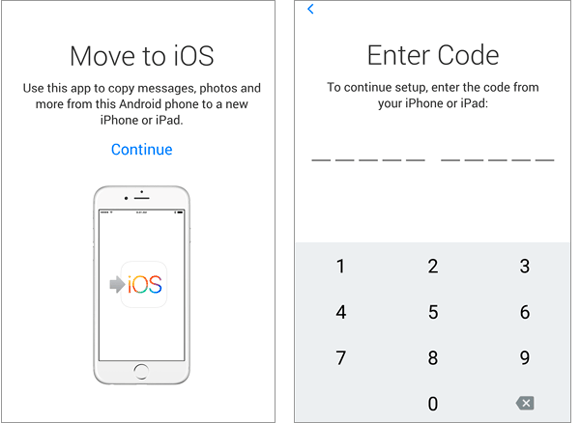 Step 5. On iPhone, you'll see a 10 or 12-digit code; enter it into the designated field on your Android device. Your Android phone will be connected to your iPhone successfully.
Step 6. Carefully select the data you wish to transfer from Android device and hit "Next" to move it.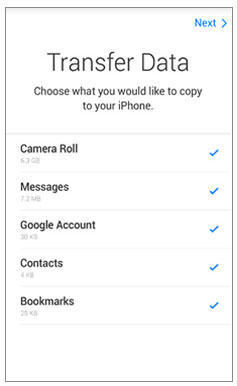 Step 7. Once everything is finished, press "Done" in Android and set up your iPhone by following the instructions.
Way 7. Transfer Android Photos to iPhone Wirelessly Via Send Anywhere
Simplify the transfer of photos between an iPhone and Android with Send Anywhere, a genius app for both operating systems. It's a worry-free app that will make photo transfers a breeze. If you're searching for a quick and effortless solution to your photo transfer needs, Send Anywhere is the perfect app for you. Just follow these easy steps to transfer your photos in minutes.
Step 1. You should first download and launch Send Anywhere on your iPhone and Android devices.
Step 2. Then open up the Photos application on your Android phone and choose all the images you want to move.
Step 3. You will get a Share Link, QR, or 6-digit code on Android.
Step 4. Choose "Receive" on your iPhone and scan the provided QR Code to get the pictures.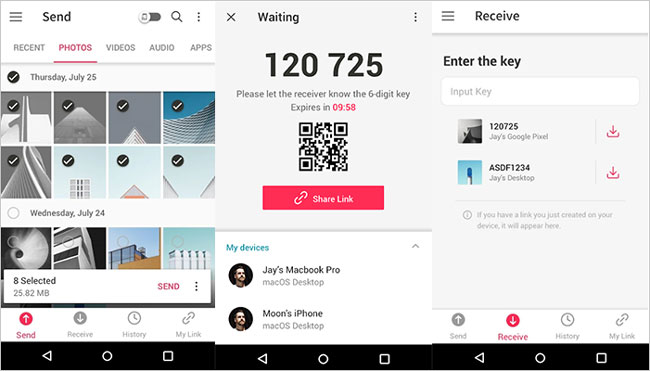 Extra: Transfer Photos from Android to iPhone Via USB With Phone Transfer
If you recently acquired a new iPhone smartphone, all of the valuable data from your old Android phone, such as contacts, photos, and music, are still stored on it. And if so, you must be wondering how to copy these files to your brand-new device easily. Well, you can use Phone Transfer.
This data transfer tool has a fantastic feature that allows you to transfer data from an Android to iPhone and vice versa. You can quickly move your contacts, photos, and media between phones in just one click; no loss of quality. It's the perfect way to migrate pictures from an Android phone onto an iPhone using a computer.
However, it only uses a USB connection to transfer files from an Android device to iPhone. So, if you want an alternative way to move your files with a USB cable, this is the tool to look for.
Key Features of Phone Transfer:
Transfer photos between Androids and iPhones in one click.
Supports transfer of contacts, videos, photos, and other media files.
It is safe to use and transfers without any data loss.
Compatible with both Android and iOS, including the latest iPhone 14/13/12/11/X/Xs/8/7, Samsung, Huawei, LG, Motorola, HTC, Sony, Xiaomi, Vivo...
Here is how to move your pictures from Android to an iPhone over a wired connection:
01 Download, install, and launch Phone Transfer on your PC. Connect the Android and iPhone mobile phones to the computer with USB cables. This intuitive app will automatically recognize each device connected and display its information in the interface.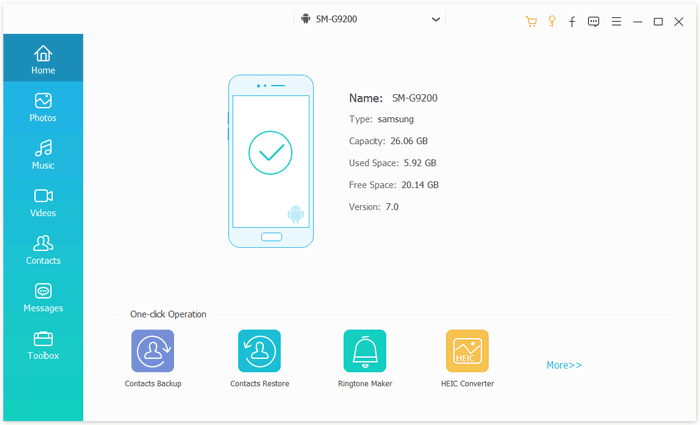 02 Select your source phone from the dropdown in the Device list at the top of the page. If it isn't already showing, go ahead and choose it there. Make sure the Android device is the Source while iPhone the Destination.
All your phone files are organized into categories and displayed on the left sidebar. By clicking a data type from the list, you can view its detailed info through the preview window on the right.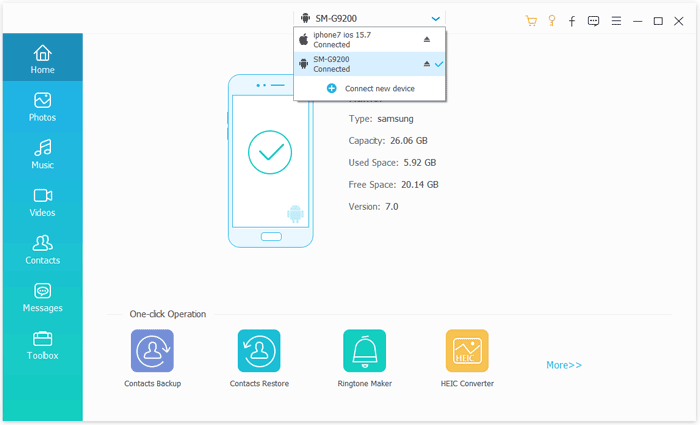 03 Now choose the photos you would like to transfer from an Android to iPhone, then click "Export to Device" for quick synchronization.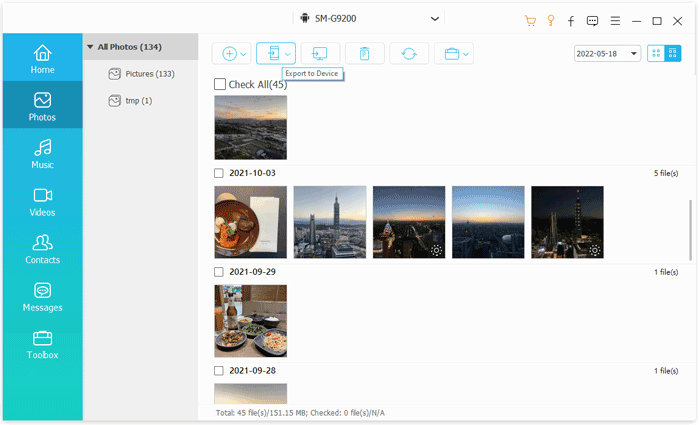 Conclusion
How can I transfer pictures from Android to iPhone wirelessly? This guide has depicted different ways to migrate pictures from an Android to iPhone. Despite the fact that Android and iPhone operating systems do not easily allow for file sharing between devices, there are still viable options to get your photos to transfer from an Android to iPhone.
Phone Transfer will allow you to move pictures from an Android to your iPhone through a wired connection. For a purely wireless transfer, you can use third-party apps, email or cloud services like Google Photos or Dropbox. No matter the method you choose, these solutions should allow you to transfer your pictures without any hassles.
Related Articles:
Efficient 9 Ways to Transfer Data from Android to Android [Can't Miss]
How to Transfer Files from iPad to Android Phone? (6 Evaluated Methods)
Top 9 Ways to Fix "Messages Didn't Transfer to the New iPhone"
[Proven] How to Transfer WhatsApp to New Phone Easily? (Android & iPhone)
[Fast Transfer] How to Transfer WhatsApp from iPhone to Android
4 Easy Ways to Restore iPad without iTunes You Need to Know (New Discovery in 2023)