FRP is mainly a safety feature that is activated when you perform a reset on your phone, and "FRP" stands for "Factory Reset Protection". If it doesn't have the administrator's permission, you have to sign into your device with a Gmail Account. The security feature is meant to protect your files; therefore, what does the LG FRP crack tool do? This is just a type of tool that helps you to bypass LG's strong FRP protection. Today, you will learn tricks to bypass Google locks on LG. This article highlights how to bypass the FRP (Factory reset protection) on an LG device. You will find many tools available in the market today for bypassing your LG FRP in the market, but this guide will discuss the best. Read on to get more info about the LG Google account bypass tool and how you can bypass the lock screen.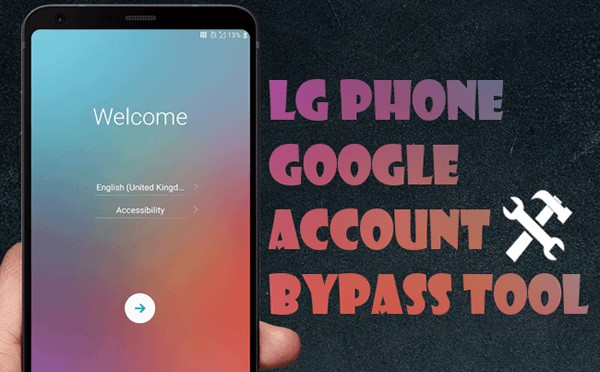 Part 1. Best LG Google Account Bypass Tools
It is possible to bypass your Google Account on your LG phone without resetting it. However, it is typically a difficult job that requires you to know the right tool. But do not worry; in the following section, you will learn the best tool bypass LG Google account. Bypassing your LG FRP lock is not a simple task because of its tech aspects. Ensure that you follow all measures keenly because any mishaps could affect the unlocking progress.
Tool 1. Tool Bypass LG Google Account by Tungkick

Have you reset your LG mobile phone to its factory settings and now need Google account authentication? You must remove the FRP lock on the device if you can't remember the passcode.
Tungkick's Tool Bypass LG Google Account is a great LG Google account bypass tool free and works well with many LG phones. The following section will describe Tungkick's FRP bypass tool for LG:
Step 1: First, install the corresponding LG drive on your computer and check if the phone is in download mode. If it is, shut it down and press "Volume Up" and "Power" buttons at once.
Step 2: Now connect the phone to your computer using a USB cord. Thereafter, release the keys immediately after you see "Download Mode" on the screen.
Step 3: To enable the Tungkick software, navigate to where its content was obtained, then click twice on the file: "tool.exe".
Step 4: The Tungkick tool will take a short time to turn on, but when it does, you will see all the LG cell phones that it is compatible with.
Step 5: After the program starts, look for your LG device from the menu and select it, and the FRP bypass process will begin immediately.
Pros
Accessible free of charge.
Cons
Compatible with limited types of LG phones and tablets.
No proper instructions or technical support.
It doesn't support other mobile phone brands.
The process on is a bit complicated.
Tool 2. FRP Bypass APK Tool

With FRP enabled, resetting an Android phone running on an Android version above 5.0 can be tricky. Due to that, the builder introduced the LG Factory Reset Protection bypass app, which allows you to remove your Google Account authentication step from your phone when resetting the device.
However, this LG FRP bypass tool only supports LG smartphones. It works with almost all LG mobile phones such as LG Stylo 6. Before starting, confirm that your phone has a steady connection to the internet. With this software, you don't have to use a PC.
Here's how to remove your LG Gmail account without using a PC:
Step 1: Start by booting your phone to Recovery Mode. Do that by pressing both Volume buttons and Power key at once.
Step 2: Switch on the phone, and continue via "Setup Wizard". When you get to the main window, choose the "Accessibility" option.
Step 3: From Settings, choose the button combination for overview and tap on the "OK" option from the window that pops up. On your Accessibility screen, select "Talkback ". Next, select "Vision", then scroll through to "Settings". Choose it by tapping on it, then tap the "Privacy Policy" button.
Step 4: Open your browser and input this: "lg.bypass.google.verify.apk". Once you download the file, press your "Volume Down" key to enable the "Dual Window" screen.
Step 5: Continue to the File Manager section and open the "Downloads" folder. After locating apk file, install it by tapping on it. Launch it, go to "General", and choose the "Users" option.
Step 6: Now, open your "Settings" app and change the Google Account. Lastly, enter a new passcode for the device and reset it.
Pros
You don't need a computer.
Free.
Cons
The tool is not available through direct or local resources.
Tool 3. D&G Unlocker Tool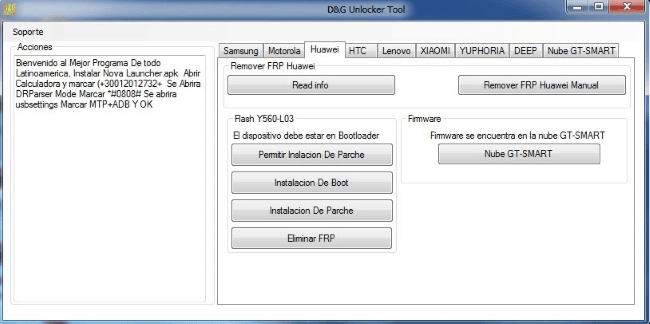 The FRP Bypass Solution is a reliable tool regularly updated for bypassing Google Authentication if you forget your Google Account info. The DG Unlocker is the best FRP bypass tool for you. This cutting-edge tool lets you bypass any FRP lock in seconds.
Here is how to bypass your account with this LG FRP bypass software:
Step 1: Download and open this LG bypass tool on a computer and switch on Wi-Fi on the LG phone.
Step 2: Restart the FRP-locked phone. Next, Google will ask for "Google account authentication".
Step 3: Next, connect the device to the computer and select the phone manufacturer for your D&G header. You will see some options. Select the "read info" option to read the phone. You will find the info in your D&G notification window.
Step 4: In the Archives, select the technique you prefer, like bypass remover, SideSync, or Nova launcher, from the list of options.
Step 5: Next, tap on FRP Lock to bypass FRP locks. Repeat the steps to flash your device.
Lastly, use the updated features of DG FRP Bypass.
Pros
Simple and clean UI.
Easy navigation.
Compatible with all Android smartphones.
No technical skill is required.
Fast and easy to use.
Cons
You must purchase the app to enjoy all its capabilities.
Tool 4. GSM Flasher Adb Bypass FRP Tool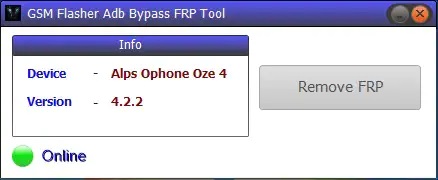 GSM flasher employs an easy step to bypass an LG phone's lock via a USB wire. The download, together with the setup, takes just a few minutes. In addition, ADB (Android debug bridge) lets you interact with your phone.
Step 1. Disable the antivirus app protecting your Mac or Windows computer before you install GSM Flasher Tool.
Step 2. Next, download the FRP bypass tool and install it on a computer. Install ADB drivers and install them.
Step 3. After that, open the folder you've extracted and open the ".exe" File.
Step 4. Choose the tool and activate ADB Mode on the locked Android phone.
Step 5. Take a USB cord and connect the LG device to the computer. Once the phone is successfully connected and the software recognizes it, it will indicate that you are online. Select "Remove FRP" option to unlock the phone.
Pros
Free.
Better chances of unlocking the device for a Samsung user.
Cons
You must deactivate your antivirus software to install it.
Not compatible with all Android versions and phones.
Complicated to use.
Tool 5. Pangu FRP Unlocker

This is a feature-rich tool to bypass FRP locks on Android devices. If you don't have a PC and wish to remove the FRP from your device, Pangu FRP unlocker is your ideal app. It flashes the device, thus removing the Google account from your LG device.
Here's how to use this LG Google ID remover:
Step 1. Install the app from the site on a USB flash drive.
Step 2. Connect the phone to the flash drive with an OTG cable, then install the application. Open it, then tap on the three-dot menu at the upper right corner of the screen.
Step 3. Select web-browser login to enter a new Gmail address, and press the next button. Enter a new passcode, then hit "Finish". Wait for some time, turn off the phone, and turn it on again.
Step 4. Restart the device and hit the next button. You will see a "New account included" notification on the next screen. Choose the same option to finish the procedure. When on the next screen, enter a new passcode, then press the "Next" tab. The tool will show that FRP has acknowledged the Gmail account, meaning the process is complete.
Pros
Support Android versions from 4.0 and above.
Cons
Lower stability level.
No official support, thus no safe and reliable download source.
Lower success rates and poor security.
There's more:
5 Ways to Unlock Android Phone if You Forgot the Password
Android Unlockers: Top 8 Android Phone Unlocking Software
Part 2. Extra Tip: Bypass LG Lock Screen in Minutes
Now you know how to remove your LG FRP lock, and it is also important you learn how to remove screen locks. The need can arise at any time. Android Unlock (Window) is the best unlocker that lets you bypass your Android screen lock in a few minutes.
The app supports to remove screen locks as fingerprints, patterns, passwords, and PINs, etc. without data loss in certain types of devices. Besides, it does not require any technical skills to use. It works well with all LG devices and Motorola, OnePlus, Xiaomi, and Samsung phones. An added advantage is removing your FRP lock on a Samsung phone using it.
Key features:
Bypass LG and Samsung devices' passcodes.
Bypass your Samsung FRP with ease.
Remove several screen locks, including Face ID, fingerprints, PIN, pattern, and passwords.
Easy to use, quick unlocking, and clean interface.
Compatible with fifteen brands (above 2000 Android tablet/phone models).
Privacy-protecting.
Here is how to bypass the LG screen lock:
01Install the right version of the software on the PC. Afterward, open it to see the toolbox. Select the "Screen Unlock" option. Connect your LG phone to the computer.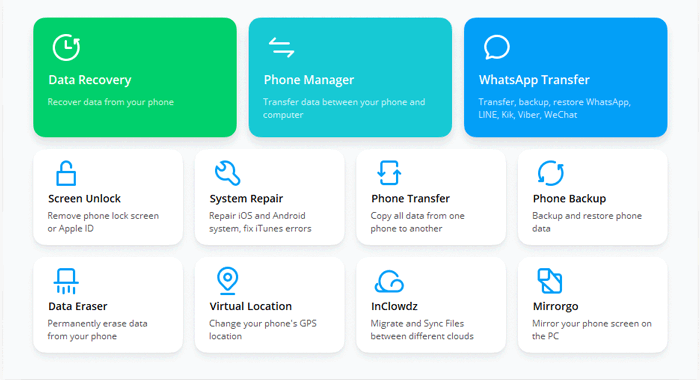 02To proceed, tap on the "Android Screen/FRP". Now, from the options provided, select "Unlock Android Screen".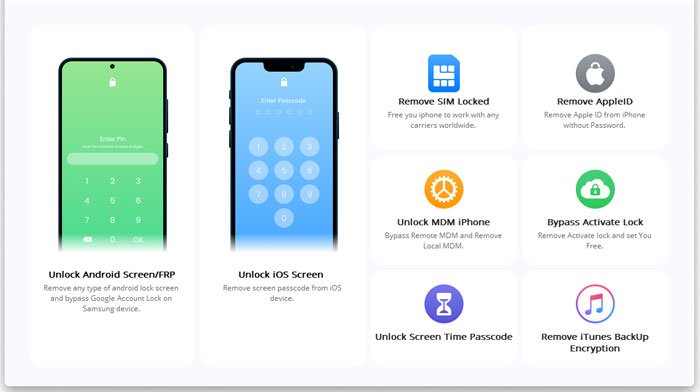 03Next, ensure the name, brand, and model of your phone to unlock. After that, check the checkbox to agree and then press "Next". Enter "000000" in the space given and hit "Confirm".
04The app will ask you to switch off the device and boot it into the "Download Mode". It will then download the configuration drivers and files. Wait until the process completes, and disconnect your phone.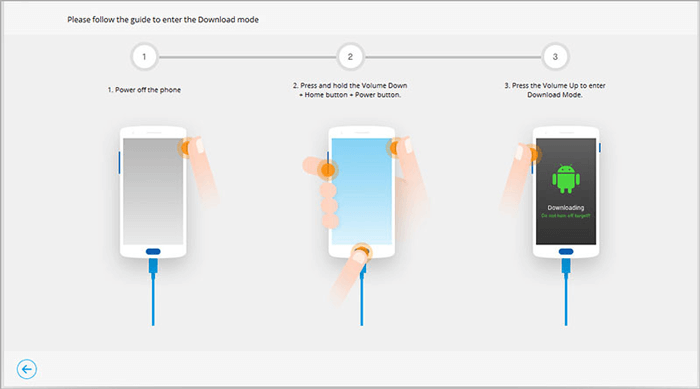 See also:
How to Bypass LG Lock Screen without Reset? [Solved]
How to Remove Forgot iPhone Passcode without Restore? (3 Simple Ways)
Conclusion
Bypassing the Google account lock on any device can be a bit tricky. You should be well-informed and follow the right procedure. This article taught you different ways of bypassing your LG FRP lock. Although they might appear complicated at first, you should choose the one that'll help you get the job done without any problem. Additionally, if you have a phone locked on screen, Android Unlock (Windows) can help to remove it.
Related Articles:
Best Samsung Unlock Tools to Unlock Your Samsung Phone
How to Bypass Android Lock Screen without Google Account in Top 6 Ways? (Proven)
8 Top-ranking iPhone Unlock Software to Unlock Your iPhone without Passcode
Top 11 iCloud Bypass Tools: Remove Your iCloud Activation Lock
How to Unlock a Stolen iPhone without Passcode in 3 Ways?