When it comes to spoofing locations to play Pokemon Go, it is crucial to use a product that's not only efficient but also secure and reliable. For Pokemon Go enthusiasts, iTools is one of the most popular tools they'll choose by default. However, it is not the only option. In this guide, we'll explore the iTools Pokemon Go tool and a viable alternative. Read on to learn more.

Part 1. What to Know About iTools
Simply put, iTools is a tool that allows Pokemon GO users to change their location to nullify the need to travel around the city and collect Pokemon. iTools is made for iOS devices operating on version 12 and earlier. It's compatible with iOS models such as iPhone/iPad.
Is iTools safe? Any GPS spoofer used in Pokemon Go comes with risks. Niantic likes to find the tools that enable players access to the gaming world since the goal of iTools is to fake your actual location to allow you to get outside and move around. If you get caught using iTools, expect a soft ban or complete account removal.
This is quite risky if you've spent hours creating a trainer account. That's why you should stick to the GPS spoofer that is reliable. Many user reviews from iTools say their accounts were banned when they used the tool. Most probably, it had to do with following the cool-down rules. Cool-down refers to waiting a certain time after teleporting with a GPS spoofer. Let's say you are teleporting from Florida to Rome; you must wait for hours before trying to catch the rare Pokemon.
Part 2. How to Use iTools for Pokemon Go
It's very simple to use iTools, and if you follow these simple steps, you can change your location and spoof location in Pokemon Go easily and quickly. Below is a step-by-step process on how to spoof Pokemon Go using iTools:
Step 1. Open your favorite browser and visit www.thinkskysoft.com/itools/. Download and install your selected iTools version onto your PC. Get a USB cable and link the iOS tool to your computer. After seeing the iOS device's home screen on your computer, tap on the Toolbox menu.
Step 2. On the next page, hit on the Virtual Location tab. This will open a map showing the current location on the device. From a list of options, select your preferred location. Also, you can search for a location using the search bar on top of the map.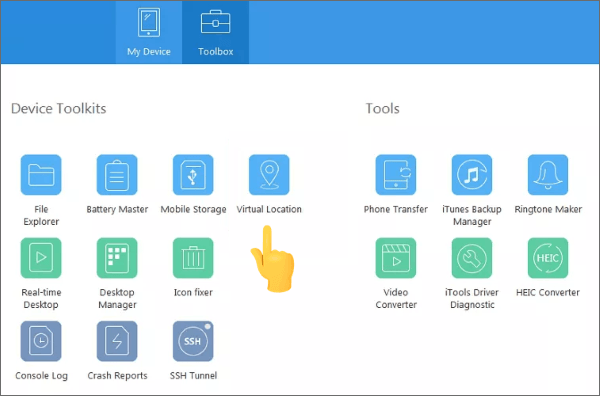 Step 3. Open Pokemon Go after selecting your desired location, and you'll see your character in your chosen location. Start capturing rare Pokemon in your location instantly. Tap on the iTools map of your desired location to get your character to the new area, and hit Move here to move to any location you want.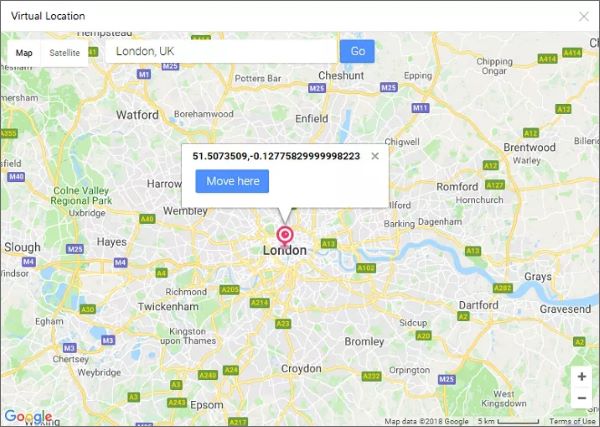 N.B. Most users find the following locations as the most desirable:
London
Sydney
Chicago
Los Angeles
New York
Stonehenge, England
Rome
Tokyo
Orlando, Florida
Taj Mahal, India
Also read:
[Solved] How to Use Pokemon Go Spoofer on iOS with No Jailbreak
Uncharted Territory: Uncovering the Best Places to Spoof Pokemon Go
Part 3. Pros & Cons of iTools Spoofer
iTools Pokemon Go has several perks that let you enjoy the game more efficiently. While iTools spoof is popular, it has its share of drawbacks. Check them out:
Pros
A user-friendly interface.
Come with data restore options.
Responsive mapping feature to move to any place in the world.
Cons
Work on iOS only, which limits its usage to only owners of iOS devices. If you're an Android user, you can't use this tool.
Support only iOS 12 and below.
Limited spoofing features in the free version.
You must pay at least $30.95 to upgrade to a premium version.
An extra subscription is needed to use advanced GPX and many device features.
Niantic targets users of third-party applications, especially those using iTools to spoof Pokemon Go, and are banned for a week or months.
Part 4. A Better Alternative for iTools Pokemon Go - Location Changer
Even though iTools is a good program, it is unreliable and secure. That's why you should find alternative options to use. A perfect tool to use instead is Location Changer, a high-performing, reliable, and sophisticated software. It'll perfectly satisfy the need to spoof your phone's location while playing Pokemon Go.
The tool supports iOS and Android devices, which only works on iOS devices. This makes it a great app for Android users, who are also Pokemon Go fans.
Moreover, apart from location spoofing, it also helps simulate GPS movement, adding more fun when playing the game. With many people enjoying using this tool, there are hardly any reports of accounts being banned or bug issues.
With the Location Changer tool, you only need to set predetermined routes or use the joystick feature to simulate real-time movement when moving to the next location. You will need to teleport to a new location and begin exploring rare Pokemon, gyms, and PokeStops in the new area you would probably never go on your own. Location Changer is an excellent app for players who can't move outside or have no resources to travel around the globe.
Key Highlights of Location Changer
Change GPS location to anywhere in 1 click.
Access the geo-restricted applications and games.
Supports both Android and iOS.
Plan a route and move at a customized speed.
Offer multi-spot/two-spot mode and teleport mode to select where to move.
Keep the records to save time when you want to teleport another time.
No need to jailbreak your phone.
How to use Location Changer to spoof your location and play Pokemon Go:
01Install the software from the official website. Tap on Get Started from the primary interface.
02Plug your phone into the computer with a USB and click Trust. Head to the Teleport Mode option, the third option in the top right corner, then enter the location you wish to go to.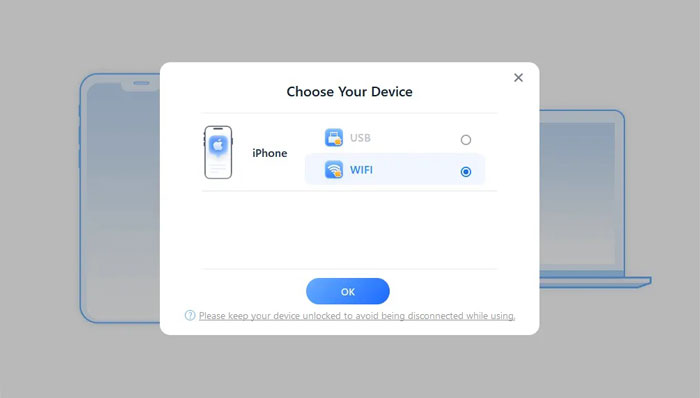 03Tap the Move button at the side, and your location will change instantly. Now start hunting Pokemons by moving to different places.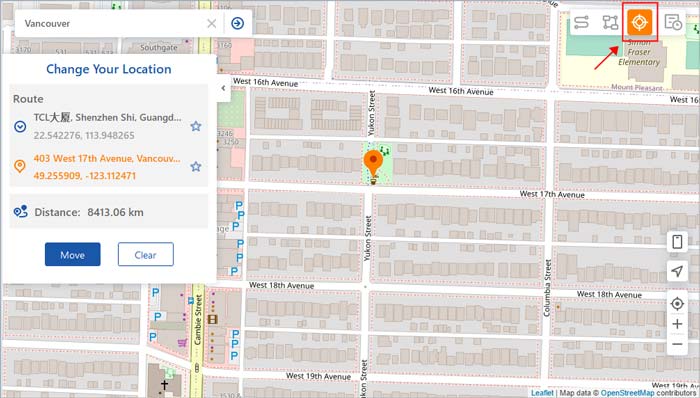 It is very simple to change your GPS location via Location Changer. In just a few moments, your phone's location will be changed, and any app that relies on the device's location will instantly change its location.
Part 5. FAQs on iTools & Pokemon Go
Q1. Can you use iTools with Pokemon Go?
Yes, you can use the iTools spoofing tool to change location on your iOS and play Pokemon Go. However, some players have reported that the tool isn't entirely safe, and they may get banned.
Q2. Will I get banned when I use iTools in Pokemon Go?
If you're caught faking location with iTools for Pokemon Go, your account can be blacklisted for up to a few months. Even worse, you risk getting a permanent termination of your account if you continue using a location-faking tool after the ban.
Q2. Can Niantic detect spoofers
When you trigger a soft ban many times, you'll probably get detected by Niantic and get caught. If you're using a spoofer in the right way, then it's safe.
More Pokemon Go tips:
Pokemon Go Cooldown Chart | What Is it? How Does It Work? [Ultra Guide]
Most Reliable Pokemon Go Auto Catcher App on iOS and Android
Extra Tip: How to Spoof Pokemon Go Safely
To play Pokemon Go seamlessly; you need to apply a few tricks. Below are the tips to follow to avoid getting banned in Pokemon Go.
Be keen on the movements you make while spoofing Pokemon Go. Ensure you move around realistically and reasonably.
Don't root or jailbreak your phone when playing Pokemon Go. Developers will check the account for cheating when you jailbreak the device.
Keep your speed ideal. The game will detect your speed when you move a long distance in a short period. It'll seem unusual, and the chances of being caught will increase.
Use a reliable and secure spoofer when playing Pokemon Go. This will help you avoid getting banned.
To Sum Up
iTools is a viable app for Pokemon Go spoofing but with shortcomings, making it not a desirable option. Besides, many claim it is not a safe tool for Pokemon Go spoofing. We recommend using Location Changer to fake location in Pokemon Go, which lets you change GPS location on Android/iPhone in just a click.
Related Articles:
The Complete Guide to Glaceon in Pokemon Go You Might Need
Unveiling the Secrets of Ditto: A Full Guide of Ditto in Pokemon Go
The Best Place to Play Pokemon Go: Unleash Your Adventure!
How to Hatch Eggs in Pokemon Go Without Walking [5 Methods You Should Try]
[Solved] How to Evolve Eevee into All Forms in Pokemon Go