Having no time to continually search for gyms and PokeStops? There is a way to move to locations with more Pokemons without stepping out of your house, and that is where location spoofing applications came into play. With a Pokemon Go spoofer application, you can change your iOS or Android device's location to areas with many rare Pokemons and get a chance to catch as many Pokemons as possible. Although most Pokemon Go spoof applications require jailbreaking your device, there are also Pokemon Go spoofers on iOS with no jailbreak. Brighten up and learn how to spoof Pokemon Go iPhone without jailbreaking your iPhone in this article!

Part 1. Why Would You Need to Spoof Pokemon Go?
If you are a beginner Pokemon Go player, you may wonder why it is necessary to fake your location info when playing the Pokemon Go game. Spoofing your location will let you enjoy several benefits when playing the Pokemon Go game.
Below is why you should learn how to hack Pokemon Go without jailbreaking your iPhone:
You can easily play the Pokemon Go game without being exhausted.
You can capture rare Pokemon all over the globe while relaxing at home.
You can complete tasks more quickly, hence improving the game experience.
The location spoofing applications' joysticks feature adds a new thrill to the Pokemon game.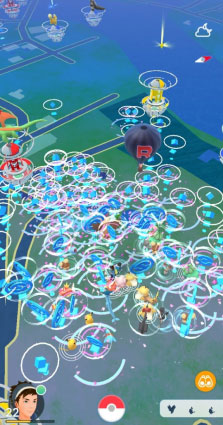 Do you now want to learn how to play Pokemon Go anywhere without jailbreaking your iPhone? If yes, then why not give it a try? We shall show you how to improve your Pokemon game experience using the Pokemon Go spoofing applications in the below section.
Part 2. How to Spoof Pokemon Go Without Jailbreak via Location Changer [Most Reliable]
The best way to improve your Pokemon Go game experience is by using a professional location spoofing application. There are many location-spoofing applications online, and choosing the right tool from such a large pool can take time and effort. Among the available location-faking applications, the Location Changer application has set a precedent for a long time due to its peerless capabilities. With the Location Changer application, you can change your iPhone's location to areas with more Pokemon and catch as many Pokemons as you wish.
It is a handy tool for changing your location to play a Pokemon Go game, share cool places on social platforms with friends, access location-restricted services, or prevent being tracked by prying eyes. The application has been tried and tested by millions of users across the globe and has proved to be the best option as it provides a stable connection.
Key features that make it the best spoofer to fly GPS for Pokemon Go on iPhone with no jailbreak:
Allow users to spoof their iPhone/Android device's locations.
Change the device's locations without jailbreaking.
Work natively with all location-based applications such as social platforms, AR games, etc.
Have a joystick for simulating GPS movements while playing games.
Users can export/import their location data using GPX files.
Work on almost all iOS & Android devices, including the latest versions.
Available for Windows and Mac computer users.
Below is how to use the Location Changer application to spoof your iPhone's location without jailbreak to get to the areas with legendary and rare Pokemons:
01Download, install, and launch the application on your computer, and hit the Get Started button.
02Use a USB cable to link the iPhone to the computer. Authenticate the connection by unlocking your phone and tapping the Trust button below the Trust This Computer pop-up message.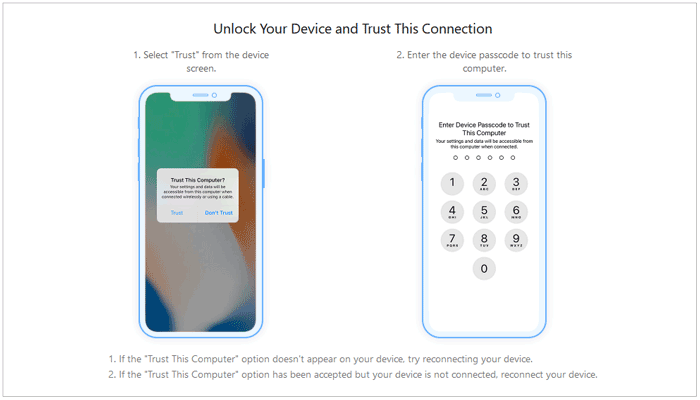 03The Location Changer application will load a map when a connection is established successfully. Hit the Teleport Mode at the top right corner of the application's interface.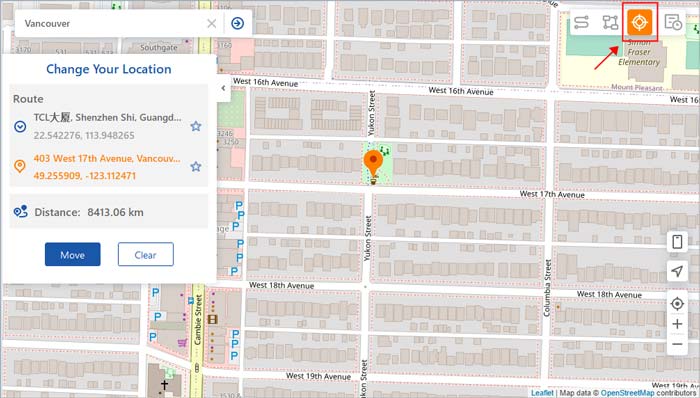 04Select a destination on the map using your computer mouse or enter the location's GPS/address coordinates at the application interface's top left corner.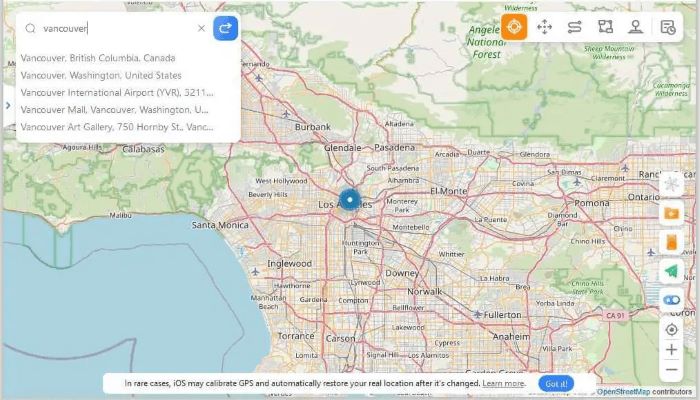 05Now hit the Move button to change your iPhone's location to the selected area. Then launch the Pokemon Go game and enjoy catching rare Pokemons in your new location.
More virtual location guides:
Pokemon Go Cooldown Chart | What Is it? How Does It Work? [Ultra Guide]
Most Reliable Pokemon Go Auto Catcher App on iOS and Android
Part 3. How to Spoof Pokemon Go on iPhone with Jailbreak
You can take your Pokemon Go game experience to the next level by using Pokemon Go location Spoofer applications. Using Pokemon Go spoofer applications is as easy as a pie. Below is how to spoof your device's GPS locations:
Method 1. Play Pokemon Go Anywhere with Jailbreak via Poke GO++
One of the methods to spoof Pokemon GO is using tailored Pokemon GO apps like Poke GO++, an app that ranks among the top improved Pokemon GO applications that let you travel across the globe without necessitating physical movement. However, you can only download this application from BuildStore, an app store offering several tweaked games and applications for your iOS device.
Therefore, you must register your phone with BuildStore before installing the Poke GO++ app. To use BuildStore, you must pay a premium use fee of $9.99 per year for one device.
To use this method to fake the GPS location in Pokemon Go, you should follow the below simple steps:
Step 1. First, uninstall the certified version of Pokemon Go on your iPhone.
Step 2. Open your BuildStore and register your device.
Step 3. Next, go to Safari and search for Poke GO++. Once you find it, select the Install tab to install it on your phone.
Step 4. Launch the newly installed Poke GO++ application and play.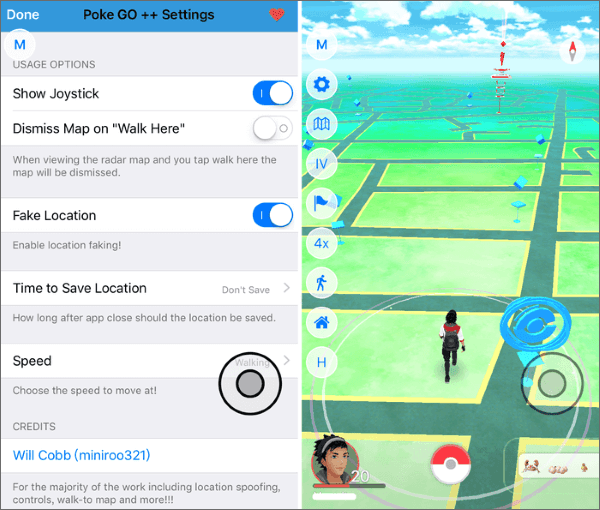 Method 2. Hack Pokemon Go with Jailbreak Using iPogo App
The other location spoofing app that lets you play Pokemon Go anywhere with jailbreak, is iPogo. The application lets you level up your game using various cheats and hacks. Besides, it makes it simple to play any location-based game without having to master any complicated technology. It also incorporates some top-notch features that amplify the thrill of your game by easing tension.
You can download iPogo both on your iOS and Android devices. To use iPogo, you need to install the application on your Android or iOS device first. This app does not support standard devices, so you must jailbreak your iPhone first.
Below is how to spoof Pokemon Go:
Step 1. You must jailbreak the device through their website before downloading the application.
Step 2. Install the iPogo application.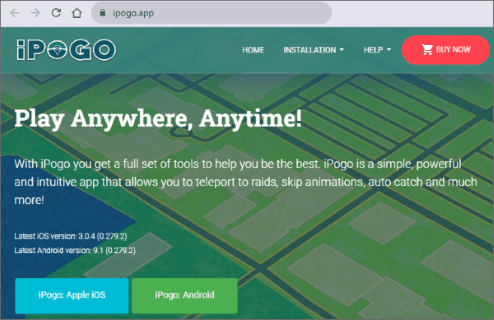 Step 3. Afterward, open it and log in using your Pokemon account credentials. To activate the account, tap on the Activate tab from Settings. On the Pokemon page, you will see a sidebar with several options.
Step 4. Choose the change location option in your iPogo app by hitting the map symbol. This icon is at the top of the app's interface. To find your desired location, use the address or coordinates to search. Besides, there is a filter option to help narrow down the search. Doing so will change your iPhone's location.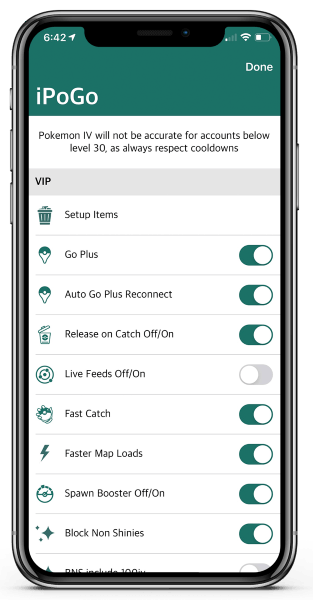 Read also:
How to Get Rare Candy in Pokemon Go? Read This Comprehensive Tutorial Here!
Regional Pokemon Info & How to Get Regional Pokemon Without Traveling
Method 3. Spoof Pokemon Go with Jailbreak via Relocate App
Relocate is an amazing tool for spoofing your location info on your phone. This application uses mock GPS to trick your Pokemon Go app into believing that you've traveled to another place, and you can go on looking for hatching eggs, gyms, and PokeStops from this point on. But before you get too excited, note that it applies to jailbroken iOS devices only.
Below are the steps to spoof your location using this spoofer:
Step 1. First, jailbreak your device and install the Relocate application on your device.
Step 2. Next, launch the application and enable the APPLICATION OVERRIDE and GLOBAL OVERRIDE modes.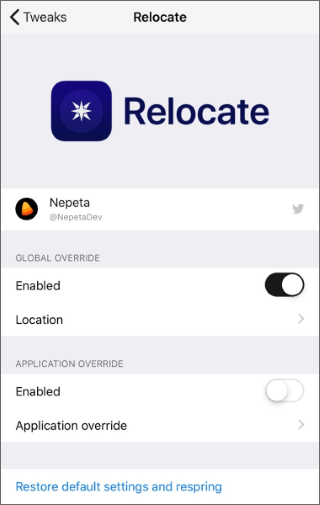 Step 3. Finally, select a place from the map, then choose the applications, including the Pokemon Go game app, that you wish to change their locations.
Final Words
Spoofing your location on your Pokemon Go game is a perfect way to gain access to gyms and special events outside your area. Spoofing a Pokemon Go game location is as easy as a pie. You just have to use the above-discussed location-changing methods to set your smartphone to your desired location without stepping out of your house. To make the Pokemon Go game spoofing process simple, we advise you to use the Location Changer application, as it is easy to use and provides a reliable connection, hence, eliminating the fear of getting captured by Niantic or getting your Pokemon Go account banned.
Related Articles:
Exploring the Rarest Pokemon Card: Unveiling the Gems of Collectibles
Review | Top 6 Pokemon Go Spoofer Apps for Android/iOS
FGL Pro for Pokemon Go: Powerful Spoofer for Android [Review]
Level Up Faster: DeFit Pokemon Go Tricks - Maximize Your Gameplay
Unveiling the Legend: Exploring the Mysteries of Eternatus Pokemon
Pokemon Go Nests [What Do I Need to Know & The Best Tools to Find Nests]