Android SD Card Manager - Manage Data in Android SD Card
Smartphones and tablets have become a treasure trove for information and data which includes contacts, emails, messages, music, photos, video and ebooks among others. Android devices offer users the ability of adding extra storage capacity via microSD cards. MicroSD cards have become very useful thanks to the increased popularity of smartphones and tablets running Android OS. With increased size of information, users require more disk space not only to store new information but also to make back ups. With more and more files saving on your Android SD card, MicroSd card allow the user to create folders and give the folders a particular name. Therefore, organization is key to quick search and location of a file.
When you store every file in a microSD card with out organizing it, finding the right file can take quite some time. In order to be successful at managing files on an SD card, one requires an easy to use android SD card manager such as the Coolmuster Android Assistant or Coolmuster Android Assistant for Mac. This is a one stop application that has useful tools which enable the user to manage data on the Android SD cards, such as photos, videos, music and apps. It is designed to back up files on Android device to the computer. This is achievable via the import and export features available on the application. The user has the choice of importing and exporting Android music, pictures and photos to or from computer. One can also install new apps, uninstall useless apps and export apps from Android to computer.
Coolmuster Android Assistant has an easy to use and easy to understand interface that provides a view of all functions and files. The below is a step by step guide of how to use Coolmuster Android Assistant to manage files on Android SD card.
How to Manage Files in Android SD Card with Android SD Card Manager?
Step 1. Launch the Android SD card manager
You need to launch the Android Assistant and connect your Android device to your computer as well. Once connected, the application will briefly scan the connected Android device and display data in categories. If you find your Android device can't be detected by the program, you need to check whether the USB debugging on your Android has been enabled.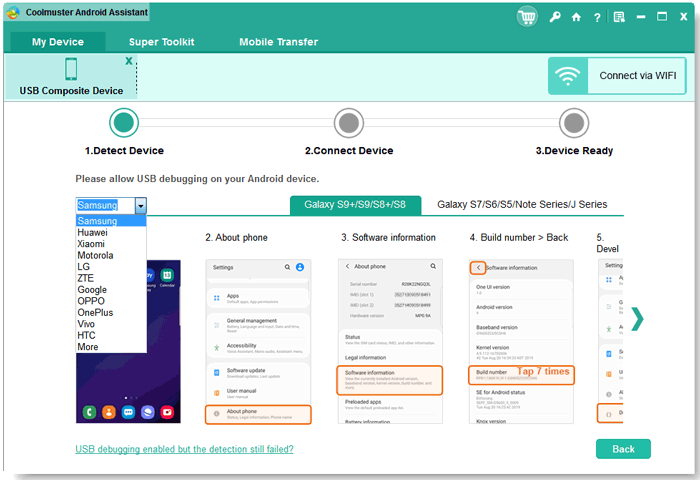 Follow the below instruction to enable USB debugging. If you did it before, you can skip to next step.
1) For Android 2.3 or earlier: Enter "Settings" < Click "Applications" < Click "Development" < Check "USB debugging".
2) For Android 3.0 to 4.1: Enter "Settings" < Click "Developer options" < Check "USB debugging".
3) For Android 4.2 or newer: Enter "Settings" < Click "About Phone" < Tap "Build number" for several times until getting a note "You are under developer mode" < Back to "Settings" < Click "Developer options" < Check "USB debugging".
After you finish the USB debugging, you can go to your device screen to tap the "Allow" option. Then, the parameter information of your device, including phone model, system version and storage space size will be shown in the main interface.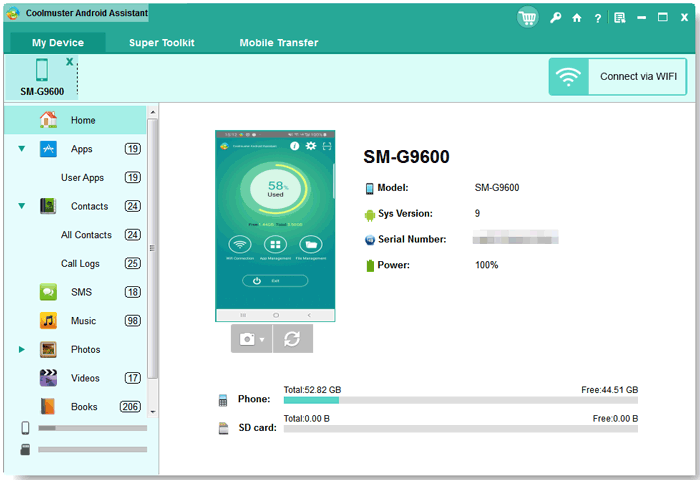 Step 2: Import and export Android SD card data
To import data to your Android SD card, you need to open corresponding file folder, click on "Add", select the photos, videos, music, etc. from your computer and click finish to complete the process. To export data from SD card, select category example photos, check photos you want to export and click "Export" to complete the process. To delete files on SD card, you should choose the target files and click "Delete" button.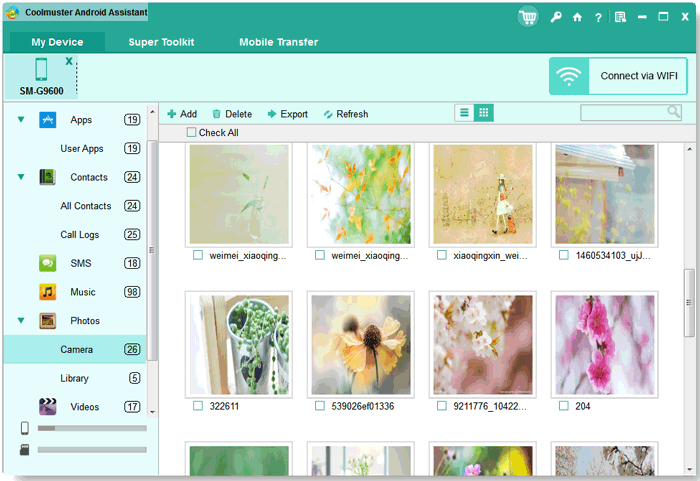 Step 3: Install, uninstall and backup Android SD card apps
You can download and install apps to your SD card by using the application and you can also use it to backup or delete apps. Choose the category of "Apps", select "install" or "export" or "uninstall".
Related Articles:
How to Backup Android Phone/Tablet to SD Card